My boyfriend is actually the person who turned me on to the idea of cooking pineapple with chicken.
It was one of those things where I thought, hey why haven't I done this yet?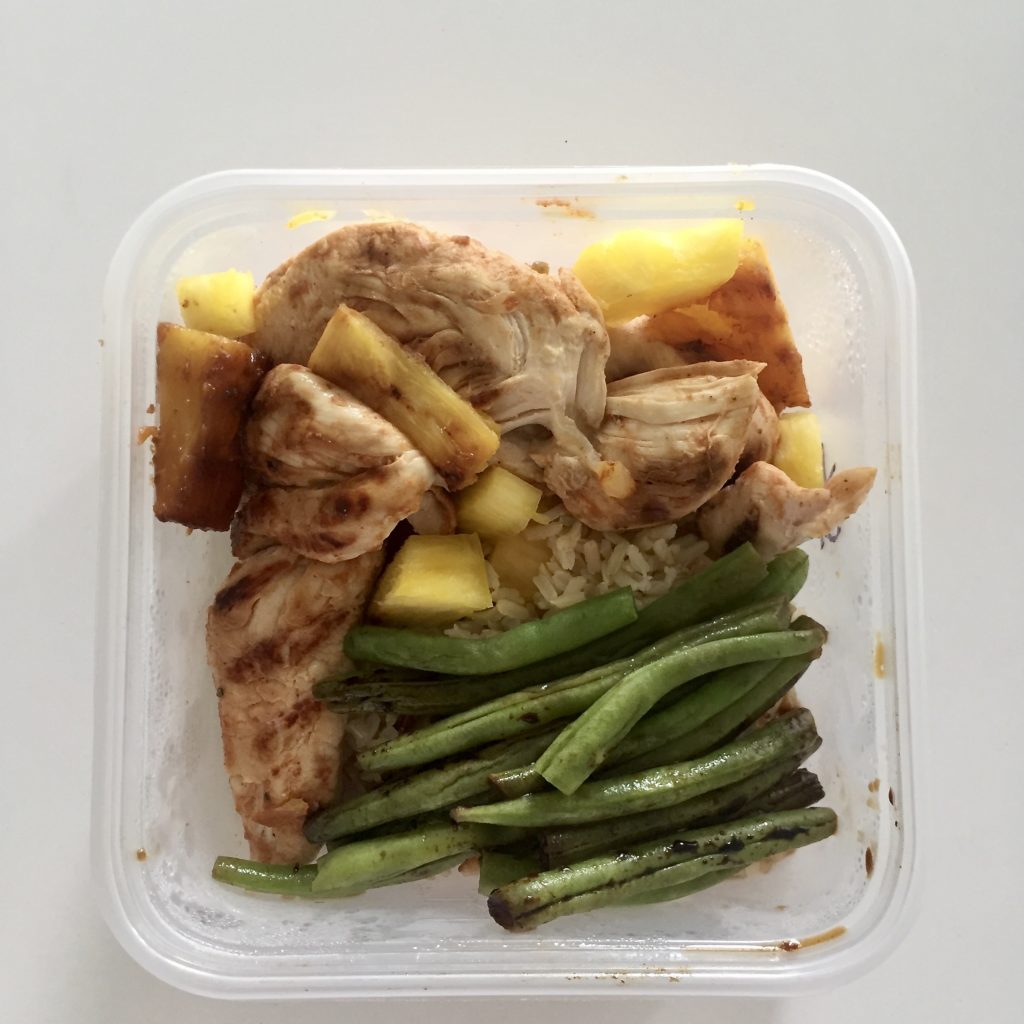 When I say barbecue chicken, I don't mean that you have to turn on your grill or anything. Unless the grill is already going, I'm not going to turn it on just for meal prep.
Instead, I use my favorite barbecue sauce (right now it's Dinosaur Barbecue) and cook the chicken on a grill pan or regular skillet.
This recipe would also work well with tofu, tempeh or seitan. If you're not a fan of barbecue sauce, I'll let you know which spices to use instead below.
As always, I want you to be able to adjust these recipes for YOUR dietary preferences.
The second time I made this, I added brown rice at the last minute.
I used the rice as a base and put the flavored chicken, pineapple and green beans over it. The result? Deliciously soft rice that made me feel full for longer.
What's better than that?
This recipe makes four lunches and lasts for four days in your fridge in an airtight container.
Note that this only takes 45 minutes because that's typically how long brown rice cooks for! The chicken and green beans only take 20-25ish minutes to cook.
You can reheat it in the microwave, in the oven or on the stove. I recommend the microwave or stove because you don't want the chicken to dry out!
Like this recipe? Sign up below and immediately get three free mini meal plans!
| | |
| --- | --- |
| | |
Cook the rice according to the package. Brown rice usually takes longer so start it first!

Marinate the chicken breast with the BBQ sauce in a bowl. Use a fork to toss so each piece is somewhat covered evenly. Place in the fridge

If using raw string beans (not from a bag) cut off the ends and set them aside

Heat a large grill pan or regular pan on medium heat and generously coat it with cooking spray/oil. After a minute, add chicken breast (make sure they're not touching) and some pineapple slices. Add salt and pepper. Cook on each side for about four to five minutes depending on thickness. Flip the pineapple when you flip the chicken! You may need to cook the chicken in two batches.

Remove pineapple and chicken from the pan and divide into four portions directly into your meal prep containers.

Give the pan a quick wipe if desired, and add a little more cooking spray/oil. Add the green beans, salt and pepper to taste and a splash of water. Cover the pan to steam for about eight to ten minutes on medium heat (until they're a bit soft)

When the rice is done, divide it into four portions and add directly to your containers. Then add the green beans over the rice into your containers.

When everything is in your containers, top with any remaining pineapple. Let cool for 45 minutes before covering and placing in the fridge.
And that's it!
**If you don't want to use a sauce, season the chicken (or whatever protein you use) with sweet paprika, black pepper, salt, garlic powder, onion powder and a little bit of brown sugar.
Wondering how to properly heat up meal preps so they stay tasty and fresh? Check out my guide to reheating meal prep on Greatist here.