This post, originally published 12/6/2018, was updated with new ideas on 11/25/2019!
Is it really the holidays if I don't put out a gift guide for you guys?! (The answer is yes… it's still the holidays).
My goal for this guide is to give you some new, fun and affordable ideas for the meal prepper or home cook in your life. Or… You can send this guide to someone who has no idea what to get you so they can get some ideas. They'll thank you for that!
Most of the stuff in this guide is stuff that I use (and love to use) every single week.
These would make perfect practical gifts for anyone who…
Meal preps and/or cooks regularly
Wants to get into meal prep and/or cooking
Likes sassy food-related shirts and mugs
Wants to be friendlier to our environment and cut down on plastic waste
Is in need of high-quality kitchen equipment they'll actually use
I'm so so so excited to share this carefully curated list of ideas with you!
Stasher bags are an awesome gift! You can use them as a gift bag to stuff other gifts inside or gift them on their own. Even someone who has stasher bags in their lives already would appreciate more of them!
If you haven't heard of them yet, stasher bags are reusable bags that help us cut down plastic waste. They're easy to clean, they're dishwasher friendly AND you can cook in them! They're microwave, oven and freezer-safe. I've even used a stasher bag as a hot water bottle and to keep belongings safe and dry when going to the beach.
The one pictured above and linked is $11.93.
These Etee food wraps are another fun eco-friendly gift that lasts. They're meant to replace saran wrap and help people cut down on plastic use in general.
I have a bunch of Etee food wraps in my life and they're one of my favorite things to use to take food out on the go. College students, travelers and busy people alike would love this gift.
Linked above is a set of nine wraps for $49.95.

If the meal prepper in your life is more focused on cutting down on plastic, these glass containers are the way to go. I love these because they have the snap seal, which some glass containers don't have and it really helps combat leakage! These containers are also oven safe, which means you can even bake meals right into them.
This pack of 5 meal prep containers on Amazon is $23.99.
Do you have a snacker in your life? These bento boxes are perfect for anyone who likes to pick at different snacks throughout the day or keep their food separate. Again, stainless steel is a more sustainable option than plastic and this is the exact bento I have. I use it anytime I have a long day away from my home office and need to carry healthy snacks on the go.
This Lunchbots bento box is $15.
This is probably my favorite purchase of the year and it would make any girl who has to lug a day's worth of necessities around with her from place to place.
These bags include a compartment that makes it easy to stash a meal, bunch of snacks or extra clothes for the day in style. I had been using an ugly sports backpack for 2 years (which wouldn't have been suitable to bring to meetings in NYC) until I got this bag. Worth every penny! Click here to see my tutorial of how the bag works.
The MinkeeBlue Shalae backpack is $179.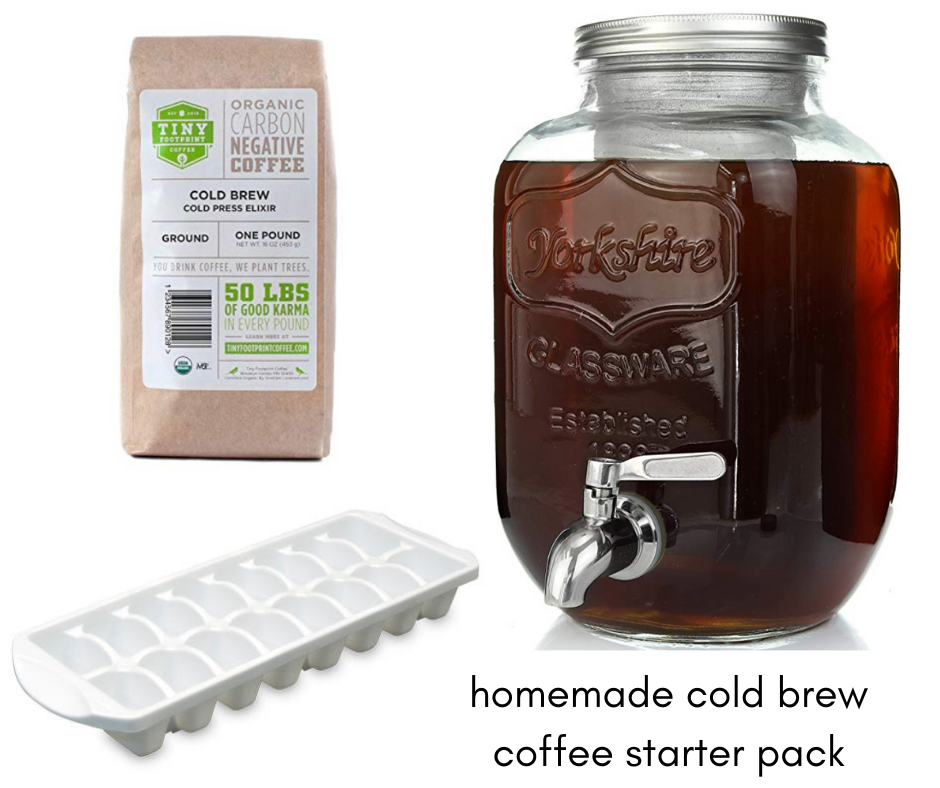 It doesn't come with the ice cube tray or coffee (here's my pick for cold brew coffee grounds), but this cold brew coffee maker has been one of the best purchases I made this year. We had fresh cold brew all summer long… without paying $5 per coffee like we normally would at Starbucks. There are smaller versions of this on Amazon as well if your giftee doesn't have a big fridge, but still wants to save money on coffee.
This was such a fun addition to my kitchen this year! I have an insanely small kitchen, but I didn't want to miss out on making waffles. This mini waffle maker is just what I needed! It's easy to use, doesn't create any messes and most importantly, it doesn't take up a ton of space. The one you see here comes in different colors — mine is red.
This Dash Mini Waffle Maker is $9.99.
If there's a serious cook in your life, they're going to need a serious pan. This is my all-time favorite pan from Cuisinart. I purchased mine three years ago and it's still in prime condition — even after I've burnt rice at the bottom of it! You can make so many different meals in this pan and any serious cook (or someone that wants to get serious about cooking) will love it.
The Chef's Classic Stainless 5-1/2 Quart Saute Pan With A Cover is $41.99.
This is exactly what I would have wanted when I was just starting to cook. Buying spices on your own can be intimidating and extremely expensive for someone cooking on a budget. If you've ever had to stock your pantry from scratch, you know what a pain it can be to find and buy spices you'll actually use.
Want to show someone you really love them this year? Save them the struggle of picking out starter spices (the ones every cook needs) and grab them this super affordable set. This set comes with cayenne, Italian seasoning, oregano, cumin, crushed red pepper, all-purpose seasoning, garlic powder, chili powder, cinnamon, basil, onion powder and thyme.
Grab this Simply Organic set for $27.
I like my mugs like I like my coffee. Strong and opinionated. This mug from Caroline Dooner's The Fuck It Diet pairs well with any hot beverage and anti-diet 'tude. There are also stickers and T-Shirts with the same phrase in her store!
This is my favorite addition to my wardrobe from this year. I get a lot of compliments on this shirt so I thought I'd include it in this guide! I believe there's a men's version of the tee (and a hoodie version) as well.
This Dolman Tee from Pyknic is $29.
My mom is obsessed with her Le Creuset pots. She has several of them, but this is the one she uses every day to make oatmeal every single morning. Le Creuset has some of the highest quality kitchen equipment you can find, and that's why this pot is on the more expensive side. This would make a great and very special gift for anyone that truly appreciates quality cookware and cast iron pots — these last literally forever and there are several fun color options!
This 1-3/4 Quart Le Creuset Signature Cast Iron Saucepan is $184.95.
I don't know where I'd be in life without my mini food processor. I've had this one from Cuisinart for almost four years and use it to make hummus, pesto, energy bites, blended soups… I mean a food processor has so many uses, but there's no reason it has to take up a ton of space! Any college student, recent grad or avid cook with a small kitchen would love this handy tool.
This Cuisinart Mini Prep Plus Food Processor is $31.96.
When I asked the WWL community what the best kitchen gift they've ever gotten was, many mentioned a blender. There are many different blenders out there at different price points, but this is the one I have for under $100 and it's awesome. I use it for smoothies, soups and sauces and have no issues storing it in my tiny NYC kitchen.
I've tried a ton of knives and these are my favorite so far. Yes, they're expensive (here's an Amazon basics set that I also like if you're looking for something under $50) but they're so, so good. Good knives help the chopping process go by a lot faster and it's actually safer to use sharp knives than dull ones!
Any novice or experienced cook would appreciate this Misen set. Another thing to keep in mind is that you don't need a million knives in your kitchen… these three will do the trick. And if you can only get someone one knife, grab them a Chef's knife. That can take care of literally all of their chopping needs.
The Misen knife set pictured above is $130.
Instant Pots make great gifts IF the giftee has the space for it, obviously. Instant Pots are multi-functional and are great for really busy people/people with bigger families because it speeds up the process a ton. They're pricey but worth it. And if it's too pricey, another idea would be a crockpot. Similar idea, less functional, still a great gift.
My grandma gave me this giant (and extremely practical) cookbook a few years ago. I've tried a handful of recipes and use it for inspiration. Plus, there's a ton of incredible info in there about how to cook everything properly, from rice to vegetables to meat fast (without sacrificing taste!).
To make the gift even more special, make sure to add a message on the inside cover to the giftee if you can. That means they have to keep it forever.
The hardcover version of How To Cook Everything Fast is $19.06.
That' me, teaching a cooking class at Homecooking NY!
The link above is to a site called CourseHorse where you can find a huge variety of courses, classes and workshops in the US. Of course, you can find cooking classes near you with a quick Google search. They make a great gift because they're affordable, they're an experience (instead of a physical gift) and you can usually find one for a specific type of cooking. For example, my best friend bought her boyfriend a seat in a cheesemaking class because he's into making his own cheese.
My meal prep program would be an awesome (and very affordable) gift for anyone who already cooks or meal preps, but wants to get more creative with their food or save even more time/money in the process. You can click here to learn more about what's in the program, but the short version is: weekly meal plans, pre-written organized grocery lists, exclusive meal prep recipes that have been tested and an amazing community — all delivered digitally via email.
The Workweek Lunch Meal Prep Program is $7.99/month and members can cancel/re-join at any time.
---
That's it! Best of luck on your search for the perfect gifts for the special people in your life. I hope this guide pointed you in the right direction of fun gadgets and cookware or at least gave you some creative ideas.
Note that Workweek Lunch does make a small commission off some of (but not all of) the links in this guide and the prices listed are based on our own research, but they may be different when you actually go to purchase something.