Recently I've been cooking A LOT and so far, it's changing my life for the better in ways I didn't think it would.
First of all, I enjoy it so much that I want to challenge myself. That's why this week, I took it up a notch and cooked as many meals as possible on the nights I wasn't hanging out with friends.
Second of all, I feel AMAZING. I'm not exaggerating. I'm not just saying that to hook you. Keeping my portions small and my calories packed with protein, veggies and the right kinds of carbs has kept my energy levels up. I've also been able to consistently avoid digestive issues like bloating and belly ache.
Lastly, I've more than halved my cooking time. It no longer takes me two hours to put three meals together. I can do it in under 30 minutes. None of these meals required a recipe at all.
Repetition. Consistency. These are the elements that have brought me positive results in the way I feel about my body and my wallet — and I want to help you achieve the same!
My restaurant budget for every month is just $75. Even in New York City, one of the most expensive cities in America, I have no problem sticking to it.
If my kitchen was a person, I'd hug it.
Here's the breakdown of meals:
5 lunches for me for the workweek
3 prepped meals for my boyfriend*
3 dinners after work
*My boyfriend was nice and threw me $15 for his meals. This was before I calculated how much I spent and how many meals I made — but it happened to work out well! This was my first go at prepping for someone else and I'm glad my man trusted me.
---
Here's a photo of my big grocery run on Sunday.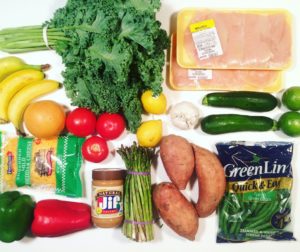 What I bought for $40:
1 bunch of kale
3 bananas (for breakfast)
2 packs of chicken breast
2 limes
2 zucchinis
garlic
2 lemons
3 tomatoes
1 grapefruit (for snacks/breakfast)
1 pack of shredded cheese
2 peppers (for snacks)
1 jar of peanut butter
1 bunch of asparagus
1 bag of string beans (normally I would get them loose, but this was my only option)
I made a second $20 grocery run in the middle of the week to buy fresh veggies and other produce for another batch of meals.
Keep in mind I have a well-stocked pantry full of ingredients I didn't have to buy this week. For these 11 meals, I used the following pantry items:
bread crumbs
whole wheat pasta
salt, pepper, olive oil and spices
1 can of chickpeas
---
How I made 6 meals on Sunday:
For my boyfriend and me, I threw together chicken three ways, sauteed string beans and asparagus, cooked pasta with zucchini and baked cinnamon sweet potatoes.
I kept it VERY simple because I knew I'd be making a ton of food.
Making chicken three ways:
Chicken can get boring real fast, so I tried this chicken hack I saw on FitMenCook.
First, I portioned out the chicken and made two different simple marinades.
1 Lemon, 1 clove of garlic, parsley and pepper to taste
1 Lime, 1/3 cup of honey, 1 clove of garlic
I also made breaded chicken with gluten-free bread crumbs. I don't try to eat gluten-free, but that brand happened to be the best option at my grocery store!
On a large baking sheet, I lay the chicken on foil and made little dividers so flavors wouldn't seep together. I baked the chicken for about 10-15 minutes on 400. Normally, I would do it on 350 for 30 minutes, but I did this to save time. 10 minutes in, I checked the chicken by cutting a thick piece in half to see if it was still pink inside.
If you're vegetarian, you probably could do this with tofu or tempeh too!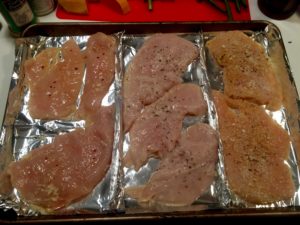 I baked the chicken for about 10-15 minutes on 400. Normally, I would do it on 350 for 30 minutes, but I did this to save time. 10 minutes in, I checked the chicken by cutting a thick piece in half to see if it was still pink inside.
Cooking the veggies:
I made the asparagus and string beans separately but in the same pan on the stove. I washed and prepared them first, then sauteed them in a little olive oil and salt. Very easy.
Pro tip: Cut the asparagus in half to make it easier to eat at work.
Baking the sweet potato:
Cutting up sweet potato actually took a long time, but once I had my slices, I tossed them in olive oil, salt, cinnamon and cayenne.
Then, I laid them out in ceramic baking dishes (I only have one baking sheet) and let them cook for a little over 30 minutes on 400 degrees.
I took them out halfway through to flip them over.
Last but not least, the pasta:
I like to make veggie pasta dishes in just one pot. First, I cooked 1/3 of a box of whole wheat spaghetti. Then I removed it from the pot and set it aside in a bowl.
Next, I put some olive oil and chopped garlic in the same pot, and added sliced zucchini and a little bit of rosemary. After about five minutes of stirring occasionally, I added the pasta back in and mixed it all up. Then, I added some salt and parmesan cheese to taste.
Pasta is always hard to measure, so I had extra! Can't complain about leftover pasta, though.
---
Tuesday night: 3 lunches in under 30 minutes
I normally have to cook fresh meals in the middle of the week to keep the healthy eating momentum going.
This particular Tuesday I got home late from an event. But prepping and chopping up excess sweet potato on Sunday totally helped! This worked perfectly because like I said before, chopping sweet potatoes is pretty time consuming.
The sweet potatoes went on a baking sheet in the oven first at 450 degrees with a little olive oil, salt and cinnamon. Super simple. Food is fuel.
Then, I opened 1 can of chickpeas, rinsed drained them.
I chopped 1 tomato and chopped enough kale to make about 2 cups. Of course, I also chopped 1 clove of garlic.
In a pan on the stove, I heated the garlic in olive oil for about a minute. Then I threw in the chickpeas and added salt, pepper and cumin. After five minutes, I added the tomato and kale. I let the cook for about 10 minutes, stirring occasionally.
When that was done, I divided the chickpeas, kale and tomatoes into three Tupperware. Then I took out the sweet potatoes from the oven and divided them evenly into the  containers too.
I love this meal! So easy. I only intended to make two meals, but got three! One of them was a little smaller in size, so I just ate more snacks that day.
---
Thursday night: Salmon and leftover pasta (2 meals)
Since the pasta was already cooked, all I had to do was whip up a 1/2 pound of salmon for dinner. I used the leftover half of the salmon for lunch the next day.
I prepared the fillet with lemon, salt and pepper before popping it in the oven in a ceramic dish on 400 degrees. It cooked for about 15-20 minutes (I don't use a timer… just my eyeballs) and then I divided it.
To freshen up the pasta, I threw some parmesan cheese on top. So easy.
We hope you found these budget-friendly tips helpful! If you're looking for more budgeting tips, click here to get my list of 12 ways to cut down your grocery bill on your next shopping trip!