Cleaning up after cooking sucks. Making (and memorizing) this sweet potato skillet will minimize the unpleasantness that is dishwashing.
Seriously, people tell me that one of the main reasons they hate cooking is because they hate cleaning. Sound like you? It's okay, me too.
I'll share one secret with you- I have a dishwasher. But that's a new thing in my life. I didn't always have that luxury, so I get it.
For real, I only know one person who genuinely enjoys washing dishes, and that's my dad. He says it's therapeutic. Maybe that's true for him, but for the rest of us, we'd choose stuff like laundry over washing dishes any day.
Finding your go-to one-pot meal is gold.
Less time cooking and cleaning means more time to kick back after work or on weekends, right?
This delicious skillet takes 30 minutes to make. After making it once, you won't need to look at the directions again. It's that easy.
My coworkers always comment on how great this meal smells after I heat it up in the office microwave. Enjoy!
---
Servings: 3
Prep time: 10 mins
Cook time: 20 mins
---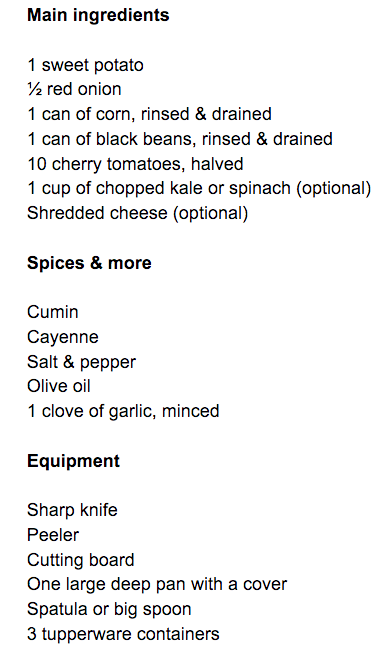 ---
Step one: Prep
Peel, wash and chop the sweet potato into pieces smaller than "bite size."
Chop 10 cherry tomatoes in half.
Chop half of the red onion.
Crush and mince one clove of garlic.
Set these ingredients aside either on a big plate (like below) or in separate bowls.
Open, drain and rinse the cans of bean and corn. You can put them together in one bowl.
Chop up kale until you have enough to fill one cup.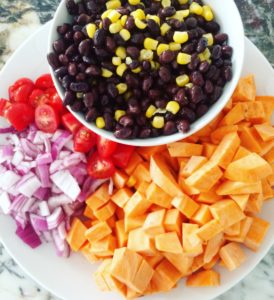 ---
Step two: Cook
Pour one big glug of olive oil in the large deep pan and heat on medium. Add the minced garlic and stir. Let the garlic cook until you can smell it- about one minute.
Add the sweet potatoes and a dash of salt, pepper and cumin. Stir. Cook uncovered for three minutes and stir occasionally.
Add the onion and cook uncovered for two minutes.
Add the beans, corn and tomatoes. Then add another dash of salt, pepper and cumin.  Stir. Add a dash of cayenne and stir.
Reduce heat and cover the pan. Cook for 15 minutes on low heat.
After 15 minutes, add the chopped up greens and stir until they have wilted slightly. Don't let them get too soggy!
If you want to add cheese, add as much or as little as you'd like and stir until it's melted.
---
Step three: Assemble
Fill three medium sized Tupperware containers with the sweet potato skillet.
Let each container cool to room temperature (about an hour to an hour and a half) before covering and putting in the fridge.
Note: There is no one size fits all for portions. For me, this batch gave me three meals. For someone else who needs to take in more calories, it might give them two.
Note: I already ate one of my lunches after taking this picture! I also didn't have any kale. Still yummy.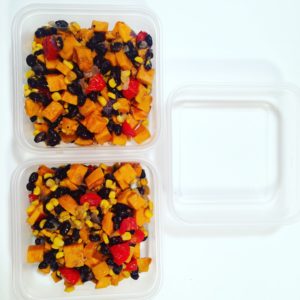 ---
Tips
If you plan on heating this up at work, another option is to add cheese in the morning before leaving. That way it will melt in the microwave and feel slightly fresher.
You can also add chopped up avocado to this, but it's best to add it the day you plan on eating so it doesn't get all brown.
If you don't like any of these ingredients, you can swap them out. For example, peppers could go in place of the corn, tomatoes and onions. You can also swap out the beans for another protein, like chicken.
If you like your food really spicy, add more cayenne.
---
 This meal costs less than $10 to make.
1 Sweet potato = $1
10 cherry tomatoes = $1.50 (10 cherry tomatoes are about half of a box that costs $3)
1 onion = less than $1
1 can of corn + 1 can of beans = $2
Kale = $2
Shredded cheese = $1 (a whole bag costs around $3)
You really can't beat $3.30 for a protein and veggie packed lunch.
This meal is filling and healthy. It can also be repurposed into breakfast or dinner. You can put it in a wrap and make a sweet potato burrito. You can reheat it and put an egg on top too.
The best part about this meal is only having one pot to clean afterwards. To make it go by even faster, you can clean up whatever other dishes you have while the skillet cooks for 15 minutes.