Have you ever been to a buffet restaurant? Or maybe a hotel buffet? The food can be hit or miss, but building your own plate based on what you feel like eating at the moment is always the fun part. With a buffet meal prep, you're bringing that fun (and the ability to be more spontaneous) to your own kitchen!
Buffet meal preps entail preparing each component of a meal separately and then combining them in new ways during the week. This way, you can take advantage of the time-saving benefits of meal prep, without committing upfront to what those components will build.
This type of meal prepping is perfect for anyone who isn't into repeating meals or define themselves as a picky eater. It's also a great method for couples and families that have different tastes and dietary needs.
Below is an example of how I built meals with a buffet meal prep a few years ago.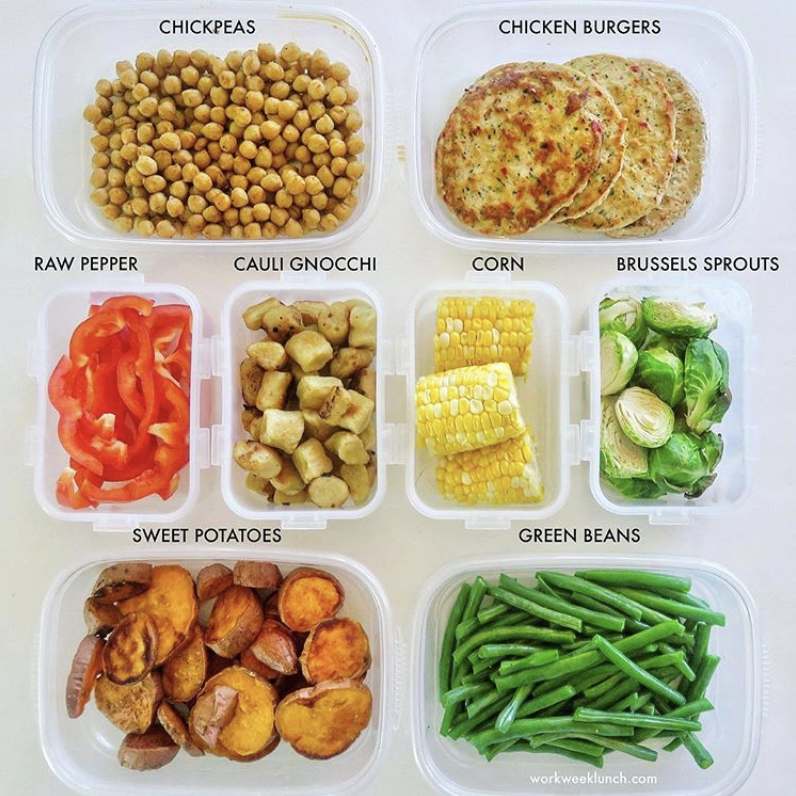 Quick Tips For Buffet Meal Prep
1. Prep 1-2 carb, 1-2 protein, and 2-3 veggie options
The absolute easiest way to do a buffet prep? Prep a carb (like rice, potatoes, or noodles), a protein source, a vegetable or two, and a dressing or sauce separately and build customizable bowls, wraps, salads, and more all week long. Not sure what to cook? Recipe ideas are below or check out this master list of protein, carb, and veggie options!
2. Separate the different ingredients of a dish to be combined later
"I would have them do "parts" for meals. For example, I recently made Talia's shrimp stir fry. My husband isn't too keen on pasta right now and my daughter detests shrimp. We made the meal so the veggies, meat and pasta were all separate and you could "build your own" dish. This really worked for us because is accommodated everyone in our family."
-Darla, Arizona
3. Or batch prep recipes to be portioned later
Another option for buffet prep is to prep the entire recipe and store it in a large container to be portioned out as needed throughout the week! This is helpful if you're feeding multiple people and/or want to save space in your fridge.
4. Use bigger containers
I recommend using slightly larger containers than your average meal prep containers for buffet-style meal prep. I typically use a 29 oz container, so if you're prepping buffet-style keeping some larger containers on hand is helpful!
5. Meal planning can still work with a buffet prep
Buffet prepping doesn't mean not meal planning, which still helps reduce waste, save time and money in this case. Count how many meals you need/want prepped for the week and from there, choose how many batches of proteins, carbs and veggies you want to make. Don't forget to shop your pantry too! It won't be perfect and you might still have some leftovers of random cooked ingredients at the end of the week, but you can almost always freeze it.
Recipe ideas for buffet meal prep
On Instagram, I shared 10 Buffet Meal Prep Menu ideas for various diets (vegan, vegetarian, omnivore, GF, DF). Swipe through this post to check them out!
Here are some good recipes to start with for a buffet meal prep. Remember: don't overthink the flavors and what goes with what! You can mix and match to make endless combinations.
Ideas for carb elements:
Ideas for protein elements:
Ideas for batch cooked veggies:
Want to try it this weekend?
If you're already confident in the kitchen, I recommend choosing 2 carb elements, 2 protein elements and 3 veggie ideas.
If you're still learning to cook, I recommend choosing 1 carb element, 1 protein element and 2 veggie ideas.
Remember, this is an experiment! Who knows? Maybe this method could really work for you if doing a complete meal prep (what I normally talk about and do myself) isn't ideal for your lifestyle or food preferences.