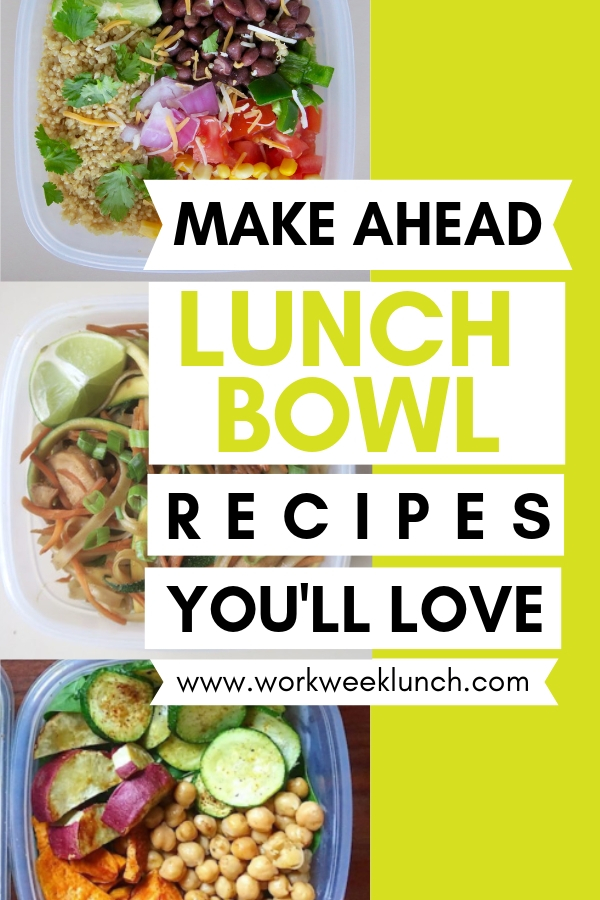 Lunch bowls are a top choice for a delicious and easy-to-transport meal option. Easy to assemble and customize, they're a lifesaver for those of us who are busy, have families, or just aren't feeling a two-hour meal prep marathon.
But choosing the right lunch bowl for meal prep – the one with a delicious flavor profile, that takes minimum prep time, and will taste just as good three days from now – is tricky.
Never fear! We've rounded up our favorite lunch bowls from around the web to ensure you get your lunch-bowl fix without regretting it later in the week (we've all been there).
Lunch Bowls You'll Love
We'd be remiss if we didn't kick this list off with our Burrito Bowl! Talia's classic Burrito Bowl recipe is one of the most popular on Workweek Lunch and it's easy to see why: it's easy to customize and tastes way better than a chain's. Clocking in at only $3 per serving, this lunch bowl will have you questioning how you ever spent $8 on a burrito (plus extra for guac!?).
Spring is just around the corner for those of us in the U.S. and we are here for it. This spring produce-inspired lunch bowl features a farro and/or couscous base topped with sautéed asparagus and a zippy lemon dressing. Don't worry if you don't have walnut oil (or have a nut allergy) – olive oil is a worthy sub.
This bowl is essentially three recipes in one, but we promise the extra preparation is worth the results. You'll start by preparing a quick marinade for the chicken and let it sit for just 20 minutes. While the chicken marinates, whip up an easy cucumber salad and make some brown rice. Then, while the chicken cooks, you'll stir together with a few ingredients and end up with my personal dream condiment, tzatziki. Layer the rice, chicken, cucumber salad, and tzatziki and you'll have six meals prepped in only 30 minutes.
Is there anything more classic than meat and potatoes? Talia takes the concept to a new level with her Quick Buffalo Bowls: one featuring mashed potato (featuring directions for sweet potatoes and Yukon golds) and one featuring cauliflower mash. Buffalo chicken (or buffalo chickpeas or BBQ tempeh) served along with the mash and a veggie makes this is a meal sure to satisfy.
Fifteen minutes is all that stands between you and four ready-to-eat lunch bowls. Sweet-spicy pork sits alongside cabbage and carrots sautéed in chili paste and soy sauce all on a bed of rice. Make it even easier by skipping the chopping and going straight for coleslaw mix.
Featuring soft-boiled eggs, garlic greens, and super simple Korean BBQ beef, this lunch bowl is as unique as it is tasty. Vegetarians can opt for crumbled tofu (grab firm or extra firm tofu and be sure to press dry before crumbling) in place of the beef. And don't be shy about adding in extra veggies; the beef is a great place for the sad-and-squishy-looking peppers, carrots, and zucchini in your fridge.
Thai takeout is incredibly popular and incredibly easy to recreate at home in 30 minutes max. You basically have to wait that long for takeout to even arrive! This Thai lunch bowl recipe also comes with a step-by-step video and a recipe for a peanut sauce that will rock your world. Takeout? New number, who dis?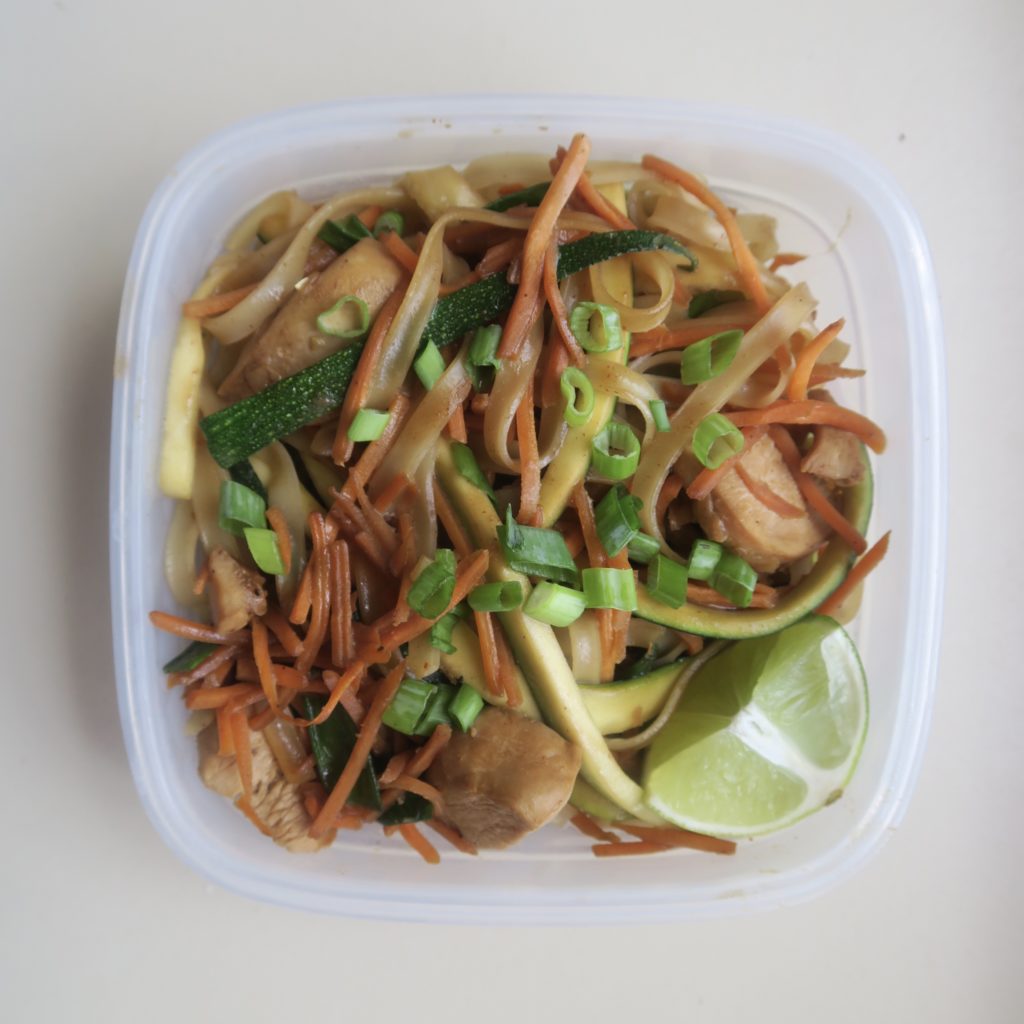 This versatile rainbow bowl is ready in 30 minutes and features all the hearty stand-bys we look for in a great lunch bowl: quinoa, sweet potatoes, crispy roasted chickpeas, greens, and shredded carrots and cabbage, topped with hummus, hemp seeds, and avocado. If your green-of-choice is something tough like kale, go ahead and add it in when you prep. If it's something softer like spinach or arugula, wait until the day-of to add the green stuff in.
Is proclaiming your love to a lunch bowl weird? Either way I'll own it. Pinch of Yum's Sunshine Lentil Bowl is literally exploding with texture and flavor. With a bed of lentils as its base, this lunch bowl is piled high with roasted potatoes and green beans, soft scrambled eggs, and goat cheese, and topped with a dreamy garlic dressing. Not a fan of cold scrambled eggs? Opt for soft-boiled eggs instead.
It may be a mouthful, but this recipe is anything but complicated. In fact, in less than a half hour, you can have these Buddha Bowls prepped and ready for the week ahead. Featuring garlicky chickpeas and loads of vegetables (zucchini, sweet potatoes, and greens), this lunch bowl is built to impress. Top with tahini sauce, sriracha, or eat it plain – the world is your oyster.
Quick Tips for Building Your Own Lunch Bowl
Didn't find a lunch bowl that fits your preferences? No worries! Here are a few tips to keep in mind to ensure your custom lunch bowl is meal prep friendly.
Do

start with a hearty, whole-grain base like rice or quinoa.

Don't

skimp on the veggies. Get creative by adding vegetables prepared in unique ways, like

quick-pickled onions

or a

tangy cabbage slaw

.

Do

include proteins like chicken, tofu or tempeh, chickpeas or other beans, beef, or seafood.

Don't

add soft greens like spinach and arugula until the day-of, but feel free to add cooked greens or tougher greens like kale at the time of your prep.

Do

customize the flavor profile

with spices and experiment with different

dressings and sauces

– have some fun!
If you're feeling inspired, sign up for a free Workweek Lunch sample meal plan here featuring the quick buffalo bowl from this list along with other awesome meal prep recipes.