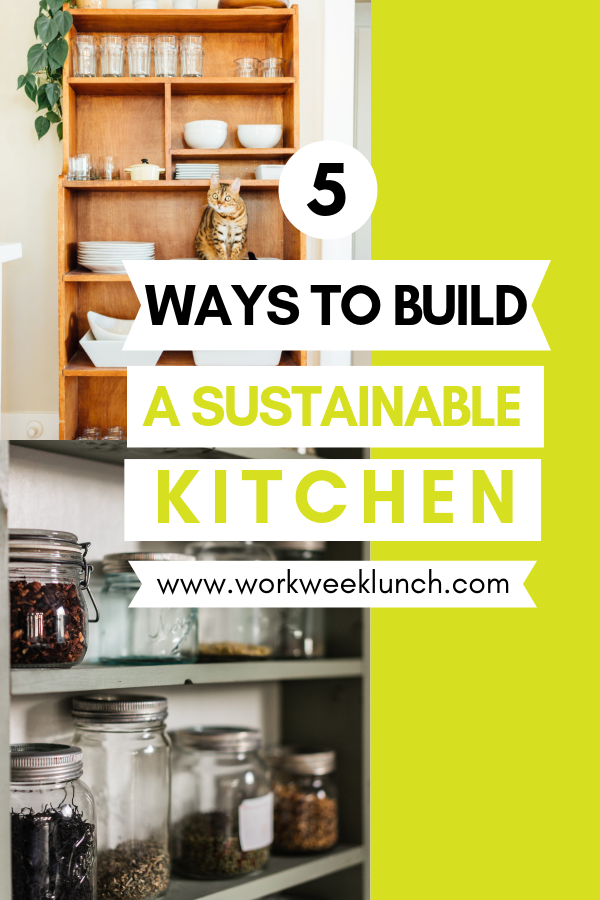 When you think of creating a more sustainable kitchen, you probably think of the food first. Eating sustainably sourced seafood, incorporating more plant-based meals into your diet, and joining a Community Supported Agriculture farm are all great ways to reduce your environmental footprint, but sustainability is much bigger than just what you eat.Creating a more sustainable kitchen (and then using that kitchen to cook as much of your food as possible) is a great next step to up your sustainability game, but it can be challenging to know where to start and what will have the most impact.
We've broken down a sustainable kitchen into some key concepts, with simple, actionable tips to make your kitchen more sustainable today. Let's get green!
Reduce Plastic and Paper Use
Reducing plastic and paper use can seem daunting and expensive. While it's true that you may need to purchase a few items to replace some of your paper and plastic stand-bys, you definitely don't need to it all at once. Some things will be more realistic than others and every little bit helps when it comes to sustainability.
Let's start with the meal-prep classic: containers! While there is absolutely nothing wrong with plastic containers, glass containers are the top choice for sustainability. The difference here isn't with safety, but with life-cycle. Plastic containers don't last forever and while they can be recycled, that process results in harmful emissions. Plastics can also only be "downcycled," or turned into a lesser quality plastic than what they started as. Glass containers have an indefinite life cycle and can be recycled more easily.
Beyond meal prep containers, plastic bags and plastic wrap are also common food storage options. We recommend Stasher bags as a stand-in for plastic bags; they come in multiple sizes and fun colors and are easy to clean and reuse. Etee Wraps are Talia's favorite replacement for plastic wrap. Because they're reusable, Etee Wraps are also easy to take on-the-go to wrap up leftovers.
Paper towels are a sticking point for many people looking to reduce paper use in the kitchen. I personally love paper towels and have a very bad reflex of grabbing a huge piece just to dry my hands. The best way I've found to mitigate my bad paper towel habit is to put dishcloths everywhere in my kitchen. With dish towels always conveniently within reach, I use paper towels that much less.
When not home, it can be tempting to just use what's available, even if it isn't ideal. Having a few key products handy can help thwart that temptation and actually make things more convenient for you.
Reusable shopping bags are inexpensive and allow you to carry more at once than a standard plastic grocery bag. Plus, the sharp edge of your yogurt lid won't be able to slice the reusable bag ever-so-slowly, reducing your bag to shreds as you're poised over a puddle in the parking lot (experience talking here). Reusable produce bags are great if you typically buy many loose items. They do have a slight weight to them, which is printed on tiny tags attached to the bags, so be sure to let your cashier know so they can deduct that weight from your purchase.
Finally, a reusable water bottle and hot beverage thermos are classic ways to reduce paper and plastic use. Most coffee shops will also give you a discount on coffee if you bring your own reusable container.
Use Up Scraps
Being mindful of food waste is another great way to make your kitchen habits more sustainable. Try tracking all the food you throw away in one week. Between unfinished meals, "unusable" scraps and peels from vegetables and fruit, and that mushy zucchini forgotten in the back of the refrigerator, food waste adds up fast.
Making broth from leftover scraps is a great way to use every last bit of the vegetable. Everything from carrot tops to mushroom stems to onion skins can be used to create a rich vegetable broth (or add meat and/or bones to make chicken or beef broth). Save your scraps in a reusable bag in the freezer; when it's full, it's broth time. We're also big fans of roasting the skin of root vegetables like carrots and potatoes, turning them into delicious chips.
For all other food waste, composting is the gold standard. It's a good idea to check local laws and regulations around composting before starting one (you can check the U.S. Composting Council's websites for details), but actually building a compost system is pretty simple. Once your system is set up, be sure to educate yourself on what can and can't be composted.
Clean with Greener Products
Replacing harsh mainstream cleaning products with environmentally friendly alternatives has never been more accessible. With brands like Seventh Generation and Mrs. Meyers available at big box stores like Walmart and Target, more and more consumers have made the switch.
These cleaner alternatives aren't just good for our air quality and water supply, but also keep potentially unsafe chemicals out of your home – and away from your food.
Making your own safer cleaning products is the most affordable option, and it's very simple to do. The book Salt, Lemons, Vinegar, and Baking Soda by Shea Zukowski shares hundreds of cleaners you can make from those four ingredients.
Use Less Water
Water consumption is an easy thing to let go unnoticed. We use water – for cooking, washing dishes – and then it disappears, so it can be hard to appreciate just how much we use on a daily basis.
Short of using a shower bucket in your home, being efficient when hand washing dishes can conserve a great deal of water. My grandmother still plugs her sink up and washes her dishes with one sink-full of hot water, instead of letting the faucet run. #SustainabilityGoals
Dishwasher-owners, you're not off the hook! Learn how to load your dishwasher efficiently so you can run it less often.
Shop with a (Meal) Plan & Grocery List
Shopping without a plan (and accompanying shopping list) leaves a lot of opportunities to bring home food that won't be used and will go bad. I always feel like a health-conscious warrior leaving the produce section with my cart overflowing with green goodness; I feel slightly less good when I end up throwing half of it away at the end of the week.
Trying out a new recipe with a fancy ingredient? Check the bulk bins at your grocery store. The bulk section often features nuts, seeds, spices, and more, allowing you to purchase exactly what you need for a recipe.
If you struggle with planning (🙋‍♀️), the Workweek Lunch Meal Prep Program is for you. The program comes with meal-prep-friendly breakfast, lunch, and dinner recipes for the entire workweek and done-for-you grocery lists (!!!), ensuring you're using up everything you're buying. Save money, save the planet; done and done.
And if you slip up and end up with a heap of limp greens in your fridge, there are recipes that lend themselves to less-fresh produce, like soups and stir frys. My go-to advice, "when in doubt, roast it" applies here, too.
---
Taking control of your environmental impact is no small feat. There are hundreds of ways to be more mindful about how your actions impact the planet. No one tip is better than another. Every bag you swap for a reusable option, every scrap you compost, and every paper towel you don't use counts. Focus on making more mindful choices around paper, plastic, cleaning products, and food waste. It will make your kitchen, and the planet, that much cleaner.
Like this post? Get all new posts, videos and more from Workweek Lunch directly to your inbox by signing up here.