On more than one occasion, a can of chickpeas has saved me from totally skipping lunch. As someone who works from home most days, I spend a lot of time glued to my laptop, furiously typing away to get assignments done, often too focused to even think about eating.
Usually, it's only when my stomach starts growling uncontrollably that I realize I need food ASAP, but I don't always have much time to stop what I'm doing to whip something up.
That's where the no-cook recipes using canned chickpeas come in.
I love them because they're ready to eat as soon as you open them. They're packed with the essential nutrients that keep you satisfied, like protein, fiber, and complex carbohydrates. Plus, they don't need a lot of maintenance to taste great—basically, they give me no excuse to skip lunch.
In most cases, you don't even need to turn your stove or oven on to transform them into an excellent meal. For example, recipes like chickpea salad taste as good as their meat-filled counterparts and take half the time to make—perfect for when you need a sandwich, stat. Keep these six no-cook recipes featuring chickpeas in your back pocket for any occasion, whether it's too hot to turn the oven on, you're stuck in a college dorm and don't have a proper kitchen to cook with, or you just don't have a lot of time to prep lunch like me.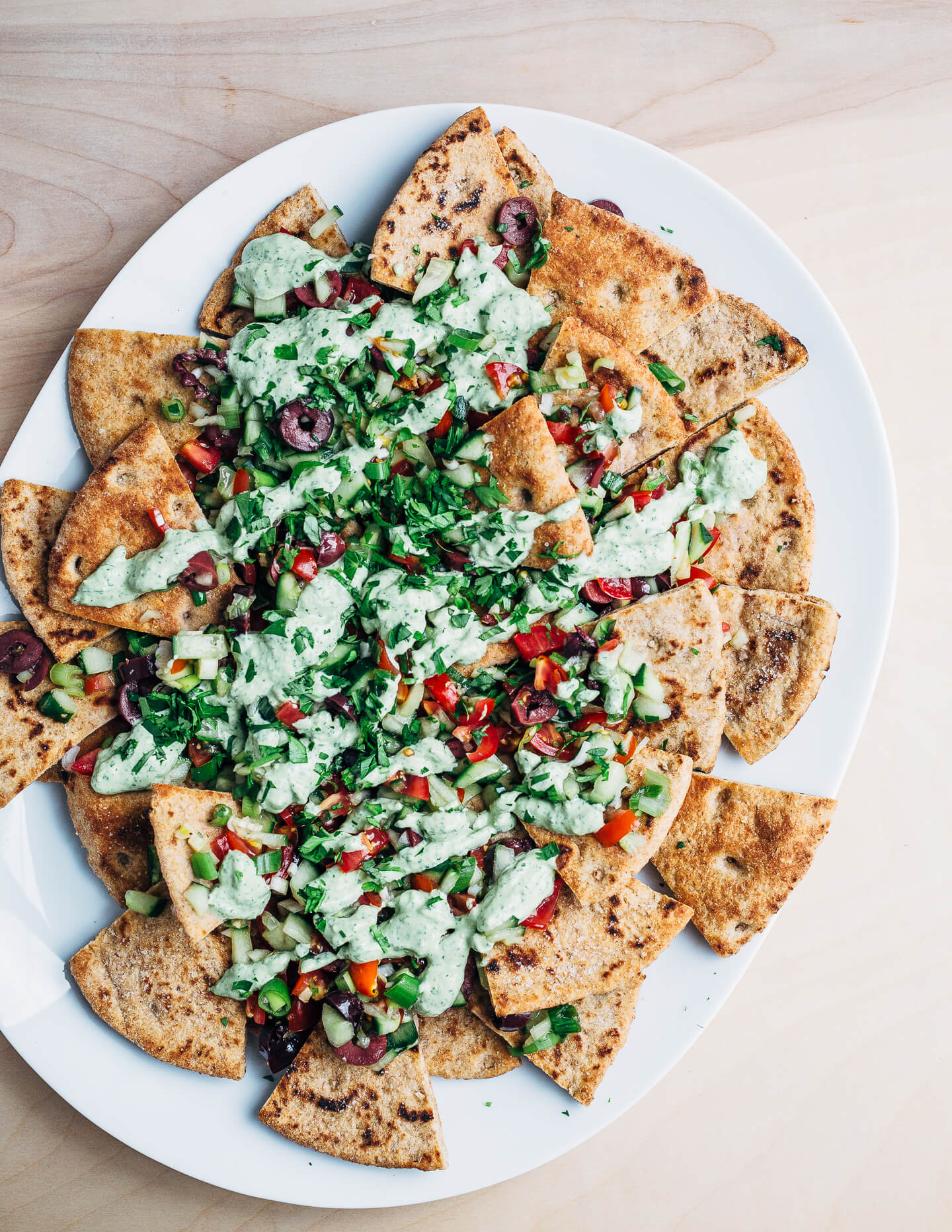 These vegan nachos get a huge boost of protein from canned chickpeas. They'd make a great lunch and an even better last-minute appetizer for a party. This no-cook recipe calls for you to make homemade pita chips, but if you aren't in the mood to cook (or you don't have an oven), feel free to sub in your favorite brand of store-bought pita chips. They'll work just as well and save you time, too.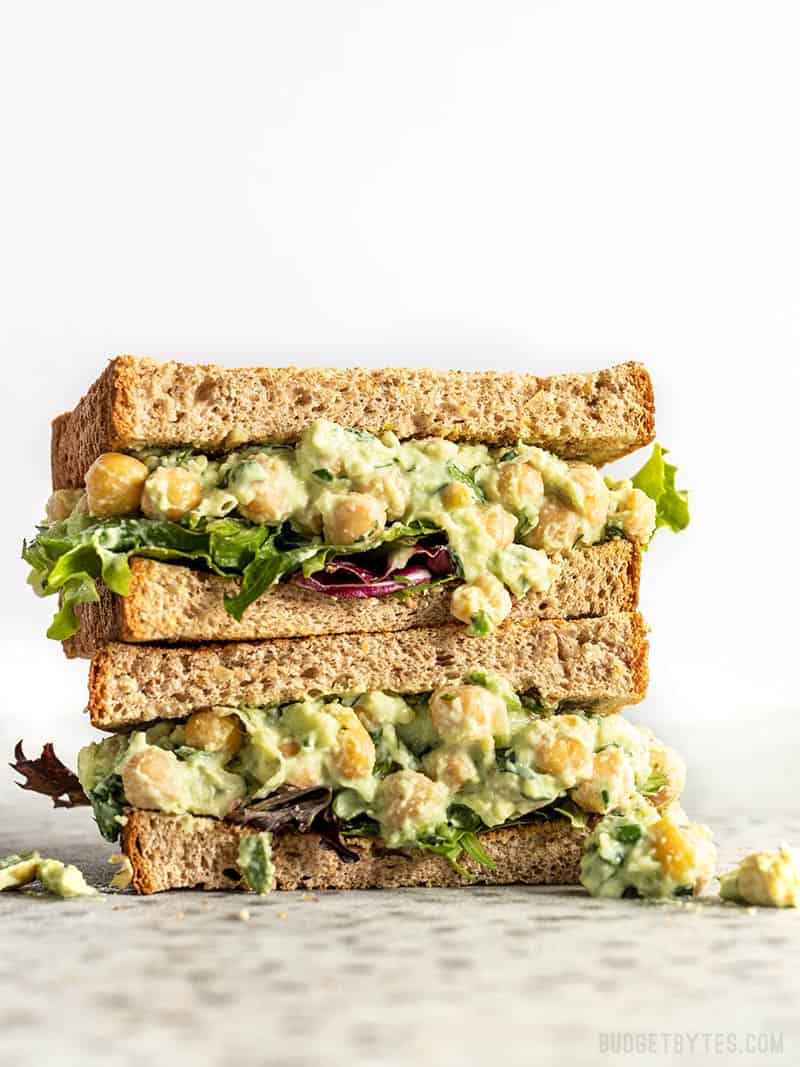 There are so many things to love about this vegan spin on chicken salad. For one, it'll take you a grand total of 10 minutes to make. It will also hold up well in the fridge for days if you decide to prep it ahead of time. Plus, it'll cost you less than $2.50 for all the ingredients you need to make it. It also relies on fresh, light ingredients like Greek yogurt, herbs, and avocado to create something that's probably way lighter than the chicken salad you're used to.
Why make plain hummus when you can make miso hummus instead? Miso may sound like it's hard to find, but these days, you can track it down at almost any supermarket (sometimes it's hiding in the dairy section, though). Not to mention, there's really nothing better to do with chickpeas than to make an excellent hummus. Use it as a dip for veggies or crackers, or spread it on your sandwich for a boost of flavor and nutrients. 
With sweet pears, spicy arugula, and creamy chickpeas, this hearty salad has a perfect balance of flavors. But really, you can add canned chickpeas to just about any salad and it will probably taste great. Chickpeas have a mild flavor that works well with tons of other ingredients. Adding them to a salad will make them that much more satisfying, so you don't wind up hungry again an hour later.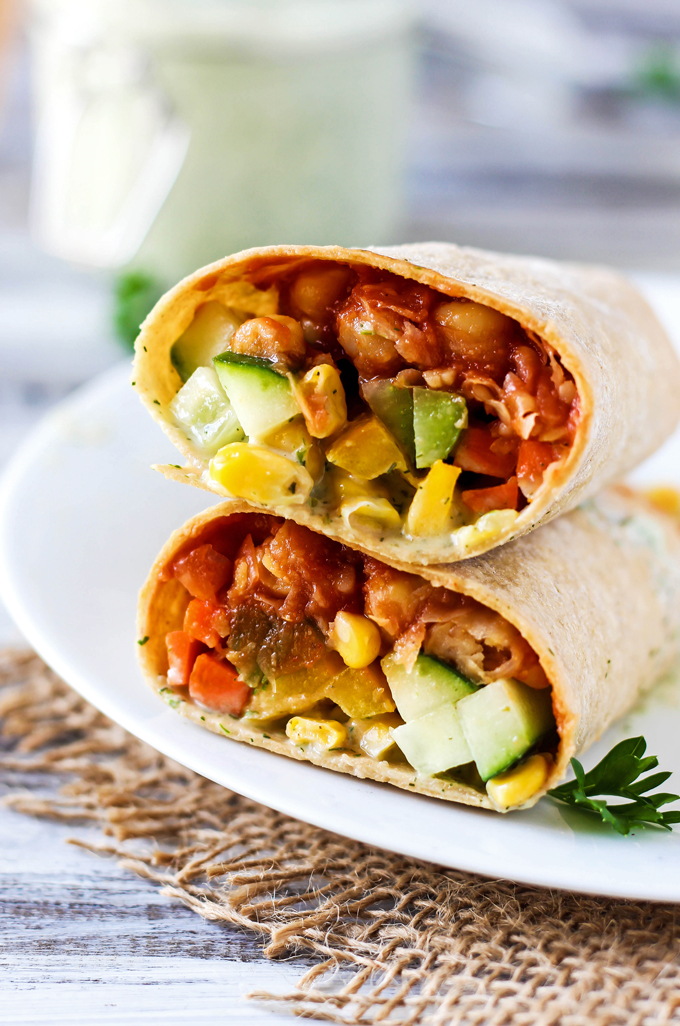 The chickpeas in these wraps get tossed in a BBQ sauce and quickly microwaved. If you don't have a microwave, you can marinate the chickpeas in the sauce for about 10 minutes. Consider marinating a bunch of chickpeas during your weekly meal prep session so that you always have some on hand to throw this recipe together. 
When it's blazing outside, sometimes chilled soup is the only thing that can cool you down. This recipe uses a lot of the same ingredients as hummus, but adds in a bunch of vegetables like cucumbers and tomatoes to give it a texture that's more like gazpacho. 
I hope you liked these no-cook recipes featuring chickpeas!  If you did, go ahead and SAVE this post on your Chickpea Recipes board or your Easy Meal Prep Recipes board!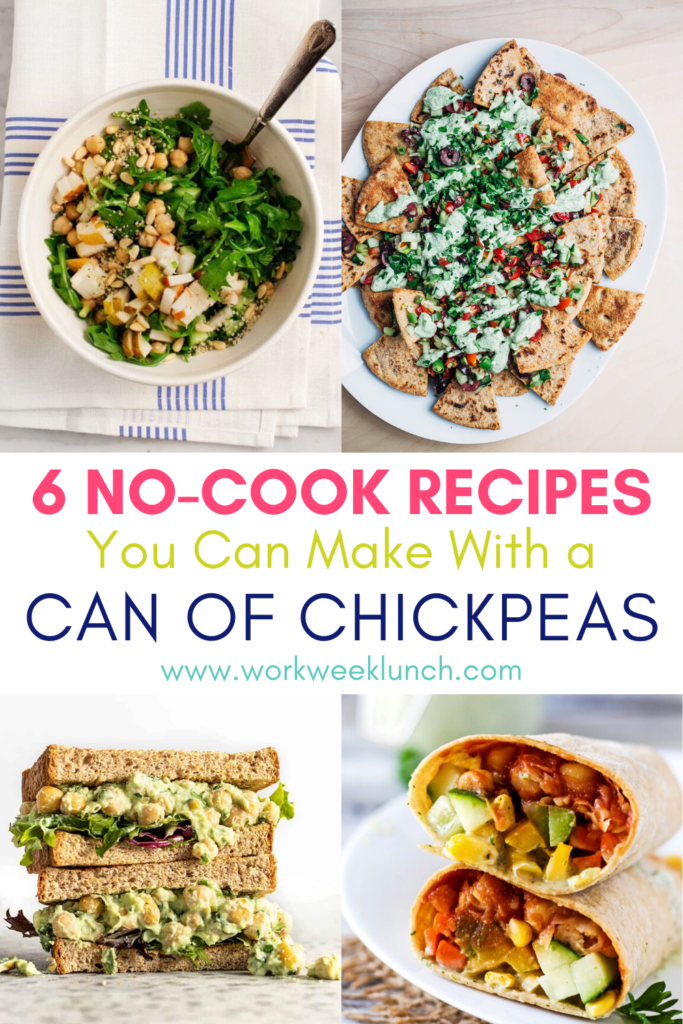 Looking for more no-cook recipes? Here are some more easy ideas. 
---
Need some meal prep guidance with the help of organized meal plans, tested recipes you can trust and itemized grocery lists? I got you. The WWL Meal Prep Program has 300 recipes, over a year of meal plans and all the support you need to get meal prep done each week to save time and money (while eating healthy!). Click here to sign up today for $7.99/mo. You can cancel anytime if it's not for you. Can't wait to see you inside!