No, banana pancakes aren't just for Sunday mornings!
They can also be for Sunday meal prep.
Out of all the pancakes I've attempted for prep, these vegan ones are the best.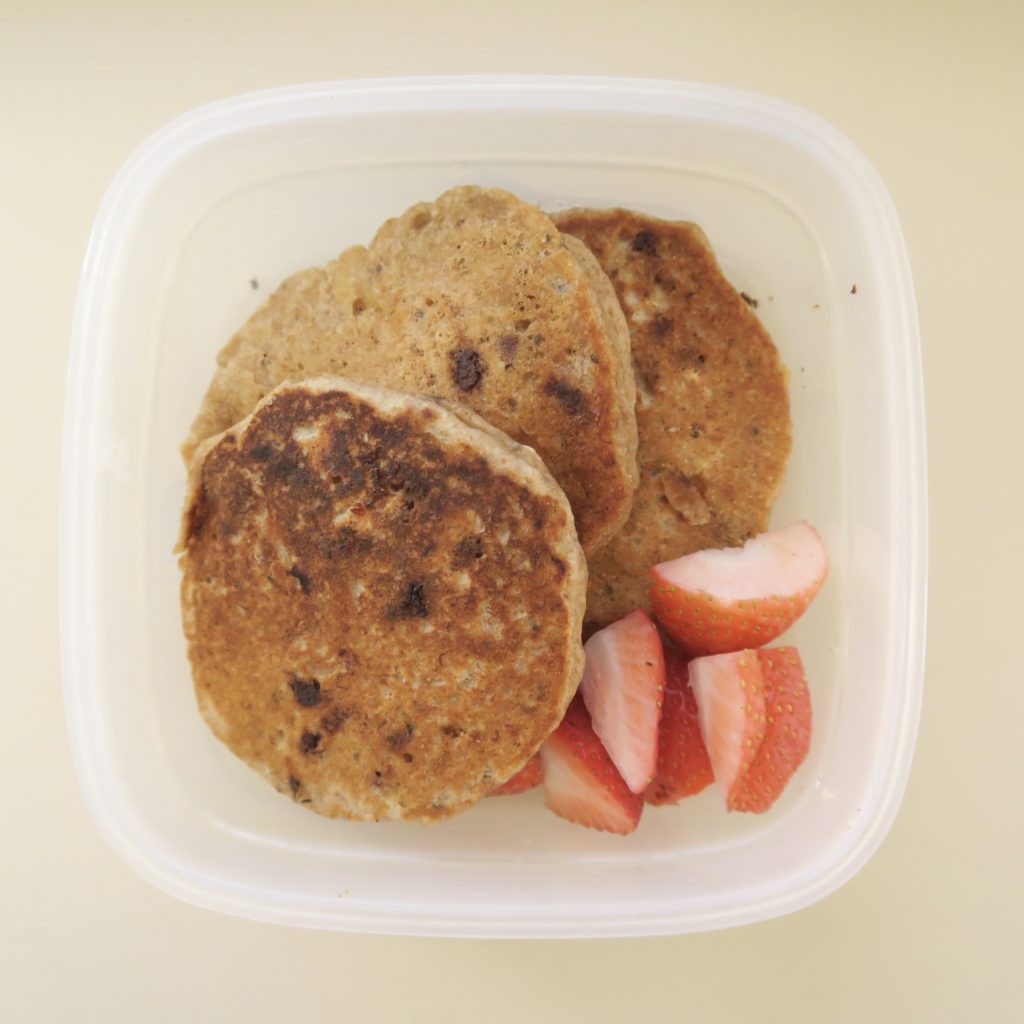 What you need to know about this vegan pancake recipe:
The original recipe for these aren't gluten-free, but you can easily make them with your favorite gluten-free flour if needed. Note that coconut flour is not ideal for this recipe!
And if you don't have coconut oil, you can absolutely use regular butter, vegan butter or vegetable oil instead.
I included chocolate chips and banana slices in these, but you can go nuts… literally. Throw some nuts in there! Walnuts would be amazing.
Seriously, add whatever you want. Apple, mango, strawberries, blueberries, pineapple, kiwi? It's all fair game.
How to reheat pancakes:
Pancakes are amazing for meal prep because you can reheat them with ANY method, or eat them cold, and not go wrong.
Oven? Toaster oven? Microwave? Stove? It all works.
I used a microwave for these babies. I let the strawberries get warm and mushy, and it almost turned into a lovely strawberry sauce! Why not?
How many pancakes should you put in your containers?
I put three fairly small pancakes in each of my containers and that was plenty of breakfast for me. I expected to get hungrier earlier than normal after eating them, but I didn't!
How many pancakes you put in your containers depends on a couple things: how much food you need to feel full and how big you make them!
By the way, you can EASILY double this recipe to make pancakes for you and your partner or prep breakfast for your kiddos.
I'd love to see your version of this recipe! Feel free to share it with me via DM on Instagram @worwkeeklunch or tag me in the caption/on the post. 
| | |
| --- | --- |
| | |
Add the mashed banana, vanilla, oil and milk in a large bowl. Mix until combined. Then add the flour, oats, baking powder, salt, chia seeds and chocolate chips. Add protein powder if using. Mix again until combined.

Heat a skillet over a medium flame and add cooking spray or an oil of your choice. After a few minutes, use a 1/3 measuring cup to add batter to the pan. Top the pancakes with banana slices if using. Flip the pancakes when you start to see bubbles. Should take about 5-7 mins to cook, total.

Make sure to re-grease the pan between batches to avoid sticking.
Store pancakes in airtight containers in the fridge. To reheat, either use the stove, toaster oven or microwave. Pancakes will last for up to 4 days.