"What are Buddha bowls?"
That's what my boyfriend asked me when I showed him these bad boys.
The truth is, there's no exact definition of a Buddha bowl. They come in many shapes and sizes.
If you do a quick search for them on Pinterest, you'd learn they're usually made up of healthy, colorful ingredients that are raw or roasted and topped with sauce.
Obviously, my Buddha bowls above don't have any sauce on them. I think mine are good enough to go without it. However, if you think these Buddha bowls look too naked then feel free to add a peanut or tahini-based sauce or Sriracha.
You can find a Buddha bowl recipe on just about any food blog out there, but here's why this one is different:
It only contains four main ingredients…
Yup. This one is just made up of chickpeas, sweet potato, spinach and zucchini.
These are all cheap ingredients that can be found in just about any grocery store. Sweet potato and chickpeas are good staples to have on hand anyway because they don't go bad quickly. This recipe would be perfect if you had a bunch of greens to use up before they go bad, too.
…But you can easily swap them out for different ones!
My goal is to provide recipes that you can easily change up so you don't get bored of them, but you also don't have to learn how to cook something brand new.
With this Buddha bowl, you can swap out sweet potato for a grain, the zucchini for another vegetable or the chickpeas for another type of protein. Good veggies to use instead: broccoli, green beans, asparagus, peas, carrots, parsnips, beets, summer squash, eggplant, swiss chard, spinach, radishes, sprouts, cauliflower etc.
Want to add an animal protein? Salmon, shrimp and chicken are excellent options for this Buddha bowl. Cook these proteins to your liking- you'll need a pound (453g) total to make 3 servings.
That's the beauty of the Buddha bowl!
How to double or add more volume to this recipe:
This recipe makes three servings, but you can easily increase it to six by just doubling each ingredient. You may need extra sheet pans for the sweet potato.
To add more volume a good start would be going with a grain like quinoa! That's a common ingredient in Buddha bowls. You can also add more veggies (as always) by choosing one from the list above or throwing in odds and ends you have to use up before they go bad!
Storage & reheating notes:
This recipe lasts for up to 4 days in the fridge. It's not freezer friendly and it reheats well in the microwave or on the stove.
Feel free to add your favorite sauce, dressing, sliced avocado or a dollop of hummus before eating this meal!
Like this recipe? Sign up below for my free meal prep starter kit!
SAVE this recipe on your Vegan Recipes board or your Easy Meal Prep board for your next meal prep for the week!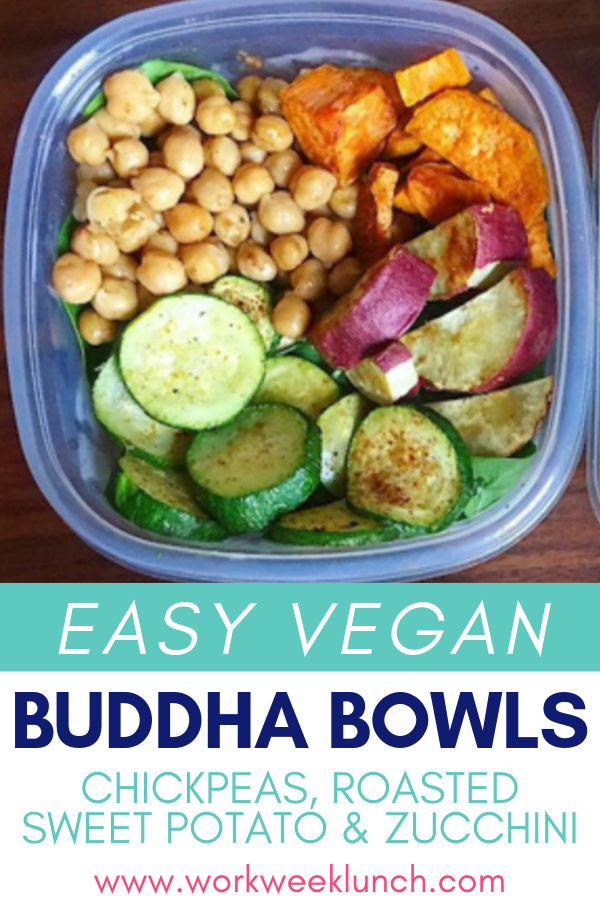 Easy Buddha Bowls With Roasted Sweet Potato & Zucchini
Ingredients
15

oz

can of chickpeas

rinsed and drained

16

oz

sweet potato

cut into wedges

1

medium

zucchini

cut into 1/2 inch thick slices

1 1/2

cups

spinach

raw, or kale

1

clove

garlic

minced

1

tablespoon

cumin

(divided)

2

teaspoons

paprika

(divided)

1/2

teaspoon

cayenne

(optional)

salt and pepper to taste

2

tablespoon

oil

of your choice, divided
Instructions
Preheat your oven to 375 F (190 C). Prep the veggies and the can of chickpeas.

Grease 2 sheet pans with oil. Place the sweet potatoes on one pan. Drizzle the wedges with 1 TBSP olive oil and sprinkle 2 teaspoons of cumin and 1 teaspoon of paprika evenly over them. If you like spicy, add the cayenne too. Use your hands or a spatula to toss them a little bit on the pan. Place in the preheated oven for 15 minutes.

On the other pan, place the sliced zucchini. Drizzle the slices with olive oil and sprinkel with salt and pepper. Place them in the oven for 15 minutes.

While the zuccchini and sweet potatoes roast, heat 1 TBSP oil of your choice in a pan on medium heat. After a minute, add the minced garlic. Then add the chickpeas and stir a little. Add salt, pepper the remaining paprika and cumin to the pan and toss to cover the chickpeas evenly. Sautee on low-medium heat for about five minutes.

Remove the sweet potatoes from the oven (after 15 mins) and flip them over. Place back in the oven for 10 minutes.

To assemble: Put 1/2 cup of raw spinach or kale in the bottom of each container. Then add the zucchini, sweet potato and chickpeas. Let the meals cool for 30-40 minutes before covering and placing in the fridge.
Notes
These will keep in the fridge for up to four days.
To reheat, warm them up in the microwave for a minute and 30 seconds uncovered or on low heat in a pan on the stove for about five minutes.
I recommend topping these bowls with tahini sauce, avocado or sriracha before eating!