Even though I'm not a big soup person, butternut squash soup has always been a favorite.
I never thought about making it for meal prep until it was requested so many times by my audience.
Boy, am I happy they encouraged me to make it! Ain't she a beaut?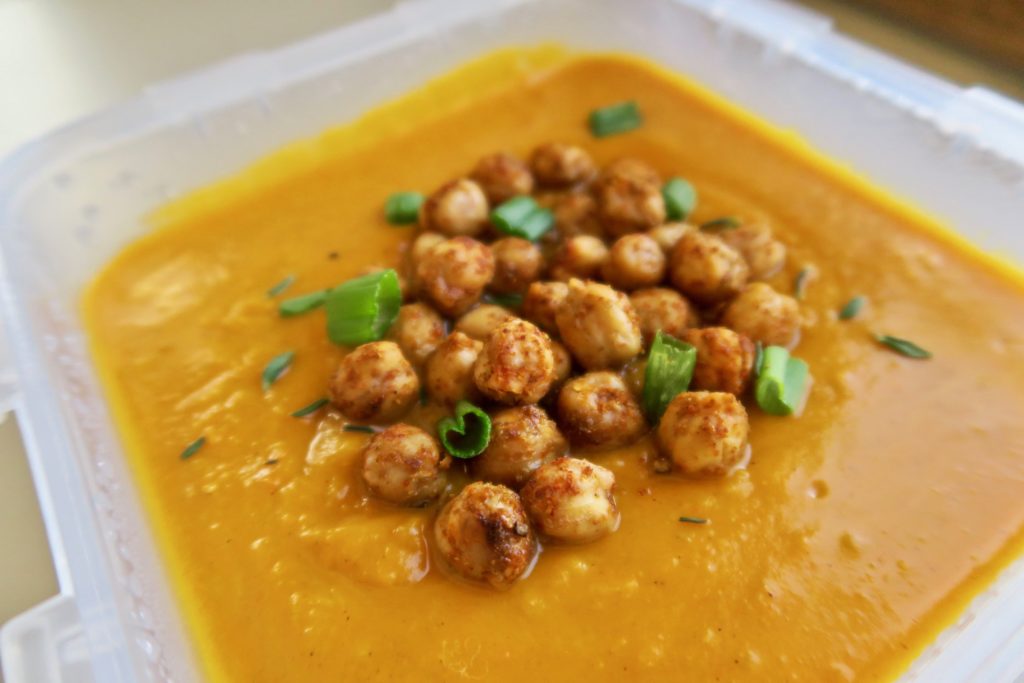 As always, I like to make recipes that leave no ignredient behind. Meaning, I don't want you to have extra squash, greens or chickpeas that you don't know what to do with.
So yes, this recipe requires you to use an entire butternut squash. It makes six servings which is double the amount of servings than most of my recipes.
This is probably one of the most freezable meals out there.
I tested it myself a few times. It took over a day to thaw out in the fridge, but once it was ready to reheat, it tasted just as good as it did the day I whipped it up.
In fact, it may have tasted better afterthe flavors had time to develop.
Speaking of flavor, this soup is packed with it.
I dumped SO MUCH cinnamon into my original batch, but toned it down a bit for the recipe. These days, I just dump cinnamon in everything.
Originally, I wanted to add silken tofu instead of non-dairy milk to the soup to get more protein in… but I found that the addition of chickpeas was perfect. It didn't need the tofu too.
Some ideas to experiment with in this butternut squash soup:
If you don't feel like adding chickpeas on top, I would try blending in silken tofu for a creamy teture and more protein
If you have pita bread, I would chop it roughly and roast it in the oven to make some spiced pita chips to go with this soup
You can also replace butternut squash with pumpkin or another type of winter squash if you're feeling brave
If you want, you can also roast the butternut squash for about 20-30 minutes (whole, not cubed) before peeling, chopping and throwing it in the pot
Instead of chickpeas, I think cannelini or another white bean would go well with this
Also, feel free to leave the chickpeas out altogether. This soup still rocks without them
This dish will last in the fridge for up to four days and in the freezer for around three months. If you make this, I recommend storing half of it in the freezer in individual portions so you have the ability of thawing only what you need. Store and eat the other half for your weekly meal prep!
Want to meal prep but don't know where to start? Sign up below and immediately get a meal planning template and more easy meal ideas.
This soup is kinda sweet, kinda spicy and totally satisfying. It makes the perfect lunch or dinner to take to work (it smells awesome) or a great dish to make when entertaining friends and family because it comes together so easily.
| | |
| --- | --- |
| | |
Preheat the oven to 400 F. In a large pot, heat oil over a medium flame. Add the onion and let cook for about 5 minutes, until the onions are translucent.

Add the garlic, carrots, celery,butternut squash, veggie stock, water and spices to the pot. Turn up the heat and stir thoroughly.

Once the mixture starts boiling, turn the heat down to a simmer and cover the pot. Let it cook for about 30 mins, until the squash is tender.

While the soup cooks, toss the chickpeas in a bowl with salt, pepper and cumin and a dash of oil. Pour them onto a baking sheet and bake for 15-20 minutes.

After 30 mins is up, add the soup to a blender with some dairy-free milk (I used about 1/2 cup per batch in the blender) and blend until smooth. Repeat until all the soup is blended. You can also use an emulsifier if you have one!

Portion out the meals you need in containers and top with chickpeas - as many as you want. Freeze the rest!
This meal will last for up to 4 days in the fridge or 3 months in the freezer.