In need of a cheesy, pizza-like dish packed with veggies that isn't pasta based? You've come to the right recipe.
Let me introduce to you… this cheesy stuffed spaghetti squash with pesto chicken, tomatoes and greens.
This dish has it all! It's easy to change up based on dietary needs and preferences (like all of my recipes) AND it works as a meal prep or something you can serve to guests.
What you need to know about customizing this recipe:
You don't have to use spaghetti squash. If you can't find it or dislike it for any feel free to stuff an acorn squash, delicata squash, butternut squash, bell pepper, zucchini… the list goes on and on. The spaghetti squash is just a good pick because it's in season during the holidays and it's very presentable at the holiday dinner table.
You can easily make this vegetarian. If you don't eat meat, or you have some nonmeat eaters at a meal you're hosting/going to, you can replace the chicken with white beans or chickpeas! It's one less cooking step for you equally as tasty. You can always do one half with meat and the other with legumes to please everyone at a holiday meal.
You can easily make this vegan. By replacing the chicken with either more veggies or legumes and either using vegan mozzarella or skipping cheese altogether, you can make this meat and dairy free. You'd also have to use vegan pesto, which is so easy to make or find in stores like Trader Joe's. The cheese isn't the star of the dish, so I honestly think this would be good without it!
Not into pesto? Use red sauce instead!
Not feeling tomatoes and kale? Other veggies would totally work. Mushrooms, peas, chopped asparagus, chard, broccoli florets, etc. Spaghetti squash is very mild and pesto goes with pretty much everything!
If serving this meal to guests:
The first thing I want to note is that if you serve this meal to guests, you should wait until 30-60 minutes before serving to pop it in the oven after it's assembled. Otherwise, the cheese may harden on top and that's no fun!
When serving, I would cut the entire stuffed squashed into portions for guests OR have everyone scoop some of it out onto their plates.
If making this meal for meal prep:
I used a quarter of a squash per serving (and got 4 servings total). I recommend waiting until the squash has cooled slightly to cut through it to put into meal prep containers.
When you're ready to eat this meal, you can do it a few ways. It reheats best in the microwave. You can reheat it as is and eat right out of the squash OR you can scoop what you're going to eat out of the peel (because we don't eat that part) and just reheat that. The latter is a little easier to eat, but either way works!
I also recommend adding a sprinkle of cheese before reheating. Because… you can never have too much cheese.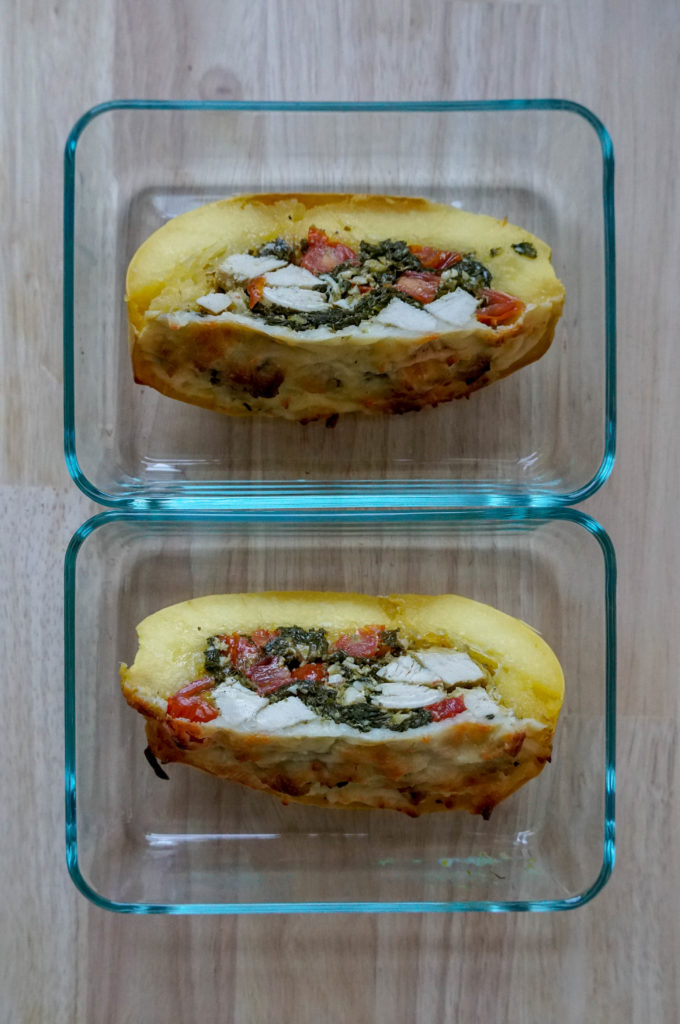 Want access to more easy recipes like this?
Join the Workweek Lunch Meal Prep Program for $7.99/month to get access to all of my recipes, weekly meal plans, grocery lists and a private support group. Learn more here!
If you liked this recipe, go ahead and Save it to your Easy Meal Prep Recipes Board!
Cheesy Spaghetti Squash Stuffed With Tomatoes, Greens & Pesto
Ingredients
2

spaghetti squash

cut it half, seeds scooped out

1

chicken breast

1

cup

cherry tomatoes

chopped in half

2

cups

spinach

chopped, or kale

1

clove

garlic

minced

3/4

cup

marinara sauce

(pesto or marinara) homemade or storebought

salt and pepper to taste

1

tsp

thyme

1

tsp

oregano

2

TBSP

olive oil

15

oz

can of cannellini beans

rinsed and drained

1 1/2

cups

mozzarella cheese

divided
Instructions
Preheat your oven to 400 F (200 C)

Cut the spaghetti squash in half lengthwise. If you can heat it in the microwave for 2-3 minutes before doing this, it will be a lot easier. Scoop out the seeds with a fork and discard them. Drizzle olive oil over the each cut side (the flesh side) and add salt and pepper. Place the spaghetti squash pieces "face down" on a baking sheet. Bake for 30 minutes.

If using chicken: Place the chicken breast in a baking dish. Drizzle with olive oil, add salt, pepper and thyme. Turn the chicken breast over and repeat the process. Bake for 20-25 minutes, until the center is no longer pink or a meat thermometer reads 160 F.

While the squash and chicken bakes: Add 1 TBSP oil to a skillet over medium heat. Then add the garlic and let it cook, stirring often, for a few minutes. Then add the cherry tomatoes, greens, salt and pepper. Cook for 5 minutes, until the greens have wilted. Transfer the cooked veggies to a bowl. If using white beans, add them to the bowl too.

When the chicken is done: let it rest for 10 minutes. Then chop the chicken into small pieces or shred with 2 forks. Add it to the bowl with the cooked veggies.

Add the pesto and half of the mozzarella cheese to the bowl with the cooked veggies. Toss well until everything is combined.

Assemble: Scoop out and discard some of the spaghetti squash flesh to make room for the stuffing. Add a sprinkle of salt and pepper to the spaghetti squash, then divide the stuffing between the halves. It's oay if there's some overflow. Top with the remaining mozzarella cheese (add more if you want!). Bake uncovered for 20 minutes, until the cheese starts to get a little brown. Serve immediately, or store let cool before slicing into portions for your meal prep containers!