When most people think "meal prep," they think grilled chicken, brown rice and broccoli.
Take it from me, meal prep doesn't have to be that boring.
Chicken is a form of protein we are most likely to get bored of. Why? because we're not flavoring it properly!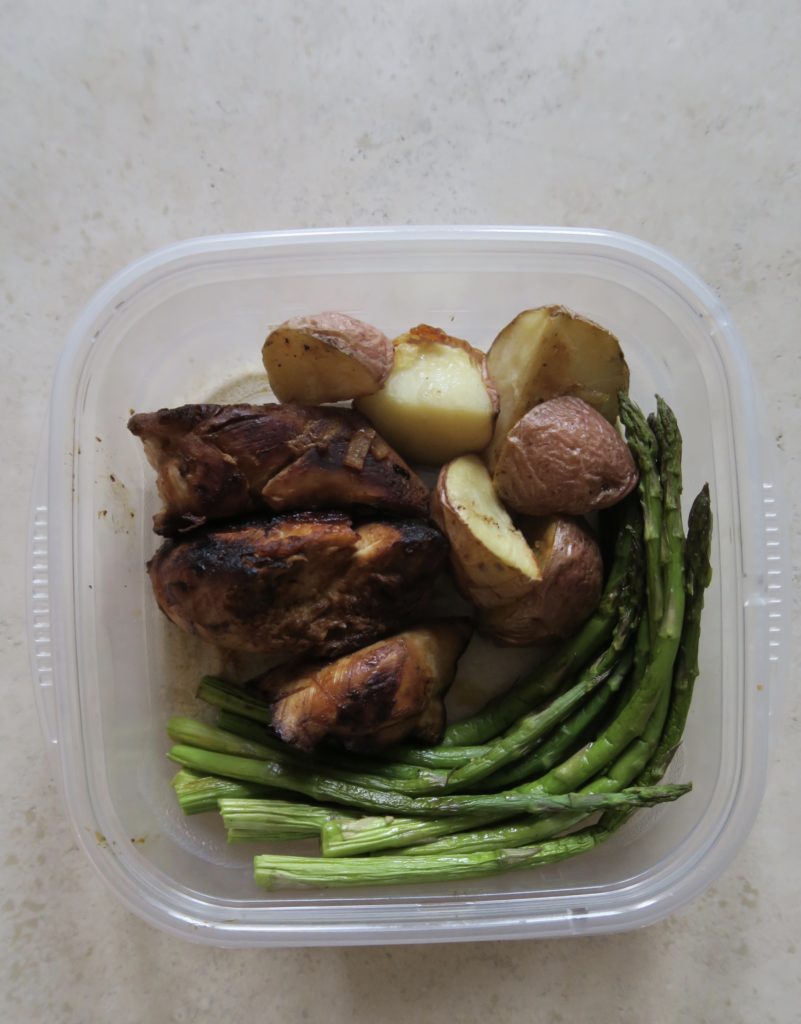 Two things MUST happen to make good grilled chicken:
The marinade (or spice rub) is a must. This recipe includes one of my favorite easy marinades for grilled chicken.
Your cooking method has to be on point. This is a bit trickier. Chicken is easy to overcook, which makes it dry.
To get the marinade right, start with the one in this recipe. It's made of three (or four) common ingredients and it won't fail you!
To get the grilled chicken cooked perfectly, I highly recommend checking out this comprehensive guide from The Kitchn.
This recipe follows the same exact formula of the classic chicken/broccoli/rice meal prep staple, but here's how it's different:
It uses a different green veggie (asparagus) and a different complex carb (red potatoes)
The chicken is FLAVORFUL. Not just seasoned with a splash of lemon and pepper (even though that's good sometimes)
Suggested substitutions:
Not a fan of asparagus? Replace it with zucchini, brussels sprouts, green beans or kale (any other green vegetable works)
Not into red potatoes? Sweet potato, mashed cauliflower or Japanese sweet potatoes also work.
Don't feel like whipping together a marinade? Use BBQ sauce instead (but it won't be as good!)
I created this grilled chicken recipe to help you beat meal prep boredom, and I know you're going to love it.
This dish can last up to four days in the fridge in airtight containers. It heats up well on the stove, in the oven on low heat (so the chicken doesn't overcook) or in the microwave.
Like this recipe? Sign up below and immediately get FREE mini meal plans!
Grilled Chicken, Roasted Asparagus and Red Potatoes Meal Prep
Ingredients
Main Ingredients

16

oz

chicken breast

depending on your ideal portion size

1

bunch

asparagus

ends cut off

6

small

baby red potatoes

each chopped into four pieces

1

clove

garlic

minced

olive oil

salt and pepper to taste

For the chicken marinade

1/3

cup

soy sauce

1/3

cup

agave, maple syrup or honey

1

clove

garlic

minced

1/4

cup

sriracha

optional
Instructions
Preheat the oven to 400 F (200 C) and lay out three meal prep containers

Prepare the marinade by mixing the ingredients in a bowl, if making your own. Place the chicken in a plastic bag (I use a ziploc bag) and pour the marinade in. Seal the bag, let it sit in the fridge.

Lightly oil a baking sheet and add the chopped potatoes. Add salt, pepper and more olive oil. Toss with your hands or a wooden spoon for an even coating. Pop the tray in the oven for 20 minutes - until edges are crispy.

On another baking sheet, add oil followed by the asparagus. Add salt, pepper and a bit more olive oil before popping in the oven for 15 minutes.

Heat a skillet on medium and add olive oil, then the garlic. After a minute, add the chicken. Cook for four minutes on each side (longer if they're thicker). Cut through the middle to check if they're done, if needed return to the pan.

When the potatoes, asparagus and chicken are done, divide into three portions and add them to your containers to complete the meals!
Notes
These meals should last up to four days in your fridge when stored in airtight containers. You can heat them up in the microwave (one minute and 30 seconds), in the oven on low heat or on the stove (about five minutes)!
Like this recipe?
There's a lot more where that came from. Click here to sign up for weekly meal prep tips and quick, healthy recipes made for busy people.
Questions? Concerns? Drop them below in the comments.