It's a good week. I can't say that I've never cooked with lentils anymore!
The results of this first attempt were way better than I expected.
So… what's a lentil?
If you're like me and grew up eating grilled cheese and pizza, you might not know exactly what a lentil is.
Basically, lentils are a pulse (legume) and a source of plant-based protein loved by vegans and vegetarians all over the world.
Lentils have more protein than other beans, but not as much protein as hemp and soybeans. They come in different colors like green, red, brown, yellow and black. I used brown for this recipe.
They're earthy in taste and texture and go well in soups, stews and curries like this one here.
Lentils are cheap and last a long time in your pantry when stored in a dry place, which we can't complain about!
Like beans, lentils need to be washed and rinsed before you cook with them. For this recipe, that's the only prep work that needs to be done!
About this vegan lentil curry recipe
I was inspired to create this recipe because I had the three main ingredients on hand in my pantry already: diced tomatoes, lentils, coconut milk and chickpeas. I had a hunch these four ingredients would make a perfect filling protein-packed vegan lunch… and I was right!
The rest of the ingredients are pretty easy to find: limes, an onion, parsley, garam masala, curry powder and cumin.
Curry is one of those awesome meal prep dishes that gets tastier overnight. The day after cooking this curry, it looked like the juices had all been soaked up. But after heating it, the saucy texture of the dish came back.
I didn't eat this dish with a side of rice, naan or tortilla chips, but you're welcome to go the extra mile! Quinoa would have worked nicely too.
This curry is best when heated on the stove, but the microwave looks. I recommend squeezing more lime over it right before eating.
Store this vegan lentil curry in the fridge in airtight containers for up to four days.
And since this recipe has about 30 minutes of passive time, I recommend prepping overnight oats or snacks while the curry simmers!
Want more recipes like this? Get my meal prep starter kit delivered directly to your inbox for free! Just sign up below.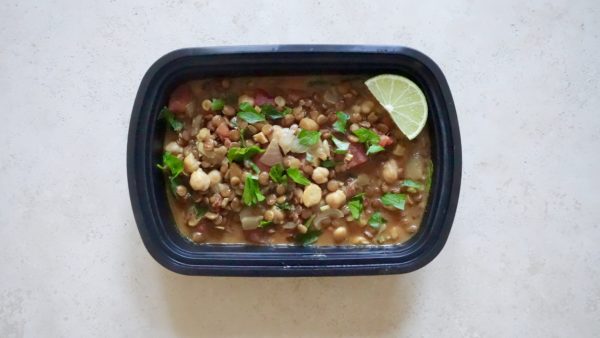 | | |
| --- | --- |
| | |
If using rice, start cooking that first.

In a large skillet or pot, heat the coconut oil on high for 1 min. Add onions, garlic and tomatoes and stir. Lower heat to low-medium and cook for about 10 mins.

Add chickpeas, lentils, garlic, ginger, chopped onion and all the spices. Stir well.

Add coconut milk and water, bring to a boil. Reduce heat and let simmer for 30-40 mins covered.

After it's done, squeeze the lime over the curry and stir. Divide curry into three meal prep containers over rice and top with parlsey if desired. (I put mine over spinach). Let cool for 30-40 mins before sealing and placing in the fridge. Curry will last for up to 4 days in the fridge.
This recipe will last in the fridge in an airtight container for up to four days. This dish heats best in the microwave or on the stove with a little bit of oil.