My partner told me this meal got him so many compliments at work!
In this meal, we're taking all the Mediterranean flavors you love and combining them with a nearly effortless sheet pan prep method. What's not to love?
Of course, you don't have to use tofu! This meal will work with any oven-friendly protein: fish, chicken breast, chicken thighs, shrimp and steak.
Chicken breast: cook for 20-30 minutes at 400 F in a baking dish or on a baking sheet in the middle rack
Chicken thighs: cook for 35-45 minutes at 400 F in a baking dish or on a baking sheet in the middle rack
Other types of fish: mostly the same as salmon, depending on the thickness of the cut
Shrimp: cook for 15 minutes on 400 F on the middle or upper rack
Cut pieces of steak: 15 minutes on 400 F in the middle or upper rack
You can switch up the veggies too! 
Tomatoes, cauliflower, artichoke, red onion, red cabbage, broccoli, green beans, potatoes, carrots, parsnips and mushrooms would all be amazing in this sheet pan.
Remember that root veggies need a lot longer (30-40 mins) to roast than softer veggies (20-25 mins, as the recipe is written) at 400 F. That temp works for all veggies!
Lastly, use any carb you want.
Sheet pan meals work best when you have a base that's a different texture. Grains like rice, quinoa and farro are excellent, but you can also use pasta, couscous, mashed potato/cauliflower. Trust me, the additional texture will make the sheet pan meal taste and feel more elevated.
I can't wait to see how you customize this recipe!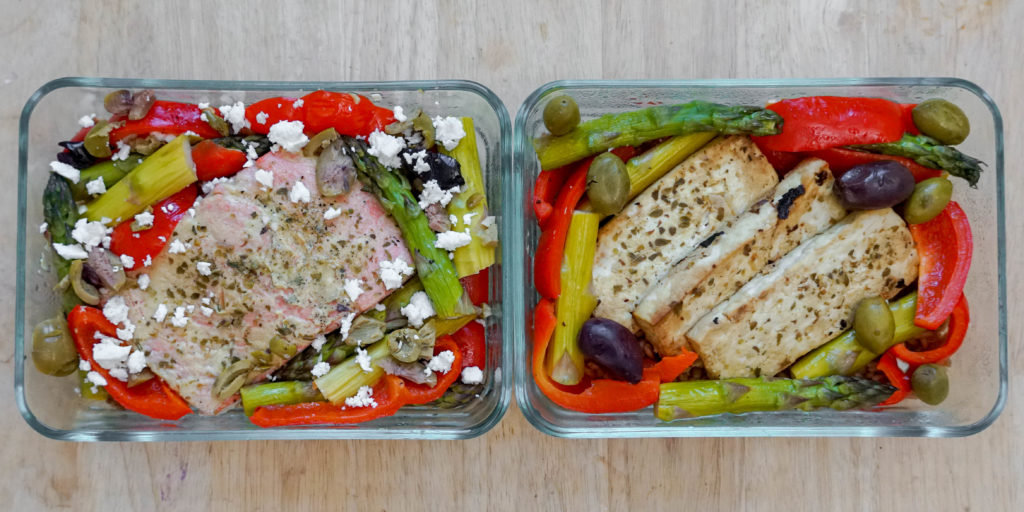 Storage & reheating notes
This meal can last in the fridge for up to four days. It's not freezer-friendly. I recommend reheating it in the microwave or on the stove. Another good reheating method is only heating the sheet pan items (protein + veggies) in a toaster oven or under the broiler for a few minutes (less than 5 under a preheated broiler), and reheating the carb element on the stove or in the microwave. It tastes super fresh when you use this method!
Happy prepping!

Tofu Mediterranean Sheet Pan With Farro
Ingredients
16

oz

package of firm tofu

cut into 3 portions

3

TBSP

olive oil

1

TBSP

dijon mustard

1

lemon

1

TBSP

honey

3

clove

garlic

minced, divided

1

tsp

dried dill

1

tsp

oregano

salt and pepper to taste

1

bunch

asparagus

white ends chopped

1

red bell pepper

sliced

3/4

cup

farro

sub rice, couscous or quinoa

1/2

cup

feta cheese

sub blue cheese, goat cheese or gorgonzola

1/2

cup

kalmata olives

chopped, optional
Instructions
Preheat your oven to 400 F and press the tofu.

Add 2 TBSP olive oil (4 if doubling), mustard, juice from 1/2 a lemon, honey, half of the garlic, dried dill and oregano to a bowl or measuring glass and stir well to combine.

After draining the tofu, chop it into slabs and place it in a bowl or zip-top bag. Pour the mustard lemon marinade over and let it sit for at least 15 minutes (up to an hour is fine).

In a bowl, toss the asparagus and bell pepper with the remaining olive oil, garlic, salt and pepper. Place the veggies on the sheet pan with the tofu or another sheet pan if there's not enough room (veggies should have some space!)

Bake the tofu for 12-18 minutes depending on the thickness. Bake the veggies for 20-25 minutes.

Cook the farro: add the farro to a pot with 2 cups of water. Bring to a boil, then cover and reduce to a simmer. Cook for 15-18 minutes, until the farro is chewy. Drain it with a mesh strainer when done.

Assemble: Divide the farro between three meal prep containers. Add the cooked tofu and veggies on top. Garnish with crumbled feta, chopped olives and lemon wedges from the remaining 1/2 a lemon.