Want to know how to make meal prep interesting? It's all about the flavor.
One of my favorite parts about cooking is coming up with my own marinades and sauces. When I create one that's extra yummy like this mustard lemon marinade, I can't help but share it!
Here's chicken I made with the mustard lemon marinade paired with zoodles, spinach and cherry tomatoes a few weeks ago.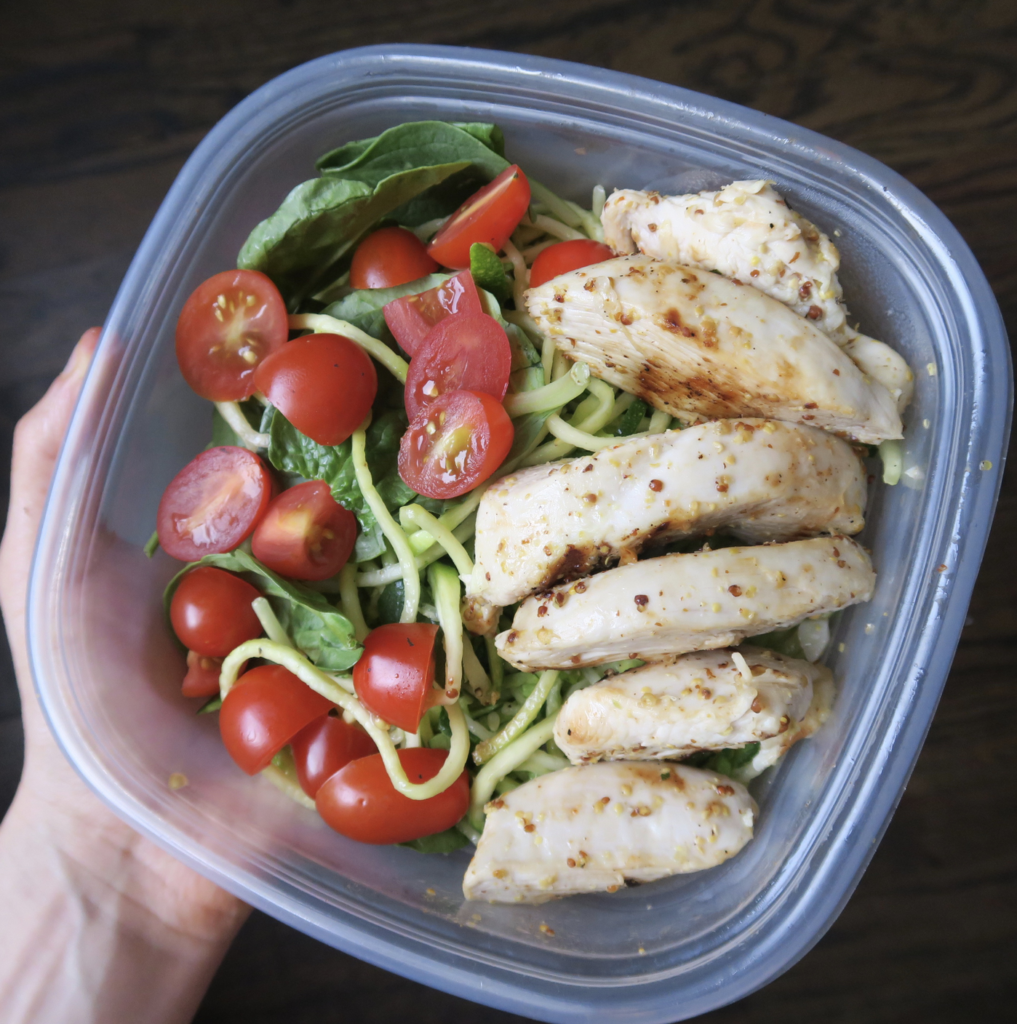 I love the mustard and lemon pairing because it's zesty, bright and I think it actually tastes better as leftovers! You can make it sweet by adding honey, or spicy by adding Sriracha or some cayenne.
You can make it sweet by adding honey, or spicy by adding Sriracha or some cayenne.
The ingredients for the marinade will make enough for 1/2 pound of meat. Adjust ingredients if you need more!
This recipe is JUST for the marinade, but below I offer a few suggestions of how to use it in a whole meal for lunch or dinner.
How to build a healthy meal with this mustard lemon marinade:
PROTEIN: Use the marinade with chicken, tofu, fish or shrimp.
VEGGIES: Roast or saute asparagus, green beans, zucchini, broccolini, roasted carrots, tomatoes, brussels sprouts or kale
CARBS: Whip up some rice, quinoa, sweet potatoes or whole wheat pasta with olive oil to make this dish super satisfying.
Click here to check out more of my favorite sauces, marinades and glazes.
Want recipes like this delivered directly to your inbox for free? Sign up below.
| | |
| --- | --- |
| | |
Add all ingredients to a bowl and whisk well. Make sure to do a taste test and adjust ingredients as needed based on your preferences.

Pour the marinade over fish/tofu/meat either in a big bowl or plastic bag for 20 mins minimum before cooking.

When ready to cook, place the fish/tofu/meat in a skillet or baking dish (however you're cooking it) and discard the rest of the marinade.

***If pan frying fish/tofu/meat, don't pour all the marinade out in a pan while cooking - then you basically poach your food and it won't finish with an ideal texture or color
Comments? Questions? Drop them below.