Template meals are the backbone of successful, consistent meal prep. Keep this recipe in your back pocket for the weeks where you want to prep, but don't have the time or energy to come up with a super creative meal or try a more ambitious recipe. The beauty of this template meal is that you can use the same cooking method for many, many different ingredient combinations to create totally different meals! It's also a good opportunity to use up whatever you have left on hand.
Note these photos are from the chicken version – yours will look exactly the same but with chickpeas or whatever protein you go with!
The anatomy of a sheet pan veggie bowl:
Protein + roasted veggies + base (usually rice, pasta, farro, couscous, mashed potatoes or a bed of hearty greens)
Flavors can also vary a lot. In this recipe, we're using a reliable paprika and oregano seasoning combo that goes with pretty much everything, but you can get creative with this! Trust your instincts.
Quick guide to roasting veggies at 400 F (200 C):
Softer veggies like tomatoes, asparagus, bell peppers and mushrooms need 15-20 minutes to roast.
Medium soft veggies like broccoli, green beans, cauliflower, brussels sprouts and zucchini need 20-30 minutes to roast.
Firm root veggies like carrots, winter squash, turnips, potatoes, cabbage and beets need 30-45 minutes to roast.
Tips for roasting veggies for meal prep:
The smaller you chop the firm root veggies, the faster they'll roast to perfection. And medium veggies can stand a longer roasting time if they're not cut as small. In this recipe, I kept my zucchini pieces quite thick and chopped the carrots smaller so everything would roast well in 30-35 minutes without burning or being undercooked.
Don't skimp on oil, but overdoing it results in soggy veggies. Make sure every veggie looks like it has some oil on it, but you shouldn't see any puddles. The best way to ensure good oil coverage is tossing veggies in a bowl with your spices and oils before pouring them onto a baking sheet.
Make sure your veggies have a little space. It's okay if they're touching a little on the sheet pan, but the more space they have, the more evenly they'll cook and the texture will be crispier!
Use a baking sheet, not a baking dish. Super important! A dish will definitely result in soggy veggies.
Foil is ok if you want cleanup to be faster! I don't do it anymore, but when I started cooking, I always used foil on my sheet pans.
Pick your protein:
Here, we're using chickpeas, but you can use tofu, tempeh, seitan or just load up more veggies! Veggies actually have protein in them too and you can get plenty by just loading up on them if you want.
Since we're already using the oven, I recommend roasting your protein, but you can also cook it on the stove if you feel more comfortable with that. Lentils and other types of beans should be cooked on the stove.
Pick your base:
I've made this meal SO MANY times and what I've learned is that you need a base to balance out the roasted veggie texture, especially when meal prepping this.
Pasta is great because it's so easy and it compliments the textures of the roasted veggies and proteins well, rounding out the meal in a very cozy and satisfying way. I tossed cooked pasta with a simple garlic butter sauce to keep it neutral, but delicious.
But ANY grain would work here too. Quinoa, farro, couscous, rice, millet, barley – whatever you're feeling.
Choosing a pasta or grain base also helps soak up any potential sogginess from veggies. Super important.
Another option would be using greens for the base, which would be totally delicious. Kale and spinach would be my picks!
Aromatics, Sauces and Garnishes:
This recipe only calls for garlic, but using other aromatics like ginger, shallots and onions can take this meal to the next level.
If you're someone who wants meals to feel "fresher" during the week, I recommend using your favorite sauces and dressings on top before eating. Same goes for garnishes like parsley, cilantro, chives and green onions.
Toasted nuts and cheese are also great additions to any sheet pan veggie bowl when you want it to feel like a fresh meal!
Sheet Pan Bowl Combos to try:
These are all in protein + 3 veggies + base format.
balsamic tofu + tomatoes, mushrooms and asparagus + pasta
black beans + colorful taco seasoned bell peppers and corn + rice
miso tofu + broccoli, carrots and onions + noodles
bbq tempeh + green beans, red onion and pineapple + quinoa
chickpeas + sweet potato, zucchini and Brussels + quinoa
Ready to get it done?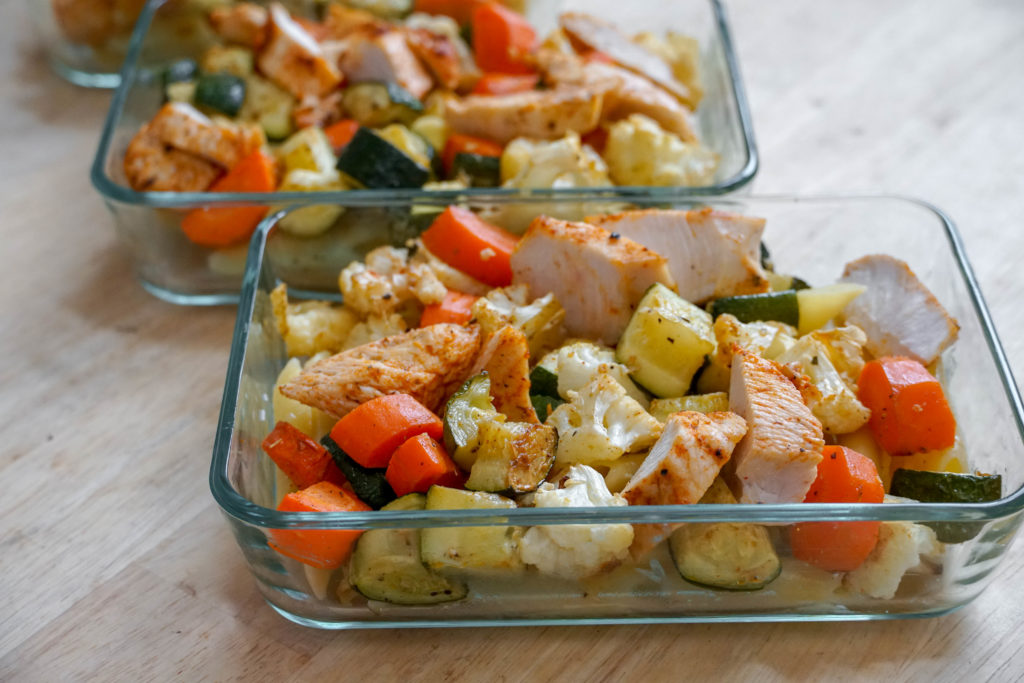 Storage & reheating notes:
This meal can last in the fridge for up to four days. I don't recommend freezing it. Reheat it on the stove or in the microwave.
Happy prepping!

Plant-Based Sheet Pan Veggie Bowl (Template Meal!)
Ingredients
2

cups

cauliflower florets

2

carrots

chopped into half moons

1

zucchini

chopped into quarters (on the thicker side)

15

oz

can of chickpeas

drained and rinsed

4

clove

garlic

minced

2

TBSP

olive oil

divided

2

tsp

oregano

2

tsp

paprika

salt and pepper to taste

6

oz

penne pasta

sub any pasta or grain of your choice

3

TBSP

butter

optional, for garlic butter sauce
Instructions
Preheat your oven to 400 F.

In a bowl, toss the three veggies, the drained chickpeas, a little minced garlic (reserve the rest), 1/2 of the paprika, 1/2 of the oregano, 1/2 of the olive oil and salt and pepper - be generous. Toss well to make sure everything is coated in the spices and oil. Pour the mixture onto a baking sheet and bake for 30-40 minutes. Reduce cooking time to 20 minutes if using softer veggies.

Meanwhile, cook the pasta according to the package. When it's done, you can drain it, then put it back in the pot mixed with a little olive oil to prevent sticking.

Make the garlic butter sauce if using pasta: in a pan, melt the butter over medium heat. When it starts foaming, add the garlic and stir constantly until fragrant - about 5 minutes. Add the sauce to the pasta with more salt and pepper, toss to coat.

Assemble: Divide the pasta between three meal prep containers, followed by the roasted veggies and chickpeas. Garnish each container with a lemon wedge.