Sometimes I just really crave muffins, especially in the morning.
When I set out to make these babies, I wanted to make something that tasted like dessert, but actually filled me up.
The result? A protein-filled vegan, peanut buttery masterpiece.
These breakfast muffins have some awesome stuff in them, including vegan protein powder.
This is the one I'm using and I like it because of its mild taste (it's not flavored) and ingredients (literally just hemp).
You don't have to use vegan protein powder or any protein powder at all!
If you decide to omit the powder, just replace it with more oats or a flour of your choice. Done and done.
I'd love for you to get creative with the add-ins for these breakfast muffins!
Use your favorite chocolate chips, nuts and seeds, coconut flakes – whatever you think would taste good. Trust yourself!
How to store and reheat and eat these breakfast muffins:
I would let these cool completely after baking (they can be a bit crumbly) and then transfer some to containers.
These are also freezer friendly for three to six months! If you put them in the freezer, just let them thaw in your fridge or on the counter before eating (or eat them frozen like I do haha).
These reheat really well in the toaster oven! The microwave is good too, for about 45 seconds. I also topped my muffins with more peanut butter, which was an awesome decision.
I ate three muffins per serving for a complete meal. But you could also eat two plus a piece of fruit if you don't want to eat so many at once!
I'd love to see your version of this recipe! Feel free to share it with me via DM on Instagram @worwkeeklunch or tag me in the caption/on the post.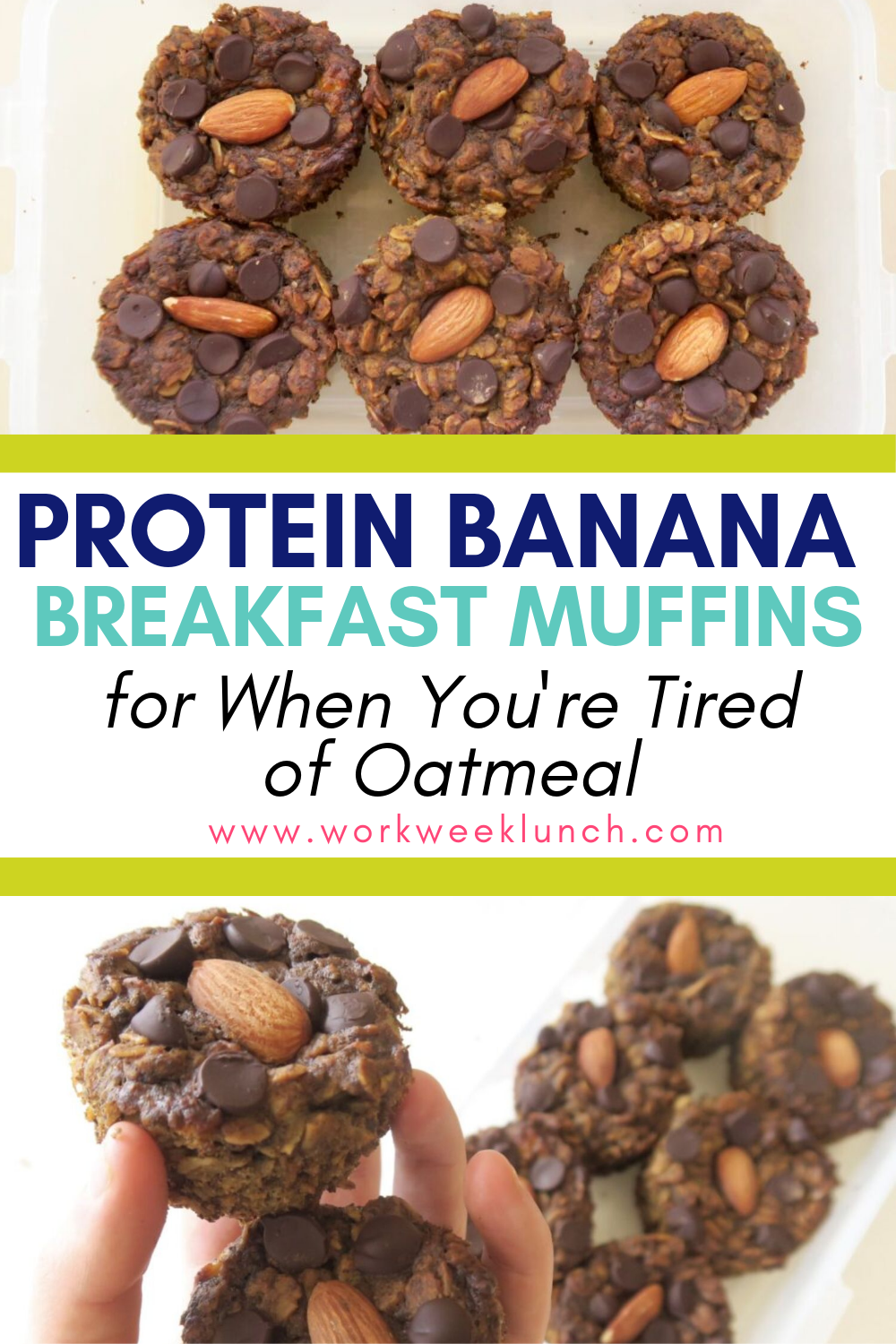 Protein Banana Breakfast Muffins For When You're Tired Of Oatmeal
Ingredients
2

bananas

ripe mashed

1/3

cup

nut butter

1/2

cup

milk of your choice

1/4

cup

coconut oil

or butter, melted

1/4

cup

agave, maple syrup or honey

1

tsp

vanilla extract

1/4

cup

protein powder

(plant based if vegan)

1

cup

old fashioned oats

1/2

tsp

cinnamon

1/2

tsp

baking soda

1/2

tsp

baking powder

1

TBSP

coconut flakes

optional

3/4

cup

chocolate chips

optional

1

TBSP

chia seeds

optional
Instructions
Preheat oven to 350 F and pre a muffin tin with liners or cooking spray.

Combine all the wet ingredients in a large bowl, followed by the dry ingredients and optional add-ins.

Fill your muffin tin 2/3 of the way of each cup and top with more chocolate chips/nuts/chia seeds/coconut flakes if desired. Bake for 25 minutes, or until a toothpick comes out clean when entered in the center of the muffins.