This is the only salad I crave in the fall.
Not only does it taste good, but it will also make your coworkers crazy jealous.
BONUS! This salad is absolutely something you could bring to a holiday meal with friends or family this season.
How to make this recipe perfect for you or your guests:
There are a few main elements in this recipe that you can change: the grain, the legume, the green, the toppings and the squash. Of course, you can always change the flavor too.
Hate or can't find kale? Use spinach or arugula.
Don't want to use chickpeas? Skip them altogether or go for a different legume of your choice. Chopped grilled or roasted chicken would go great in this salad too if you're willing to do the extra work (or pick up a rotisserie chicken!)
Don't like or can't find butternut squash? Any other squash variety will do: delicata, pumpkin, acorn, winter etc. I wouldn't use spaghetti squash in this recipe, but it could work. Even cauliflower could work in this salad to replace squash, but that will change the flavor profile.
Not into quinoa? Farro, frekkeh, wild rice and couscous would make awesome substitutes and they're all easy to cook!
Don't like dried cranberries or pepitas? Go for golden raisins, olives, goat cheese and other rich toppings like that. Walnuts would be good too. I choose dried cranberries and pepitas because they're easy to find, usually cheap and last awhile in the fridge.
A note about butternut squash:
You're going to have extra squash. Have no fear! It keeps well in the fridge for over week (I had uncooked squash in my fridge for 10 days and it was fine) and you can do A LOT with it.
Also, be careful when peeling and prepping your squash! Some people heat it up for a few minutes in the oven or a minute or two in the microwave before peeling and cutting it, but I find that it doesn't make much of a difference. It's going to take up more of your prep time than usual — but it's worth it.
If you're serving this quinoa salad to guests…
This meal is great at room temp or "fresh" with warm butternut squash. It's totally up to you and the flexibility makes it an awesome, easy and healthy meal to serve at your holiday gatherings this year.
If you're using this recipe for meal prep…
This quinoa salad will last for 4-5 days in the fridge and is not freezer friendly. You can eat it cold or reheated in the microwave or on the stove. Serve with your favorite salad dressing! I'd go for a balsamic vinaigrette.
Happy prepping!
If you liked this recipe, SAVE it for next time or to make for Thanksgiving!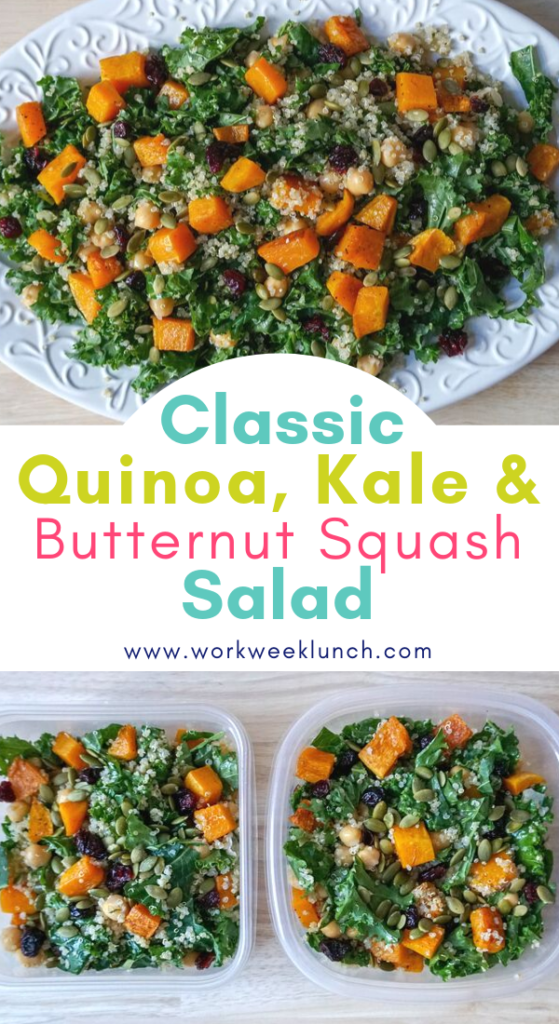 Want access to more easy recipes like this?
Join the Workweek Lunch Meal Prep Program for $7.99/month to get access to all of my recipes, weekly meal plans, grocery lists and a private support group. Learn more here!
Classic Quinoa, Kale And Butternut Squash Salad (Vegan)
Ingredients
1

TBSP

olive oil

1/2

butternut squash

peeled and chopped into cubes

salt and pepper to taste

3/4

cup

quinoa

15

oz

can of chickpeas

rinsed and drained

4

cups

kale

or spinach, chopped

3/4

cup

dried cranberries

1/2

cup

pepitas

(optional)

feta cheese

or blue cheese, crumbles, optional
Instructions
Add the oil to a skillet over medium heat. After a minute, add the butternut squash with salt and pepper to taste. Turn heat down, cover and cook flipping the butternut squash cubes occasionally for 15 mins. They're done when they're soft and slightly crispy/brown on the edges.

Meanwhile, cook the quiona according to the package.

In a large bowl, add the cooked quinoa, butternut squash, chopped kale/spinach, rinsed chickpeas with salt, pepper and a drizzle of olive oil. Toss well.

Divide the kale and quinoa mixture between three meal prep containers. Top with pepitas and feta/blue cheese crumbles if using. Eat with your favorite salad dressing. That's it!