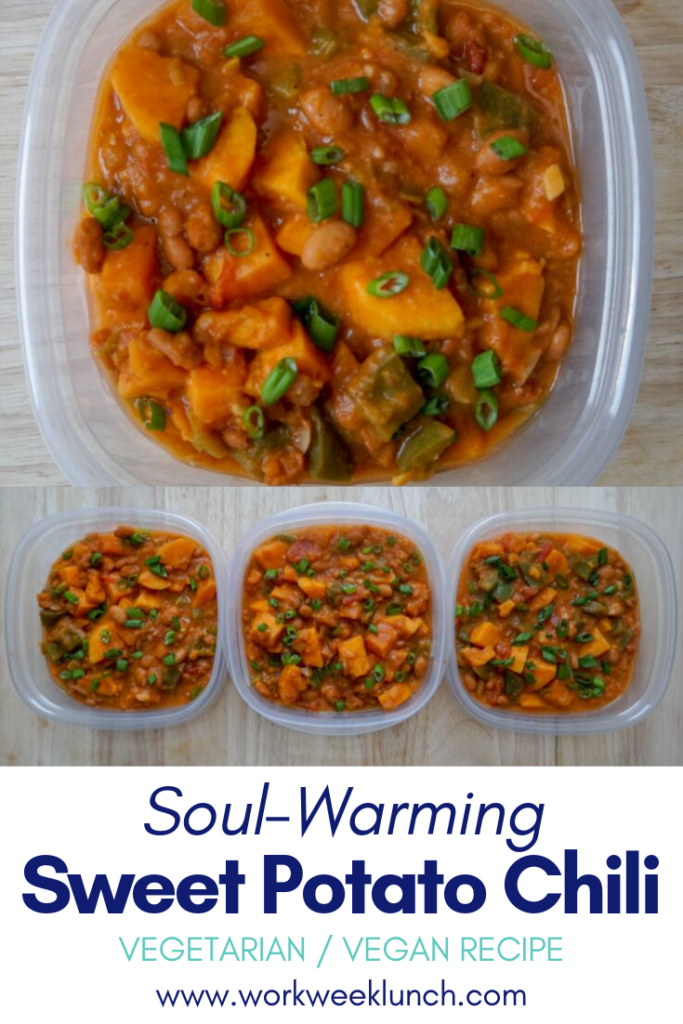 Chili is a new thing for me. I only started eating it two years ago, and man do I have some catching up to do!
It's because of chilis like this sweet potato version that make me want to keep trying more and more.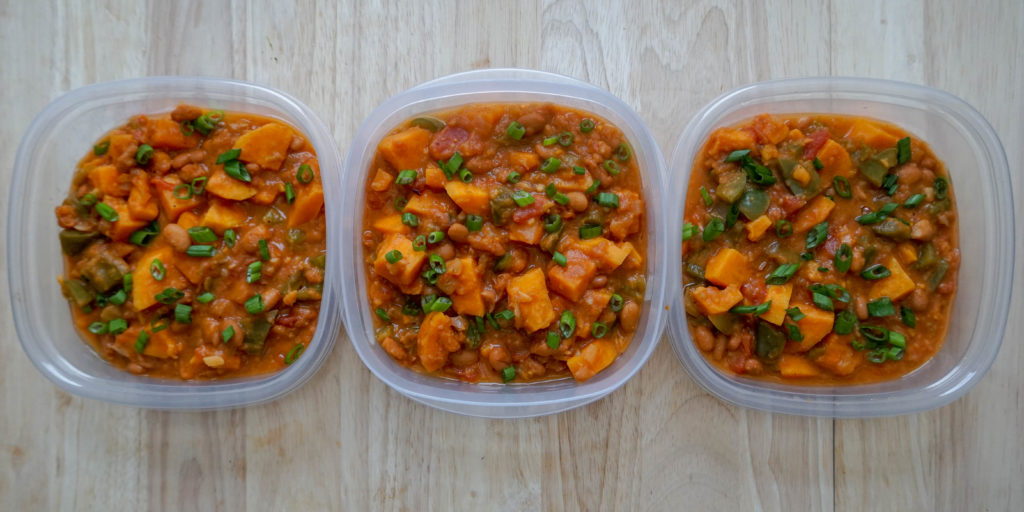 This sweet potato chili is cozy, warm, a tiny bit spicy and super easy to make.
Here's how you can make it your own:
Not a fan of sweet potato?
Ok, so sweet potato is a pretty important part of this recipe. But guess what? You can 100% use regular (preferably Yukon gold) potatoes for this recipe. Check out this version that uses Yukon gold potatoes.
This recipe would also work well with butternut squash or whole pumpkin (not canned) to replace the sweet potato!
Change up the veggies:
I kept it very simple here with the veggies. In the recipe, we have diced tomatoes, green bell pepper and green onions. But you can totally make it your own. Here are some ideas:
Corn
green beans
peas and carrots
cauliflower (I don't think broccoli would be good in this)
red onion
yellow onion
red or yellow bell pepper
jalapeno or serrano pepper
spinach or kale or swiss chard
zucchini
cilantro
Just keep in mind that you're blending up a portion of this recipe to get that great chili texture. If the idea of blended up zucchini or cauliflower isn't your jam, I recommend cooking those ingredients separately on the stove or in the oven and adding it to your chili after the sweet potato base has been blended up.
Note that the ingredients in this recipe (the bell pepper, onion and tomatoes) taste awesome blended up, but that texture might not work for all ingredients.
The protein factor:
The pinto beans are the protein in this vegan recipe.
But if you want to swap them out for black beans, chickpeas, kidney beans, white beans or even tofu (that could be so good), go for it!
If you're not vegan/vegetarian, I'd try ground meat (any kind) or shredded chicken or pork in this recipe.
You really can't go wrong! I guess shrimp or salmon or tuna might not be ideal.
If
you use ground meat, cook it in the first step with the onions to brown it for about 5 minutes. Then follow the recipe as written.
Make or break this chili with the toppings:
Let's be real. You can take ANY chili, any kind, and make it something completely different with the toppings.
I topped mine with sliced green onion and tortilla chips crumbled on top right before eating.
You can top this chili with cheese, radishes, shredded carrot, cilantro, a fried egg, chips, bread, croutons, avocado, olives, shredded lettuce or sour cream.
Make it your own!
How to add more volume to or double this chili:
To double this chili recipe, simply double the ingredients – but maybe cut back on the liquid (broth and water) by a cup or two. You may have to cook this in batches or in two pots at once depending on the size of your kitchen equipment.
To add more volume, an easy way would be adding an extra can of beans to the recipe (choose from the list above). Or pick another vegetable from the list above. If you eat meat, you could add more protein in the form of ground turkey, chicken, beef or pork too!
Storage and reheating notes:
This sweet potato chili lasts in the fridge for up to four days. It's freezer friendly too! You can freeze it for up to six months.
Reheat this meal in the microwave or on the stove before eating.
Happy prepping!

Soul-Warming Chipotle Sweet Potato Chili
Ingredients
1

TBSP

olive oil

sub oil of your choice

1

large

sweet potato

chopped into small chunks, sub yukon gold potatoes

1

green bell pepper

chopped

1

bunch

green onion

white ends and green part separated

1

clove

garlic

minced

15

oz

can of pinto beans

rinsed and drained (or any beans of your choice)

15

oz

can of diced tomatoes

1-1/2

cup

broth

or water

1

cup

water

1

tsp

chipotle powder

use 1/2 tsp if you're sensitive to spice

1/2

tsp

chili powder

2

tsp

cumin

1

tsp

cinnamon

salt and pepper to taste

1

lime

or lemon (optional), for juice
Instructions
Add 1 TBSP oil to a large pot over medium heat. Then add the white end of the green onions and garlic and saute for 3-5 minutes, stirring occasionally until fragrant.

Add the sweet potato, diced tomatoes (the whole can), veggie broth, water, chipotle powder, chili powder, cumin, cinnamon and salt and pepper. Mix well and bring to a boil, then turn the heat down low and let it cook for 15 minutes, until the sweet potatoes are tender.

After 10 minutes, add the green bell pepper and pinto beans. Taste the mixture and adjust spices to your preference (I added more salt, chipotle powder and cinnamon!)

When the sweet potato is tender, turn off the heat completely. If you have one, use an immersion blender to blend up the chili to get that nice chili texture, but be sure to leave lots of veggie/bean/sweet potato chunks too. If you DON'T have an immersion blender, use a blender to blend 1/2 of the mixture, then return it to the pot. Just be careful of the steam factor! You may want to let the chili cool for 10+ mins before transferring it to the blender.

Assemble: Divide the chili between 3 meal prep containers. Top with the green part of the green onion if using!