So excited to share the updated version of this recipe! It's been one of my go-tos since day one, and this new version takes it up a notch.
This dish is extremely versatile, so keep reading to learn how to change it up, double it and adjust it to your dietary needs.
Recipe overview
We're using tofu (or a protein of your choice), roasted broccoli, veggie rice and a very simple teriyaki-inspired sauce. Note that your rice will look a little different than what's pictured!
How to change the protein in this meal:
This recipe was written with tofu as the main protein, but here are other options (and how to cook them). I know this is a vegan recipe, but we're including the meat options too in case you're cooking for someone in your home that eats meat.
TEMPEH: If using tempeh, cut it into strips and marinate it in the homemade teriyaki sauce before baking. It will need 15 minutes to bake and you can flip it halfway, but it's not necessary.
CHICKEN: If using chicken, you can cut it into small pieces or use the entire breast. Marinate it in the teriyaki sauce before baking. It will need 15-25 minutes to bake depending on the thickness. You can also pan-fry it (but then you're using up another dish!)
SHRIMP: If using shrimp, devein it first before marinating. Bake only for 10 minutes max, as it cooks very fast and overcooked shrimp in the microwave is no fun!
BEEF: If using beef, use the pre-cut "stir fry" strips from the grocery store (or cut it yourself) and marinate it before baking. Beef will need 20 minutes to bake and you can flip it halfway if desired.
SALMON: See full recipe here
Other protein options for vegetarians and vegans:
You can add cooked edamame to the bowls instead of tofu or tempeh, just make sure to cook it according to the package and season it with salt. If using edamame, you don't need to marinate it. Just pour some of the homemade sauce over the meal after assembling.
You can replace tofu or tempeh with mushrooms! Mushrooms pack lots of protein and would taste delicious in this meal. Same deal with the edamame, cook the mushrooms on the stove and add the sauce after the meal is assembled.
You can also use chickpeas! Drain a can of chickpeas and cook them on the stove with some oil and 1/2 of the teriyaki sauce for 10 minutes, stirring occasionally. They'll get crispy and super tasty that way. I've tried this before – it's so good!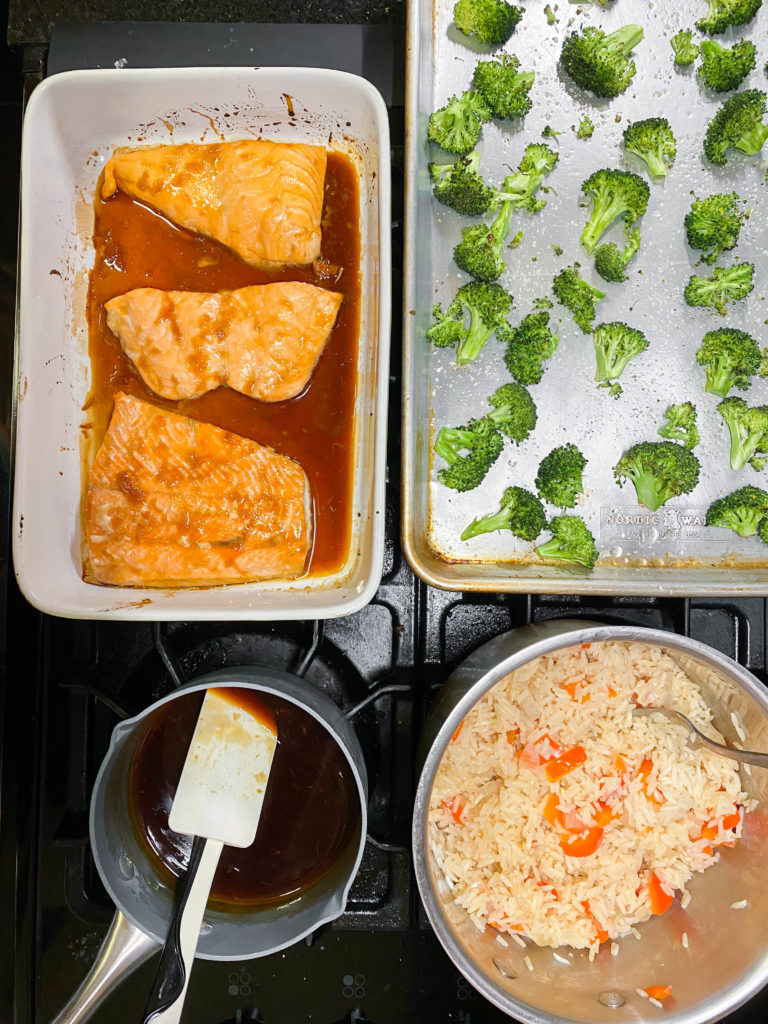 If you don't want to use broccoli…
Choose any green vegetable (string beans, asparagus, brussels sprouts, zucchini, bok choy or frozen veggie mix (cook according to the package) for this meal.
If you don't want to use rice…
Quinoa or noodles would work well in this dish too! Think about what you'd normally order in a Japanese restaurant as a carb.
How to double this recipe
I originally made four and a half portions of this recipe for two people, which lasted us three days along with other meals. Get 2 packages of tofu to double the protein and cook 2x as much rice listed below. Grab two medium-sized heads of broccoli instead of one. Only cooking time for the rice may increase and you may need to use more than one baking sheet.
Storage & reheating notes
This meal is best when eaten within four days and is not freezer friendly. No matter which protein you use, it's best reheated in the microwave or on the stove.
Tip for reheating rice: keep the container loosely covered if using the microwave and the rice will steam back to life.
Happy prepping!
30-Minute Tofu Teriyaki With Broccoli And Rice
Ingredients
For the tofu

1

TBSP

ginger

minced

2

cloves

garlic

minced

1/3

cup

soy sauce

sub tamari or coconut aminos

1

TBSP

rice vinegar

1/4

cup

agave, maple syrup or honey

sub brown or white sugar

14

oz

package of firm tofu

drained and chopped into 6 slabs (2 per meal)

For the broccoli

1

head of broccoli

sub green beans or frozen veggie mix

salt and pepper to taste

1

TBSP

olive oil

of your choice

For the rice

1

tsp

olive oil

1

carrot

chopped

1

red bell pepper

chopped

3/4

cup

rice

sub any grain of your choice

1-1/2

cups

water

1

TBSP

soy sauce

sub tamari or coconut aminos
Instructions
Preheat your oven to 400 F

In a bowl or measuring glass, combine the garlic, ginger, soy sauce, sweetener and rice vinegar. Stir well, taste and adjust flavors as needed. It should be on the sweeter side.

Marinate the tofu: Add the tofu to a baking dish, bowl or zip-top bag and pour the sauce on top. Gently move the tofu around to cover it in the sauce. Let it sit for 15 minutes for up to an hour.

Bake the tofu: Grease a baking sheet with a little cooking spray and place the tofu down, giving it space. Bake for 20 minutes in the oven, flipping halfway.

Prepare the broccoli: place the broccoli on a baking sheet (note you can use the same one as the tofu if there's room). Then add 1 TBSP oil with salt to taste. Toss with your hands or a spoon to coat. Place in the oven for 15-20 minutes.

Cook the rice: Add a little oil to a pot over medium heat, followed by the bell pepper and carrot. Saute for 2-3 minutes, then add the rice, water and soy sauce. Stir once and bring the pot to a boil. Cover and reduce to a simmer for 10 minutes, then turn off the heat and let it steam for another 10 minutes. No peeking or stirring!

Assemble: Divide the rice into three containers. Then add the tofu and the broccoli. If there's extra marinade, spoon it over the tofu.