I'm a meat and veggie burger fiend. I even treat myself to a burger once a week.
But at home? I'm all for prepping the plant-based burgers.
The more veggies the merrier! Right?
Theses beauties come together in about 30-40 minutes, including the time it takes to freeze them.
Why do I need to freeze these veggie burgers before cooking?
So, these are vegan, which means there's no binding agent. I don't like dealing with flax eggs either, so I just left the patties to fend for themselves without anything to hold them together.
That's why you have to freeze them for about 15 minutes before cooking. That way, they stay together in the pan!
Can I use other beans with this recipe?
I think these would work well with chickpeas or pinto beans.
Just note that this recipe calls for a 15 oz (425 g) can of beans, so whatever you use, make sure it's the same amount.
You are also encouraged to substitute the corn, red pepper or red onion with other ingredients. If you want to simply omit them, make sure to add an extra 1/2 cup of a veggie you DO like to make up for it.
Same goes with the flour. You can use any flour you want in this recipe, but I wouldn't skip it because then the pattie "dough" will be too watery to form into nice veggie burgers.
Can I bake these veggie burgers instead of pan fry?
Sure, but expect the texture to be a little different!
These burgers can be paired with anything you want. Throw 'em in a lettuce wrap or traditional bun with your favorite burger fixings. Pair them with sweet potatoes and green veggies like I did in the video below. I think they'd also go well with a greek salad, or maybe for breakfast with an egg!
This dish will last in the fridge for up to four days and in the freezer for around three months. If you make this, I recommend storing half of it in the freezer in individual portions so you have the ability to thaw only what you need. Store and eat the other half for your weekly meal prep!
If you liked this recipe, SAVE it for next time on your Easy Meal Prep board or your Vegan Recipes board!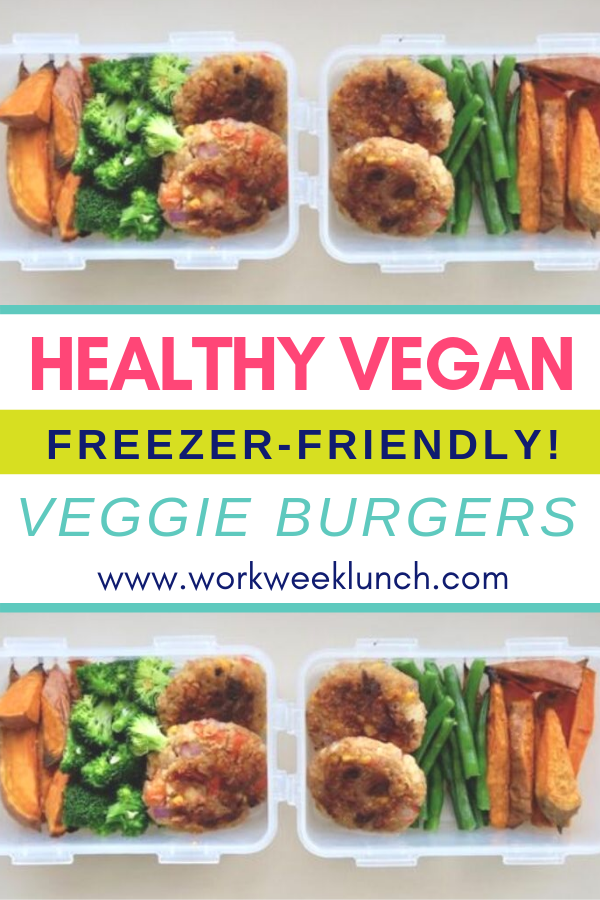 Easy Freezer-Friendly White Bean Veggie Burgers
Ingredients
1

sweet potato

or any pototo you like

15

oz

can of cannellini beans

(any white bean would work)

1/3

cup

quinoa

1/4

cup

flour

of your choice, I used whole wheat

1/2

cup

red onion

finely chopped

1

red bell pepper

finely chopped (you only need 1/2 cup total)

1/2

cup

corn

I used canned corn

1

clove

garlic

minced

1/2

lemon

for juice

1

tsp

thyme

1

tsp

garlic powder

1/2

tsp

chipotle powder

add more you like heat!

1/2

tsp

cayenne

optional, if you like heat

salt and pepper to taste

2

TBSP

olive oil
Instructions
Preheat your oven to 400 F.

Toss the potato wedges in a bowl with the olive oil and salt and pepper to taste. Add cayenne or crushed red pepper, to taste, if you like them spicy! Transfer to a baking sheet prepped with foil or cooking spray (up to you) and bake for 30 mins, flipping halfway.

Drain and rinse the beans, then place in a medium-sized bowl. Mash with a masher or fork.

Add all the remaining ingredients except the oil to the bowl and mash it all together with the fork. It will look crumbly and that's ok!

Use your hands to shape the mixture into 6 patties. Place them on a tray or plate and put them in the freezer for 15-20 mins.

Heat a skillet over a medium flame for 2-3 minutes, then add the oil and let it heat up for 1-2 mins. Add as many patties that can fit with some breathing room. Cook on each side until brown, about 5 mins.

Assemble: place the patties on the lettuce, stack the red onion and tomato next to them, then add the potato wedges. Let cool for 30 mins before placing in the fridge. Eat within 4 days and top with your garnishes and sauce before eating!
Notes
Meals will last in the fridge for up to four days! Feel free to replace any of the veggies (corn, red pepper, red onion) with other veggies like peas, chopped zucchini, chopped kale, etc.