Unless you live under a rock, you've probably seen a before and after photo.
Just in case you haven't, here's one:
I've covered physical side by side before and after photos at length at Elite Daily.
There's something powerful about visually experiencing the result of hard work.
These photos are motivating. It makes an accomplishment like building muscle or losing weight seem more tangible.
But I want to show you guys a different kind of before and after. Because some results of your hard work are not as easy to see.
I'm talking about money.
Today I'm sharing actual screenshots from my Mint account that show my spending on food in 2015 and 2016.
Why? Because this is my way of celebrating my saving and spending progress!
Most people would connect healthy eating habits to physical health. But financial health is actually the other side of healthy eating. Food isn't free!
The screenshot above shows my spending in the restaurants, alcohol and fast food categories in July 2016 (green) compared to July 2015 (yellow).
I use Mint to track spending and manage my budget. I've been using it since June 2014 after I graduated college and it's a godsend. I LOVE this app like I love Starbucks' chile mochas. – I'll gush about it all day. It's not perfect, but it's better than most money management apps.
To get to this comparison, I went to the "Trends" tab on the site (you can't do it in the app). You can create either a pie chart or bar graph that visually shows you how much you spend in each category over a period of time.
I spent $116 less on restaurants, alcohol and fast food this past July. Yes, I still spent money on groceries, but my grocery costs have consistently stayed between $250-$300 every month.
What could you do with an extra $116?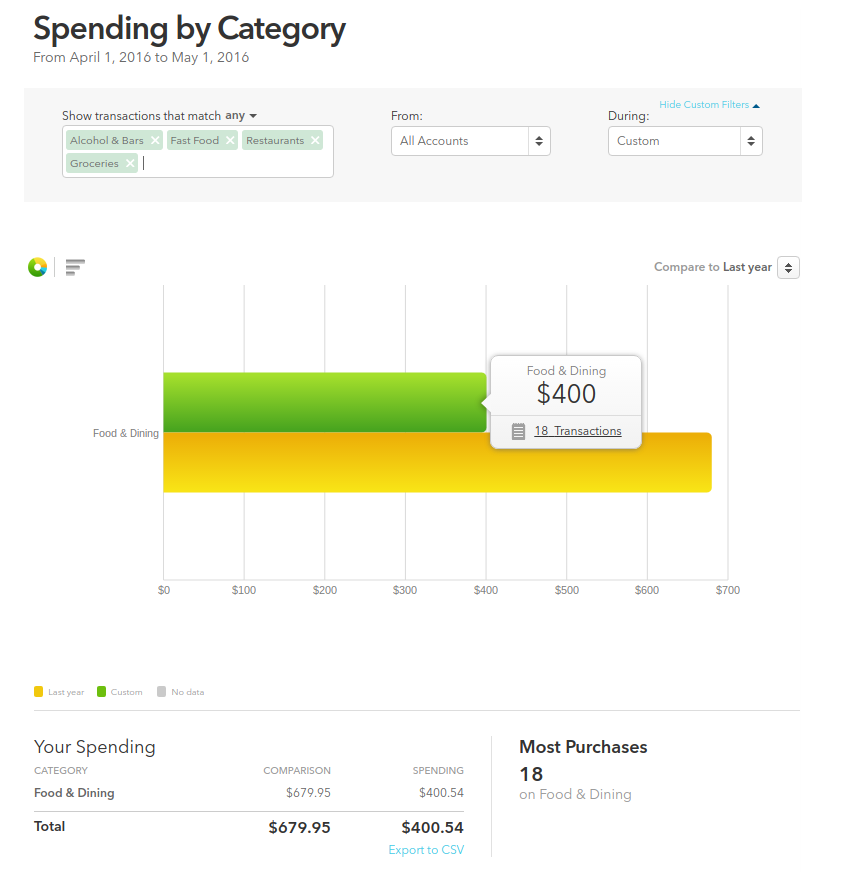 It looks like I had a perfect month this past April.
I spent exactly $400 on food, including groceries. That's basically $100 a week. Not bad! Compare that to almost $680 in April 2015. Yikes. That's a $280 difference.
Most months, I aim to spend $400-$500 on food.
This shows my spending on restaurants, alcohol and fast food for the entire year, from January to December of 2016 (green) and 2015 (yellow).
I spent $2,176 on these categories in 2016 and $2,537 in 2015. That's a $361 difference.
When you combine those savings with the fact that I cut down spending on cabs, gym memberships and clothes, it really adds up.
Here's how I did it.
Last year I made a few major changes to my spending habits — but they were simple.
I quit my job in September 2015.
During my two-month funemployment period, the combination of an 11 day long solo road trip and a home-improvement emergency basically wiped out my entire emergency fund.
When I started working at Elite Daily, I had to start saving from scratch. That was around the same time (November 2015) when I started cooking consistently to save money and to ultimately stop living paycheck to paycheck. Because that sucks.
There was a distinct moment that I realized I need to change. 
After my first day of working at Elite Daily, my best friend and I hit a Rebecca Minkoff sample sale. I went home with two new bags and a pair of shoes for a total of $350.
Even though I love and still use the bags and shoes, I remember coming home and thinking, what am I doing? I hadn't yet received a paycheck, but I was acting like my accounts were flush with cash. I couldn't look at my purchases without thinking of my giant credit card bill that I'd have to use my emergency fund again to pay for. Ugh.
Maybe that sounds familiar to you.
But that moment was a huge reality check for me.
I had to stop living like an Instagram famous fashion person. Even though I got a nice raise, that shopping trip made me realize if I actually wanted to save money, I'd have to live well below my means.
Shortly after that shopping spree, I chose spending categories I could sacrifice, AKA what I could live without.
Those categories were cabs, clothes and restaurants. I also quit one of two gym memberships. Yeah. I was a dummy who had two gym memberships with a $33,000 salary before working at Elite Daily. What was I thinking? (Obviously I wasn't.)
Getting a grip on my money was a giant step toward intentional living. I decided to choose where my money went instead of just letting it fly out of my checking account as soon as I got paid. And it felt good!
When I look at these visuals in Mint, it reminds me of how many amazing experiences I was able to have this year, like taking a four-day weekend in Breckenridge, Colorado to snowboard by myself and traveling with my partner. All because I got smarter with my spending on food and more.
If there's anything I want you to take away from this post, it's this: progress isn't just physical.
Think about where you were a year from now.
What has changed? What can you look back on and be proud of? And what choices did you make to get there?
We hope you found these budget-friendly tips helpful! If you're looking for more budgeting tips, click here to get my list of 12 ways to cut down your grocery bill on your next shopping trip!
---
I wouldn't be able to save so much if I didn't plan ahead.
Sign up below for more awesome meal planning tips.