I've been working from home for about four years and I love it. But when it comes to meals and having access to your kitchen at all times, working from home can be tricky. In this post, I want to share my experience with work from home meal prep even though I work from home, as well as some other time management tips that have really worked for me.
Note that this post will be most helpful to those without kids at home too! I don't have children (yet) and I know that's a whole other ball game. Either way, I hope you find these tips helpful to make meals less stressful between all of your Zoom calls and trying to clear out your inbox.
Why Meal Prepping Is Great For When You're Working From Home
In theory, making fresh lunches daily while working from home sounds great. But in practice, it's a huge time and energy suck. Especially if you have virtual meetings all day long, carving out that extra time or using up energy to cook in the middle of your day can add even more stress.
That's why meal prepping makes a lot of sense even though you technically COULD whip up fresh meals at lunchtime while working from home.
Instead of rummaging through your fridge for ingredients, whipping together something quick and having to deal with the mess later, you can just pull a ready-made meal out, heat it up and enjoy. That way, you have a real lunch break. Not a cooking session.
Another reason meal prep helps productivity when working from home is there's less break in the flow. If you're someone like me who gets into phases of deep focus, sometimes hunger is just a really annoying distraction.
10 Lunch Recipes That Are Perfect For Work From Home Meal Prep
The cool thing about working from home is that you can prep meals that would be harder to eat or put together in an office. Assembling a meal prepped meal also makes it feel fresher, vs just reheating a container in the microwave.
For example, tacos and pitas or sandwiches require some assembly if you prep them for lunches (which can be awkward to do in an office depending on the set up of the kitchen).
But at home? Own it! Here are some really fun more assembly-focused meals that are great for WFH lunches.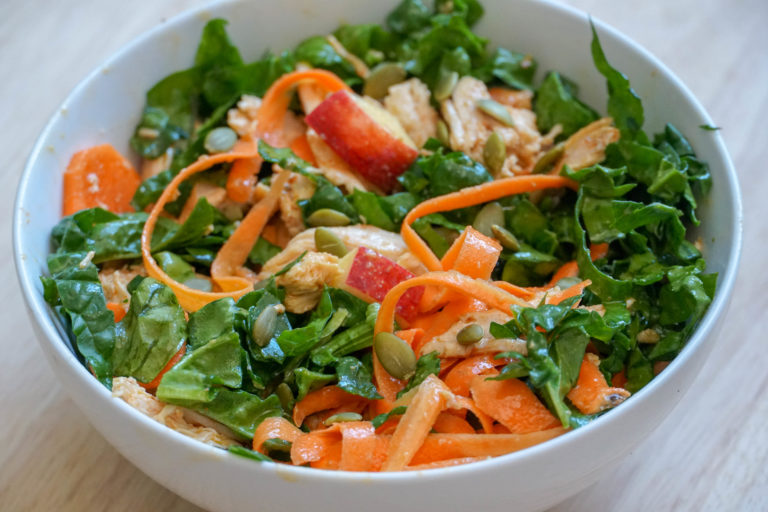 If you're into salads, this one is my favorite. And I love eating them at home because they're easier to assemble. You can toss everything in a big bowl with your favorite dressing, add more toppings if you want or even throw in extra veggies lying around in your fridge. Meal prepped salads (without dressing) can last for 3 days in the fridge.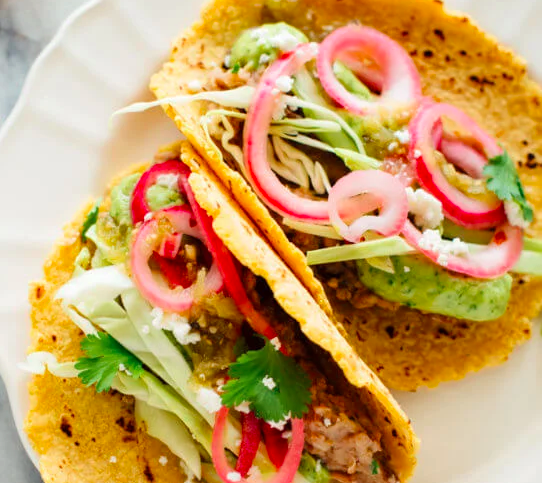 Tacos are my favorite assembly-focused work from home meal prep because it feels fancier than your typical lunch. Cut up some fresh avocado, sprinkle on some cheese or pickled veggies and you're good to go.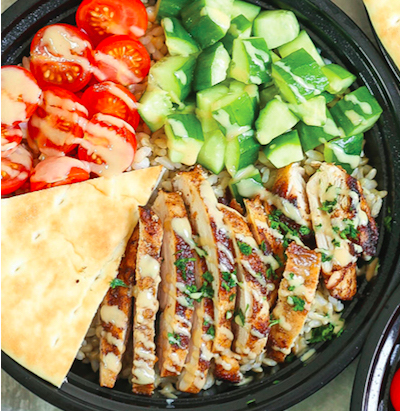 Shawarma is one of my favorite takeout meals! You can enjoy this while working from home stuffed in a pita or in bowl form like in the photo above. At home, it's easier to reheat certain elements, like the meat and pita, while leaving the other elements cold.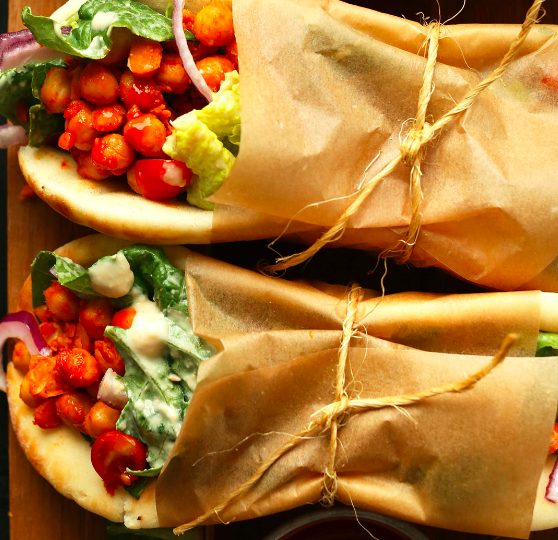 Here's another wrap idea that's perfect when working from home. Spicy chickpeas with greens and a delicious tahini sauce all bundled up in a pita will give you something to look forward to in the morning and keep you energized and focused all afternoon.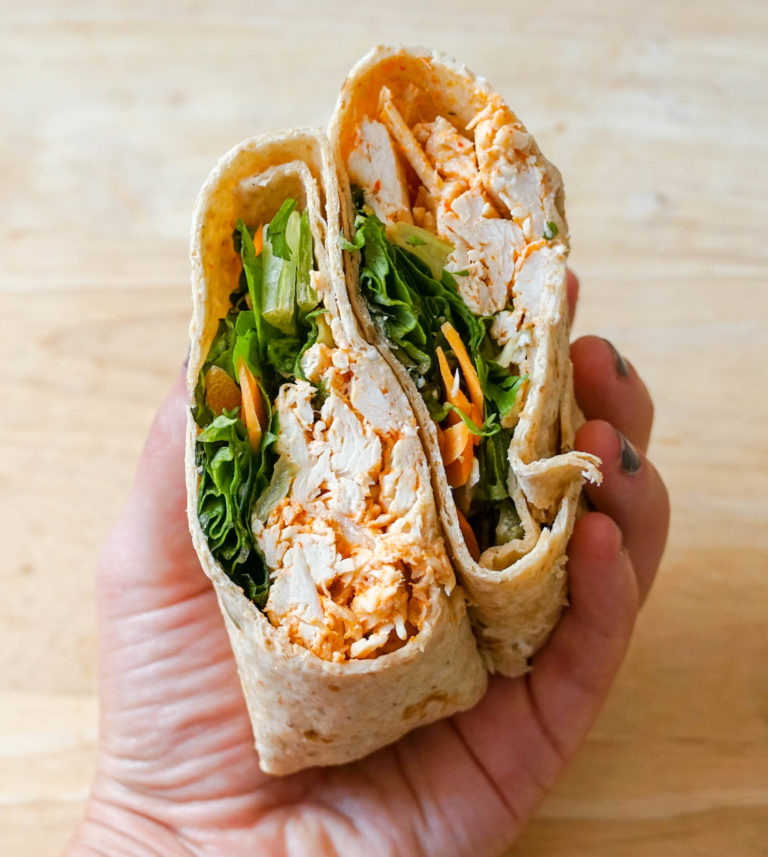 Sometimes, meal prepped wraps and burritos can get a little soggy. While working from home, you can keep the filling and tortillas separate, then build your wrap when you're ready to eat! This is one of my all-time favorite things to get at Whole Foods, but the homemade version is better for sure.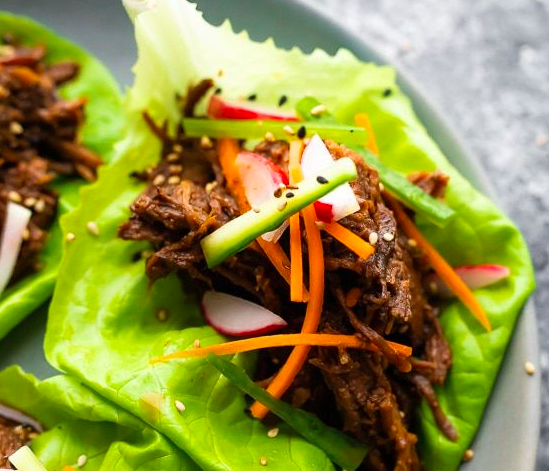 Same idea as the tacos, but with lettuce. Too bad when you're working from home you won't have any coworkers to make jealous with this one though! Keep the lettuce and the filling separate in the fridge, then when you're ready to eat, just heat up the filling and wrap it up.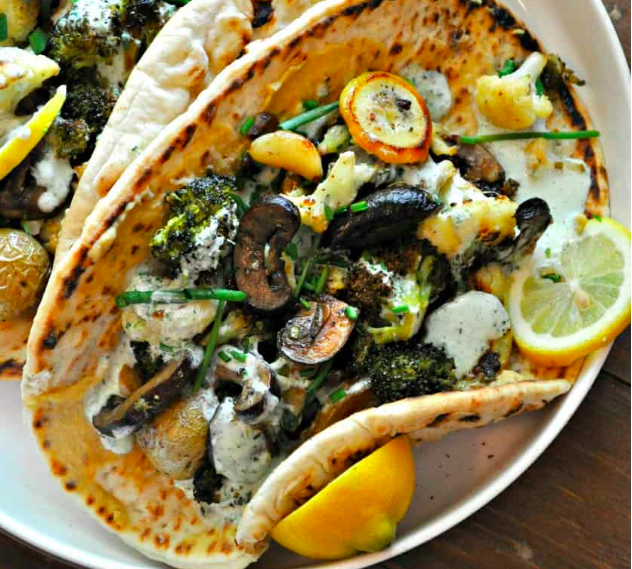 This is definitely not something you could prep for work in an office, but when you're working from home you have access to your oven! Reheat the veggies under the broiler to get them crispy again (but keep an eye on them!) and assemble your flatbread.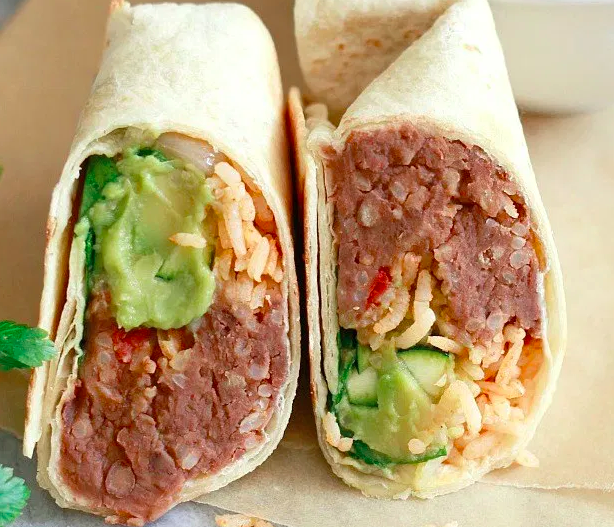 Burrito hack: if you're working from home, you can quickly throw the burritos in a skillet and give them a nice crunchy sear before eating – something you definitely can't do when working from an office!
How To Wrap A Burrito Like A Pro (Daily Live #7)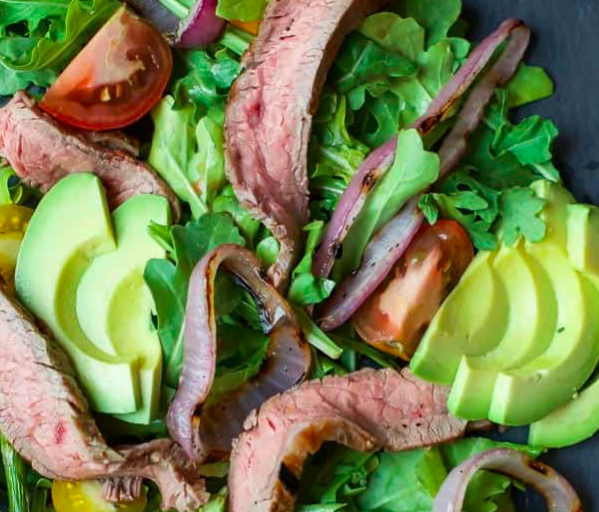 Steak is notoriously difficult to prep, but when you're working from home keeping salad ingredients separate makes it a lot easier. This way, you can reheat the steak alone then assemble the salad with the dressing before eating. Don't forget the fresh avocado!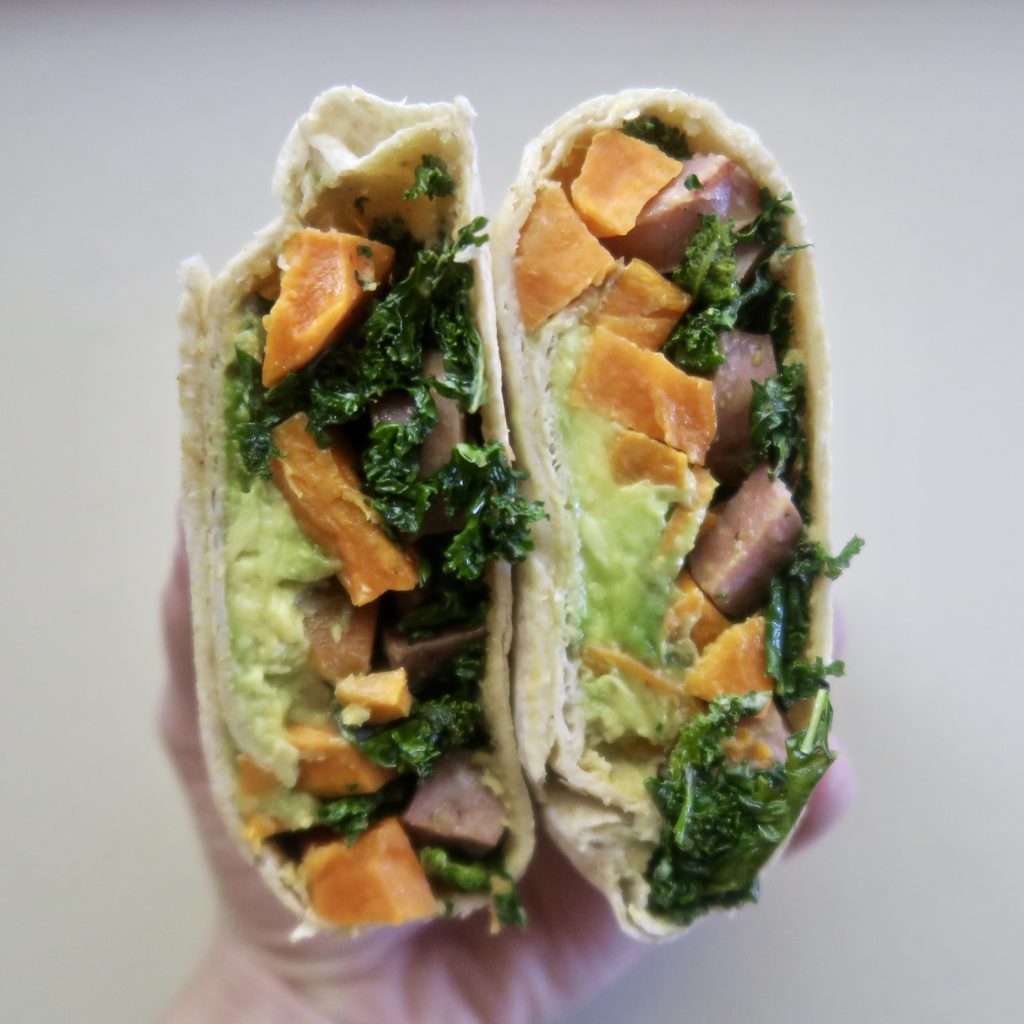 This is probably my all-time favorite wrap. If you need something to look forward to at lunchtime between Zoom meetings, this is it! Sweet potato and kale are a match made in heaven.
Don't Want To Meal Prep? Here's How To Cut Down Time Spent Making Lunches
I get it. If you're working from home, what's the point of meal prepping when your kitchen is right there? Since you're not commuting, you have more time to cook anyway. Plus, fresh meals can be more appetizing than meal preps if you have the chance to make fresh food most of the time.
If that's you, here are some tips to cut down on time spent cooking and cleaning (while eating fresh meals):
Pre-chop veggies on the weekend. Even if you're not prepping fulls meals, you can still get some work out of the way.
Prep grains and carbs. Again, most rice, pasta and other carb elements can last in the fridge for a few days and make it even faster to put together a quick meal if you have them ready to go.
If you use a slow cooker or Instant Pot, you can get it going in the morning and have your food ready by lunchtime (or dinner).
Aim for minimal cooking or one-pot/pan meals to reduce clean up. No one wants to spend their entire lunch break cleaning!
Another option is to let dishes pile up and only do them once per day. Part of the reason I love meal prepping is that I don't spend a ton of time doing dishes every day, but if you need fresh meals, you can cut that time down by batch cleaning once per day.
To me, meal prepping while working from home has always made more sense (so much less mess to deal with and I never have to decide what to eat) but if it's something that works best for you, here are some easy recipes to throw together between calls and virtual meetings.
10 Lunch Recipes That Take Less Than 20 Minutes To Make
Sandwiches aren't generally meal-prep-friendly, so take advantage of working from home by whipping up a loaded veggie grilled cheese!
Here's another delicious sandwich idea that's easy to put together with minimal cooking equipment.
While tacos are meal prep-able, it's fun to put them together from start to finish and enjoy them right away. These plant-based tacos require very little actual cooking, too!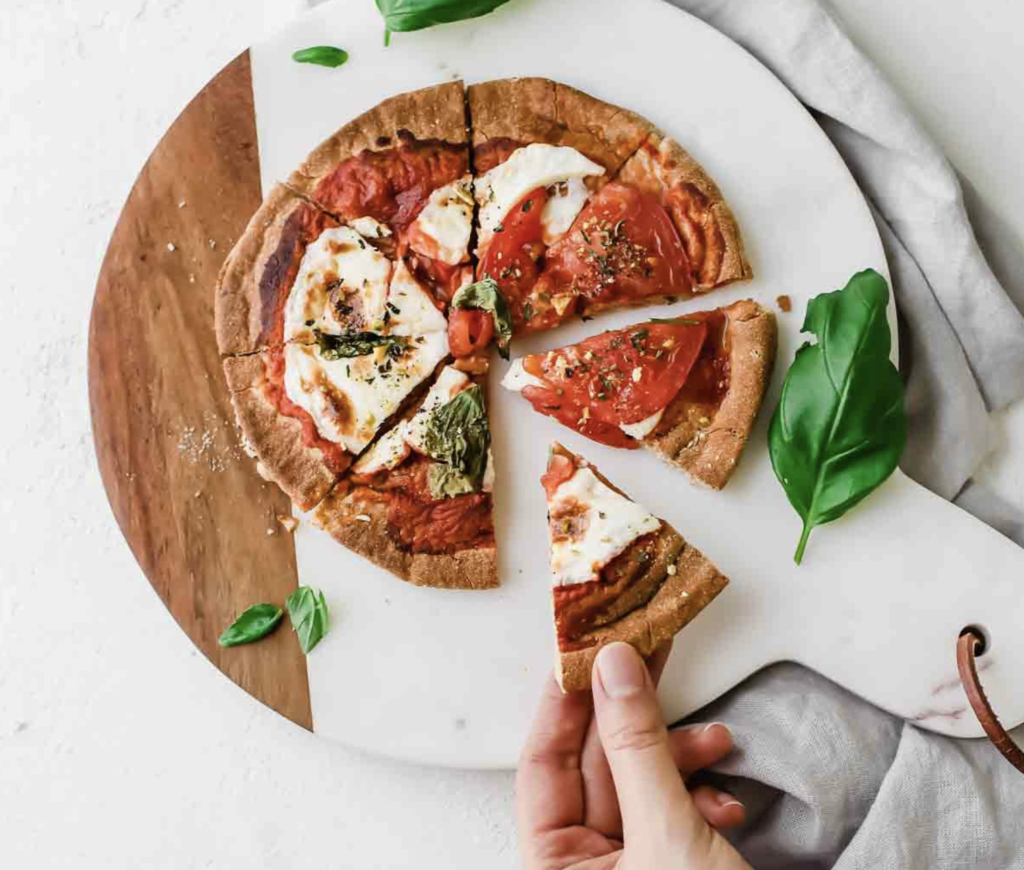 Pita pizzas are our go-to quick meal at home. Fire up the broiler, throw on your favorite sauces, toppings and cheese and enjoy five minutes later. Just be careful to not burn your mouth!
Sometimes putting together a meal in the moment is too stressful. Enter, the snacky lunch. Grab a plate and add some crackers, cheese, hummus, boiled eggs if you like them, pickles, fruit, meats – whatever you have lying around and enjoy.
Nachos are another really easy meal that's absolutely not prep-able. They'll make your work from home lunch break feel like it's the weekend for sure.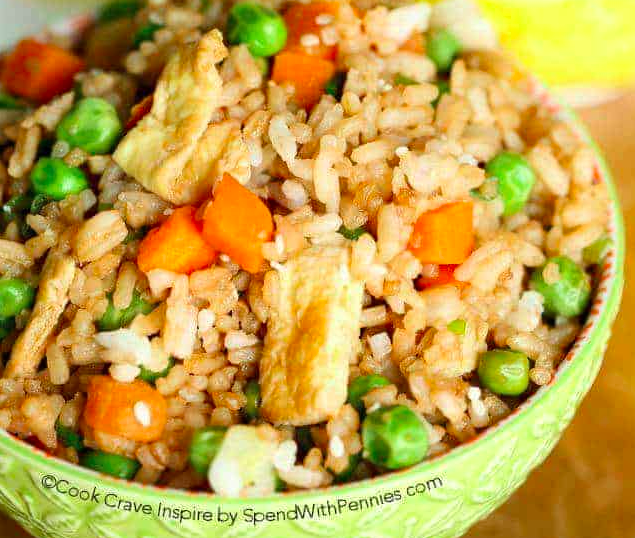 This is another one of my go-to work form home lunches, especially on Fridays when the day is slower and I have lots of leftovers to use up in my fridge.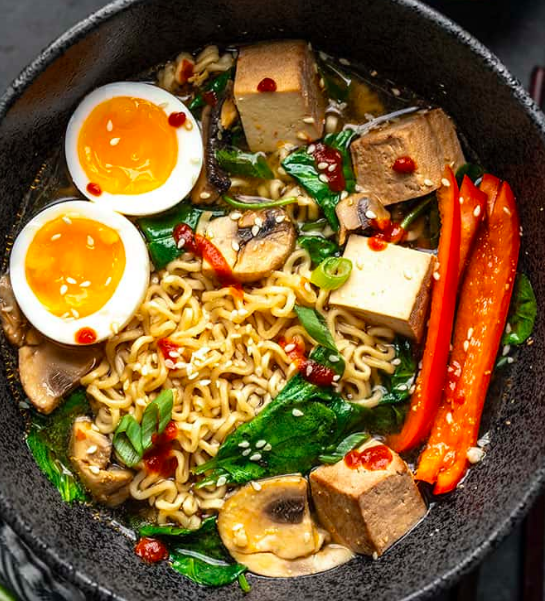 Ramen is also a super easy quick meal that's easy to customize based on what you have! Your lunch break is a perfect time to try to nail perfect jammy eggs while the noodles cook and you put your ramen together.
I'm not a huge canned tuna fan, but I know it's an ideal protein for quick lunches. And the best thing about working from home is not worrying about bothering anyone with certain smells!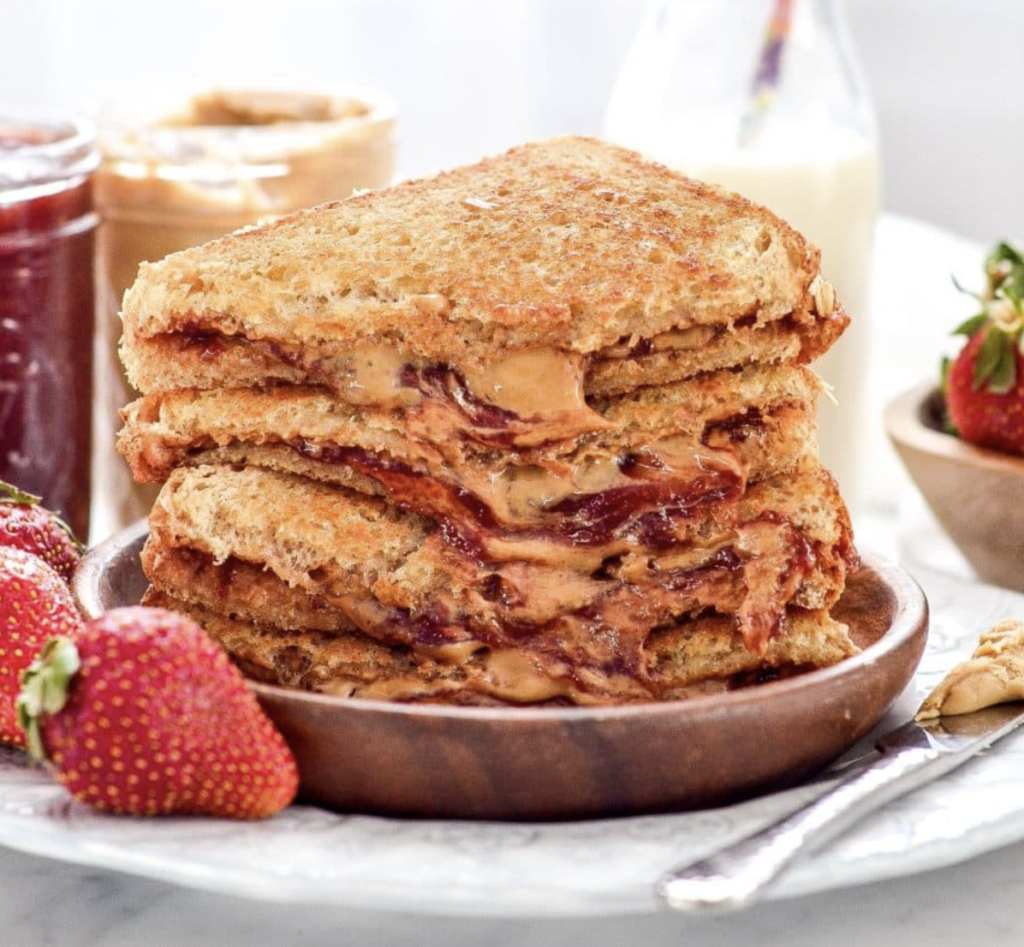 When in doubt, just make a good ol' peanut butter and jelly sandwich. And if you're feeling up to it, why not grill it?
My Top Working From Home Time Management Tips
Lunches aside, there are a lot of ways to be more productive and feel more focused when working from home. Time management is kind of my thing so as someone who has successfully worked from home for years, here are my tips:
Use Google Calendar to organize your day. Instead of seeing where the day takes you spending time trying to figure out what to work on, or what's important, schedule it in advance. I sit down every Monday morning with my coffee and plan out my entire week on Google Calendar (color coding and all) so I never have to worry about prioritizing.
Plan downtime and breaks. I know it sounds silly, but you're going to need it. As tempting as it is to fill in every hour with tasks and to-do's, it won't work unless you have energy!
Use your natural energy "flow" to your advantage. You know when you feel more motivated and when you don't. For example, I plan all my creative tasks for the morning and tedious tasks (like checking email and paying bills) in the afternoon.
Batch your tasks. Instead of checking emails multiple times per day, try checking in 2-4 batches (depending on how many emails you deal with at work). You'll find this boost productivity a lot. It can work for all tasks – not just email.
Here's a screenshot of my calendar from earlier this year. I know it looks intense, but this works super well.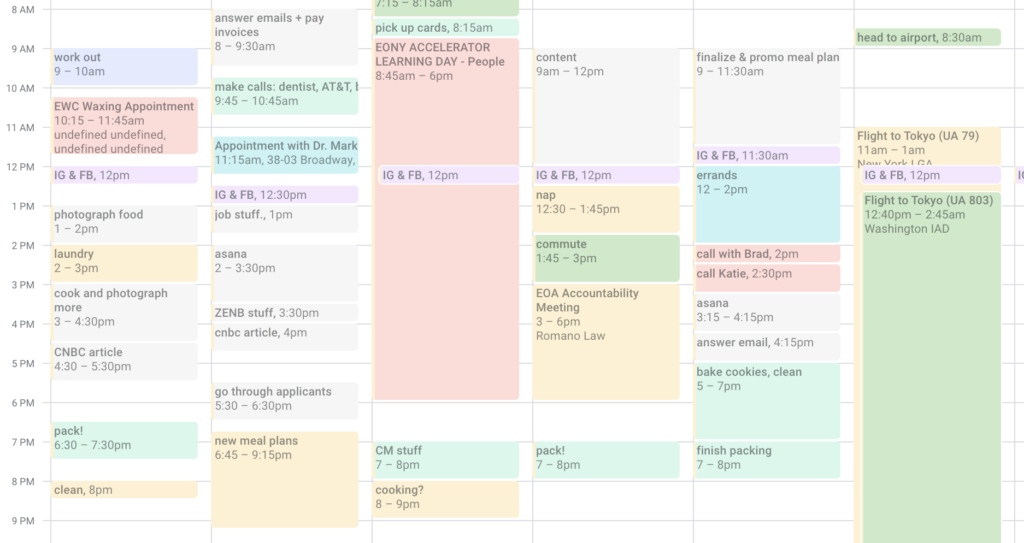 Work From Home Tips from the WWL Community
We're not the only experts on this! We asked the WWL Community all about how they manage mealtimes while working from home. Here are some of the great tips they shared!
"Make time to eat your work from home meal prep, you don't need to work and eat at the same time"
We can't stress this enough. Especially if you're someone who forgets to eat, carve out a specific time for meals throughout the day.
"Cut veggies in advance, bake some goodies!"
If you need fresh meals instead of preps, you can make the cooking process easier by chopping veggies ahead of time. And having baked goodies around is always a good move! Here are our favorites.
"I make a menu for the week. Even when I work from home meal prep, this helps me actually eat what I made!"
We can't stress meal planning enough! Here are our tips on how to make one:
How To Make A Meal Plan For The Week (For Beginners)
"Eat when YOU want to, your routine has changed so you don't have to follow the same eating routine!"
If having meal times feels too rigid, or you don't find yourself hungry at the same time every day, try eating when hunger strikes instead. This is another reason why meal prep is helpful! It makes it easier to actually do this, vs hoping you have time to cook when you feel hungry.
"Don't eat at the desk! Log off, go to the kitchen, read a book instead of email!"
It's so important to separate yourself from work and take a real break a few times throughout the day. Even if you're working from home, mealtimes are a great opportunity to do this.
"Paying attention to hunger cues, staying hydrated, and snacking!"
Just because you're working from home and not commuting or moving around as much doesn't mean you shouldn't snack when you're hungry.
"I pack my food in my lunch bag every day and take it to my "office" at home"
This is just so adorable – we love it.
"Prep foods you wouldn't bring to an office to reheat. I made fish chowder this week"
Why not take advantage of no one glaring at you for reheating delicious (but strongly flavored) meals?
---
We hope that you found these work from home tips helpful! If you want posts like this delivered directly to your inbox each week, sign up for our email list here to get exclusive meal prep and cooking tips and more.