Have you ever…
...Spent over $100 on groceries that mostly end up going to waste?
…Meal prepped dishes that tasted gross the next day?
…Spent HOURS on Pinterest, only to find recipes that require a zillion ingredients?
If yes… I have GREAT news:
The Workweek Lunch Meal Prep Program can make meal prep 100x easier!
You can jump right into meal prep with TESTED recipes and pre-made grocery lists today. Subscribe now and get:
A new meal plan every week! They include breakfast, lunch and dinner for Monday-Friday with plenty of room for flexibility
150+ recipes that have been tested FOR meal prep that aren't boring or made with special ingredients
An organized grocery list each week to help you save a lot of money at the grocery store
Access to the Workweek Prepper community where you can connect with others for inspiration and support
Cancel or re-join anytime, no strings attached!
Start today for $7.99/month!

click the button above to join
OR sign up for 6 months and get one month free for $39.99!

click the button above to join
"Talia – I just want to share that I have zero regrets about signing up for your program! I honestly wasn't sure I would follow through with it, but your meal prep has made eating so much easier that I look forward to it. I have breakfast for 7 days and lunch and/or dinner for at least 3 and have the ingredients for meals to take me through the rest of the week after that! Thank you for your program, I love it!"
"Subscribing to your plan has made me excited about food and cooking again after healing from many years of disordered eating and terrible body image. I started intuitive eating a little over a year ago and had reached the point of being bored with food when I found Workweek Preppers. Now I'm excited about cooking again but in a healthy way."
"OMG these recipes 😍 best $8 I have spent already, and it's my first week! Just tried the lentil curry and it is SO good! Also loving the one pan sausage and veggie meal – couldn't believe how yummy that one was for how simple it was to make!"
"Every day I'm amazed at what I can make in the kitchen with just a few ingredients. I used to survive on lean pockets and turkey sandwiches in college… My husband helped teach me some cooking skills but what you've taught me has TRANSFORMED my quality of life."
"I've done three weeks in a row and I don't think I'll ever go back. You gave me some of my time, money and brainpower back — is there any better gift?!"
Watch the video below to learn more about how it works:
---
The food:
Omnivore, vegan, vegetarian and gluten-free meals are included in every meal plan.
All recipes provide instructions on how to properly make changes, switch up the ingredients AND you'll be able to change the portion sizes right on the recipes!
Each meal is built on the protein + veggie + carb template that I use, creating balanced, satisfying and delicious meals that will keep you full.
Expect to try new meals you would have never thought you could successfully cook on your own!
The plans:
When you sign up, you'll immediately get access to all of the meal plans and recipes. The meal plans and grocery lists are downloadable, editable and mobile-friendly!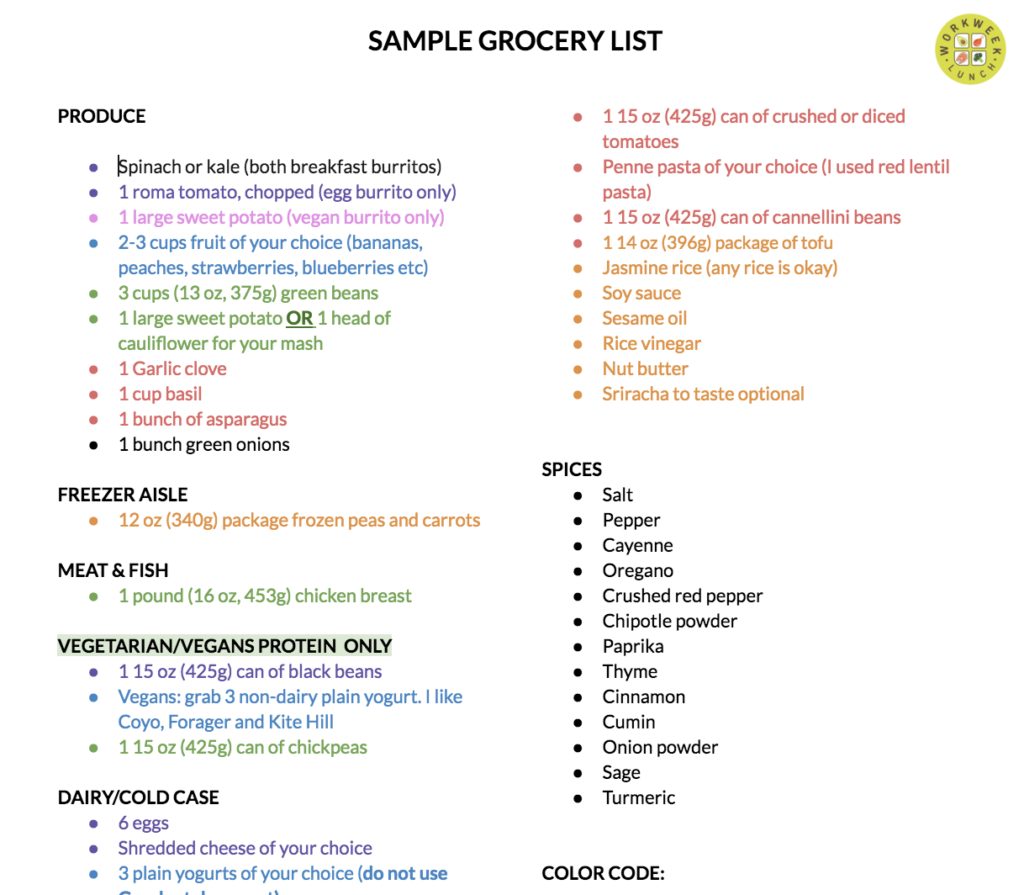 Here's what the plans look like: 
Since this isn't a weight loss or diet plan, there's no "falling off the wagon." Every week 16 out of 21 main meals are planned for you — the rest is up to you. You don't even have to make all 16 meals each week to reap the benefits of meal prep!

The community:
In our Facebook group, you'll have a chance to connect with other people who are also getting meal prep done every week! It will help motivate you to keep going and find more inspiration and support. You do not need to be on Facebook to join the program!
It's hard to do this alone! I'll be in the group too, helping you each step of the way.
Start today for $7.99/month!

click the button above to join
OR sign up for 6 months and get one month free for $39.99!

click the button above to join
---
Meet your meal prep spirit guide:
I'm Talia Koren, founder of Workweek Lunch.
For the last four years, I've been using meal prep to maintain a healthy diet and outlook on food.
One of my core beliefs is that to eat healthily is to eat food you make at home that actually tastes good.
Cooking your meals most of the time is probably the best way to eat healthy without obsessing over it AND you can save so much money by not spending on takeout every day. The meal prep system, on top of that, helps you save your precious time. (Who has time to cook *every day*??)
With this program, you get peace of mind when it comes to food. I've personally tested every meal myself so YOU can find success in the kitchen.
Frequently asked questions about the program:
Q: Will there be vegan and vegetarian recipes available?
A: Yes! Recipes will be available to accommodate the following diets: omnivore, pescetarian, vegetarian, vegan, dairy-free and gluten-free.
Q: Are calories and macros included in the recipes?
A: No. These meal plans are made to help people incorporate more veggies and whole ingredients into their diet — not restriction and calorie counting. As an advocate for intuitive eating, I cannot ethically include calorie counts because it goes against my philosophy! Including these numbers is highly triggering for those recovering from eating disorders and this program is one of the few out there that has ZERO diet language and is a safe space for recovery through cooking.
Q: How are payments processed?
A: Currently, we are only accepting credit card payments and hope to accept PayPal in the future. You will be charged $7.99 each month. Right now, there are no yearly plans available.
Q: If I don't like it, can I get a refund?
A: No, but you can cancel anytime with no strings attached.
Q: I'm cooking for my partner and myself. Will these plans work for two?
A: Yup! You can adjust the portion size right on the recipes and the ingredient amounts will automatically update. You can also reach out to me at talia@workweeklunch.com for help with doubling recipes or adjusting portions.
Q: I'm cooking for my family and myself. Will these plans work for a family?
A: Yup! Many families use the plans and adapt the recipes for kids depending on their tastes.
Q: Do I have to wait until Thursday to get a new meal plan?
A: No! All you have to do is sign into workweeklunch.com under "members" after signing up and you will see the most current plan plus ALL previous plans.
Q: I don't have a stove/oven, can I still use these plans?
A: I don't think the WWL Meal Plans would be easy to use without a full kitchen so they probably are not for you!
If you have any other questions at all, reach out directly to me at talia@workweeklunch.com or send me a DM via Instagram @workweeklunch.
More testimonials from members:
"These meal plans gave my family something to look forward to with each new week! We found new favorites and our kids were willing to try new things at every meal because everything looked, smelled, and TASTED so delicious! I especially liked how recipes could be sized up or down, making it easy to plan for extra leftovers for lunches." -Angie, Pennsylvania
"I love not having to plan out my meal prep, and all of the food tastes amazing!" – Megan, Vermont
"Talia's meal plans inspired me to switch up my cooking routine by offering a variety of healthy and tasty meals which can be easily adapted to fit everyone's needs. I love her easy-going, relaxed and flexible approach to cooking and meal planning, which helped me focus on delicious and nutritious meals rather than calorie and macro counts. The grocery list and excel sheet made it easy to plan ahead, which helped with reducing food waste as well!" – Nina, United Kingdom
"It's so helpful to have a healthy, delicious meal plan simply handed to you when you're a busy person." – Danna, Maine
"The weekly meal plans have been a game changer for me and helped me stay productive when I stuck to them. Having tasty meals ready for me was SO helpful because I could focus on getting other stuff done instead of figuring out my meals for the week." -Jessica, California
"The meal plans were easy to follow, tasty, and nutritious. Diving head first into meal prep gave me the most amazing peace of mind all week long. It was amazing! The dreaded "I guess I better make lunches for tomorrow" was replaced with more time spent with my family. And I never had to worry about what was for dinner when I came home from work. Talia's plans gave me my life back, and that to me, is completely priceless! And, we saved a TON of money on groceries." – Mallory, New Hampshire
"I love Talia's recipes – the meals are simple and encourage using fresh yet cheap ingredients. I love that they are so heavily plant-based and they help me stop wasting food. Following her meal plans makes trips to the grocery store quick and painless." – Carrie, New York
Start today for $7.99/month!

click the button above to join
OR sign up for 6 months and get one month free for $39.99!

click the button above to join