Meal Planning Made Easy!
Enjoy more time, money and homecooked meals with WWL's Meal Planner!
we plan. you shop, cook and enjoy!
We have a wide variety of breakfast, lunch and dinner recipes in the Workweek Lunch Meal Prep Program! Every recipe includes produce, carbs and protein. Most only require 45 minutes and basic equipment. Try our free sample recipes here. They're all are tested for meal prep (meaning they taste great as leftovers) but you can make them as regular meals too.
Our recipes are original and created/tested by three recipe developers. We create multiple versions of each recipe to fit vegan, vegetarian, omnivore, gluten-free and dairy-free diets.
We LOVE introducing our members to new flavor profiles, ingredients and cuisines, but aim to create recipes around affordable, easy-to-find ingredients that have a good shelf (or fridge/freezer) life too.
You can view ALL our existing recipes when you join, even on the free trial!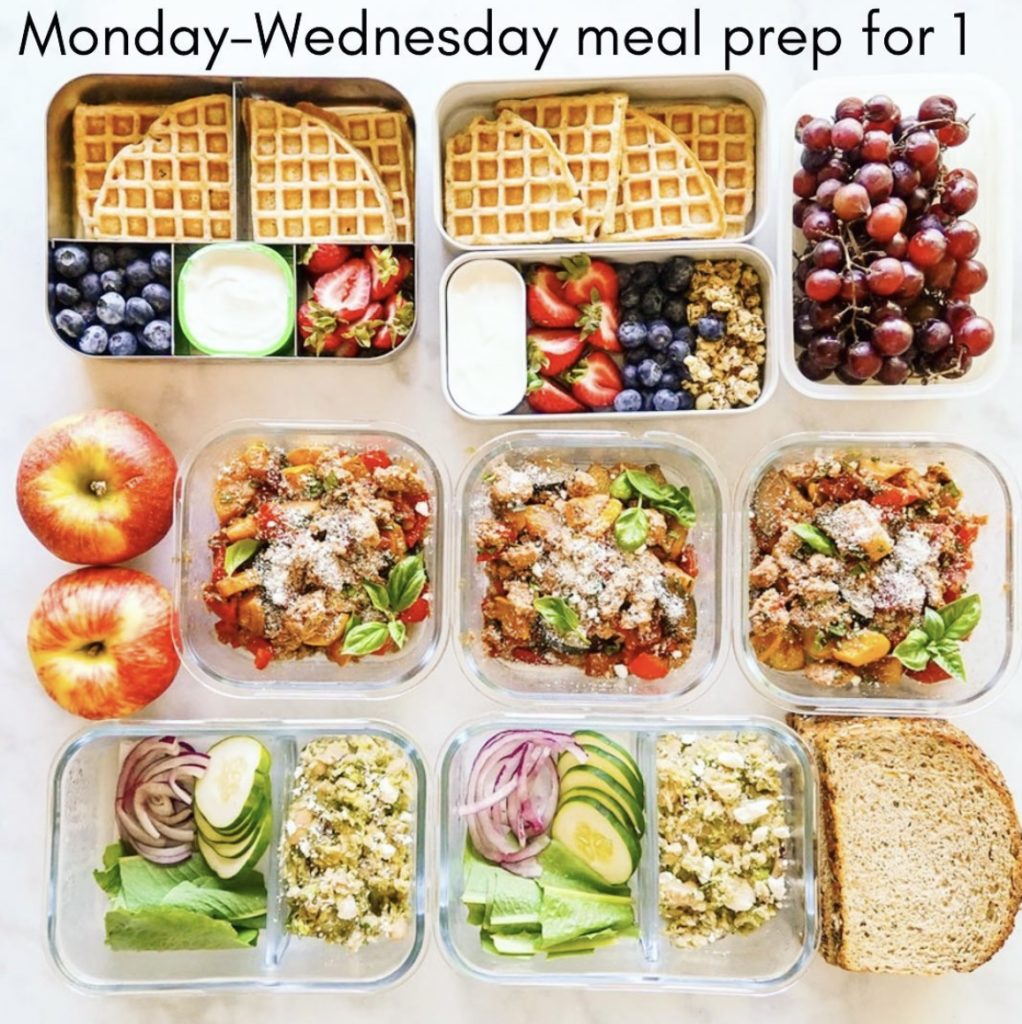 How our Meal Planner Works
Immediately get access to our existing recipes and plans, as well as our planning tools and community.
Receive weekly meal plans. They come out at 12 pm ET via email on Wednesdays, or just check the site!
PRO: Get new tested recipes along with the new meal plan. We share 2-4 new recipes per week!
PRO: Customize your plan and get your shopping list in MINUTES with our meal planning and grocery list tools.
Shop, cook and enjoy your delicious meals all week long!
---
Here's a video walkthrough of how the Program works on desktop!
While we don't have an app, our mobile website works like a dream.
---
FREQUENTLY ASKED QUESTIONS ABOUT OUR MEAL PLANNER:
Q: Are there vegan and vegetarian recipes available?
A: Yes! Recipes will be available to accommodate the following diets: omnivore, pescetarian, vegetarian, vegan, dairy-free and gluten-free.
Q: Are the recipes healthy?
We don't define what's "healthy" or not. That's up to you!
Our recipes are well-rounded and balanced with proteins, veggies and carbs, but we have no idea what the calories are.
We do not give nutrition advice in our recipes or resources (and we don't allow anyone to share nutrition advice in our group).
Q: Do I have to meal prep these recipes?
No! Many of our members use the planner and recipes for regular dinners and meals throughout the week. Every meal CAN be meal prepped (they taste great as leftovers) but you can eat them fresh too. 90% of our recipes can be made in 40-45 mins or less.
Q: Are calories and macros included in the recipes?
A: No. These meal plans do not include nutritional info because that goes against our intuitive eating philosophy. This program is a safe space for those recovering with eating disorders and including calorie/macro information can be triggering.
Q: What meals are included each week?
A: Weekly meal plans include meals from Monday-Saturday with options to move meals around. So it's not rigid like other plans where you eat homecooked food three times a day for 6 days in a row. We keep Thursday night, Friday night, Saturday morning/night and all day Sunday completely open for you to decide what to cook (or not cook!). Each week has 14 total meals planned with 5 recipes. You can add more if you want!
Q: How do you process payments?
A: You're charged $9.99 each month from the day you sign up on the monthly subscription after your free trial. When you disable your subscription, the recurring charges will stop. We do not use PayPal and members can only pay with a credit card or Apple Pay for now.
Q: I'm allergic to (insert your allergen here). Will the recipes work for me?
A: If you're allergic to soy and can't eat meat, I don't recommend this Program for you. It's easy to avoid nuts, eggs, wheat and other common allergens in this Program but meat-free AND soy-free would be very difficult since many (not all) of our vegan recipes involve soy-based proteins like tofu. If you want to check out the recipes, I recommend signing up for a free trial so you can see them all!
Q: If I buy a month and don't like the recipes after a few days, can I get a refund?
A: No. If you're unsure about the recipes and want to see what they're like before joining, please try recipes from our free collection first or check out our free trial option (linked above and below). You can cancel before the free trial is up.
Q: I'm cooking for my partner and myself. Will these plans work for two?
A: Yup! You can adjust the portion size right on the recipes and the ingredient amounts will automatically update.
Q: I'm cooking for my family and myself. Will these plans work for a family?
A: Yup! Many families use the plans and adapt the recipes for kids depending on their tastes.
Q: Do I have to wait until Wednesday to get a new meal plan?
A: No! All you have to do is sign in under "members" after signing up for the program and you'll be able to access everything. Once you're in the site, you can click "weekly meal plan" to view the current plan.
Q: I don't have a stove and/or oven, can I still use these plans?
A: The WWL Weekly Meal Plans won't be easy to use without a full kitchen so they probably are not for you! You need a stove and oven for the recipes in the Program.
Q: I don't have a microwave. Will this still work for me?
A: Yes! You can reheat meals on the stove or in the oven, or in appliances such as air fryers or toaster ovens if you have them.
Q: What if I want to cancel?
A: You can cancel and re-join anytime by signing in and managing your account! S0 once you cancel, you lose all access to recipes and meal plans.
Q: I don't live in America. Can I still use these meal plans?
A: Yes! Our metric conversion works great. We have many members from all over the world. Since ingredients and prices of groceries vary across the globe, some recipes may need a lot of alterations/substitutions as all the recipes are developed in the US.
WWL Meal Planner Member Feedback