Meet the team!
Talia Koren, Founder of Workweek Lunch
Talia started Workweek Lunch in 2016 with the mission of teaching people all over the world how easy, cost-effective and fun meal prep can be. Talia writes all the recipes and designs weekly meal plans that go out to a base of over 2,000 subscribers (and counting!) each week with the help of her amazing team.
Favorite dish to cook: anything with sweet potatoes
---
Whitney Deberry, Social Media Sous Chef & Customer Care
Whitney
DeBerry assists with customer care and social media content creation at Workweek Lunch. Whitney recently left the agency world to start her own Virtual Assistant business specializing in helping small businesses with digital marketing.
Favorite dish to cook: Fajitas with shrimp and black beans
---
Emily Elliott, Meal Plan Manager
Located in North Carolina, 
Emily
is responsible for making sure customers receive weekly meal plans on time. She loves that her job with Workweek Lunch gives her the opportunity to contribute to her family and work from anywhere. In addition to being a virtual assistant and mom to a rambunctious toddler, she also works as a birth/postpartum doula.
Favorite dish to cook: steamed shrimp, lightly seasoned with old bay and pulled fresh from the water she lives near.
---
Jessica Phillips, Facebook Community Moderator
Jessica moderates the Workweek Lunch Facebook community, which involves answering questions and providing the members with positive feedback on what they share with the group. She resides in Southern California and loves living by the beach with her cat. Along with her position at WorkWeek Lunch, she teaches science to preschool and elementary-aged children for a science enrichment company in Orange County.  She also enjoys volunteering at her local aquarium and crafting in her spare time.
Favorite dish to cook: a vegetarian version of her grandpa's chicken pot pie
---
Ashley Sikayun, Pinterest Manager
Ashley is from the island of Saipan in the U.S. Commonwealth of the Northern Mariana Islands, a chain of tropical islands in the Western Pacific. She manages Workweek Lunch's Pinterest account and runs her own side hustle, Thrive Virtual, specializing in virtual assistance, social media management and graphic design.  You can reach her at contact[at]thrive-virtual.com
Favorite dish to cook: baked chicken wings!
---
Brad Ploch, Facebook Ads Manager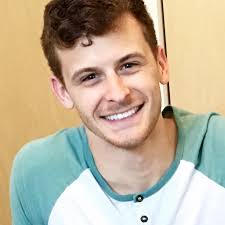 Brad has been working in the digital marketing space since graduating from college in 2016. Having the opportunity to work with a wide range of industries he has discovered a love for small businesses. With the ability to learn and understand each business intimately, he is able to create campaigns that are tailored uniquely for their goals.
Favorite dish to cook: do smoothies count?