Meet the team!
Talia Koren, Founder of Workweek Lunch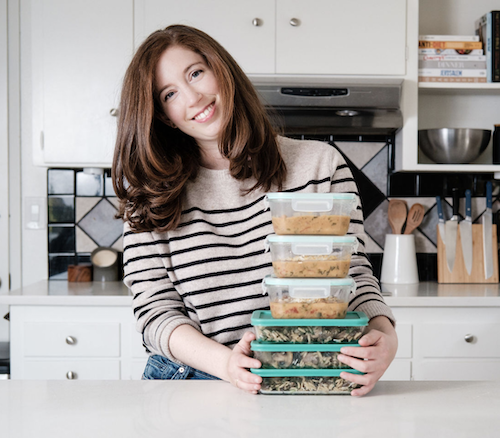 Talia started Workweek Lunch in 2016 with the mission of teaching people all over the world how easy, cost-effective and fun meal prep can be. Talia writes all the recipes and designs weekly meal plans that go out to a base of over 5,000 subscribers (and counting!) each week with the help of her amazing team. Talia currently lives in Seattle, WA.
Favorite dish to cook: Vegan coconut curry or chicken stir fry
---
Alyssa Lash, Content Manager
Alyssa is full time with WWL and manages content for our Facebook Page and Group, YouTube Account, weekly newsletters, Instagram and the WWL Blog. She also manages WWL's partnerships with brands such as ButcherBox, Nakano Knives, Nature's Bakery and more. Alyssa currently lives in Brooklyn, NY.
Favorite Dish to prep: Mediterranean Bowls, or anything with Tzatziki!
---
Jessica Phillips, Recipe Manager & Support Specialist
Jessica develops incredible vegan and vegetarian recipes for the WWL Program, as well as for the blog. She also manages our TikTok account and produces images for our Instagram, Facebook and email newsletter. When she's not cooking, Jessica manages our support inbox and moderates the Workweek Lunch Facebook community, which involves answering questions and providing the members with positive feedback on what they share with the group. She resides in Southern California and loves living by the beach with her cat.
Favorite dish to cook: a vegetarian version of her grandpa's chicken pot pie
---
Sarah Simon, Recipe Team Assistant 
Sarah is our Recipe Team Assistant. She helps the developers bring the Workweek Lunch recipes from concept to publication. Sarah's knack for organization and attention to detail keeps our recipe database in tip-top shape. She also helps moderate our member Facebook group. In her spare time Sarah enjoys teaching yoga, cooking, digging in her flower garden and camping under the stars with her husband, two kids and their adorable mutt, Fozzie Bear. 
Favorite food to make: All varieties of curry!
---