Some weeks are a doozy.
You know the ones. When every single day of the week, you have something going on. Doctor's appointments, fitness classes, happy hours, date nights, errands, networking events… it never stops.
Even though I'm not the most social person and have a bad habit of avoiding the doctor, I don't like to waste my precious time worrying about food.
Not worrying about food helps me have time to worry about more important things. You know, like making sure I have enough time to go to the gym, do laundry and watch The Bachelor.
This week, I wanted to tap into my inner multitasker and take my meal prep up a notch and make six meals at once instead of my standard three.
And to save time, I wanted to do it in less than an hour and a half.
Here's my easy meal prep for lunch and dinner for Monday through Wednesday, so I won't have to cook again until Thursday night: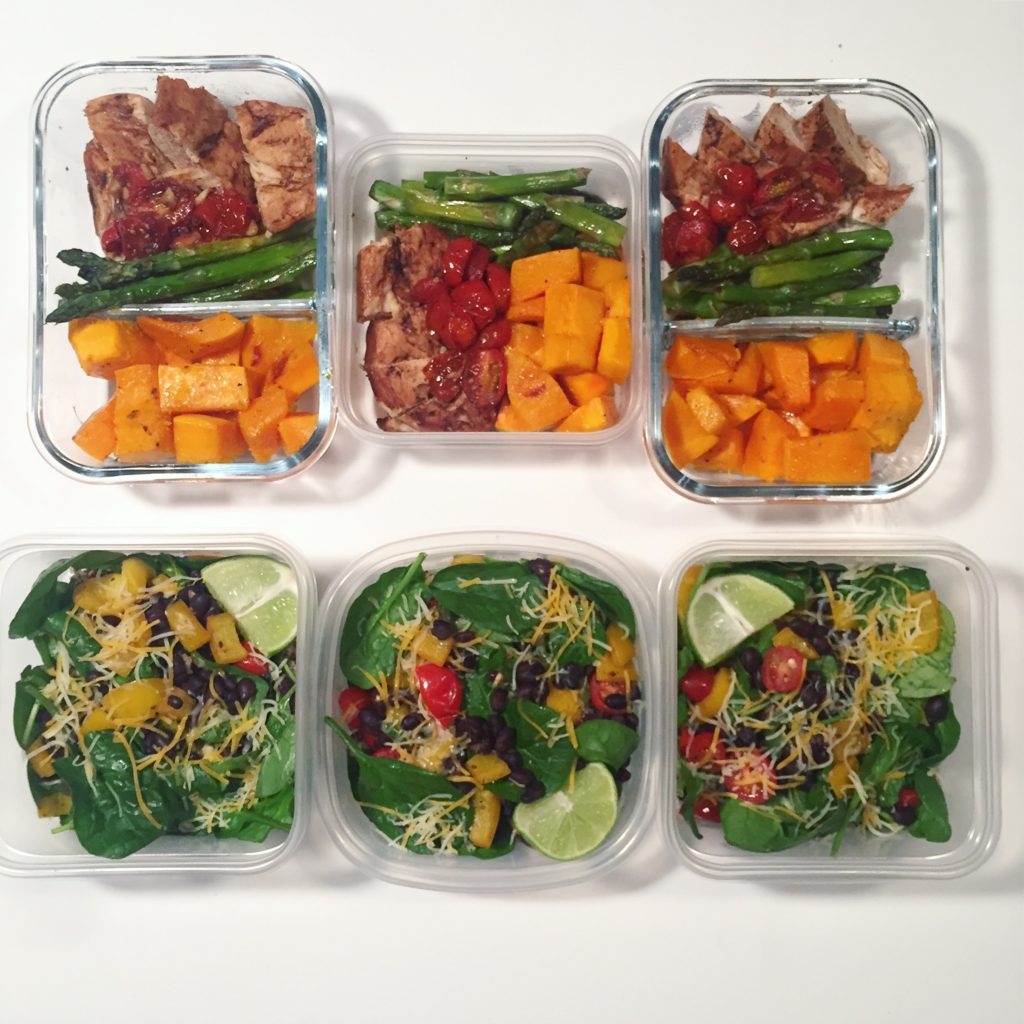 Meal 1: burrito bowls with quinoa
Meal 2: balsamic chicken with roasted tomatoes, butternut squash and asparagus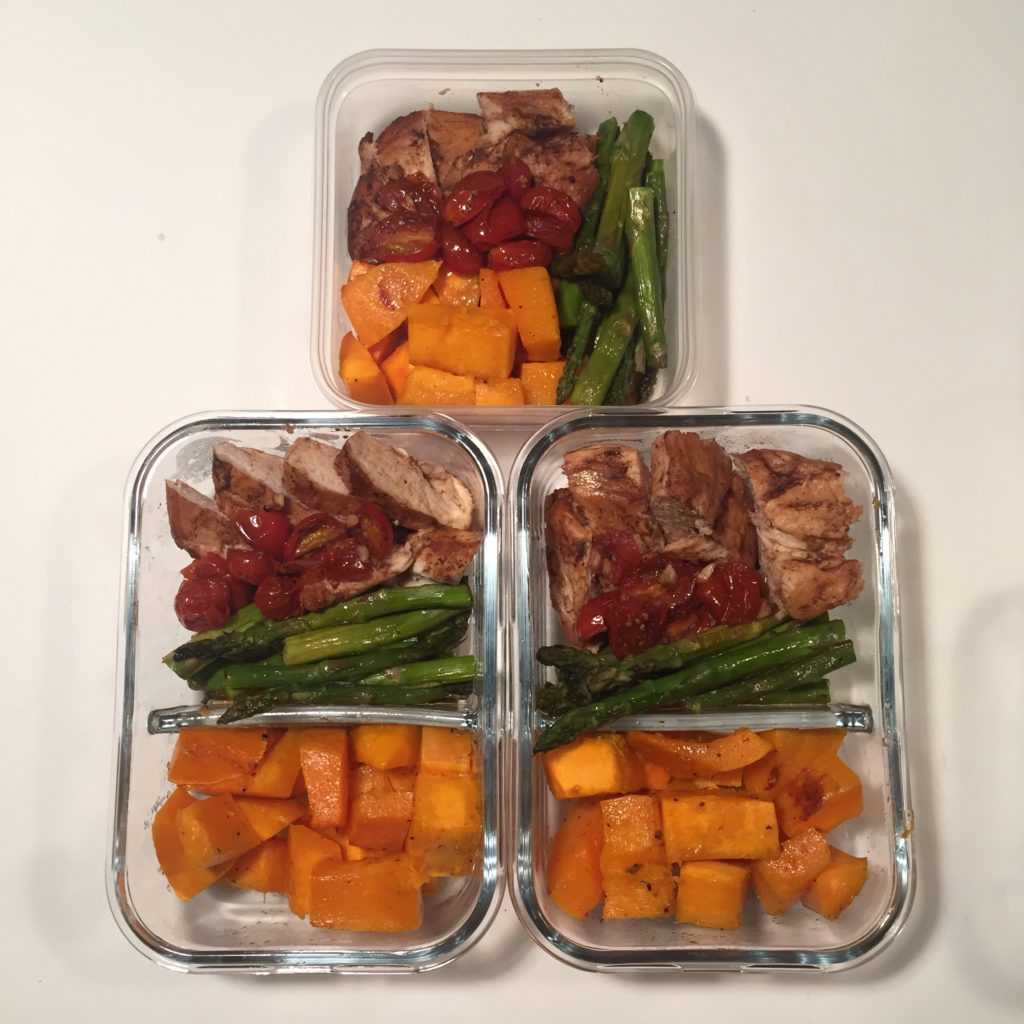 Below, I'm walking you through the process step-by-step with images and video from my Snapchat that I took while doing this super easy meal prep.
By the way, my Snapchat handle is pizza468. If you follow me, you'll be able to watch my meal preps as they happen! Snapcode below:
As always, I like to enjoy a beer and some podcasts when I cook. This makes the entire process feel like quality "me" time. I highly recommend that you try something similar when cooking to make it more relaxing.
Some podcasts I'm into right now:
Smart Passive Income Podcast with Pat Flynn (online business, he usually has guests)
#AskGaryVee Show Podcast with Gary Vaynerchuck (entrepreneurship, life advice, social media advice)
The Three Month Vacation Podcast with Sean D'Souza (marketing, writing and business, he records solo)
Double Your Freelancing with Brennan Dunn (freelancing, working remotely, he usually has guests)
And of course Stuff You Should Know. (random knowledge, same two dudes every time)
Burrito bowl ingredients:
This version is modified from the basic recipe I have on my site here.
Black beans
Quinoa
Tomato (I used cherry tomatoes, but other types work just as well)
Spinach (in place of cilantro, and I wanted to add more greens)
1 yellow pepper
1 jalapeno pepper (ONLY if you like spicy food)
Seasonings:
Salt & pepper
cumin
oregano
Note that I didn't use the cayenne because the jalapeno made this dish very spicy!
Oil:
Coconut oil (but you can use an oil of your choice)
Garnishes (not pictured)
Lime juice
Avocado
Shredded cheese
Equipment:
Stove or hot plate
Medium sized skillet for veggies and beans
Small pot for the quinoa
Chicken and roasted veggies ingredients:
3 pieces of thick chicken breast (if you're vegetarian or vegan, substitute tofu, tempeh or seitan!)
1 butternut squash (this one was actually too big and I had leftovers. Get a smaller one if you're just cooking for one person!)
1 bunch of asparagus
cherry tomatoes
For the sauce:
Balsamic vinegar
Honey
Olive oil
1 clove of garlic
Seasoning:
Salt & Pepper
Rosemary (if I had any) would also be a great addition for the chicken
Oil:
Equipment:
Oven
Baking sheet for the veggies
Baking dish for the chicken and tomatoes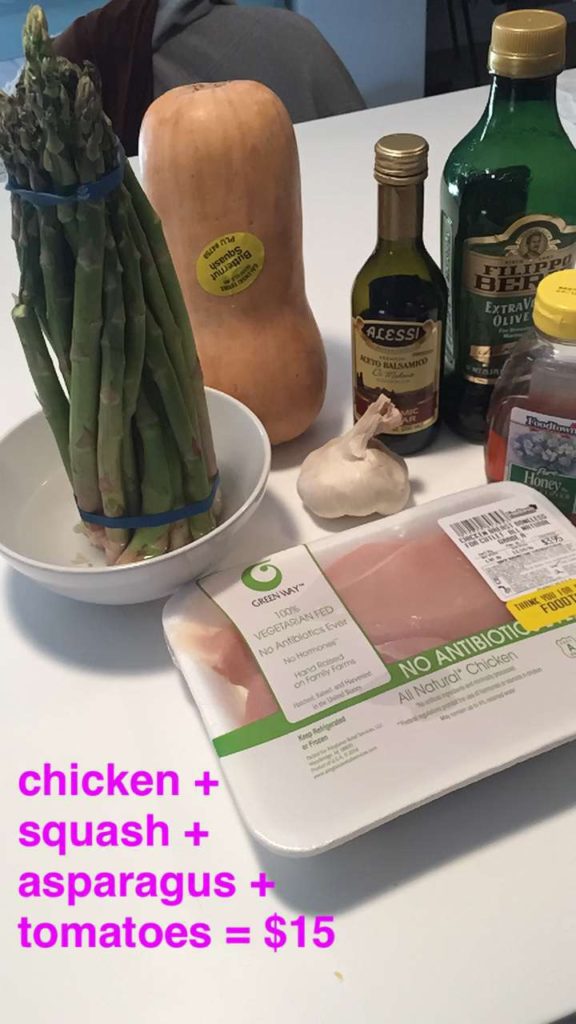 Step 1: Prep the veggies
Preheat your oven to 400 F
Microwave the butternut squash for 2 minutes. Chop it half, then halve the halves. Scoop out the guts, then chop into wedges or bite-sized pieces.
Chop the asparagus, cherry tomatoes and peppers.
If using a jalapeno, slice it and remove the seeds if desired for less spiciness.
Mince the garlic.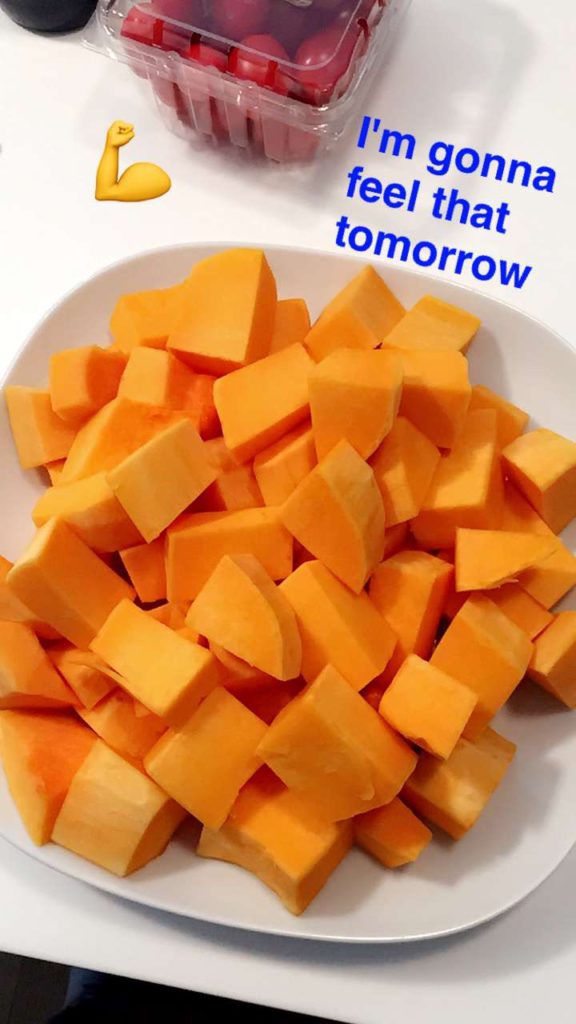 Step 2: Prep the balsamic honey sauce
Add about 1/2 C of balsamic vinegar into a bowl. Combine with 1/4 C of honey, a splash of olive oil and 1 clove of minced garlic.
Stir until combined and set aside.
Step 3: The chicken and veggies go in the oven.
Add foil to your baking sheet (like below).
Arrange the butternut squash and asparagus on the baking sheet.
Drizzle with olive oil, sprinkle with salt and pepper.
Place on the lower rack in the oven for 15 minutes.
Spray a baking dish with non-stick spray. Add the chicken and tomatoes.
Pour the balsamic honey sauce over the chicken and tomatoes. Flip the chicken breasts with a fork to make sure they're evenly covered.
Place on the middle rack in the oven, bake for 20-25 minutes at 400 F.
Step 4: Make the burrito bowls
While the chicken and veggies are roasting, you can make cook the burrito bowls.
Cook the quinoa according to the instructions on the package. Make enough for three servings.
Add your cooking oil to a skillet on medium heat.
After a minute, add the peppers, tomato and beans.
Add salt, pepper and cumin to taste to the pan and stir thoroughly.
Let the veggie mixture cook for 10 minutes uncovered, stirring ocassionally.
Step 6: start assembling!
Remove the asparagus from the oven. Turn over the butternut squash and put the baking sheet back in the oven for another 10 minutes.
Divide the asparagus evenly into three containers.
When the chicken and butternut squash are done, remove from the oven and divide evenly to three containers with the asparagus. Those meals are done!
For the burrito bowls, add quinoa to the bottom of the containers, then add raw spinach on top if using.
Add the burrito veggie mixture on top of the quinoa and spinach. Then garnish with cheese, a slice of lime and avocado if desired.
Let your dishes cool to room temperature before covering and placing in the fridge!
These meals can keep for up to four days if stored properly in the fridge.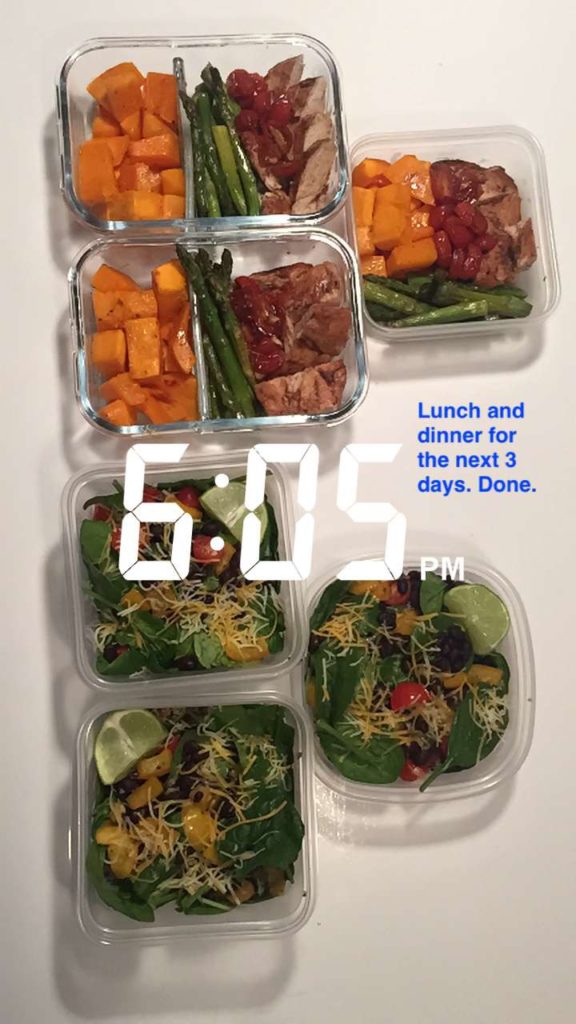 The key to meal prepping two meals at once is using the stove and the oven at the same time. Give it a shot. I promise if you cook food on the stove while you have food cooking in the oven, it will go by much faster.
Have requests for recipes? Shoot me an email at: talia@workweeklunch.com and request a recipe that you'd love to see on Workweek Lunch. I'll create my version of it just for you.
Want to master the art of meal prep? Subscribe below and get my weekly tips on how to meal prep without wasting your entire Sunday.