This humble spinach egg cup recipe makes an amazing quick breakfast that you can transform into a breakfast sandwich, wrap and more. I cut these up and put them on a bagel – the best meal prep breakfast I've had in a while! As always, you can take them to the next level with any other ingredients you have lying around, like cheese, spices and other veggies.

Recipe overview
All you need is eggs, spinach, cooking spray (or muffin liners) and a muffin tin.
By the way, if you don't have a muffin tin, you can make a basic spinach egg frittata instead of using a baking dish, small sheet pan or even oven-friendly meal prep containers!
Need to double this recipe? Super easy! Use a dozen eggs and the entire bag of spinach.
How to customize these spinach egg cups
Other veggies that would work in this recipe:
Broccoli
Cauliflower
Tomatoes
Sweet Potato
Greens
Peas
Corn
Carrots
Green beans
Asparagus
Zucchini
Squash of any kind
Bell pepper
Onion
Mushroom
I honestly can't think of a vegetable that wouldn't work here.
Feel free to also get a little creative with aromatics and flavors. This recipe is very basic in terms of flavor and I encourage you to throw in your favorite spices (you really can't go wrong here in terms of flavor profile). Whatever you're in the mood for — do it!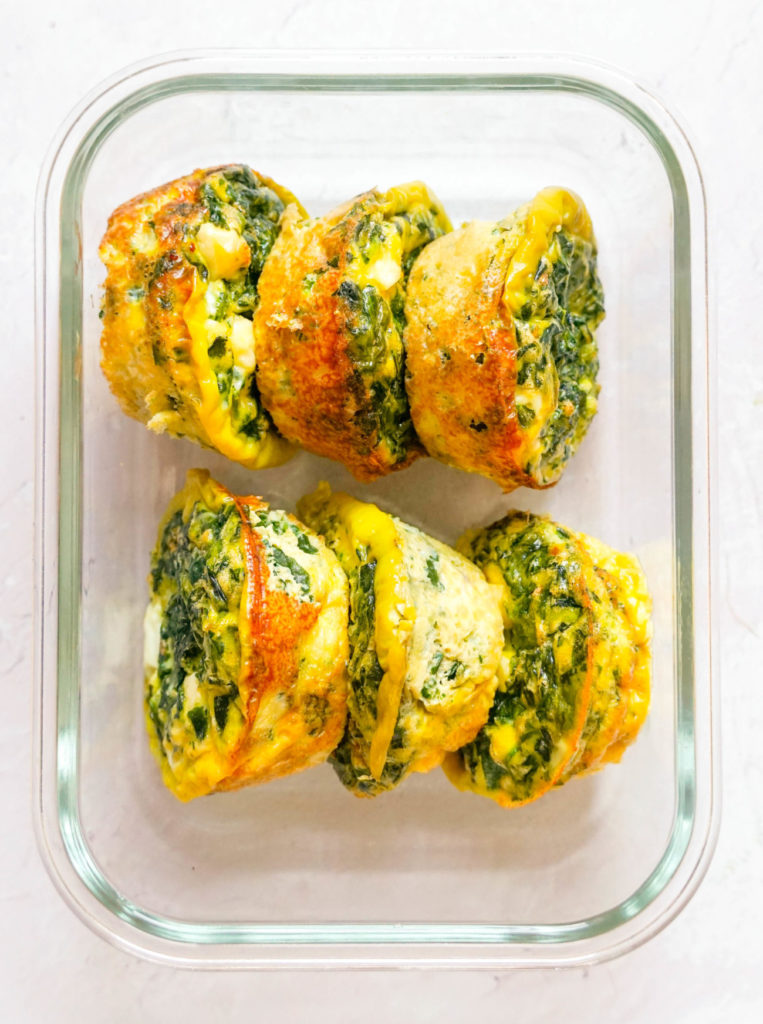 Storage & Reheating Notes:
This meal can last in the fridge for up to 4 days and it's good in the freezer for up to 3 months!
It reheats well in the microwave and on the stove or in the oven. If you're feeling fancy, add some ketchup, sriracha or hot sauce on top before eating.
Happy prepping!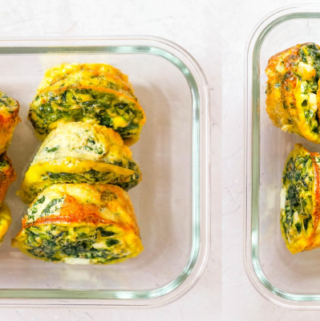 Budget-Friendly Spinach Egg Cups
Ingredients
cooking spray

6

oz

frozen spinach

(half a bag of frozen spinach)

6

eggs

1/4

cup

milk of your choice

optional

salt and pepper to taste

shredded cheese

optional

english mffins

optional
Instructions
Preheat your oven to 375 F.

Prepare 6 wells of a muffin tin with A LOT of cooking spray. Be generous! Eggs tend to stick. Muffin liners are a good alternative to avoid egg sticking to your pan.

Cook the spinach: Heat up a skillet over a medium flame and add the spinach. No need to add oil. Add salt and pepper. Cook the spinach, stirring occasionally until it has defrosted and the water has cooked out - about 10 minutes on medium-low heat. The pan should look pretty dry. We don't want soggy eggs!

Meanwhile, whisk the eggs in a bowl. Add the milk and salt and pepper to taste (be generous). If using, add cheese. When the spinach is done, add the spinach to the bowl. Mix everything together.

Pour the mixture into the muffin tin - the cups will be almost completely full. They will expand a lot in the oven, but shrink back down when you take them out, so it's ok.

Place the muffin tin on a sheet pan and bake the egg cups for 20-25 minutes, until they're firm to the touch (but still a little squishy - not hard) and a little golden-brown on top. Let them cool completely before storing in the fridge. Enjoy them with English muffins, toast, bagels, wraps or on their own!
DID YOU MAKE THIS RECIPE?
Please leave a comment below on the blog or share a photo with us and tag @workweeklunch! Can't wait to see what you made!