If you've never had a savory waffle, these jalapeño cornbread waffles need to be your first! You can't go wrong with the flavors of bright, hot jalapeno and sweet corn. These waffles are great on their own, but my favorite way to eat them is with a runny fried egg on top with some avocado. Or, go crazy and use these waffles as the "bread" in a breakfast sandwich, why not??
Want more easy meal prep-friendly breakfast recipes? Join the Workweek Lunch Meal Prep Program with access to 600+ meals, our meal planning tools, grocery list generator, and more. Start a free trial today!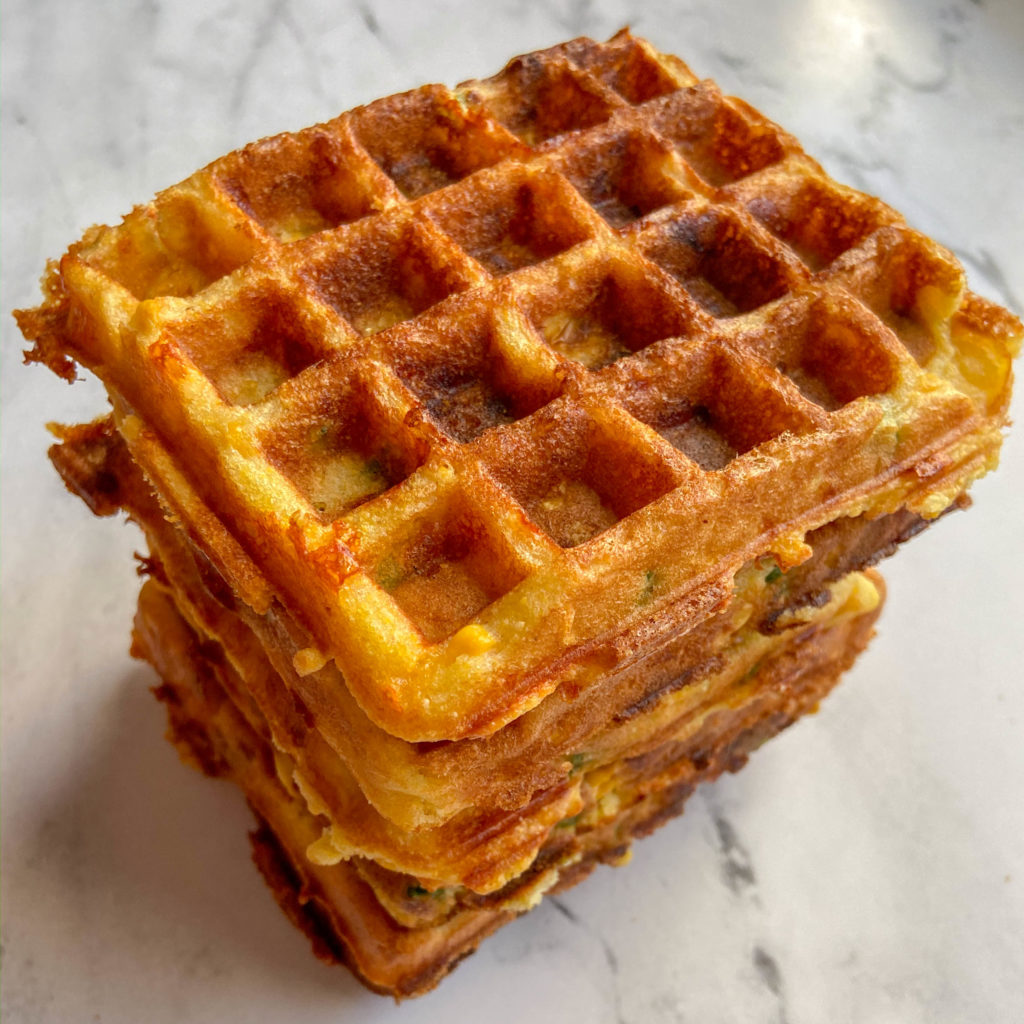 Changes you can make to these cornbread waffles:
Use a different corn muffin mix if you have a favorite or can't find Jiffy! Bob's Red Mill, King Arthur, Krusteaz, and Stonewall Kitchen all have corn muffin mix.
If you want to make your own cornbread mix instead of buying a box, here is a simple recipe that you can follow!
Make these waffles dairy-free with non-dairy milk.
Make these into muffins instead of waffles! Notes for this are in the instructions!
Use buttermilk instead of regular for a more traditional texture
You can replace the butter in this recipe with the same amount of coconut oil or canola oil.

How to make a flax egg:

Combine 1 TBSP ground flaxseed meal or chia seeds with 3 TBSP water.
Let the mixture sit for 15 minutes at room temp or in the fridge.
The final result will be goopy, like an egg.
More changes:
Add cooked/chopped spinach
Add cooked, chopped pieces of bacon, ham, or even sausage
Use any type of cheese on hand if you don't have cheddar
Add sriracha, cayenne, or chili powder to the mix to make it spicier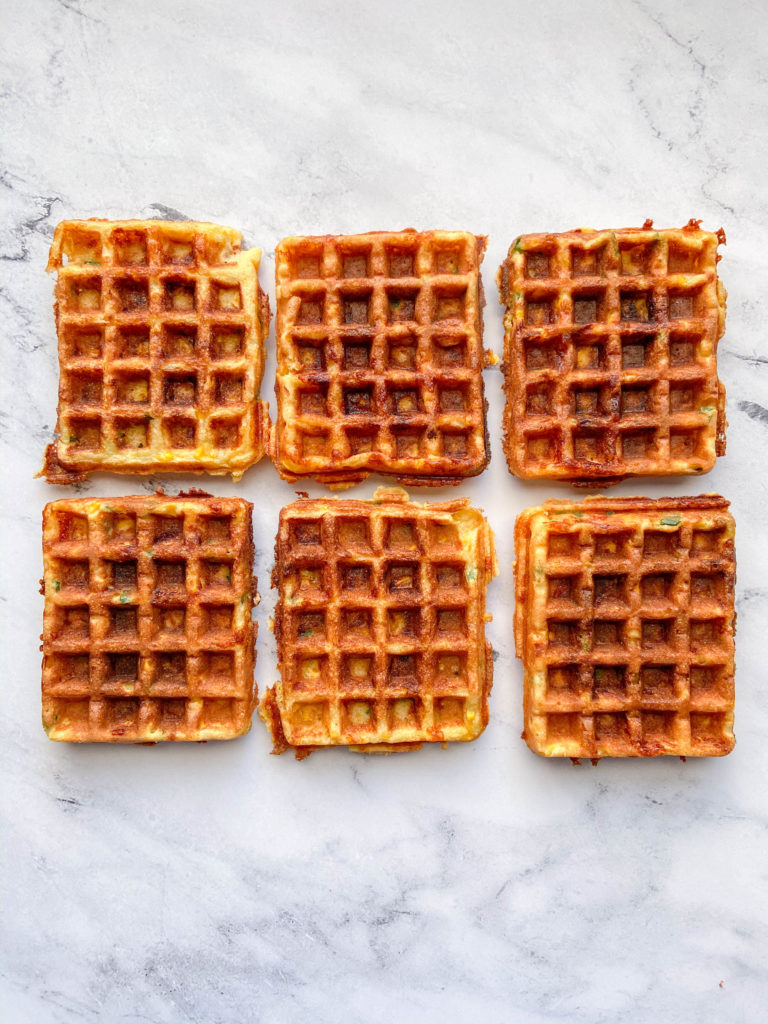 Want to turn these into pancakes? Keep the recipe the same, just use a skillet instead of a waffle iron.
By the way, here is my waffle iron of choice. It only makes one at a time, but it's quick and fun. But if you're SUPER into waffles like I am, you can't beat this All-clad waffle maker. It's a bit pricey but makes the best waffles!
How I suggest eating these waffles for breakfast (or dinner?)
These may be savory, but that doesn't mean you can't top them with maple syrup or blackberry jam…or both. (Trust me.)You could also top yours with an egg, make an egg sandwich out of the waffles (YUM), or just eat them with a little butter or hot sauce on top. Nice and simple. Do what feels right for you. When reheating them, you could do it in the microwave, in the toaster oven, on the stove, or in the regular oven.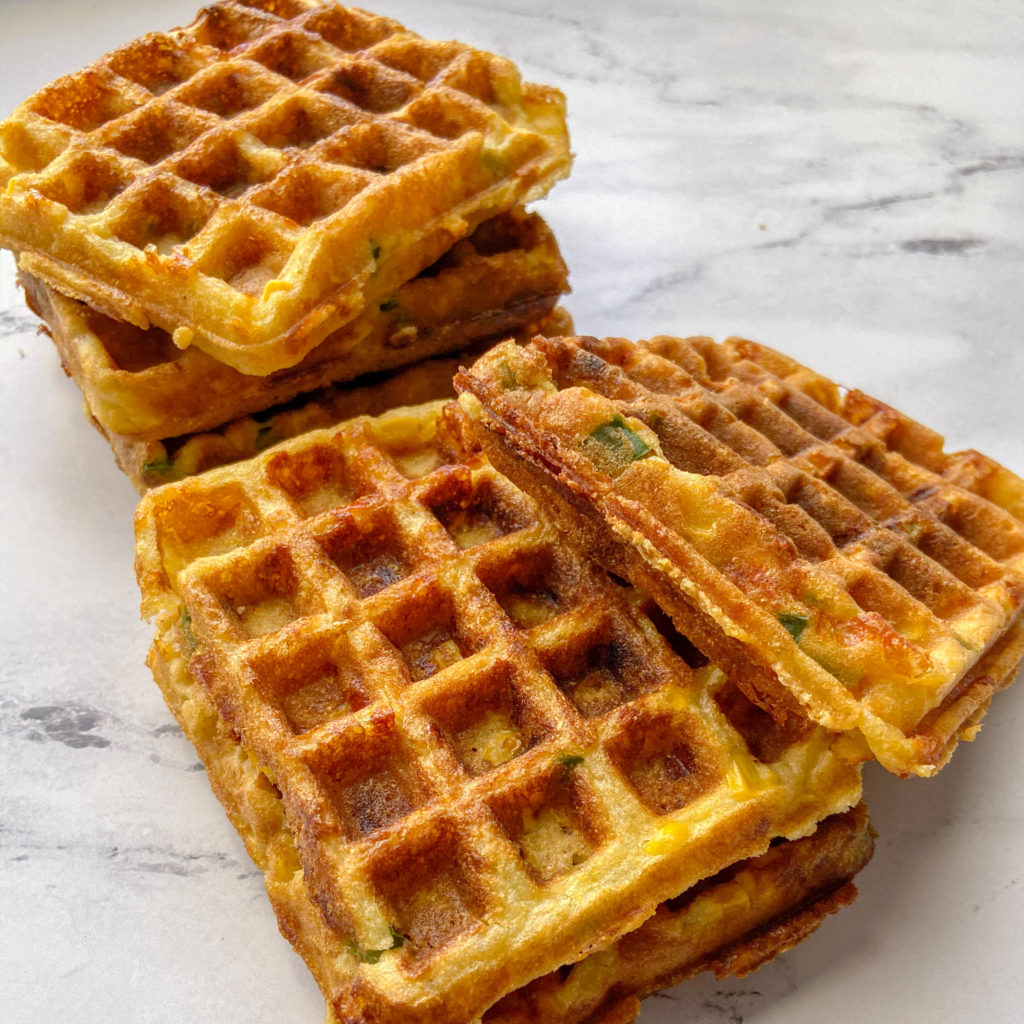 I don't recommend using a regular toaster for these cornbread waffles
You run the risk of setting your kitchen on fire (if melted cheese drops into the toaster while it's on, that's bad news).
Storage & Reheating Note
The different components of this meal are best eaten when assembled right before eating. If you want to prepare the Mexican street corn to be good for up to 3 days, you can follow the instructions in the recipe to store it in individual containers.
The jackfruit, cooked corn, and toppings will be good in the fridge for up to 5 days. The jackfruit is freezer-friendly for up to 3 months. The corn is freezer friendly for up to 3 months as well, just make sure to cut it off the cob for ease when you are ready to use it. Freeze the corn without the toppings! Those will taste the best fresh.
Happy prepping!
Other delicious breakfasts to try out:
You can also check out our master list of breakfasts here!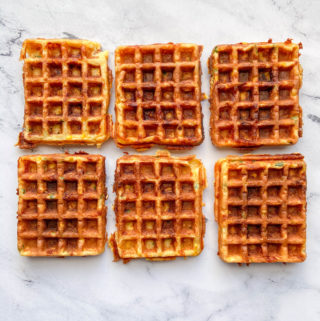 Jalapeño Cheddar Cornbread Waffles
Ingredients
8.5

oz

box corn muffin mix

Jiffy- sub corn muffin mix of your choice

1

tsp

granulated sugar

2/3

cup

milk of your choice

2

TBSP

butter

melted, sub vegetable oil

1

egg

1

cup

corn

frozen or drained from a can

1

cup

shredded cheddar cheese

1

jalapeno

seeded and diced

cooking spray
Instructions
Add the Jiffy mix and granulated sugar to a bowl and mix. Then add the milk, melted butter, and egg and stir until just combined. Fold in the corn, cheese, and jalapeno pieces.

For waffles: Preheat your waffle iron. Grease the waffle iron with cooking spray. Cook waffles until you run out of batter. You should get six waffles. For color, I sprinkled more cheese on top of the waffles before closing the iron!

For muffins: Preheat the oven to 400F (200C). Grease or line your muffin tins. Spoon the batter into the prepared muffin tin, filling each cup about ⅔ full. Sprinkle with cheddar cheese on top if desired. Bake for 15-20 minutes, until the muffins are golden brown.

Let waffles cool on a wire rack or sheet pan before storing.
DID YOU MAKE THIS RECIPE?
Please leave a comment below on the blog or share a photo with us and tag @workweeklunch! Can't wait to see what you made!