Ever just crave a big, refreshing, flavor-packed salad? I know I do! And on that occasion, I turn to the endlessly customizable and always satisfying Every Day Kale Salad. Bonus! It keeps really well in the fridge for four days. Chop everything once, enjoy yummy salads all week.

Recipe Overview:
The Everyday Kale Salad involves kale massaged with olive oil and salt, toasted almonds, crunch carrots, radishes and cucumber, flavorful red onion and feta cheese and sweet golden raisins. We're also throwing in an "everyday" salad dressing – my go-to for any salad I make at home.
How to customize this salad
Keep all the ingredients separate if you're worried about sogginess and assemble salads as needed. I like to pre-assemble them in containers just to make life easier. Whatever you do, don't mix it all up and add the dressing if you intend to eat it the next day.
Feel free to add protein to this salad! Simple grilled chicken or chickpeas would be my first choice, but really anything could work.
Dairy-free or vegan? Skip the feta! Nutritional yeast on top of this salad would be a delicious swap.
If you just don't like feta- swap it out for gorgonzola, blue cheese, or goat cheese!
Red onion is delicious in this salad, but can be overpowering. I love the color, so adding red cabbage instead might be a good idea if you can't eat onions or are more sensitive to the strong taste
If you don't like almonds, walnuts, cashews, peanuts, seeds, or croutons would be great.
Golden raisins were another addition to add sweetness, but you can skip them or use cranberries or regular raisins.
You could also use pickled veggies instead of raw if you have them on hand or feel like adding even more flavor!
Adding avocado would be awesome if you have any!
The one thing that would be hard to swap is kale.
If you hate kale, I recommend using spinach or other salad greens – but consider tossing the salad together right before you eat it to avoid wilt-y greens. You can also skip the "massage" step in the recipe below if you make this swap.
How to repurpose this salad/make it more filling
For some of us, a salad isn't enough and that's totally understandable!
Stuffing a pita with this salad (with a dressing) would be a great option to make it more filling.
Adding a bed of grains (think quinoa, farro or couscous) would also be an easy option.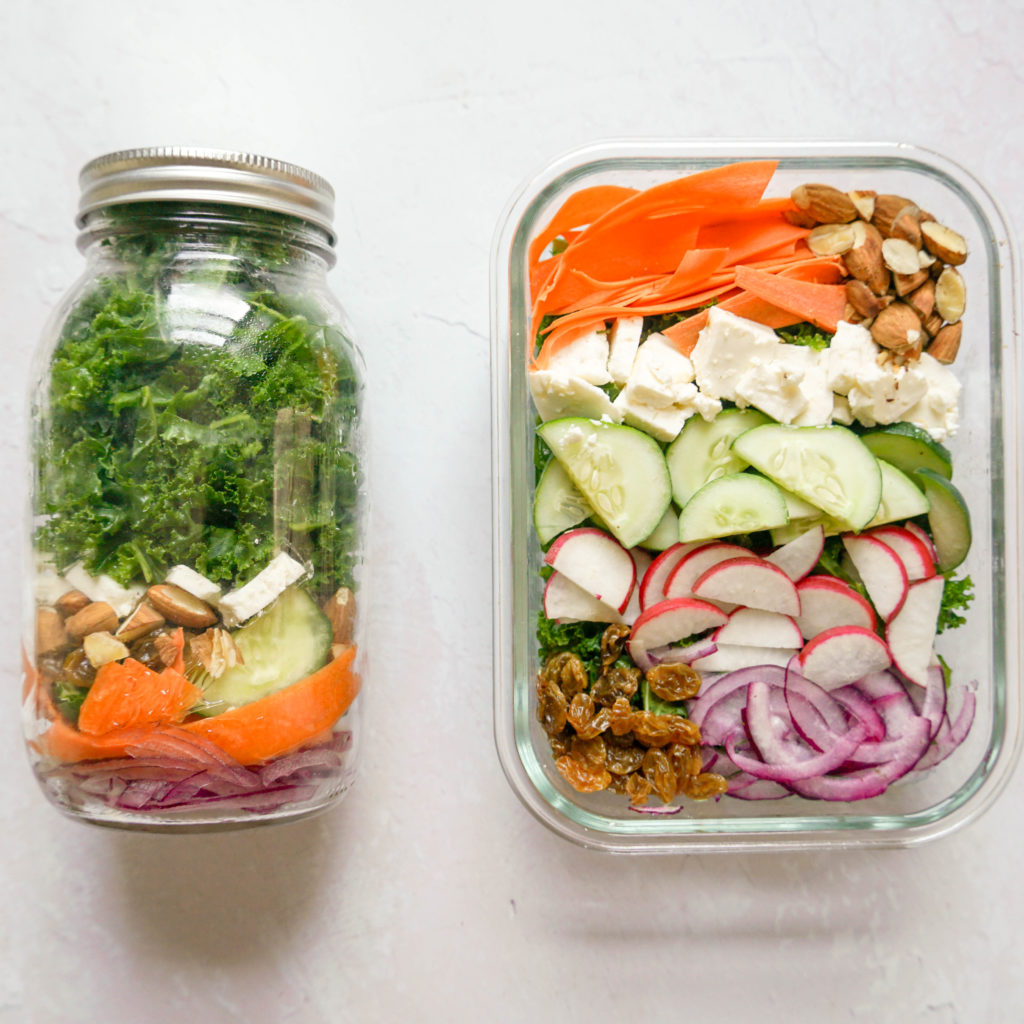 Storage Notes
This salad lasts in the fridge for up to 4 days. It's not freezer friendly. You don't have to reheat it! It tastes great cold or at room temp. Happy prepping!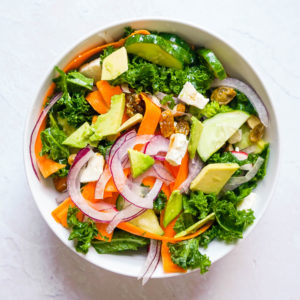 The "Everyday" Kale Salad With Homemade Dressing
Ingredients
For the salad
1

cup

almonds

sub nuts of your choice

6

cups

kale

chopped small

2

tsp

olive oil

1/4

tsp

salt

1

cup

cilantro

chopped, sub parsley

3

carrots

chopped, grated or peeled into ribbons

1/2

red onion

sliced as thin as possible, sub shallot

1

cucumber

sliced

6

radishes

sliced

1

cup

golden raisins

1-1/2

cup

feta cheese

optional, sub blue cheese, gorgonzola or goat cheese
For the dressing
2

TBSP

dijon mustard

2

TBSP

honey

2

TBSP

apple cider vinegar

2

TBSP

olive oil

1

TBSP

tahini

1

lemon

for juices

salt and pepper to taste
Instructions
Toast the almonds: Add the almonds to a DRY (no oil) skillet over a low-medium flame. Toast for 5-6 minutes, stirring often. They should be more golden in color and fragrant. Note that almonds burn easily, so keep your eye on them! Transfer to a plate and let them cool, then chop them roughly.

Massage the kale: after the kale has been cut and washed, add it to a big bowl with the olive oil and salt. Use your fingers to "massage" the olive oil into the kale, until it's shiny and bright green in color. You can add more oil and salt if you want during this process, but a little goes a long way.

Make the dressing: add the mustard, honey, apple cider vinegar, olive oil, tahini, lemon juice, salt and pepper to a measuring glass. Mix well, taste and adjust flavors to your preference. Pour the dressing into a container to be kept on the side.

Assemble: Add the kale to your meal prep containers and push it down slightly. Top it with the remaining ingredients: cilantro, carrots, red onion, cucumber, radishes, toasted chopped almonds and feta cheese if using. Keep the dressing on the side until right before you eat!
DID YOU MAKE THIS RECIPE?
Please leave a comment below on the blog or share a photo with us and tag @workweeklunch! Can't wait to see what you made!