Meal prep containers are the foundation of meal prepping. Literally. They help us portion out food so it's grab-and-go ready, prevent spillage in our favorite lunch bags, and survive many years (ideally) of use and washing. But with so many materials, brands, and styles available, it can be tough to know which containers are right for you and your lifestyle.
Enter: the Workweek Lunch guide to finding the right meal prep containers for you! We're breaking down the materials (glass vs. plastic vs. metal ?!), brands, and bells and whistles available, as well as their pros and cons, both for your lifestyle and the earth.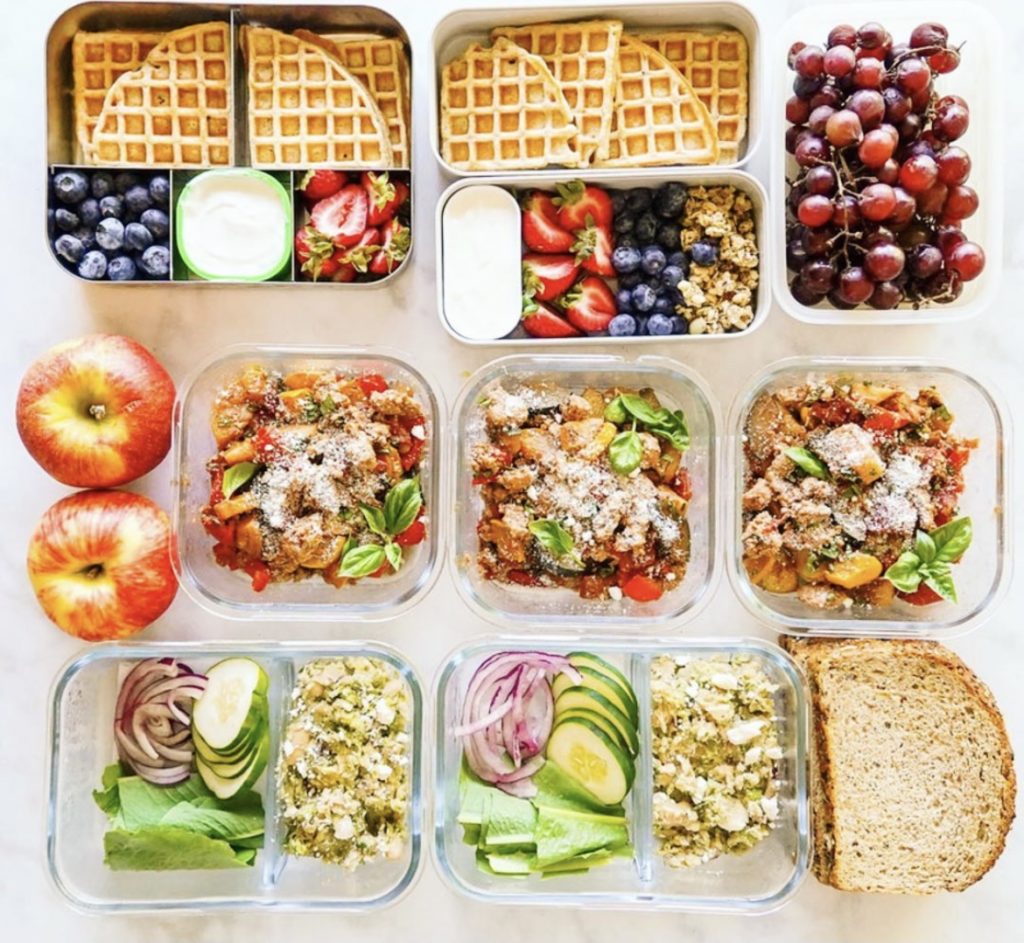 Find the Right Size Containers
Finding the perfect size meal prep containers for your lifestyle and eating preferences can feel daunting. With sizes ranging from one cup up to seven cups (and beyond), it can be tricky to figure out which size (or sizes) are going to be your perfect meal prep match.
Our best tip for beginner meal preppers: buy a few cheap containers in different sizes. You really won't have a good idea of how much space you need until you try them out. ZipLoc and Glad make sturdy, safe, and inexpensive plastic containers that come in a variety of sizes. Find them in the grocery store or pharmacy by all the foil and saran wrap next time you hit the store.
Related: Meal Prep for Beginners: 5 Things You Need To Know Before You Start Meal Prepping
You may find that your first few times testing out containers you end up packing way too much or too little food – that's okay! Figuring out your perfect portions will take 2-3 weeks, but once you get there, you'll know exactly what container sizes are your perfect fit.
I find success with a 29oz (3-cup) size container for most meals. I also really enjoy big salads for lunch, so my container of choice is usually a 7-cup circular container, so there's room for salad and toppings and room to shake with dressing.
Below: a 7-cup container on the left and a 3-cup container on the right (both from Pyrex).
A lesser consideration, but still one worth mentioning: think about how you'll transport your meals (if you need to). Fitting a circular container in your backpack may not work, but a rectangular one of the same size could work well. Containers come in rectangular, circular, and square sizes of different depths, so consider whether there's a shape that will work best for transport (or even just storing in your cabinets!).
Meal Prep Container Materials
A quick Google search turns up a lot of opinions on "the best" meal prep container material, but selecting the right material is completely up to your own personal preference. There truly is no one "best" material for your containers, so go with what fits your needs, lifestyle, and budget.
Related: How To Meal Prep For Two
Plastic Meal Prep Containers
Plastic is either the darling or the devil of meal prep containers, depending on which website you visit. The truth of the matter is that, just like every other material, plastic has its pros and cons, all of which are related to your preferences and lifestyle, and have absolutely nothing to do with food safety because:
Plastic containers are perfectly safe to store, heat, and eat food from (just make sure they're BPA-free).
Now that that's out of the way, let's talk specifics.
Pros of Plastic Containers:
Lightweight, especially compared to glass containers

Won't break on you

Dishwasher-safe

Microwave-safe

Less expensive than other materials
Cons of Plastic Containers:
Can stain easily when exposed to dark colored foods (like tomato sauce) for a few days

Hold onto strong flavors (think curries)

Plastic containers

do

take a long time to break down in a landfill if you do throw them away

If they crack or have deep scratches in them, they're no longer safe to use
Quick Take: Plastic containers are a great inexpensive option, especially if you need to transport your food regularly and want to minimize extra weight. They may not be your perfect fit if you're concerned about sustainability.
Our Favorite Plastic Meal Prep Containers on Amazon: Food Storage Containers 10 pack (30 oz)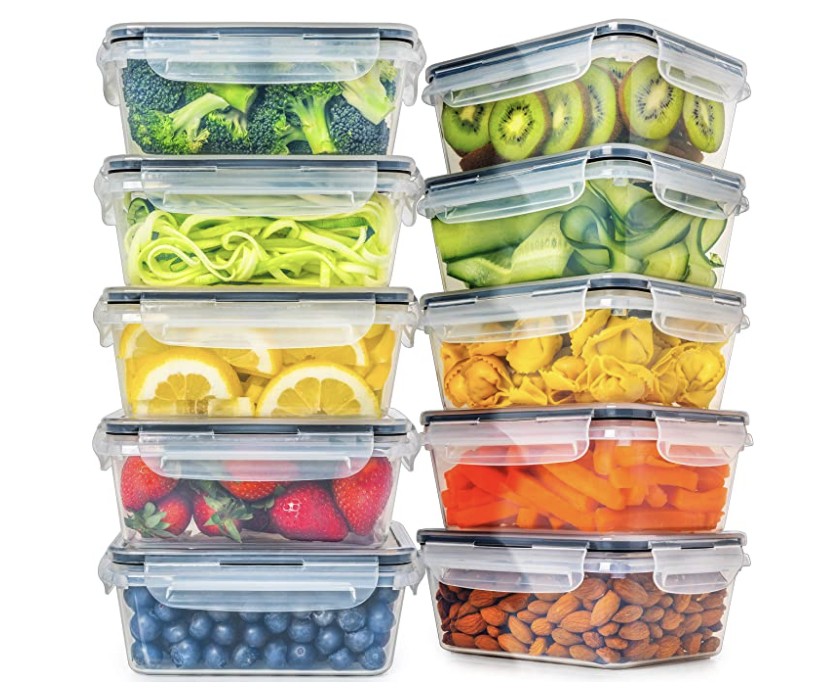 Glass Meal Prep Containers
Glass containers are a great, sturdy option for meal prepping. They come in a variety of sizes and shapes but do tend to cost slightly more than other materials. Here's how to weigh whether glass meal prep containers are right for you:
Pros of Glass Containers:
Dishwasher-safe

Microwave-safe

Usually oven-safe (making them a great option if you don't have a microwave!)

Won't hold onto strong flavors or stain

Typically last longer than plastic

Can be recycled
Cons of Glass Containers:
Heavy – much heavier than plastic

Breakable

More expensive than plastic
Quick Take: Glass containers are the way to go if you'll need to regularly heat your food in the oven and if you're very concerned about sustainability. Glass containers may not be the best choice if you need to carry your meals with you or if you're on a tight budget.
Glass containers are my personal preference! I work from home (so weight isn't an issue) and I appreciate the sturdiness of glass.
Our Favorite Glass Meal Prep Containers on Amazon: Pyrex Set Of Six 29 oz Containers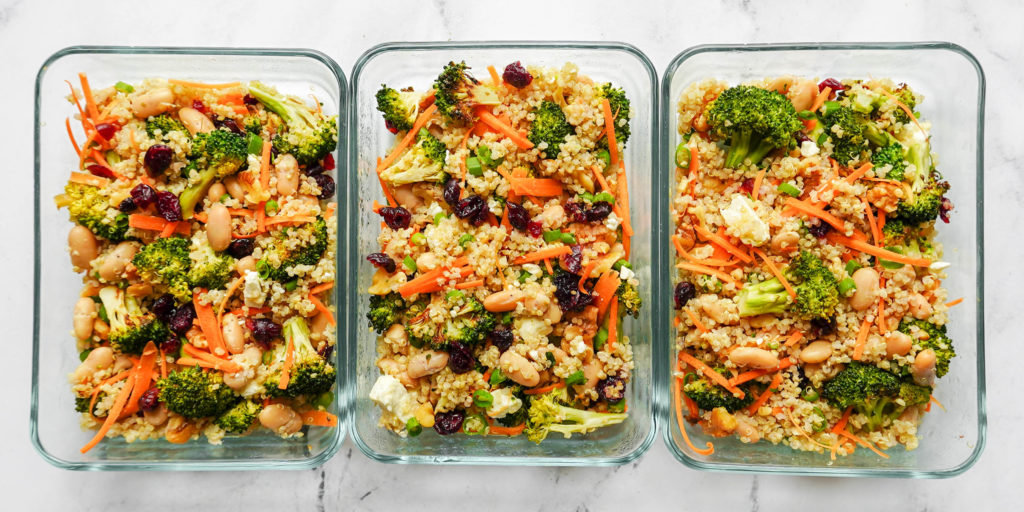 Alternative Materials: Stainless Steel, Silicone, and More!
New materials for meal prep containers hit the market constantly. When considering which containers to buy, think about some of these alternative materials:
Stainless Steel Meal Prep Containers are a great, very lightweight option. The biggest drawback of stainless steel containers is that they can't be microwaved, so they're the best no-reheat meals. Look for BPA-free stainless steel meal prep containers, like these (they're also dishwasher safe!).
Silicone Meal Prep Containers are nice because they're usually collapsible, too. After eating, you can collapse them for easy transport home! They do tend to hold onto strong flavors, so be wary of keeping anything potent in them for too long. These BPA-free silicone meal prep containers are a great option.
Related: Minimalist Kitchen Equipment List: Everything You Need (And What You Don't)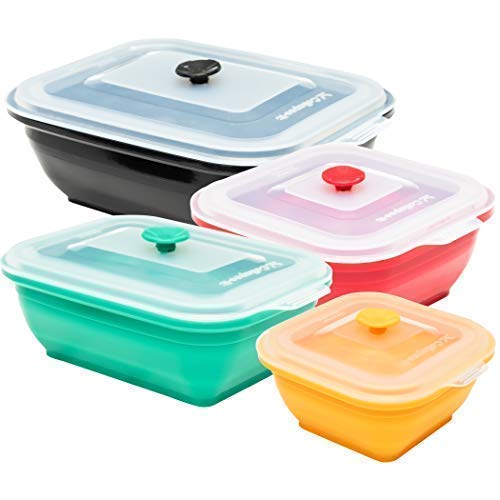 Fancy Containers
Like anything else, there are a range of meal prep container styles, from simple to fancy. For most, a basic meal prep container will do the trick, but you can experiment with some of these bells-and-whistles:
Bento-style

meal prep containers have compartments to keep foods separate. We love the Lunch Bots brand and use them all the time! They are also fantastic for snack lunches.

"Stacked" containers, like

these

, are specifically made for keeping salad fresh. Pack your greens and other hearty items (like grains) in the bottom and use the top compartments for dressing, cheese, and more, then simply mix at mealtime.

Containers with silverware and condiment compartments, like

these

, feature Bento Box-style compartments, as well as silverware that nests in the lid.
Related: Meal Prep for Kids: Our Best Tips for Busy Parents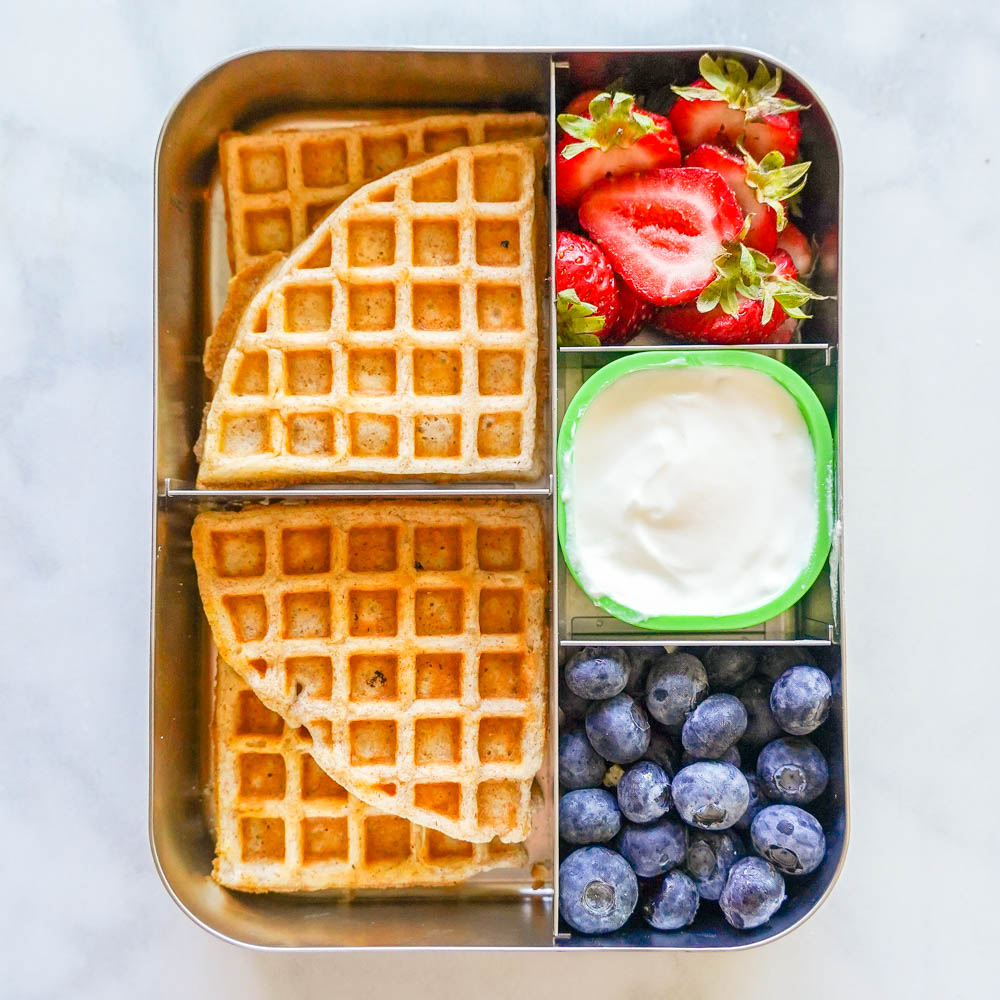 Meal Prep Accessories
Once you've identified your main meal prep containers, you'll want to consider what accessories may be helpful. Reusable storage options like Stasher Bags, Etee Wraps, and mason jars (or rinsed out glass condiment jars!) are great options for storing or saving leftover foods. I use mason jars to make and store sauces, dressings, and even spice blends for later use.
Souper Cubes are also fantastic for storing soups or other freezable meal preps! You can also bake directly into these to minimize cleanup. These are definitely a fan-favorite among the WWL community!
Related: 5 Essential Freezer Meal Prep Tips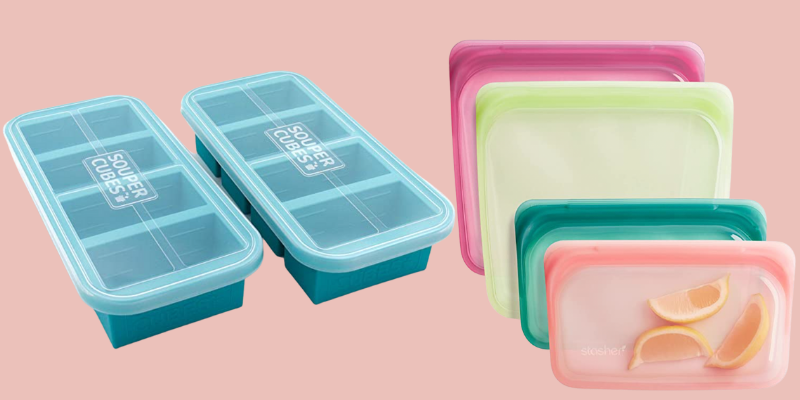 Okay, But How Many Meal Prep Containers Should I Buy?
To get a general idea initially of how many containers you need, consider how many meals you prep per week and add 2-3 containers for other things (like storing leftover veggies or fruit).
For most people (especially if you follow the WWL Meal Prep Program!), 3-4 breakfast containers and 5-6 main meal containers is ideal. Remember, you can always buy more! If you're short on space, make sure to grab containers that are stackable.
If you like keeping dressings and sauces separate, you may also want a few tiny containers like these as well.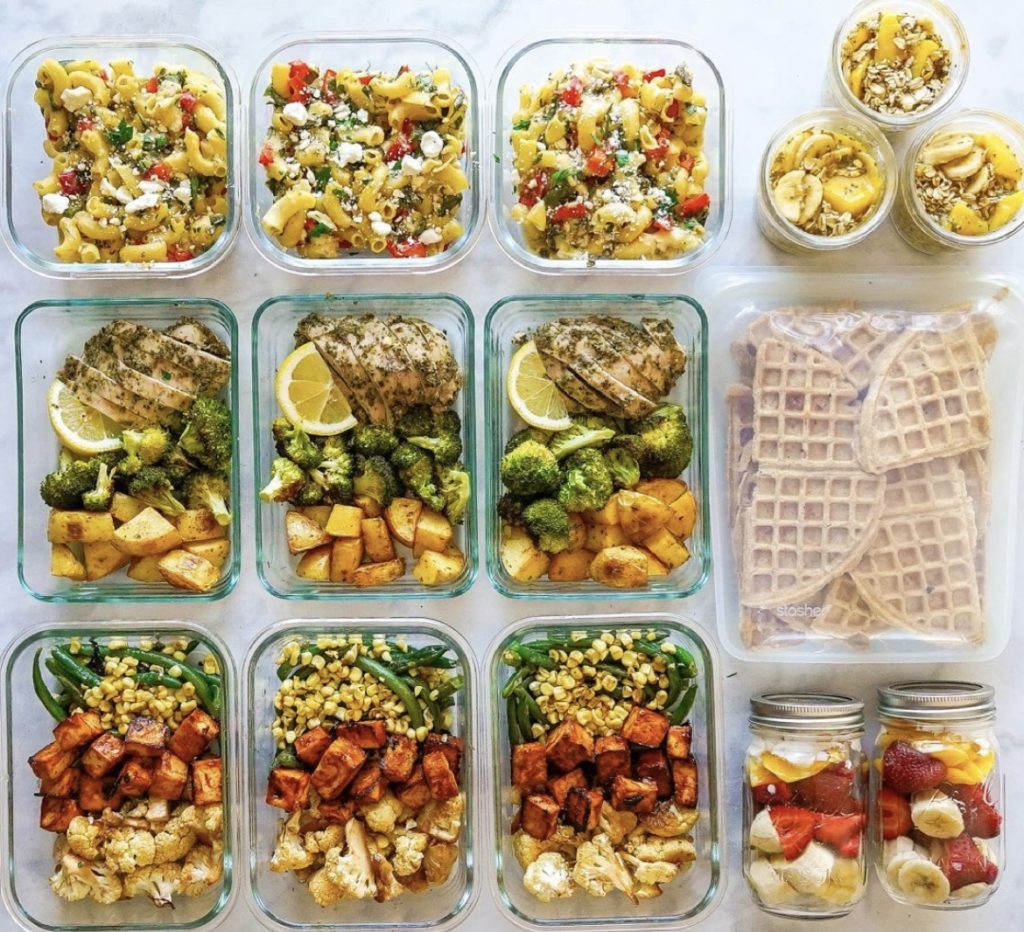 Carrying Your Meal Prep Containers
If you need to travel with your containers, be sure that they're leak-proof and have a secure lid (usually the kind of lids that snap on). Meals will stay safe out of the fridge and without an ice pack for 3-4 hours on a cool, mild, or cold day. If it's a hot day (or your food will need to sit in a warm car), consider an insulated bag, like the PackIt Freezable Lunch Bag, which features freezable gel sewn directly into the bag lining.
Heading to work? Look for a wide, tote-style bag, like this one or Talia's favorite, a MinkeeBlue Backpack, which features pockets perfect for meal prep containers. When in doubt, don't forget about lunch boxes! Bring the classic back with this list of 10 lunchboxes that we love!
---
A good collection of containers is crucial for meal prep! We hope this post helps you make choices that fit your lifestyle and needs. Not sure about what to put inside your meal prep containers? Check out the WWL Meal Prep Program where we provide new meal-prep friendly recipes every week so you never get bored (or end up with soggy food).
This post was written by  Vikki Feggulis for WWL.com