This General Tso's chicken recipe is so delicious, you'll never want to order it again! After trying this recipe, you can make your favorite Chinese takeout meal without leaving your house OR paying for delivery. And, you probably already have most of the ingredients in your kitchen right now.
Get more recipes like this in the Workweek Lunch Meal Prep Program with access to our meal planning tools, grocery list generator, and more. Start a free trial today!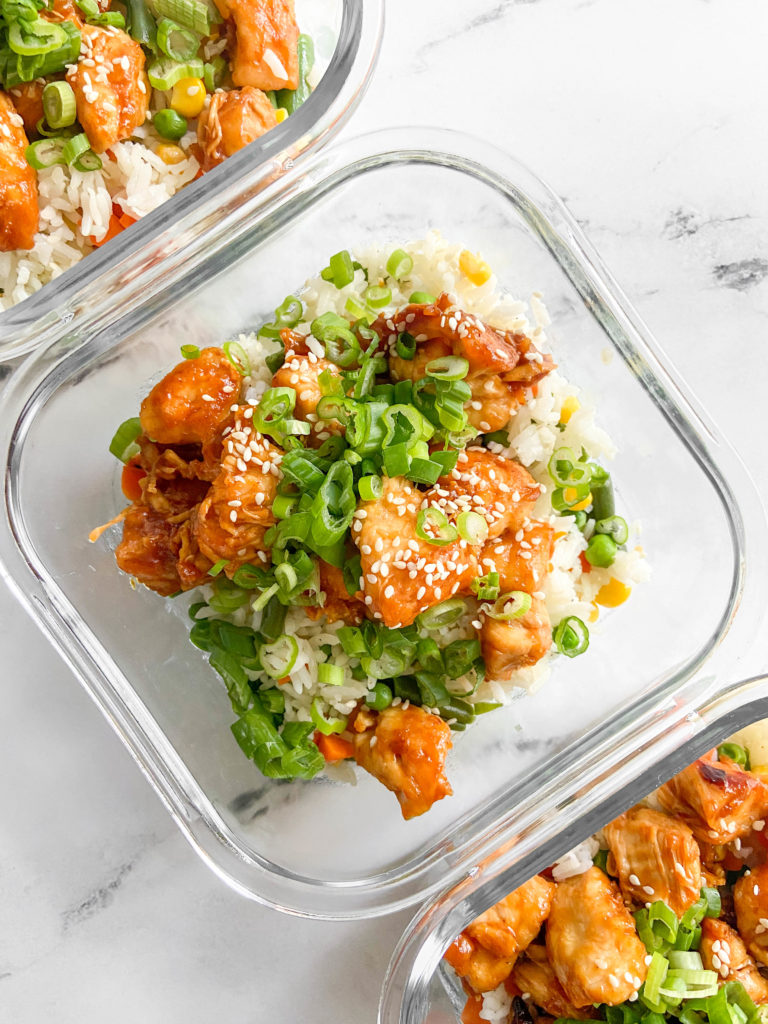 The best meal preps are the ones that mimic what we'd normally eat when ordering takeout. That's why this General Tso's chicken recipe is more than just delicious, it's satisfying to the soul as well.
Ever wondered about the origin of General Tso's chicken and how it became so popular in the US? You can read all about the history of General Tso's chicken here!
Here's what you need to know about customizing this general Tso's chicken recipe:
You can easily swap out chicken or tofu for shrimp, beef, tempeh and even chickpeas (I've tried it, it's awesome). And if you're plant-based but don't like legumes or soy, try it with chopped cauliflower. No, cauliflower isn't necessarily a protein element BUT it's a filling vegetable that offers a nice texture to this dish.
You can easily swap white rice out for a grain of your choice. Note that white rice has a better texture for meal preps than brown rice, but it totally works. Quinoa or cauliflower rice would work too!
Want to get fancier than frozen mixed veggies? broccoli, snap peas, bok choy, baby corn, bell peppers, zucchini, chopped green beans and white mushrooms would all work well in this dish.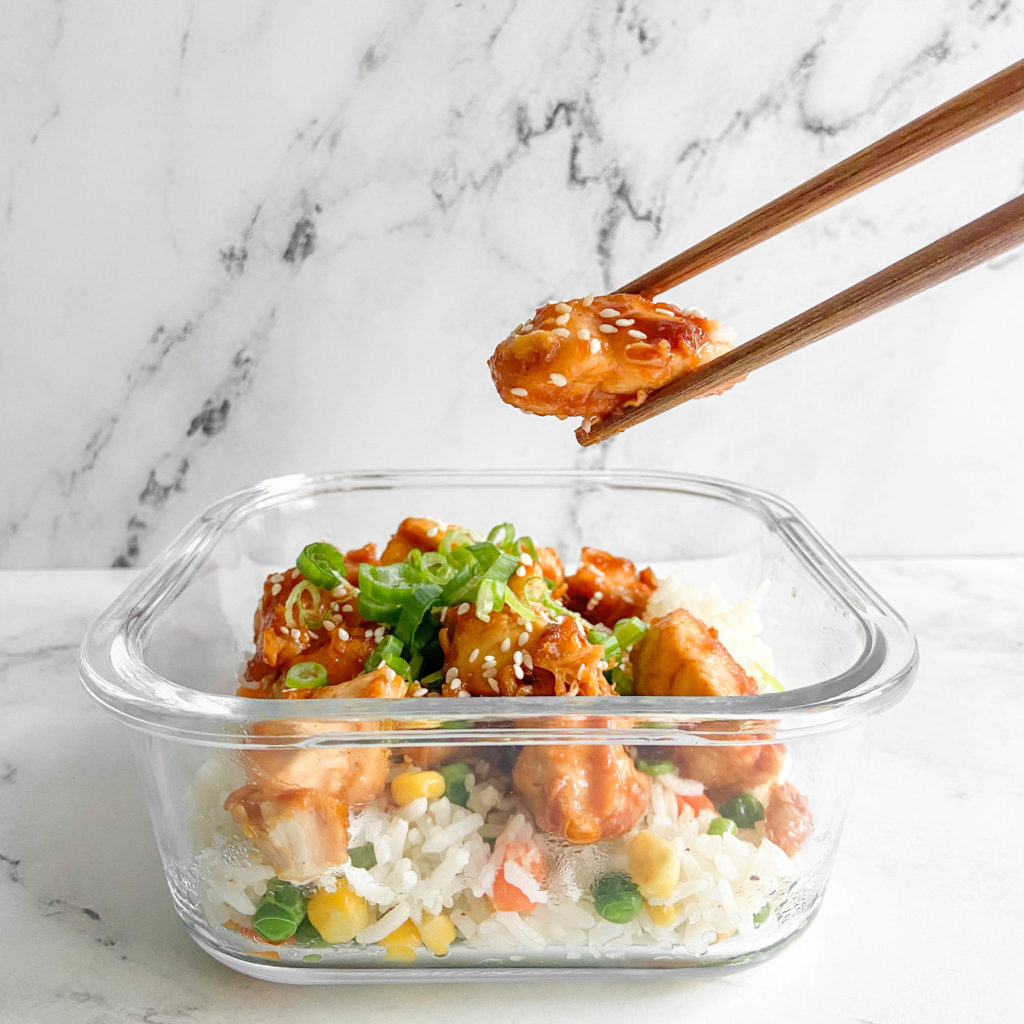 What is General Tso's Sauce Made Of?
The sauce is the star of the dish! Typically, General Tso's is on the spicier side. If you don't like spicy food or can't handle a lot of heat, keep reading 🙂
It may surprise you, but this delicious sauce is made with ingredients you probably already have in your pantry and fridge!
3 tsp sriracha add more if you like spicy
1/4 cup soy sauce
1 TBSP granulated sugar
2 TBSP rice vinegar
1/4 cup water (to thin)
1 TBSP cornstarch
1 TBSP water (for mixing with cornstarch)
For the sauce, you're looking for a thick texture, but thin enough to toss your protein in. The easiest way to make the sauce is cooking it in a smaller saucepan (as the recipe is written) but if you're feeling more confident you can pour the sauce into the pan with your cooked protein (after it's cooked) and let it thicken in that pan to avoid dirtying another dish.
If your sauce isn't getting thick, add more cornstarch.
Add more water if your sauce is too thick
If you don't love heat, add more sugar!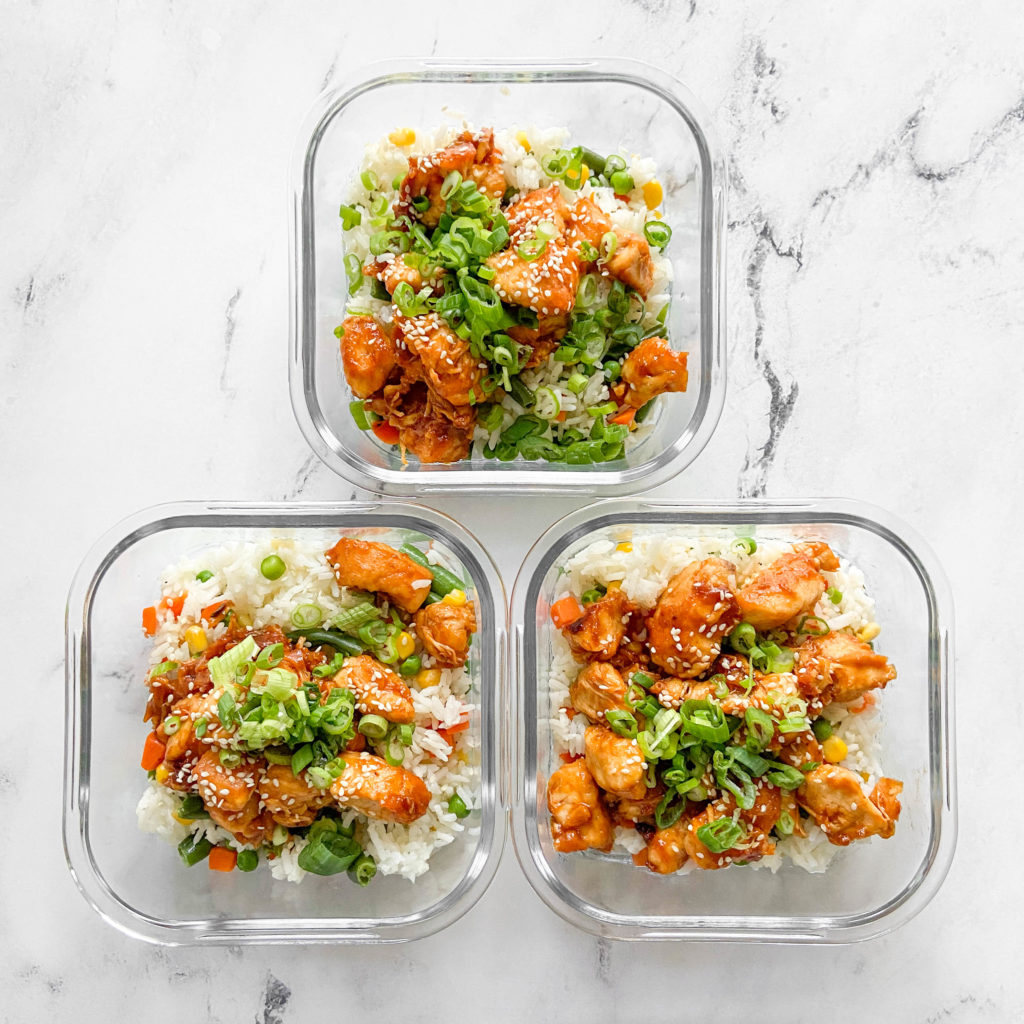 How to add more volume or double this recipe:
To double this recipe, simply double the ingredients.
To add more volume, start with the veggies. My go-to would be broccoli or snap peas, OR just add 1-2 extra cups of veggies in the recipe as it's written. Then, consider increasing the rice or grain portion. Increasing the veg/rice portions to add more volume is easier and more cost-effective than increasing the protein, but that's always an option too.
Storage this General Tso's Chicken:
This meal lasts for up to 4 days in the fridge. I don't think it's freezer-friendly. You can also save any extra sauce in the fridge for up to 6 days.
Reheat this General Tso's chicken in the microwave OR on the stove.
Happy prepping!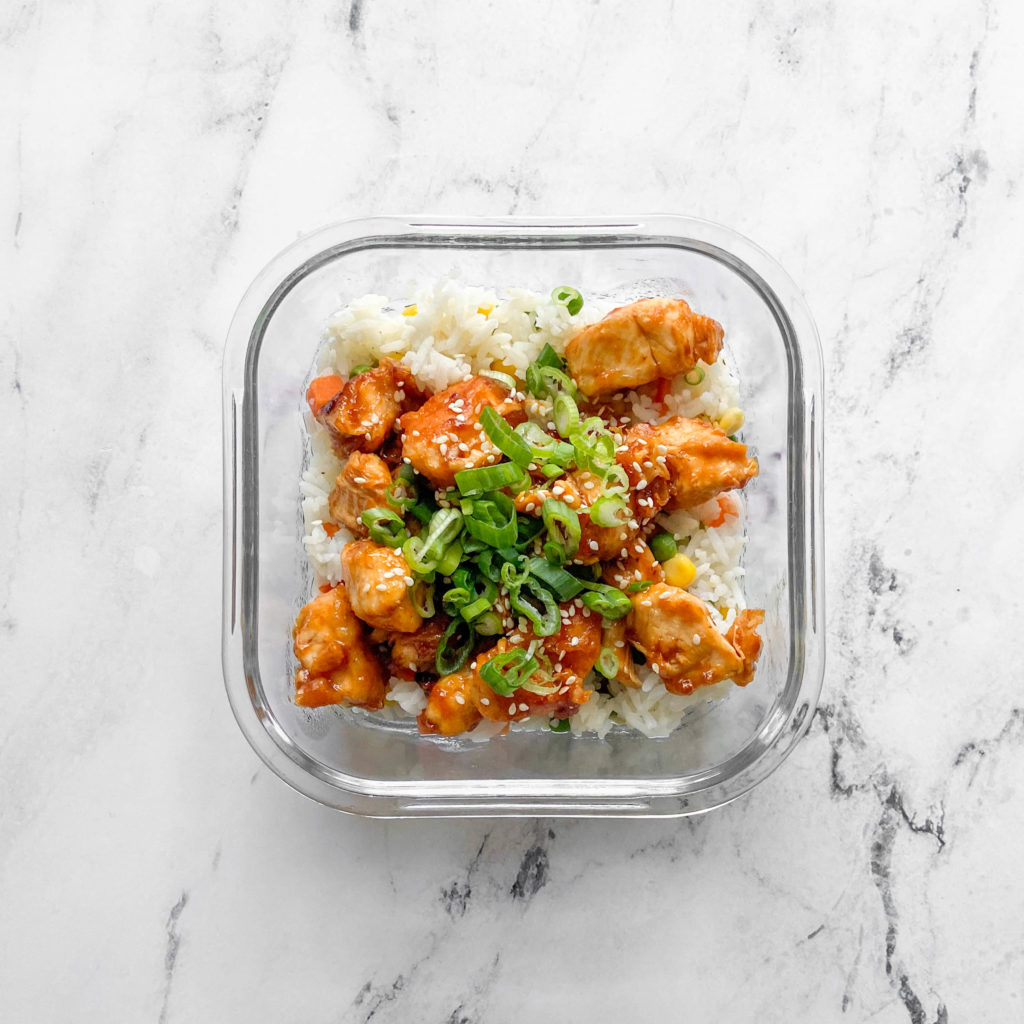 Don't forget to try our other delicious free recipes!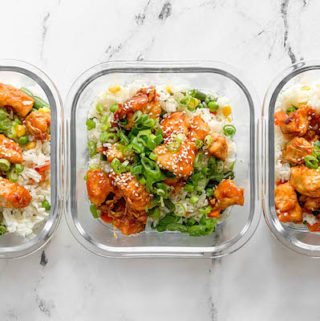 Better-Than-Takeout General Tso's Chicken
Ingredients
16

oz

chicken breast

cut into small chunks

1

TBSP

cornstarch
for the sauce
3

tsp

sriracha

add more if you like spicy

1/4

cup

soy sauce

1

TBSP

granulated sugar

1/4

cup

water

(to thin)

2

TBSP

rice vinegar

1

TBSP

cornstarch

1

TBSP

water

(for mixing with cornstarch)
for the veggies and rice
2

TBSP

olive oil

divided

1

clove

garlic

minced

2

tsp

ginger

minced

3

cups

mixed frozen veggies

3/4

cup

rice

of your choice

salt and pepper to taste
for garnishes
sesame seeds

for garnish (optional)

1

cup

green onion

chopped, for garnish (optional)
Instructions
Toss the chicken in 1 TBSP of cornstarch in a bowl or zip top bag. Set aside.

To a small bowl, add the sriracha, soy sauce, sugar, water and rice vinegar. Whisk well and taste it – adjust the sauce as needed (add more sugar to make it less spicy, add more sriracha to make it spicier) and set aside. In a separate small bowl, mix 1 TBSP water and cornstarch and set aside.

Add 1 TBSP oil to a skillet over medium heat, followed by the garlic and ginger. After a minute, add the frozen veggies with salt and pepper to taste and cook uncovered until heated through, stirring occasionally – about 7-10 minutes (depending on how long they've been out of the freezer). Then remove the veggies from the pan and set them aside.

Add 1 TBSP olive oil to the same skillet over medium heat. Then add the chicken. Add salt and pepper to taste and cook on each side for about 5-7 minutes, until the edges of the chicken look crispy. Flip once or twice. When finished, turn off the heat, but keep the chicken in the pan for now.

While the chicken cooks, cook the rice according to the package.

Last but not least, the sauce. Pour the soy sauce and sriracha mixture in a small saucepan over medium heat and cook until it reaches a gentle boil. Give the cornstarch and water a quick stir, then slowly add it to the saucepan while whisking. Cook until the sauce has thickened (about a minute) Then, turn off the heat and pour it over the cooked chicken/tofu and toss the pieces to coat them in the sauce.

Assemble: Divide the cooked rice between three meal prep containers, followed by the veggies. (I mixed my rice and veggies together). Then add the chicken on top. Garnish with sesame seeds and green onion if desired.
DID YOU MAKE THIS RECIPE?
Please leave a comment below on the blog or share a photo with us and tag @workweeklunch! Can't wait to see what you made!