This veggie mac and cheese is pure bliss. The roasted veggies combined with the velvety smooth cheese and pasta create a perfect comfort meal that you can enjoy throughout the week or stash in your freezer for later.
This mac and cheese recipe takes a little bit longer to make compared to other ones on WWL recipes, but I promise it's worth it. The main ingredients are cauliflower, zucchini, bell pepper, pasta, cheese, and milk. Flour and butter are involved too. Or, try this mac and cheese that is equally as delicious but takes less time to make!
Get more recipes like this in the Workweek Lunch Meal Prep Program with access to our meal planning tools, grocery list generator, and more. Start a free trial today!
Want to make this meal? This recipe is stoppable via Jupiter! Click here to fill your cart with groceries and have them delivered to you asap.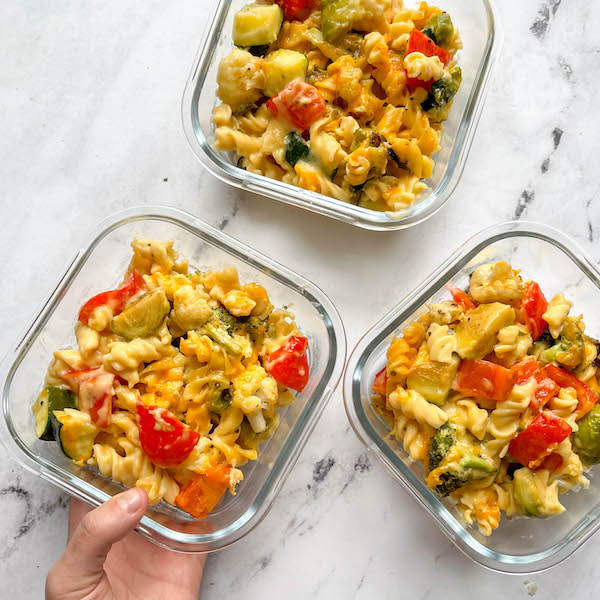 Other veggies you can add to this mac and cheese
We want to focus on veggies that will roast well (which includes most of them). Here are some ideas for veggies you could roast for this recipe if you're not into cauliflower, zucchini, and/or red bell pepper.
Asparagus
Broccoli
Green beans
Cherry tomatoes
Cabbage
Summer squash
Butternut squash
Pumpkin
Spaghetti squash
Eggplant
Sweet potato
Mushrooms
Jalapeno
Onions of all colors
Carrots
And here's a great cheat sheet for how long to roast different vegetables.
Pro tip: if you're in a rush, go for zucchini, summer squash, tomatoes, asparagus, broccoli, mushrooms, and onions — vegetables that could be good to go after 15 minutes in the oven.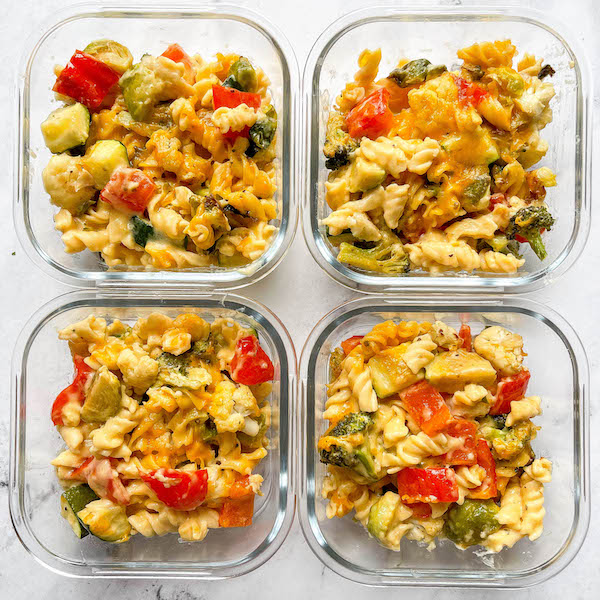 What pasta to use
Any "short" pasta will work. Penne, macaroni elbows, rotini, ziti, bowtie pasta, etc. Use gluten-free if needed! If you want to use protein pasta, we suggest Banza!
Want to add more protein?
This veggie mac and cheese is filling without a direct source of protein. But if you want to add one, here's what we suggest:
While you're at it, roast the chicken breasts in the oven with the veggies! Then you can cut or shred them up and mix chicken breast into your mac n' cheese.
You can use protein pasta (as I mentioned above).
You can cook ground meat or "meat" crumbles on the side and mix them into the mac.
Or cook chicken sausage/veggie sausage to add to the mac.
Add chickpeas or white beans to the mac for extra plant-based protein.
If you're feeling confident, you can blend your cheese sauce with soft/medium tofu in a blender or food processor to add protein to your cheese sauce. Just make sure to add extra salt!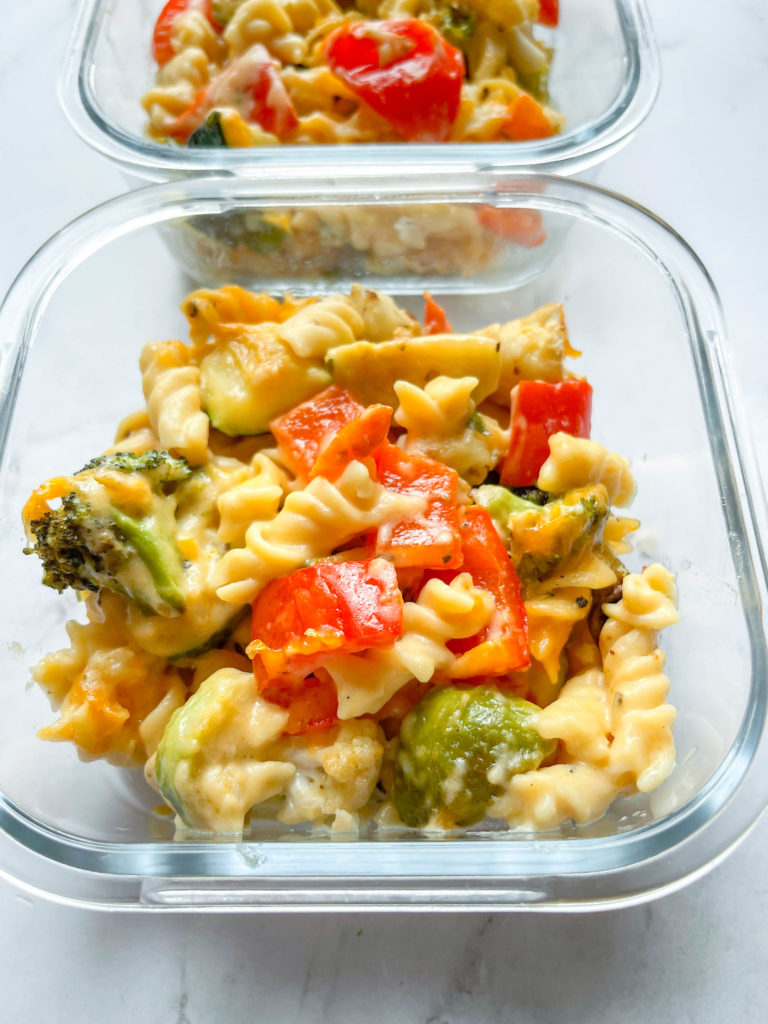 Cheese suggestions:
You can't go wrong with cheddar. But mozzarella, pepper jack, Monterey jack, Mexican cheese blends and even a mix of your favorite cheeses would also work! Choose based on what sounds good, what you have available and/or what's most affordable.
Pro tip: cheese blocks are always cheaper than pre-shredded cheese. Just grate it at home! I can't wait to see how it comes out.
What is good with mac and cheese?
The real question is what isn't?? You can absolutely eat this mac and cheese by itself, but if you want something to pair is with, here are some ideas.
You can also simply pair it with your favorite protein such as chicken, steak, salmon, shrimp or more veggies!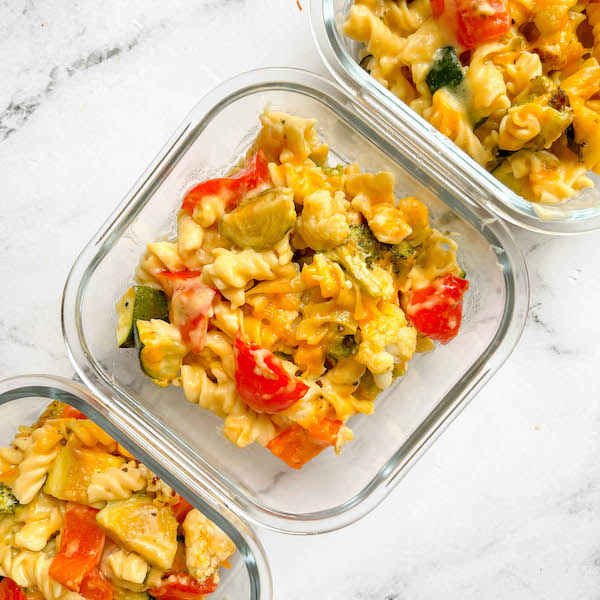 To bake or not to bake?
We've included an optional step to bake this mac and cheese, but it's just as delicious if you decide against it! Baking it will give it that delicious crunchy crust. But if you're running low on time, not baking it will shave off about thirty minutes! It's totally up to you.
How to reheat this veggie mac and cheese
This roasted cauliflower mac and cheese can last for up to 5 days in the fridge. It's freezer-friendly for 3-6 months. Ideally, reheat it in the microwave, in the oven or on the stove! Happy prepping!
Don't forget to try our other delicious recipes!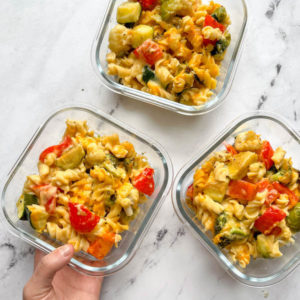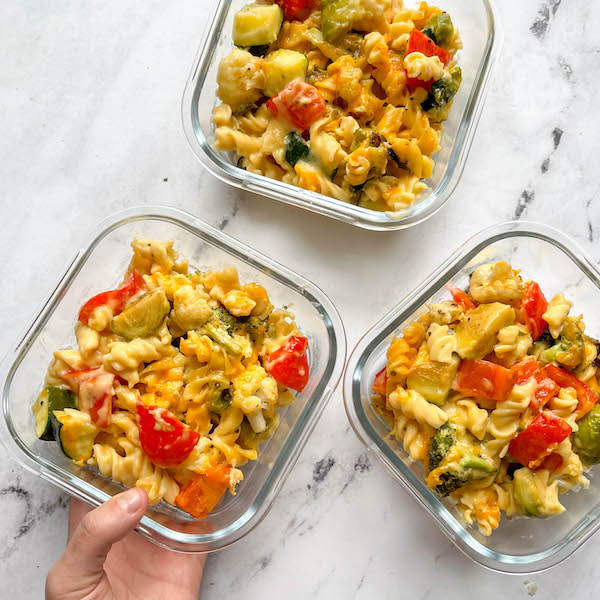 Veggie Mac and Cheese With Cauliflower, Zucchini and Bell Pepper
Ingredients
1/2

head

cauliflower

chopped into florets

1

zucchini

chopped into quarters

1

red bell pepper

chopped into strips

2

TBSP

olive oil

salt and pepper to taste

6

oz

short pasta

of your choice (I used Banza Chickpea Pasta)

2

TBSP

butter

2

TBSP

all-purpose flour

1-1/2

cups

milk of your choice

add more if needed

8

oz

shredded cheese

of your choice

cooking spray

1/3

cup

parmesan cheese

1

cup

bread crumbs

optional
Instructions
Preheat the oven to 400 F

In a bowl, toss the cauliflower florets with 1 TBSP olive oil and salt and pepper to taste (at least 1/2 tsp salt). Pour the seasoned cauliflower on a baking sheet and place it in the oven for 25 minutes, shaking the pan/rotating the cauliflower halfway through.

In the same bowl, toss the zucchini and red bell pepper with the remaining 1 TBSP olive oil, and more salt and pepper to taste. Pour the zucchini and red bell pepper on a second baking sheet and bake for 15 minutes.

Cook the pasta according to the package. *If you're using Banza chickpea pasta, check the pasta a few minutes early and make sure to rinse with cold water when it's done for best results.

Meanwhile, add the butter to a saucepan on the stove over medium heat. When the butter is melted, add the flour. Stir until well combined (it will be a thick mixture). Then, raise the heat a bit and slowly add the milk in batches. Bring it to a low boil, whisking frequently. Then add the shredded cheese and stir until the cheese has fully melted. Remove from the heat.

Optional: Spray a baking dish (medium-sized like 9×9 or 8×11) with cooking spray. Add the pasta, mac and cheese sauce and roasted veggies, then mix it all together in the baking dish (this is the easiest way to cut down on clean up). Top with breadcrumbs and parmesan cheese if using. Bake uncovered for 30 minutes. When it's done, let it cool a little before slicing into thirds and dividing it between three meal prep containers.
DID YOU MAKE THIS RECIPE?
Please leave a comment below on the blog or share a photo with us and tag @workweeklunch! Can't wait to see what you made!