There is nothing more comforting after a long, tough day at work than a welcoming bowl of pasta. This veggie pesto pasta just hits the spot.
And it's even better when you don't have to make it from scratch… it's meal prepped and waiting for you!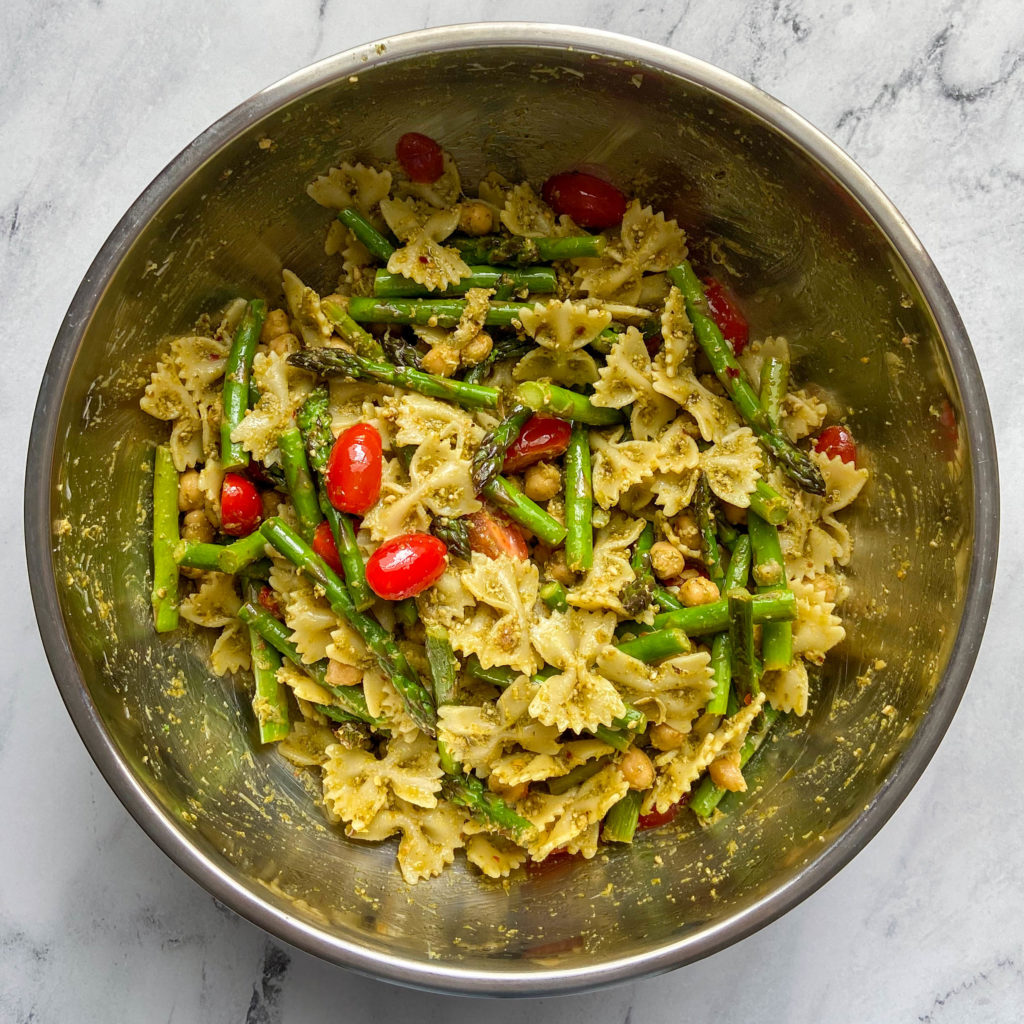 Seriously though, this was one of my favorite meals from the past month. I felt satisfied on such a deep level from eating it, and I hope you feel the same!
Get more recipes like this in the Workweek Lunch Meal Prep Program with access to our meal planning tools, grocery list generator, and more. Start a free trial today!
How you can change this veggie pesto pasta recipe:
You can use any type of pasta you want. I used bowties but you could use penne, spaghetti, fusilli, linguine, or any shape you like!
You can use protein pasta (such as Banza) to add more protein to this vegetarian/vegan meal.
You can also add chicken instead of chickpeas to get more protein in this meal (but chickpeas provide plenty!) Shrimp would also be delicious.
Not a chickpea person? You can also try this with white beans.
You don't have to use asparagus! Green beans, Brussels, peas, a LOT so spinach or kale, broccolini, and broccoli would go well with this too.
You can make pesto at home with this easy recipe for walnut pesto (pine nuts are so expensive) or you can buy it! I bought mine from Costco. Trader Joe's sells a great vegan pesto too.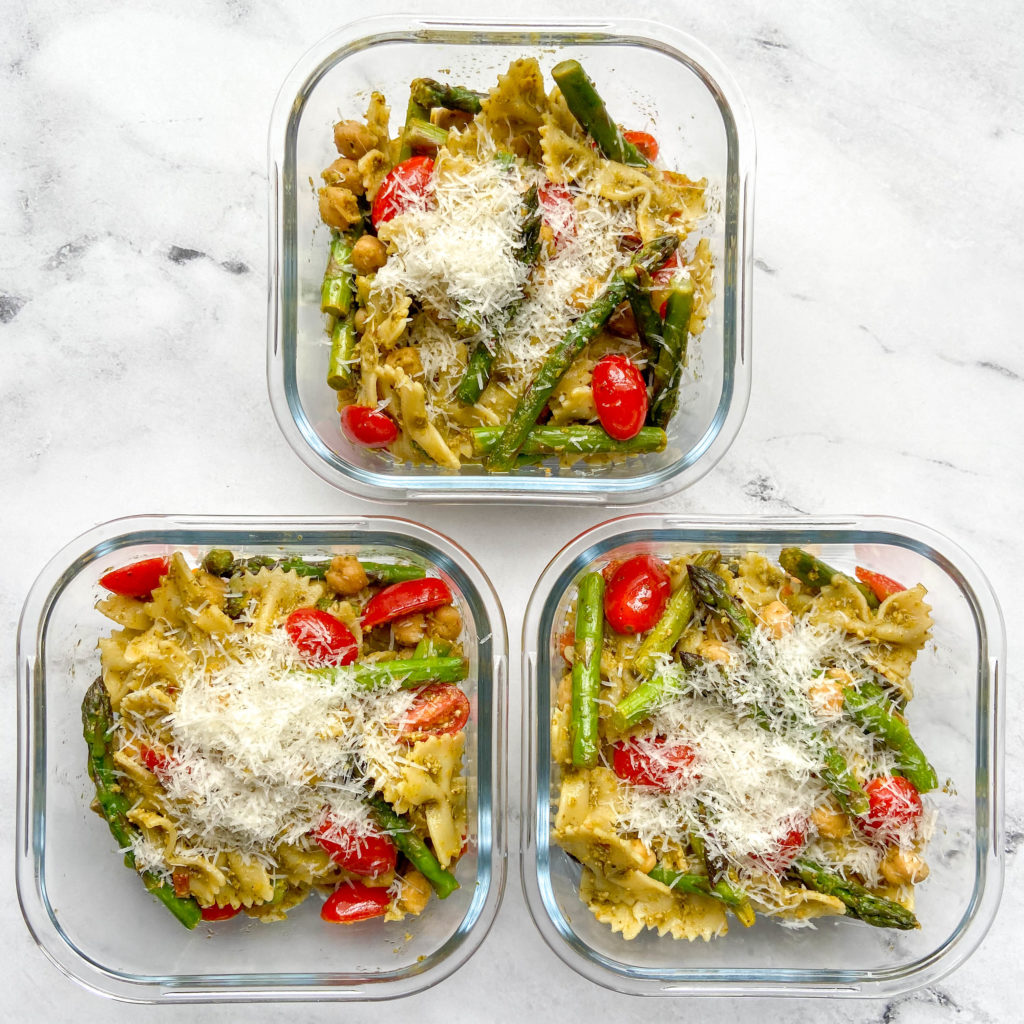 If you want to add chicken to this pesto pasta:
I suggest baking a chicken breast or two seasoned generously with lemon juice, oregano, basil, salt and pepper at 375 F for 30 minutes. Let it rest for 15 minutes after cooking, then dice it and add it to the pasta and pesto mixture.
You can also cook it on the stove! Watch the video below for my method.
If you want to make this dish creamy:
If creamy pasta sauce is more your jam, you can easily add heavy cream or even cream cheese to give this dish a creamier texture. Use 1/4 cup heavy cream or 4 oz cream cheese and 1/4 cup broth and add it to the pasta along with the pesto. If your sauce is too thick, you can add a bit of pasta water to thin it out. You can adjust the measurements based on your preference!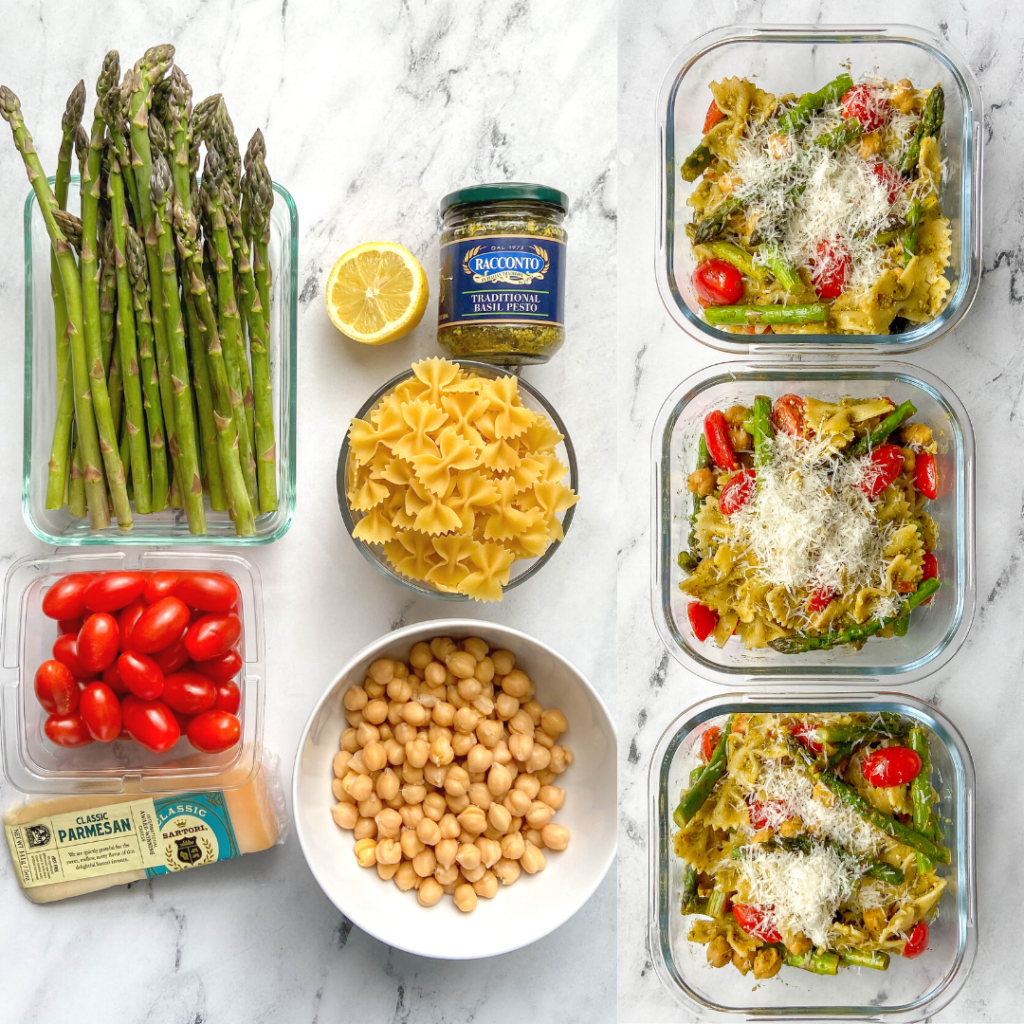 Try out these other yummy pesto pastas!
And make sure to give our other great vegetarian meals a try!
Get Realistic Weekly Meal Plans!
And 600+ Recipes
Shop. Cook. Live Your Life.
Storage & Reheating Notes
This veggie pesto pasta will last for up to 4 days in the fridge. It was not tested in the freezer, but I don't think it's freezer-friendly!
It's best when reheated in the microwave for over a minute, or on the stove. You may need to stir it a few times during the reheating process and add a little bit of olive oil to help the pasta get unstuck if you find it's sticking together.
Happy prepping 🙂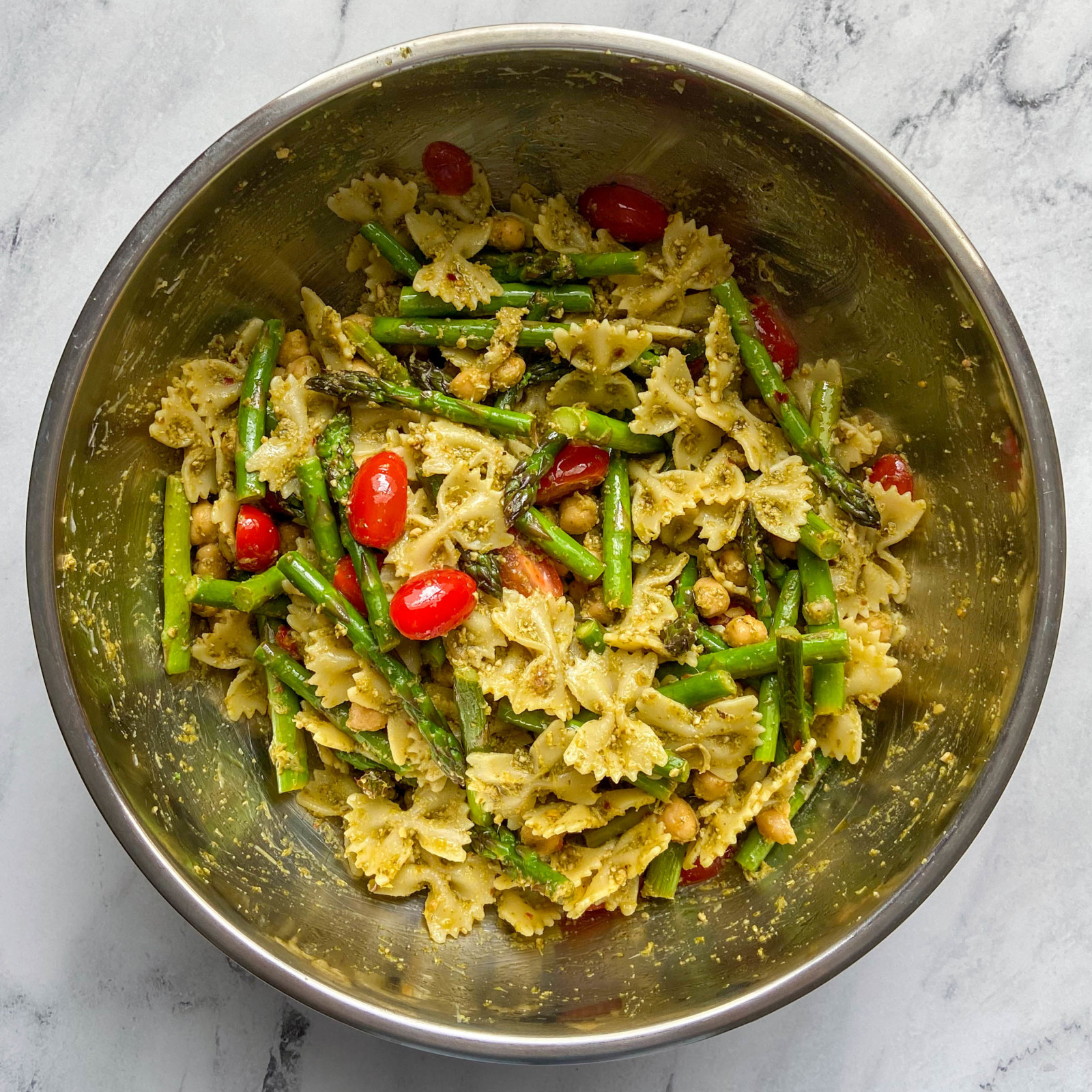 Veggie Pesto Pasta With Chickpeas (No-Reheat)
Ingredients
6 oz pasta of your choice, half a 12oz box
15 oz can of chickpeas rinsed and drained (see notes above for chicken instructions)
1 bunch asparagus chopped into thirds (chop off the ends too and discard them)
1/2 cup pesto (store bought or homemade use vegan if needed)
1 TBSP olive oil
salt and pepper to taste
1 lemon sliced into wedges (for juicing)
1 tsp oregano optional
1 cup cherry tomatoes sliced in half
3/4 cup parmesan cheese or nutritional yeast (1/4 per serving)
Instructions
Cook the pasta according to the package. When it's done, drain and return to the pot and toss with a little olive oil so it doesn't stick.

While the pasta cooks, add 1 TBSP oil to a skillet over medium heat. Then add the asparagus and chickpeas with salt and pepper generously. Squeeze one or two lemon wedges over the mixture. Add the oregano if using (or any other spices you're into!) Cook for 5-7 minutes, until the asparagus is tender-crisp. Turn off the heat.

After the pasta is cooked, add the 1/2 cup pesto to the pot and toss well. Then pour the pesto covered pasta into the pan with the asparagus. Add the chopped tomatoes and toss it all together. If you want to add more pesto – go for it!

To assemble: Divide the pasta mixture between three meal prep containers. Top with parmesan cheese if using.
DID YOU MAKE THIS RECIPE?
Please leave a comment below on the blog or share a photo with us and tag @workweeklunch! Can't wait to see what you made!