My first encounter with the Starbucks spinach feta wrap was during my internship at Saturday Night Live – pretty much every cast member and staff writer requested it on our daily Starbucks runs for them (ah, the glamour of being an intern). Once I tried it myself I totally understood why it's so popular!
This Starbucks copycat recipe wrap is easy to eat on the go, filling and flavorful and for a quick morning meal, it's pretty cheap at roughly $5 with tax. Naturally, we had to try making this at home!
Get more recipes like this (including our vegan version) in the Workweek Lunch Meal Prep Program with access to our meal planning tools, grocery list generator and more. Start a free trial today!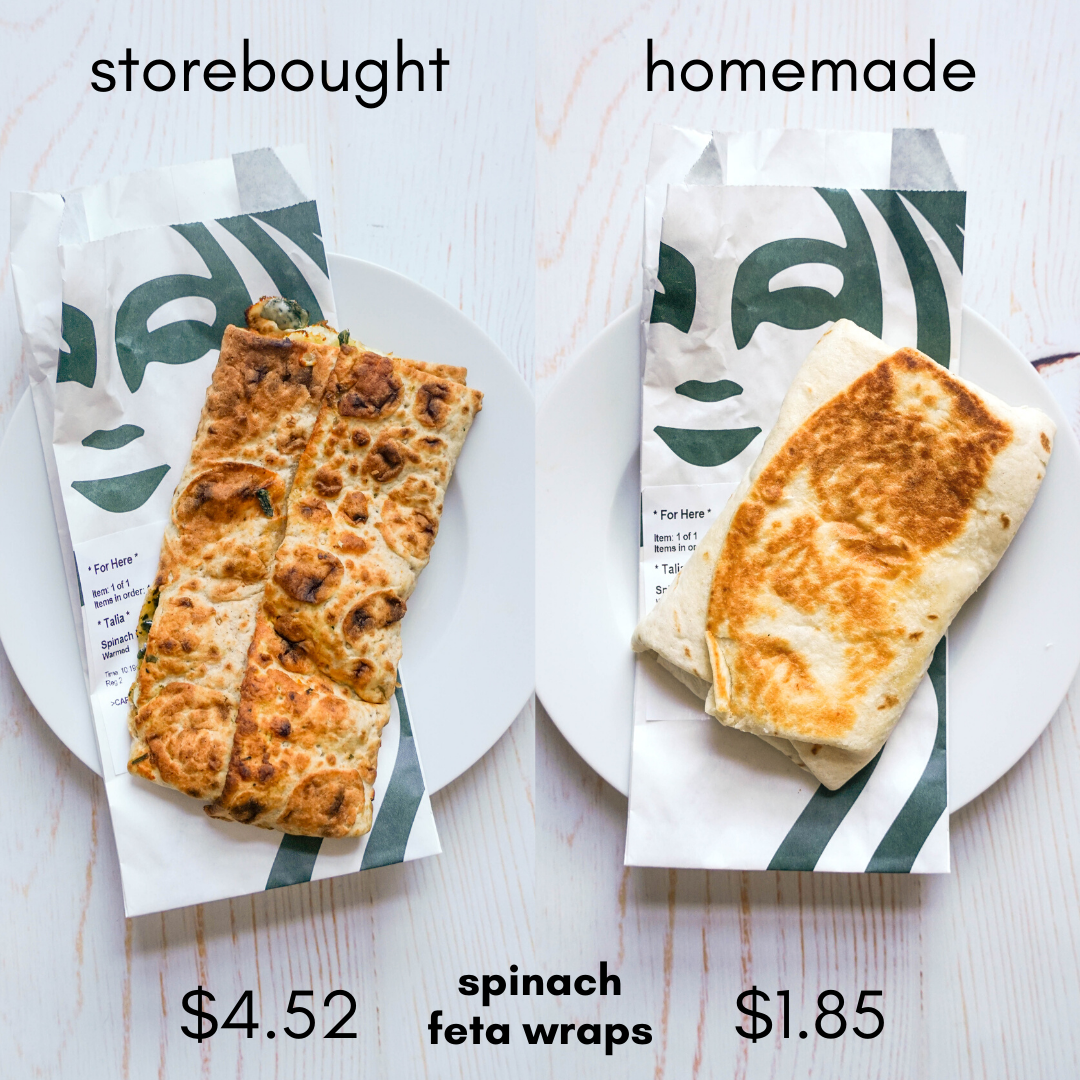 Spinach and Feta Wrap Recipe Overview
This wrap includes an egg white "patty," sun-dried tomatoes, spinach, and feta, all bundled up in a tortilla. Starbucks uses a thin flatbread for this wrap, but I found that a tortilla was easier.
Here was the test and process of making it:
Customizing this breakfast wrap
Since this is a copycat recipe, playing with it too much will make it taste different from the real deal at Starbucks. But it's your kitchen, your rules. So here's what I recommend changing:
Switch up the veggies
Spinach and sun-dried tomatoes are a great combo here, but you can use kale or swiss chard instead. And if tomatoes aren't your thing, opt for roasted red bell peppers (fresh, canned or jarred).
You can also swap sun-dried tomatoes with regular cherry or grape tomatoes, chopped in half and cooked down. Keep in mind that sun-dried tomatoes are better in wraps because they're not as juicy/wet, while using regular tomatoes may result in soggy wraps!
Not into feta?
You can swap feta for gorgonzola, blue cheese or goat cheese! It just needs to be salty. So if you're dairy-free, you can leave the feta out completely and make sure to add a little extra salt. Chopped olives also make a pretty solid feta substitute in terms of flavor!
Make it creamier
Some versions of this Starbucks copycat recipe that you find online call for cream cheese. Note that when I tried this wrap at Starbucks, I couldn't taste a trace of cream cheese. But! If you wanted to add a dollop of your favorite cream cheese to the wraps before assembling them, go for it.
Want to try other copycat recipes? We rounded up 13 of our favorites here, check them out!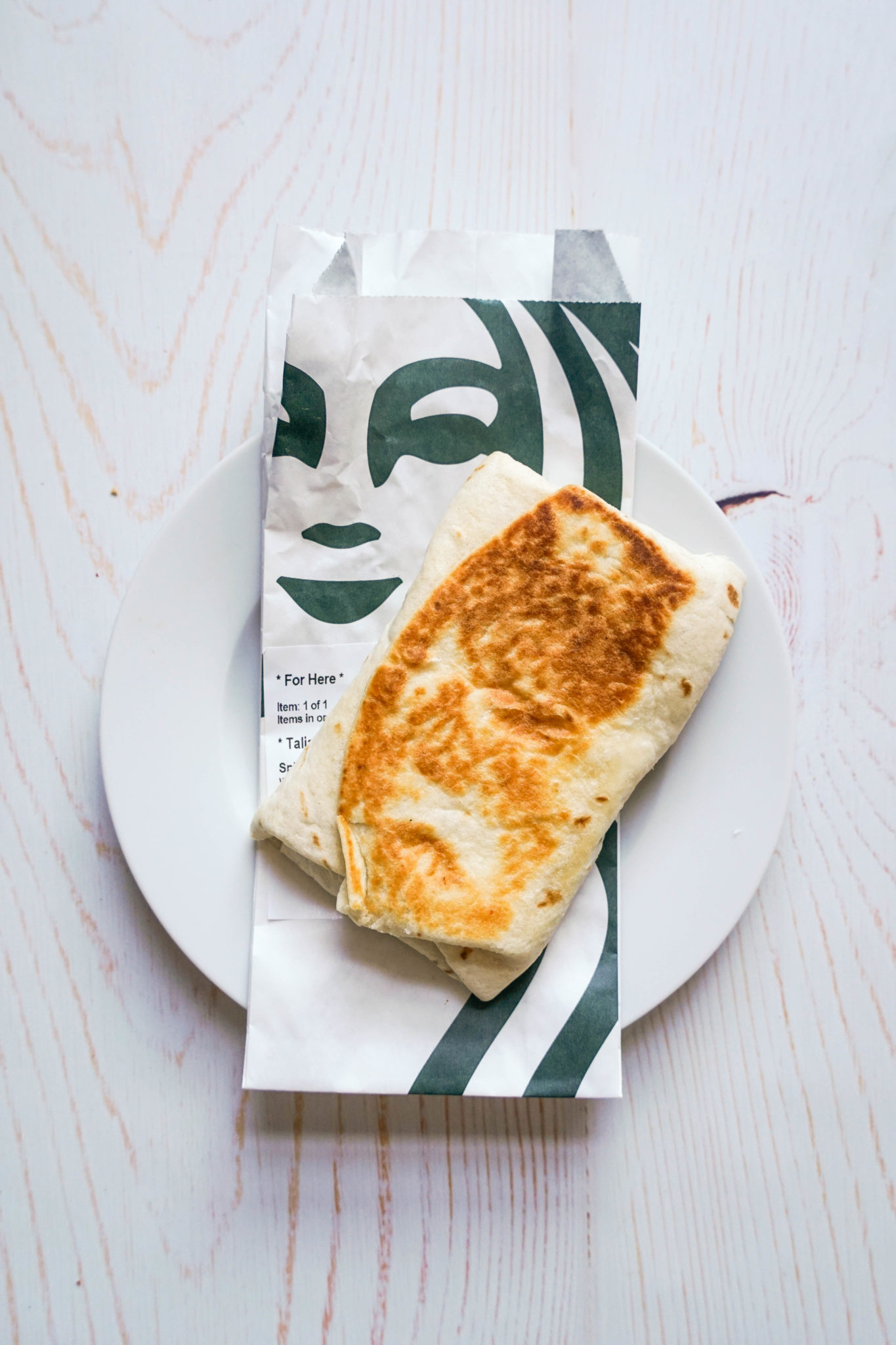 Tortillas suggestions
If you like regular flour tortillas (that's what I use), these wraps should not get too soggy if you choose to wrap them for meal prepping. My favorite tortilla brand is Mission!
Lavash would also be perfect for these, our favorite brand is Joseph's and they are freezer-friendly for up to 8 months!! You can order them online here!
But if you're using whole wheat or gluten-free wraps, it's important to wrap these up right before eating. Gluten-free and whole wheat wraps don't hold as well overnight and are more difficult to fold up. If going this route, store the wrap fillings in individual containers, then heat it up and wrap it before you eat!
Making vs buying sun-dried tomatoes
So I am not really a huge fan of sun-dried tomatoes (this is the first time they're appearing in the WWL Program!) because they tend to bother my stomach. So I decided to make them at home instead of buying a jar, which often costs around $7 in my store.
To make them at home, I used about 3/4 of a box of cherry tomatoes to make it happen and it took 3 hours. So it's probably easier to just buy them canned or jarred. But if you want to try making your own, here's the method I used for making sun-dried tomatoes. Instead of storing them in oil, I used them in this recipe! Here is a link to my favorite sheet pan!
Notes about using egg whites
I'm not a huge fan of meals with egg whites because of the waste factor. There are many uses for leftover egg yolks, but I was honestly too tired to even attempt these after meal prepping. Next time, I might just get a carton of egg whites for this recipe.
If you're vegan, there is no really easy homemade substitute for egg whites. Can tofu work? Yes, absolutely. Another option would be purchasing an egg substitute such as Just Egg.
Here's how to separate eggs if you've never done it before! I use method #3.
Ready to make it happen?
Storage & reheating notes
This wrap can be stored in the fridge for up to 5 days and frozen for up to 6 months!
I recommend reheating it for 15-30 seconds in the microwave wrapped in a dry paper towel, then toasting it for best results. You can also reheat it in the oven or toaster oven all the way through. I bet even an air-fryer would work!
If freezing these wraps, let them thaw in the fridge overnight before reheating.
Happy prepping!
Looking for more recipes you'll love? Try these out!
Want some more breakfast ideas? Here are our go-to's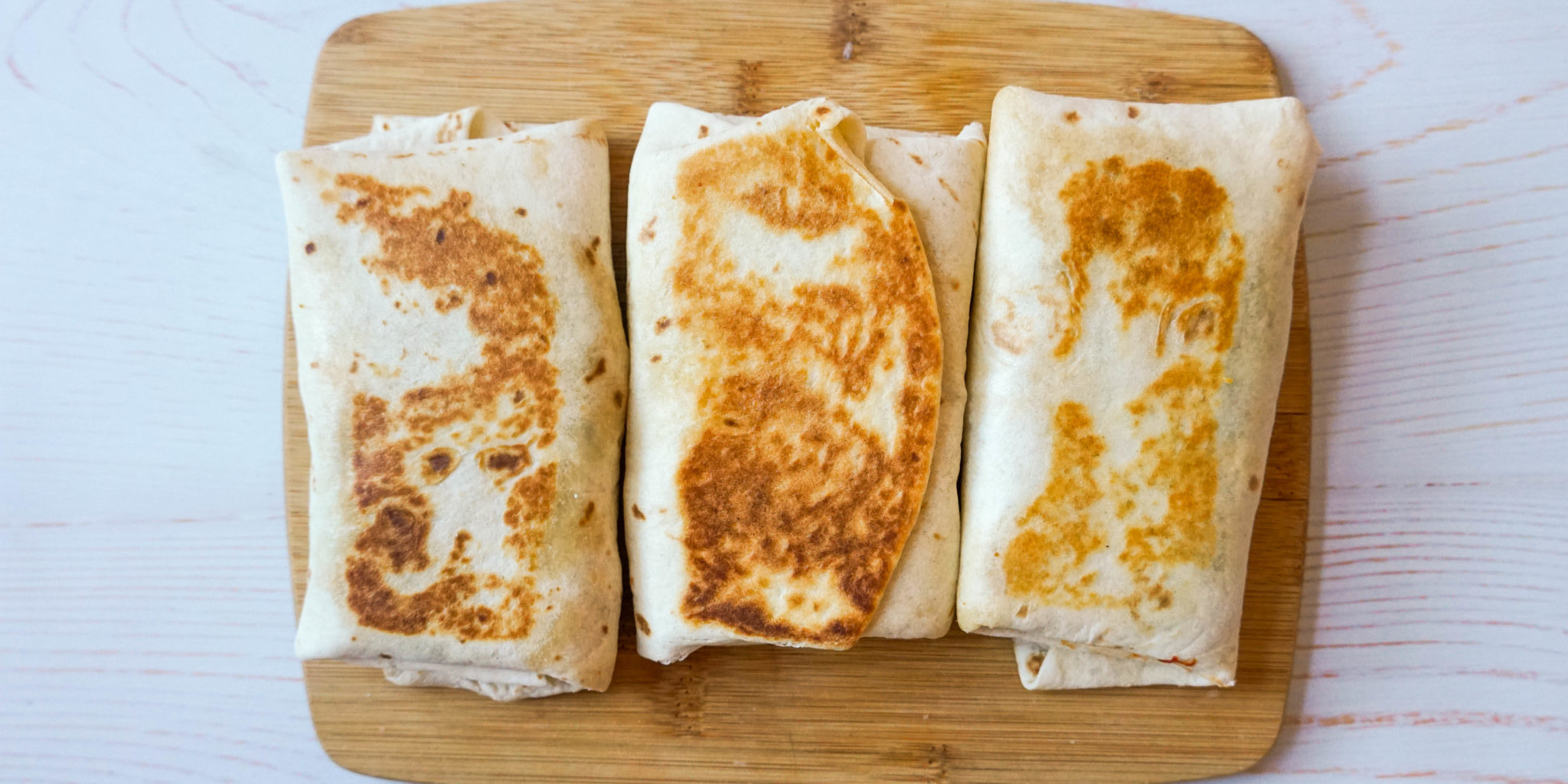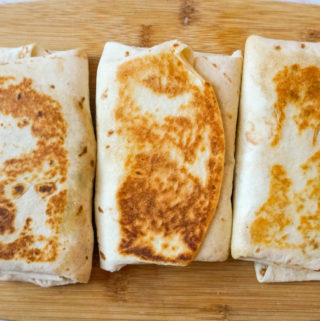 Spinach Feta Breakfast Wraps (Starbucks Copycat)
Ingredients
cooking spray

6

eggs

1/4

cup

milk of your choice

1-1/2

cup

feta cheese

1

TBSP

olive oil

6

cup

spinach

chopped, sub 1/2 a 10 oz bag of frozen spinach

1

cup

sun-dried tomatoes

chopped sub cherry tomatoes

salt and pepper to taste

3

large

tortillas
Instructions
Preheat your oven to 400 F. Prepare a small rectangular baking dish with cooking spray.

Separate the egg whites and yolks into 2 bowls. It's hard to explain how to do this, so if you've never done it before, I recommend doing a quick youtube search for an egg separating method!

Add milk to the bowl with the egg whites and whisk. Pour the mixture into the prepared baking dish. Sprinkle 1/2 cup of feta and a good pinch of salt on the egg whites. Stir with a fork, then place in the oven on the middle rack for 20-30 minutes, until the egg whites are firm to the touch and slightly crispy around the edges.

Meanwhile, cook the spinach and tomatoes. Add the olive oil to a skillet over medium heat, followed by the chopped spinach and sun-dried tomatoes. Add salt and pepper to taste and cook over medium heat until the spinach has wilted, about 5 minutes. Turn off the heat. Stir in the remaining feta. At this point, transfer the cooked veggies to a plate lined with paper towel. Allowing the towels to soak up extra liquid will help avoid a soggy breakfast wrap!

When the egg is done, let it cool completely. Then cut it into 3 rectangles.

Assemble: Place 1/3 of the cooked spinach in the center of the wrap and try to shape it into a rectangle. Place the egg rectangle on top. Fold the wrap like an envelope: fold the short sides in first over the egg, then the longer sides. Place them on a plate seam side down.

Seal the wraps: Heat up a skillet and spray with cooking spray. Place a wrap seam-side down and let it cook for 3- 5 minutes over medium heat, until it's golden and crispy. Flip and cook the other side. Repeat with the other two wraps.

Let them cool completely before wrapping in foil or placing in containers. You can store them in the fridge for 4-5 days or in the freezer for 6 months! Make sure to remove the foil before reheating in the microwave.
DID YOU MAKE THIS RECIPE?
Please leave a comment below on the blog or share a photo with us and tag @workweeklunch! Can't wait to see what you made!