This vegetarian ramen recipe is my take on a classic! It's meal prep-friendly, easy to cook and super customizable as always. 
I didn't start liking ramen until I went to Japan. I'll never forget finishing off my first full day in Tokyo with a bowl of ramen. It was so intimidating to order from the machine, sit down and try to slurp up my noodles properly. I only finished half the bowl, but it was mind-blowing. The broth is truly everything.
I've made ramen at home about a dozen times at this point and haven't quite gotten it to taste the same, but this version is something I'm proud of. It tastes really similar to the vegan ramen I tried in Tokyo at this restaurant in Tokyo Station.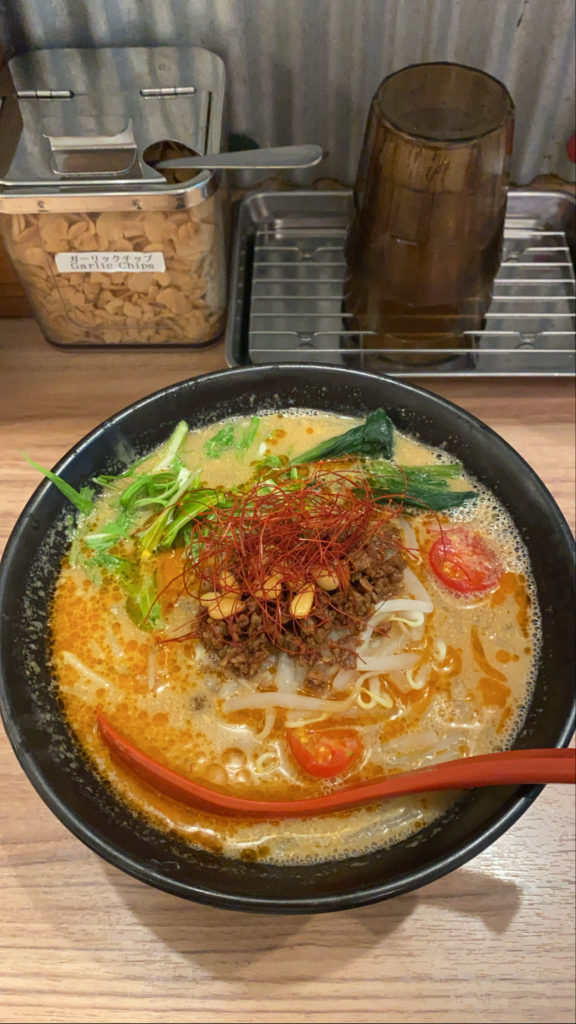 Vegetarian Ramen Recipe Overview
In this homemade vegetarian ramen, we're using the fun cheap ramen noodles (sans flavor packet), marinated eggs (optional!), sauteed mushrooms, carrot ribbons, corn, green onion and tofu (optional).
These veggies are by no means traditional for Japanese ramen (although corn is found in ramen from the northern regions of Japan!). These choices were influenced by the colors and textures I wanted in my ramen and as always, the veggies are customizable.
Most of the work you'll do for this meal is making the broth, eggs and tofu.
Get more recipes like this in the Workweek Lunch Meal Prep Program with access to our meal planning tools, grocery list generator and more. Start a free trial today!

How to Customize this Vegetarian Ramen

So many veggies are great in ramen! Here are some I would use. You can add these raw, but I recommend giving them a quick saute first.

bell pepper

eggplant (my fave)

zucchini

chopped kale

sugar snap peas

regular peas

cut-up green beans

sliced bok choy

shredded cabbage 

bean sprouts

seaweed (wakame and nori)

broccoli

cauliflower

jalapeno
Tasty Vegetarian Ramen Toppings 

To customize this ramen even more, add some of these before you're ready to eat!

sriracha or hot sauce

seaweed (nori)

bamboo shoots

lime juice

butter (adds creaminess!)

eggs – fried, poached, or boiled
Key Ingredients: What makes vegetarian ramen extra good
To take your ramen to the next level, focus on enhancing the broth. 
Load up your broth with kombu (dried kelp which is used to flavor dashi, a common Japanese broth). Kombu is inexpensive and found in Asian grocery stores. It lasts a long time in the pantry and appears often Japanese cooking. So if you're interested in upping your Japanese food game at home, it's a great purchase. 
Another important broth ingredient is mirin, a type of rice wine for Japanese cooking. Adding mirin to your broth will add a subtle sweetness, and make your broth taste like ramen broth instead of just a regular mushroom broth. Mirin is a great ingredient for teriyaki sauce and definitely something I recommend keeping on hand.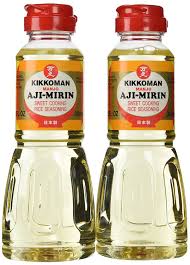 If you don't want to get kombu and mirin, but still want to add more flavor to your broth, throw in veggie scraps, whole heads of garlic, and big chunks of onion. And if you can't find dried mushrooms, whole fresh mushrooms are good too!
How To Cook Soft Boiled Eggs (2 Ways!)
Replacing marinated eggs
You can use soft-boiled, hard-boiled, or leave them out altogether! Check out the video above on how to get the perfect soft-boiled eggs every time!
For the Protein
If you don't want to use tofu, tempeh, edamame or seitan would also work in this. Here's a video on how to make delicious, tasty tofu!
How to make crispy, tasty tofu
Do you have a meat-eater in your family? You can easily prep meat on the side to add to any ramen bowl. Chicken, shrimp, beef, and pork can be cooked and stored on the side to add to this vegetarian ramen when served.
For the Ramen Noodles
You can use any noodles of your choice if you don't want to use ramen. I would recommend a longer noodle such as soba, udon, spaghetti, or linguine. Use GF noodles if needed, here is where you can get them! 
I like to use the cheap ramen noodles you can find in any convenience store, I just leave the packet out of the meal! But if you have access to higher-quality ramen noodles, go for it.

5 More Vegetarian Ramen Recipes To Try
Storage & reheating notes:
Keep the broth and eggs separate from the other ingredients. When you're ready to eat this vegetarian ramen, warm the broth in the microwave or on the stovetop and pour it over the toppings!
The marinated eggs will last about 4 days in the refrigerator in an airtight container. I recommend only letting eggs marinate for 24 hours, then drain the marinade and leave them in the container.
The homemade broth will last 4-5 days in the refrigerator, but you can also freeze any extra you made! Veggies and protein will last 3-4 days.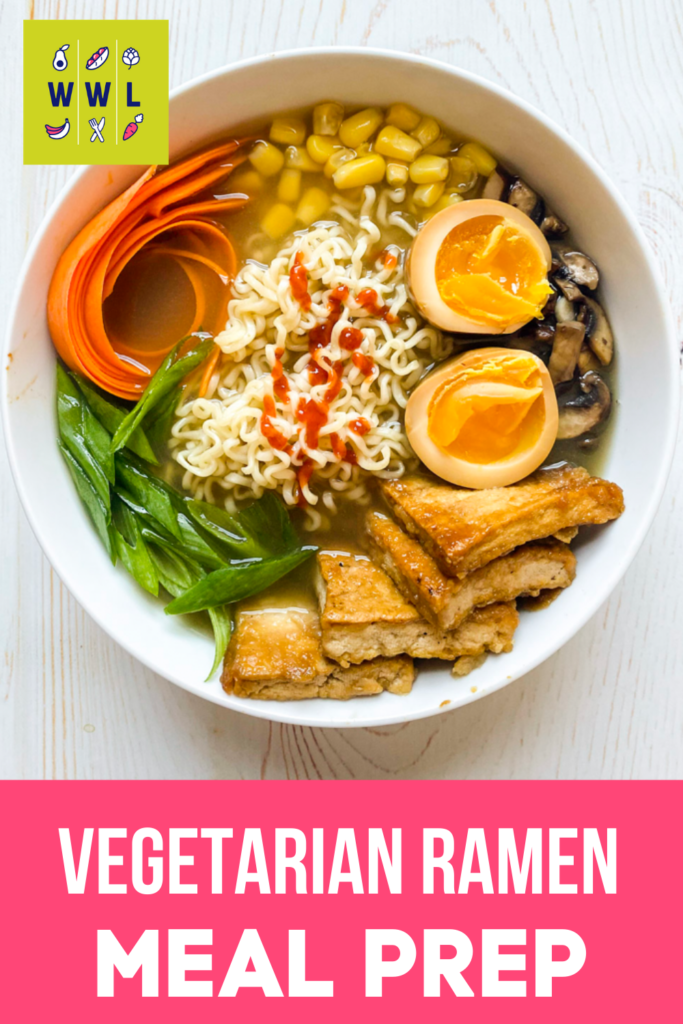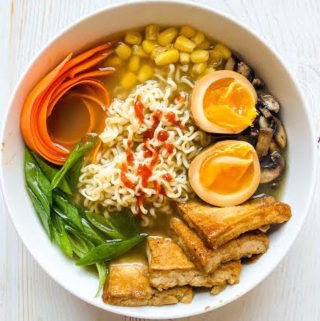 Veggie Ramen With Tofu & Marinated Eggs
Ingredients
For the ramen broth
1

tsp

olive oil

sub oil of your choice

1/2

onion

roughly chopped

1

clove

garlic

roughly chopped

1

inch

ginger

roughly chopped

8

oz

shiitake mushrooms

sliced, you need 1 small handful for the broth, the rest for the toppings. sub white or baby bella mushrooms.

32

oz

vegetable broth

sub water if you don't have!

2

cups

water

1

TBSP

miso paste

veg soup stock paste/cubes or Yondu can work too

2

TBSP

soy sauce

sub tamari or liquid aminos, plus more to taste

3

packages

ramen noodles

discard the flavor packet, sub 6-8 oz noodles of your choice
For the veggie toppings
salt and pepper to taste

3

carrot

peeled into ribbons

1

cup

corn

frozen, fresh or canned

3

scallion

chop the green and white parts. throw the white parts in the broth!
For the tofu (optional)
14

oz

package of firm tofu

drained and chopped into cubes or rectangles

1

TBSP

cornstarch

sub arrowroot starch

1/3

cup

vegetable oil

sub avocado oil

1/4

cup

soy sauce

sub tamari or liquid aminos
For the marinated eggs (optional)
3

eggs

4

cups

water

2/3

cup

soy sauce

sub tamari or liquid aminos

1/3

cup

mirin
Instructions
For the ramen broth: Add the oil to a large pot over medium heat, followed by the onion, garlic, ginger and handful of shiitake mushrooms. Stir frequently and saute over medium-low heat for about 6-8 minutes, until fragrant. Add the broth, water, miso paste, and soy sauce. Stir and bring to a boil, then reduce heat to low and cook uncovered for at least 30 minutes. If you wish to cook longer than 30 minutes, cover the pot and continue simmering. Make sure to taste it after 30 minutes and adjust as needed!

Cook the remaining mushrooms: Add about a tablespoon of oil to a nonstick skillet over medium heat. Add the mushrooms with a little salt and pepper and stir. Cook for about 10 minutes, until the mushrooms are fragrant and have shrunk in size. If the pan looks dry while cooking, add a splash of water. Set the mushrooms aside.

Prep the rest of your vegetables. Throw any scraps into the broth!

For the tofu (optional): Add the tofu cubes/rectangles to a bowl and toss them gently with cornstarch. Heat up the same skillet you used for the mushrooms with the vegetable oil (or avocado oil). Add the tofu to the pan - you may need to do this in 2 batches to avoid overcrowding the pan. Sprinkle salt over the tofu and let it cook for 5 minutes over medium heat. Flip and repeat: sprinkle with salt and cook for 5 minutes. Remove the tofu from the pan and repeat the process with the second batch of tofu.

For the tofu: Add all the cooked tofu to the pan, then add the soy sauce. Gently coat the tofu in the soy sauce so it's evenly covered and cook for 3-5 minutes. Set aside.

Finish the broth: Grab a big bowl and strainer. Pour the broth over the strainer into the bowl so you can easily separate the scraps and broth. Discard the scraps (or compost them) and clean out the pot. Add the broth back to the pot. Bring the broth to a boil and cook the noodles (they cook really quickly!). Remove the noodles from the pot when finished. Do not discard the broth!

For the eggs: add the eggs and water to a pot. Bring it to a boil, then turn off the heat and cover the pot. Let the eggs cook for 4 minutes for a soft egg and 7 minutes for a harder egg. Whatever you decide, use a timer and time from when you turn off the heat! Transfer the eggs to a bowl of very cold water and let them sit for 5-10 minutes before peeling. Meanwhile, combine the soy sauce and mirin in a meal prep container big enough to hold the eggs. Place the eggs inside and refrigerate.

Put it all together: Add noodles and toppings (corn, carrots, cooked mushrooms, tofu, chopped scallions) to meal prep containers. Keep the broth and eggs separate. When you're ready to eat, heat up the broth and add all the toppings to the bowl. Pour the warm broth over the toppings. Add the egg and enjoy!
DID YOU MAKE THIS RECIPE?
Please leave a comment below on the blog or share a photo with us and tag @workweeklunch! Can't wait to see what you made!