What's better than classic homemade chicken noodle soup? I'll tell you. It's homemade chicken soup you can take to work. Or homemade chicken soup you can whip up on a cozy, lazy weeknight in under an hour. Whatever works for you, works for us!
Get more recipes like this in the Workweek Lunch Meal Prep Program with access to our meal planning tools, grocery list generator, and more. Start a free trial today!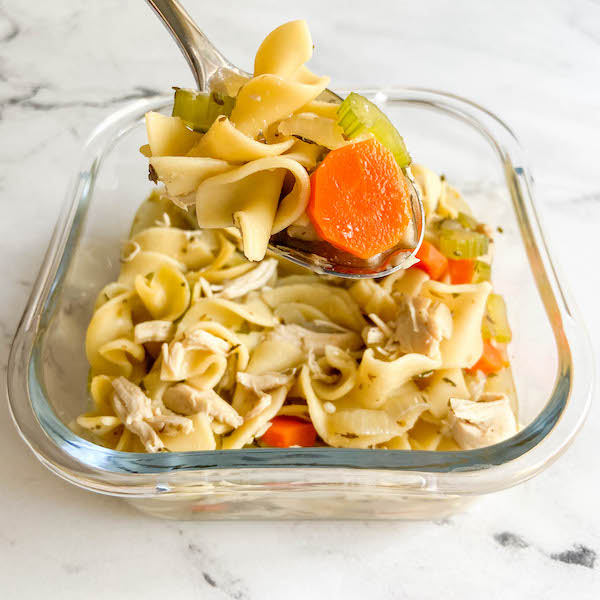 What you need to know about this homemade chicken noodle soup:
I was super intimidated by chicken soup initially because I thought you could only crush this meal if you're a grandma or if you were using a family recipe passed down through generations. I was wrong. Anyone can do it, and anyone can do it well.
Related: Sick Day Food: 14 Nourishing Recipes For When You're Sick
Carrots, celery and onion (aka mirepoix) are the veggie base that make this soup!
If you can, try not to change this base. If you absolutely hate one or two of these ingredients, or you can't find them, the soup will still taste good, but for a real chicken noodle soup, you'll want all three! Cooking these veggies helps sweeten the soup and give it that familiar flavor (it's not the broth that necessarily does this!).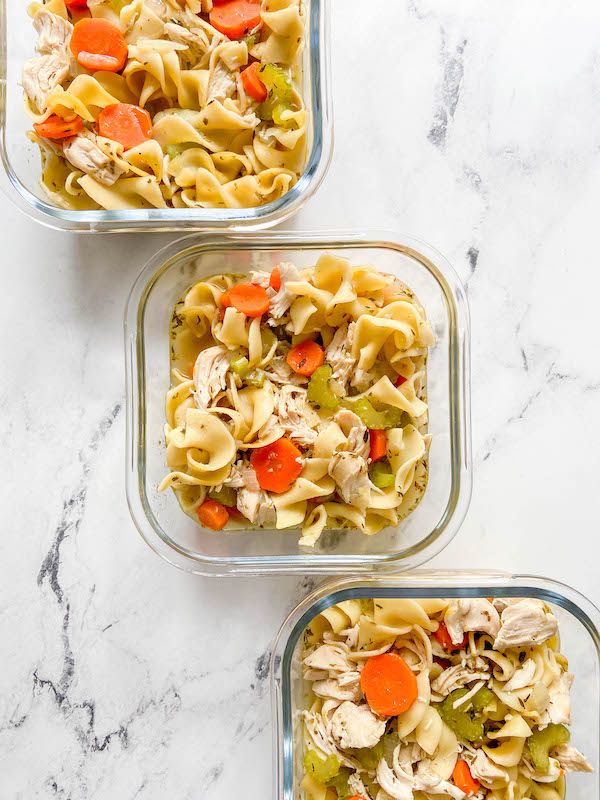 Chicken broth or chicken stock?
Yup, there is a difference between the two. Broth is usually made with seasoned liquid that had meat cooked in it at some point. Stock is made strictly from animal bones (without the meat) with unseasoned liquid. You can learn more here! For this recipe, we're using broth. But if you bought chicken stock instead of broth, it's totally fine!
Do you cook chicken before putting it in the soup?
For this recipe, we're poaching the chicken in water before making the soup. No oil is needed for the process. Just the water, chicken, salt, and pepper! When doing this, it's possible that a layer of fat may rise to the surface of the water. It's going to be a light-colored gelatinous layer. This is okay! When the chicken is done, you can remove it from the pot and let it rest on a cutting board. Then you can use a strainer over a bowl to separate any fat that rises to the top and the broth from cooking the chicken, which is good to preserve and cook with for the soup part of the recipe.
Related: 15 One-Pan Chicken Dinner Recipes You Can Meal Prep in 30 Minutes
Make this homemade chicken noodle soup gluten-free:
The only source of gluten in this recipe is the noodles! We used egg noodles, but feel free to use any type of gluten-free pasta that you enjoy.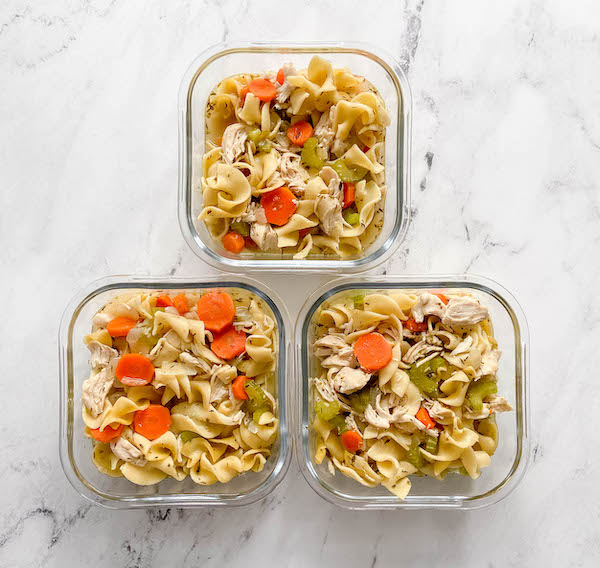 How to add more volume or double this recipe:
To add more volume, start with adding more mirepoix (celery, carrots, and onion). Choose a bigger chicken breast and consider adding more noodles. Keep in mind that if you increase the volume, you may need to increase the amount of liquid you use by a cup or two (and add more salt and pepper). To fully double the recipe, double all the ingredients and add about 10-15 minutes of extra total time to cook more chicken, pasta, and a higher volume of soup in general.
Related: Kid-Friendly Recipes: 15 Go-To Meals Parents Always Make for Their Kids
How to store this chicken noodle soup:
This chicken noodle soup can last in the fridge for up to five days. You can freeze it for 3-6 months. I love using SouperCubes to easily store frozen soup! It reheats well in the microwave or on the stove. Happy prepping!
Related: 5 Essential Freezer Meal Prep Tips
And don't forget to try out our other delicious free recipes!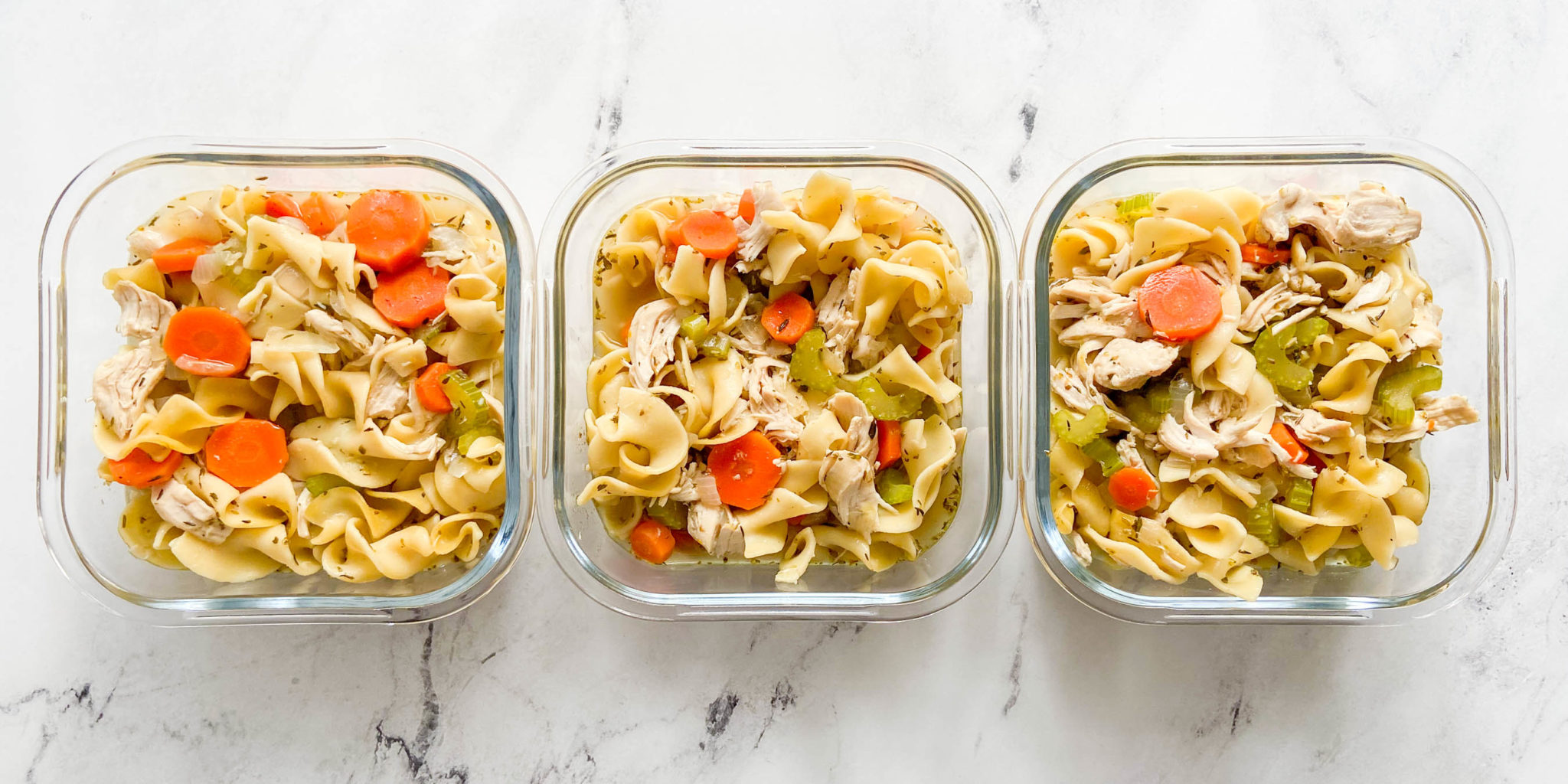 Easy Chicken Noodle Soup
Ingredients
16

oz

chicken breast

1 1/2

cups

water

or chicken broth
for cooking the chicken
1

TBSP

olive oil

1

clove

garlic

minced

½

yellow onion

chopped

3

celery sticks

chopped

3

medium

carrots

peeled and chopped

salt and pepper to taste

be generous!

1 1/2

teaspoons

thyme

1 1/2

teaspoons

oregano

4

cups

broth

or stock (1 entire package of 32 oz broth)

1

cups

water

6

oz

egg noodles

sub pasta of your choice
Instructions
Add your chicken breast to a large pot over medium heat with 1 1/2 cups of water or chicken broth or stock. Bring to a boil, then simmer, covered, for 20 minutes. Flip the chicken over once or twice. *If fat rises to the surface of the water, see "notes for cooking the chicken" above for discarding it. Remove the chicken from the pot and let it rest while you prepare the soup.

In the same pot (it should now be empty) add 1 TBSP of oil over medium heat. Add the garlic and onions and cook for five minutes, or until fragrant, while stirring often. Add the chopped celery and carrot, salt, pepper, thyme and oregano. Mix well and cook for 10 minutes.

Add the remaining chicken broth/stock and water to the pot (including any that you reserved when cooking the chicken). Bring to a boil, then add the egg noodles. Let cook for 8-10 minutes, then remove from the heat.

While the pasta cooks, shred the chicken with a fork into small bite-size pieces. Add the shredded chicken to the pot and stir.

Taste the soup and adjust the seasonings. I added a generous amount of pepper and more salt at this point!

To assemble: divide the soup into 3 containers. Any extra can be frozen!
DID YOU MAKE THIS RECIPE?
Please leave a comment below on the blog or share a photo with us and tag @workweeklunch! Can't wait to see what you made!