Think of your favorite homemade tomato soup. OK, now add some chunky veggies and lentils. That's what this recipe is and it's SO GOOD.
Get more recipes like this in the Workweek Lunch Meal Prep Program with access to our meal planning tools, grocery list generator, and more. Start a free trial today!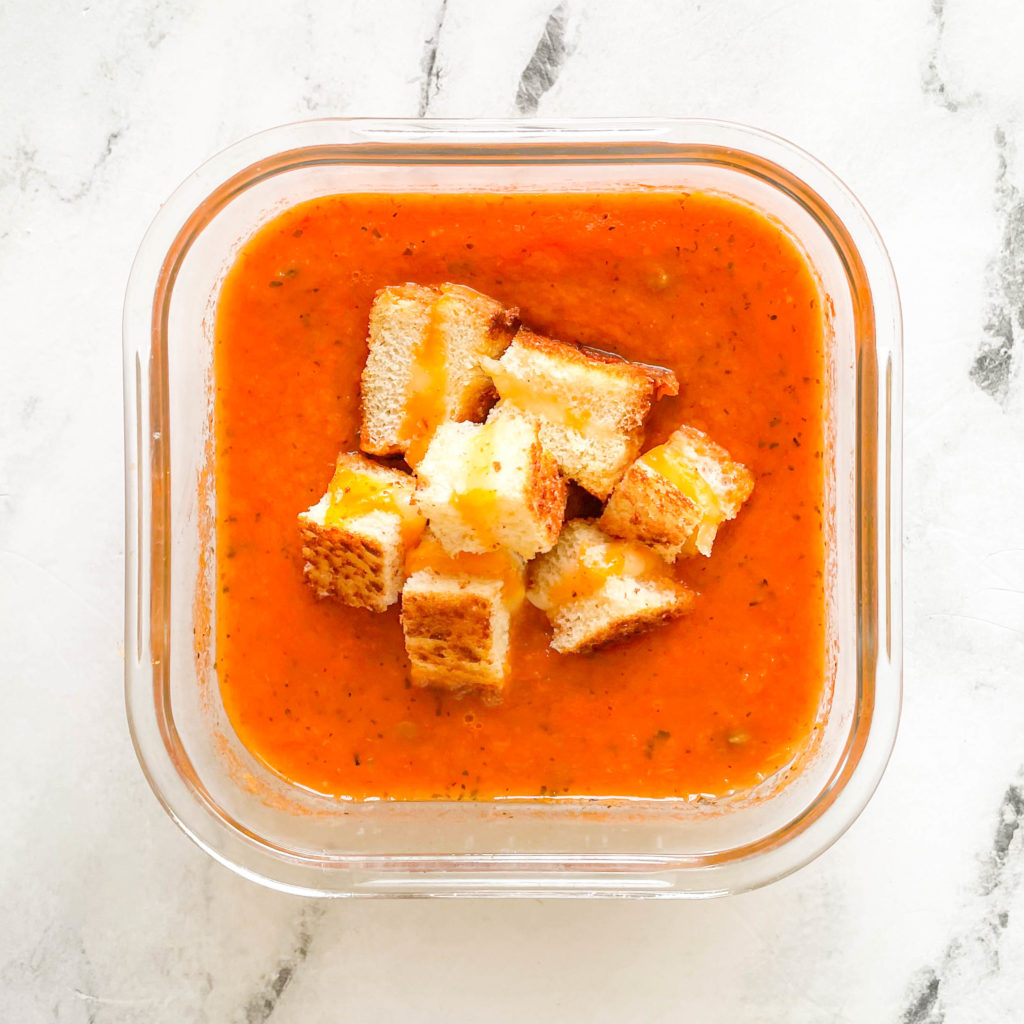 Even if you're not a big tomato soup person (I'm not) I think this is a good step in the direction of veggie-based soups that won't leave you hungry. Bonus — it's perfect for dipping bread (or grilled cheese) into.
Related: Sick Day Food: 14 Nourishing Recipes For When You're Sick
How to customize this homemade tomato soup:
I won't lie, there's not as much customization in this hearty lentil tomato soup compared to our other recipes. But there are always ways to get creative!
Swap lentils for quinoa or rice. You'll get a similar texture, but with a different ingredient! If making this swap, cook the grain on the side and add it into the soup last.
Add red bell pepper. If you cook red bell pepper before you add the celery, carrot and onion mixture to the pan, you can get a sweet and smoky red pepper flavor to your soup!
Add more basil. Got a big bunch of basil? You can blend it up in the food processor (or chop it up) and add it right in the soup at step 2 for an extra basil kick.
Add shredded chicken. Want more protein in this soup? Shredded chicken would work really well.
Add chickpeas. Why not? They go with everything! You can add them plain, or roast them while the soup cooks with some Italian-inspired spices (oregano, thyme, sage, parsley etc).
Use fire roasted tomatoes. If you like heat and want a different flavor, swap out the regular diced tomatoes for fire roasted crushed tomatoes. You'll need to do an extra step of smashing the crushed tomatoes with the back of your spoon in step 2.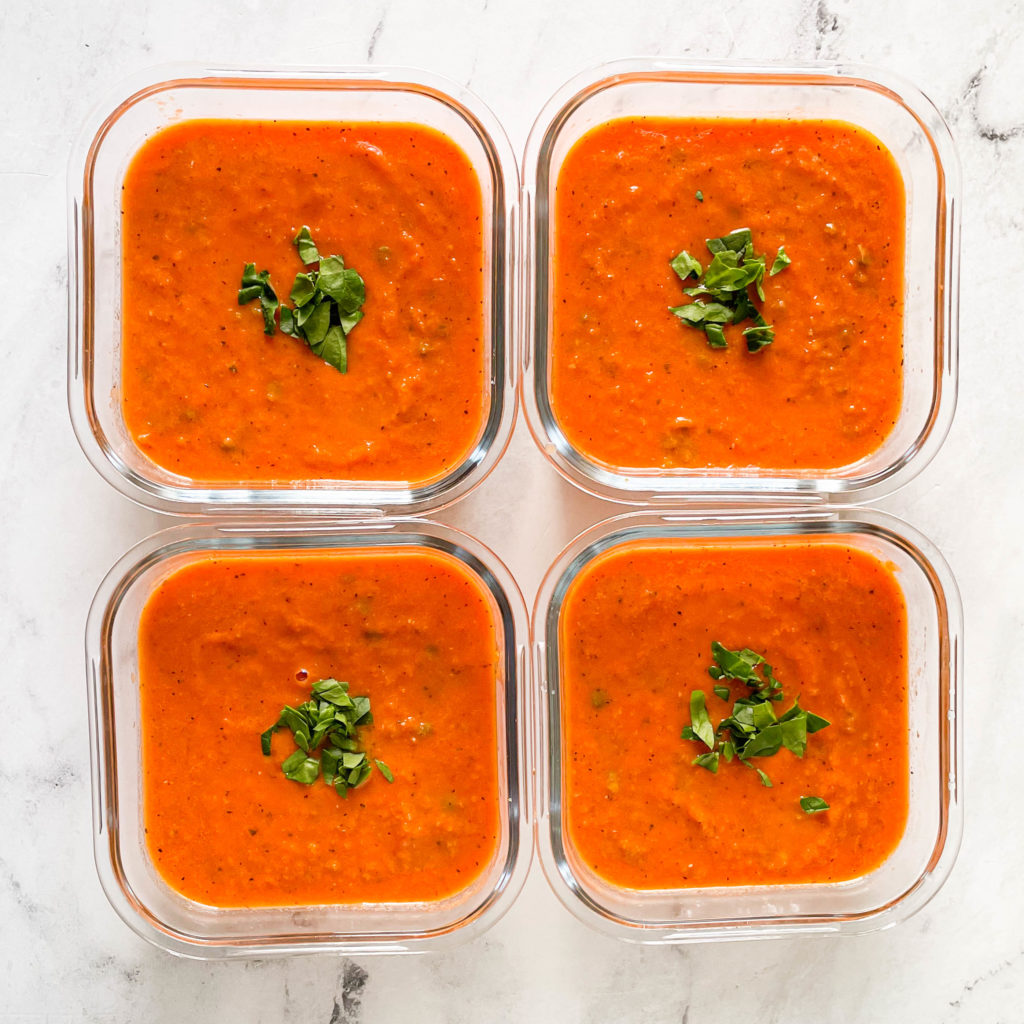 How to make grilled cheese croutons:
These croutons would make your soup feel extra special (and your coworkers extra jealous). I mean, look how cute they are!
Here's how to do it — all you need is some extra bread and cheese! I would make these while the soup cooks in step 2.
Related: Kid-Friendly Recipes: 15 Go-To Meals Parents Always Make for Their Kids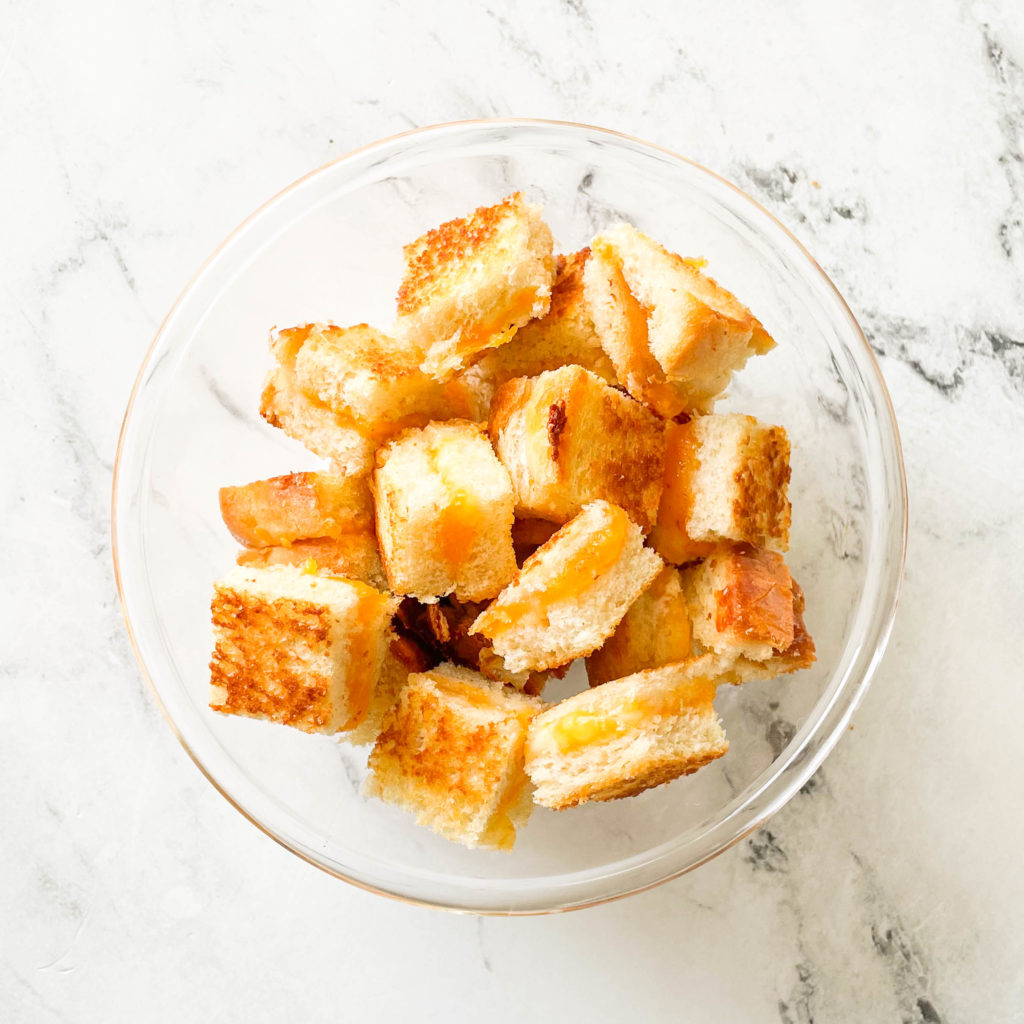 Want to make this tomato soup creamy?
Add 2/3 cup heavy cream or milk to your soup to get a silky, creamy texture. Make sure to cut the amount of broth you are using by 1 cup. If you are following the recipe below exactly, use 1.5 cups broth and 2/3 cup heavy cream.
Adding more volume or doubling this recipe:
To double this recipe, simply double the ingredients. You may need more time to cook the lentils and a little more time for the soup (like 5 minutes). To add more volume to this recipe, start with one of the options above, like adding chickpeas, quinoa, or shredded chicken. Adding chopped bell pepper would be good too! Also, think about sides like an actual grilled cheese instead of just grilled cheese croutons, to accompany this soup.
Related: 5 Essential Freezer Meal Prep Tips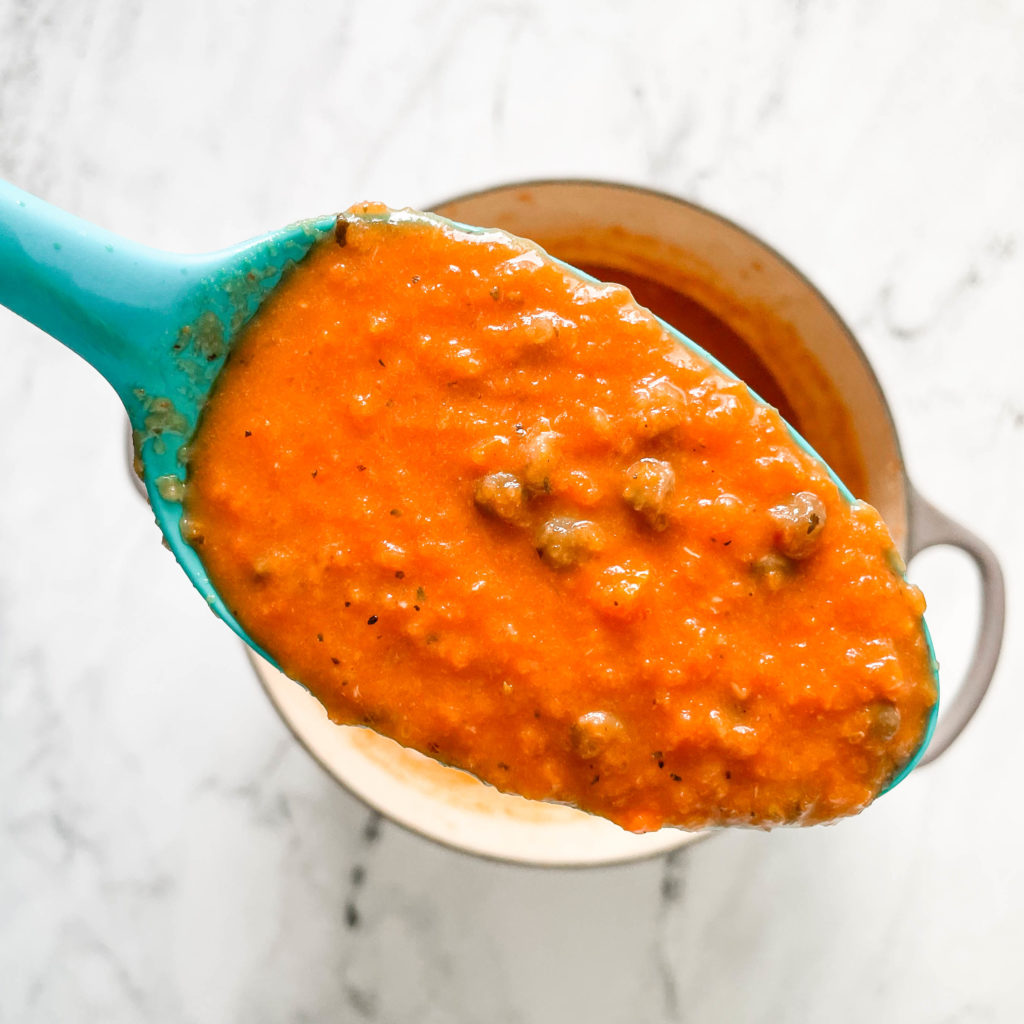 How to store and reheat this homemade tomato soup:
This soup lasts for up to 4 days in the fridge and it's freezer-friendly for up to 3 months! That's why there's an extra serving — there's nothing like pulling out a good soup meal on a lazy day when you don't want to cook or grocery shop (or spend money). You can reheat it in the microwave or on the stove. Happy prepping!
Don't forget to try our other delicious free recipes!
View our full catalog of free recipes here!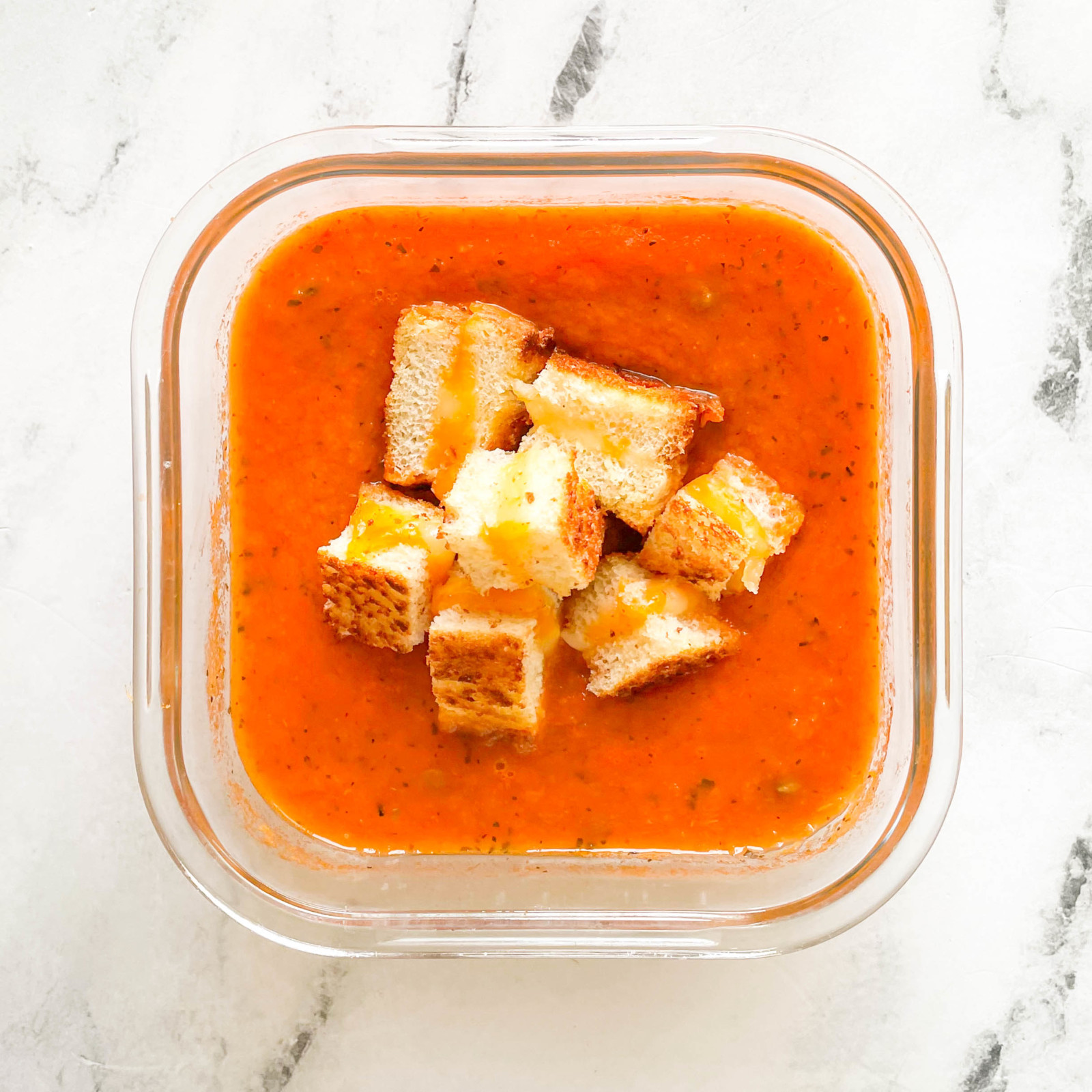 Homemade Tomato Soup With Lentils
Ingredients
1

TBSP

olive oil

1

clove

garlic

minced

1/2

yellow onion

chopped

2

medium

carrots

chopped

2

celery sticks

chopped

24

oz

can of diced tomatoes

2 1/2

cups

broth

or water

1

tbsp

tomato paste

1

tsp

oregano

1

tsp

basil

dried

salt and pepper to taste

3/4

cup

lentils

1

cup

basil

fresh leaves, chopped (optional)

bread

of your choice, for serving
Instructions
Add 1 TBSP olive oil to a large pot over medium heat, followed by minced garlic and onion. Stir often and cook for about 5 minutes or until fragrant. Add the chopped carrot and celery with salt and pepper to taste. Cook for 5 minutes, until the veggies start to soften.

Then pour in the diced tomatoes, broth, tomato paste, oregano, basil and more salt and pepper. Mix well and bring the mixture to a boil, then reduce to a simmer and let cook for about 15-20 minutes.

Meanwhile, cook the lentils according to the package in a smaller pot on the side. Drain then when they're done cooking (they'll be soft to the bite, but not mushy) and set aside,

After the soup has cooked for 20 minutes taste and adjust spices as needed. You may want to add more salt or pepper. Use an immersion blender or transfer half the soup to a blender. If using an immersion blender, blend so that most of it is smooth, but there's still some veggie chunks. If using a blender, transfer the blended portion back to the pot and mix it together.

Add the lentils to the soup and stir them in. If using basil, add the chopped leaves to the soup and stir as well.

Assemble: divide the soup into 3-4 meal prep containers depending on how much food you usually eat. Top with more basil if desired. If you end up making 4 meals out of this, you can freeze 1!
DID YOU MAKE THIS RECIPE?
Please leave a comment below on the blog or share a photo with us and tag @workweeklunch! Can't wait to see what you made!