While on vacation in California, I had to grab a quick lunch at Whole Foods. It had to be something I could easily eat while driving that wouldn't make a mess – so soups and salads were out. I ended up picking a delicious Thai chicken wrap and that's where the inspiration for this really easy no-reheat meal prep came from! You're going to love this.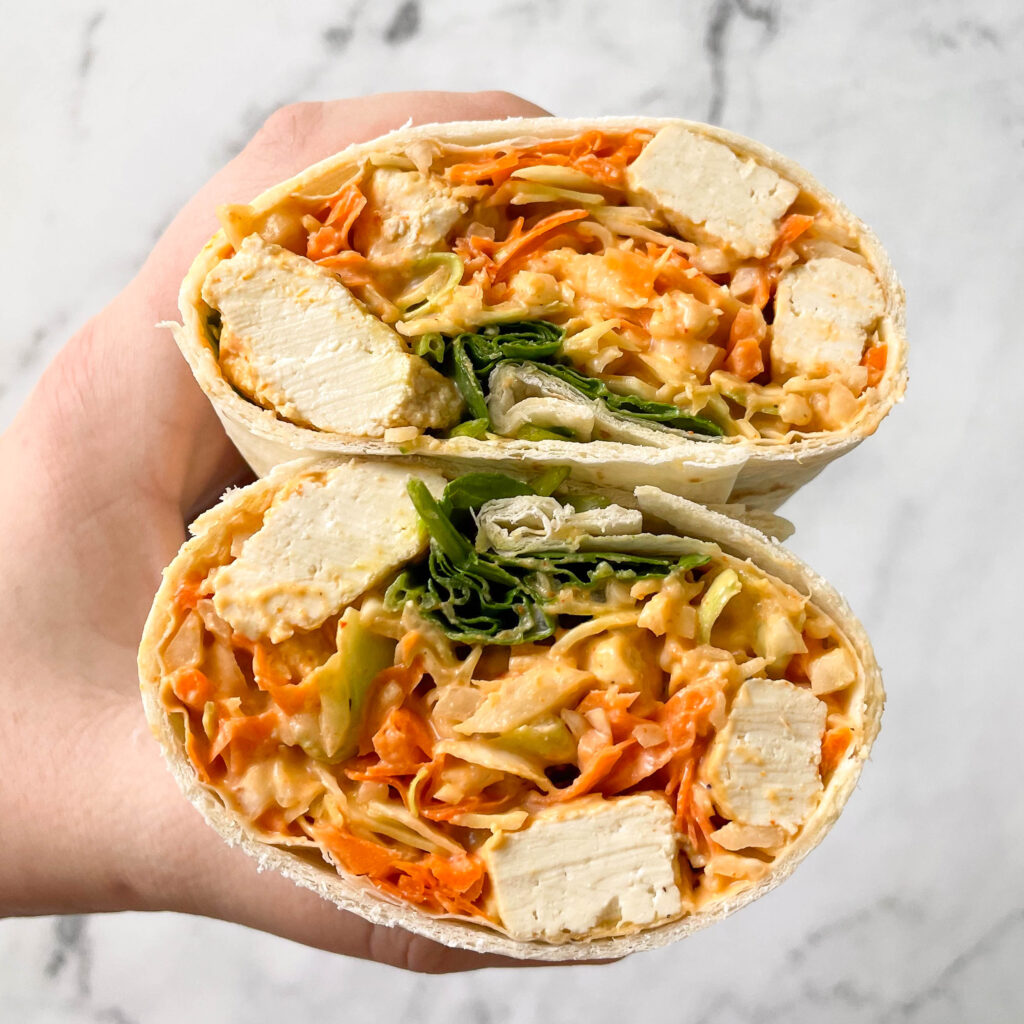 This easy crunchy and satisfying wrap recipe features shredded OR chopped chicken, an easy curry sauce, coleslaw mix (which will save you a ton of time on chopping), carrots and tortillas of your choice.
Let's break it down.
The sauce is made with coconut milk, curry paste, curry powder and soy sauce. Curry paste is ideal for this, but you can get by with just curry powder.
Allergic to coconut milk? We can make a similar sauce with tahini. Tahini is just a lifesaving ingredient when it comes to substitutes! See the recipe notes below the instructions to learn how to make the coconut-free curry sauce.
Feeling up to more chopping? Instead of coleslaw mix, you can chop cabbage and carrots to make a slaw mix of your own. Chopped broccoli stems would also go really well here!
Any kind of tortilla works, just get the biggest ones you can find. I love Mission regular flour wraps. The multigrain ones are okay but aren't ideal because they don't hold together well at all. Gluten-free tortillas are a-ok here too!
This is almost a no-cook meal too, and it comes together really fast. You should definitely make these wraps when you don't feel like messing up your whole kitchen, but also need lunches for the week.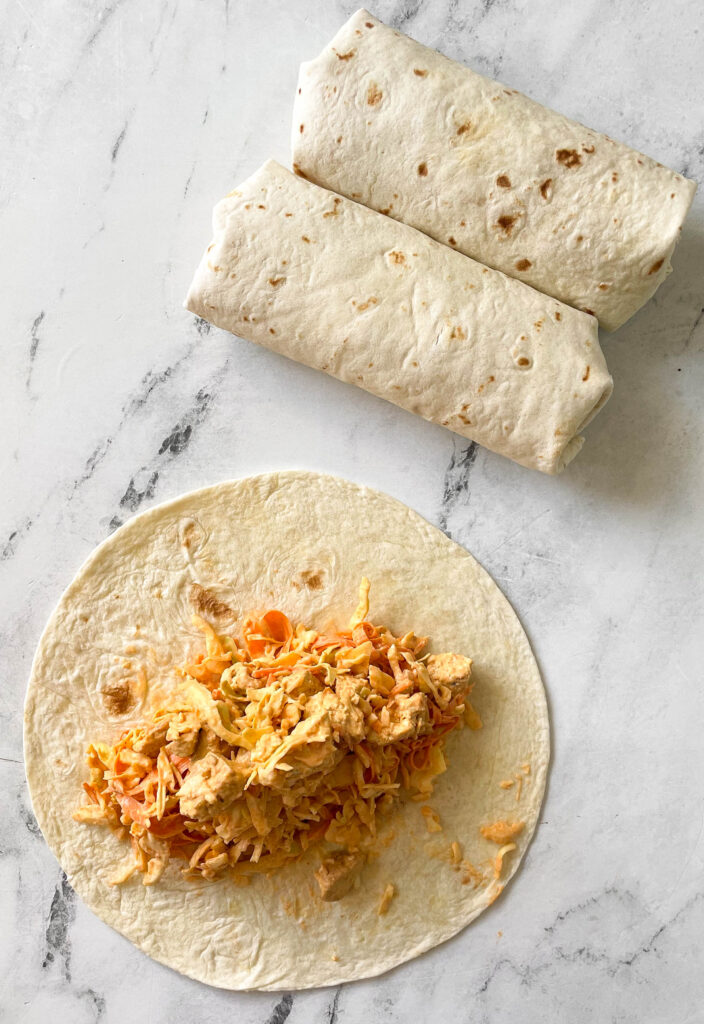 Storing these Thai chicken wraps
This wrap lasts in the fridge for up to four days! You can store them wrapped in saran wrap, foil or reusable beeswax wraps and/or inside of meal prep containers if they can fit. Enjoy these wraps cold or at room temp. No need to heat them up!
Happy prepping!
If you like this recipe, try out these delicious Thai Inspired Lettuce Wraps!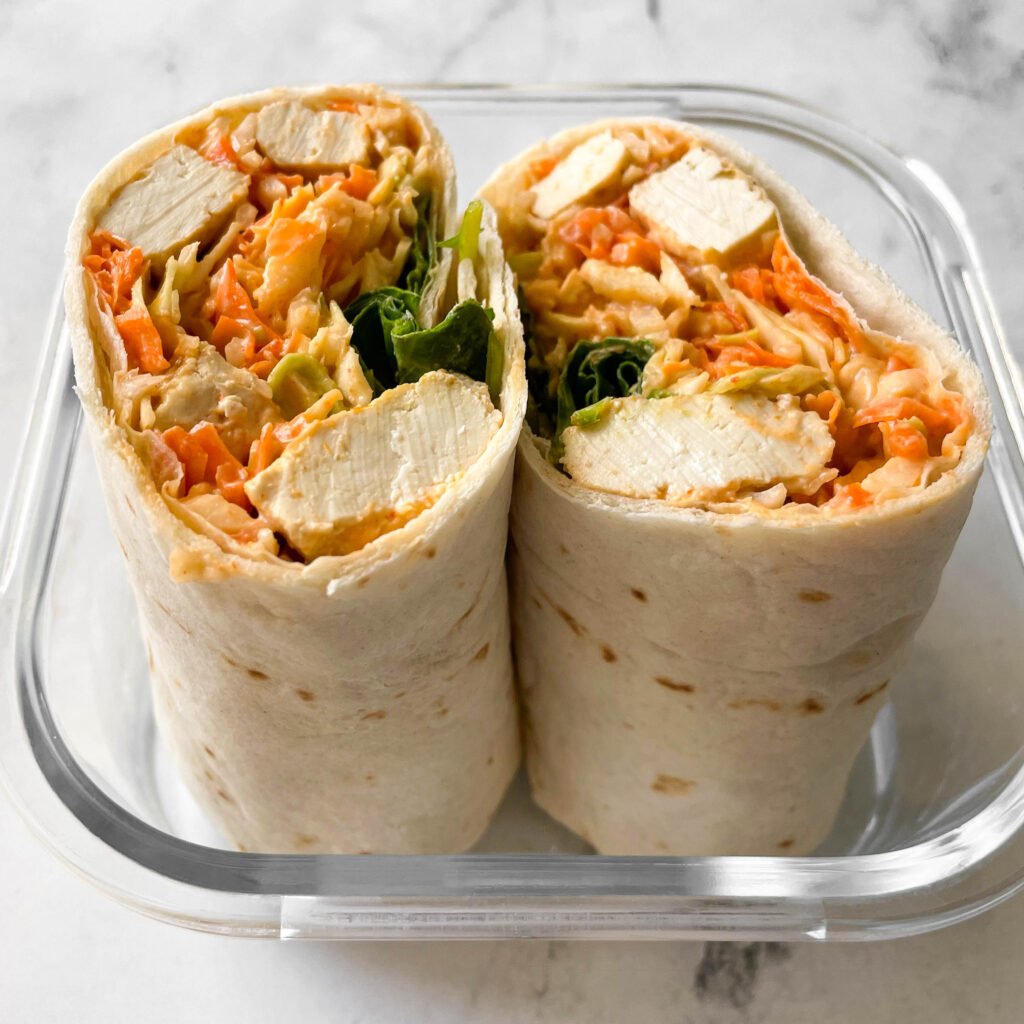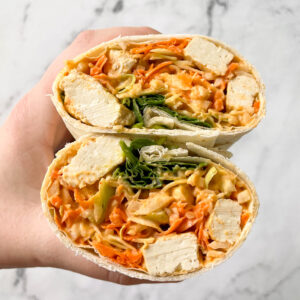 No-Reheat Crunchy Thai Chicken Wraps
Ingredients
1

TBSP

olive oil

16

oz

chicken breast

sliced into thinner pieces if needed, pat dry with a paper towel

salt and pepper to taste

1

TBSP

red curry paste

sub other types as needed

2

tsp

soy sauce

1

tsp

agave

3/4

cup

canned coconut milk

see substitution in notes below recipe

1-1/2

cup

bag of coleslaw mix

3

medium

carrots

peeled into "ribbons"

1

cup

cilantro

4

oz

romaine lettuce

sub greens of your choice

3

large

tortillas
Instructions
Preheat a skillet on the stove for 3-4 minutes over medium heat, then add oil and let that heat up for a minute or two. Make sure to pat the chicken breast dry, then season generously with salt and pepper. Carefully add the chicken to the pan (tilt the pan away from you to avoid oil splashes!) and let it cook on each side for 5 minutes (give it more time if you have really thick pieces). Remove the chicken from the pan and let it rest for 15 minutes.

Meanwhile, combine the curry paste, soy sauce, agave and coconut milk in a measuring glass or bowl.

When the chicken is done resting, you can either chop it into small pieces or shred it – it's completely up to you.

In a large bowl, add the chopped chicken, coleslaw mix, cilantro, and carrot ribbons and pour the curry sauce over it. Mix to toss everything in the sauce.

Assemble the wraps: Add 1/3 of the chicken curry mixture to a tortilla. Top with a few pieces of romaine lettuce (optional) and wrap up the tortilla carefully. See video above for tutorial. It takes practice but it's worth learning! Don't slice the wrap until you're ready to eat it. To store it, you can place the whole thing in a meal prep container or wrap it in foil/saran wrap/beeswax wrap.
Notes
Coconut free curry sauce: 
1/4 cup tahini
1/4 cup hot water
1 tsp agave, honey or maple syrup
2 tsp curry powder (or 1 TBSP curry paste)
DID YOU MAKE THIS RECIPE?
Please leave a comment below on the blog or share a photo with us and tag @workweeklunch! Can't wait to see what you made!