One of the most common questions we get asked has to be "How do you meal prep for one person?".
Figuring out how to meal prep for one is challenging at first! Between avoiding food waste, needing variety and actually sticking to your meal plan, the struggle is real.
In this post, I'm going to walk you through the main challenges of meal prepping for one, and how to work through them. It takes some time to find your meal prep groove, but once you do, it's a total game changer. You'll save money, time, and energy, and most importantly be able to focus on living your life. Not stressing out about what's for dinner!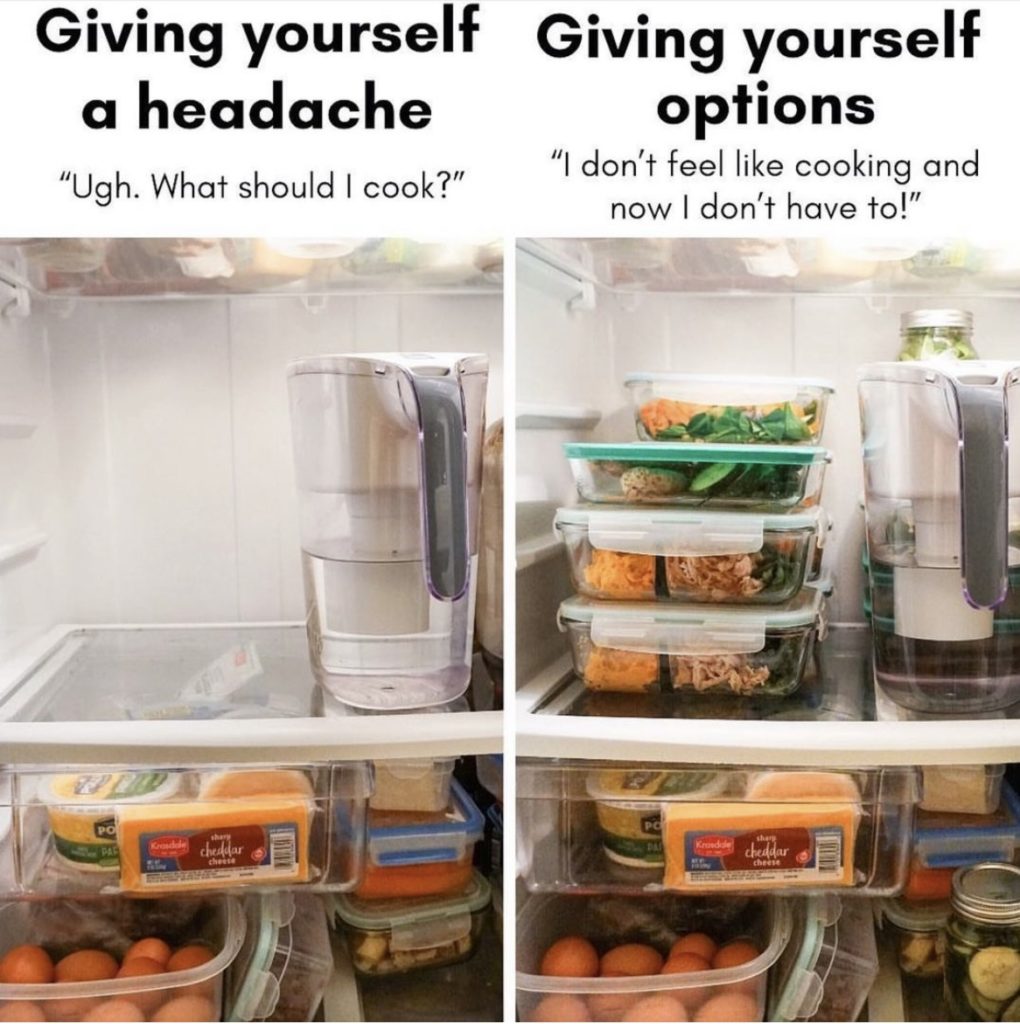 Biggest challenges when meal prepping for one:
Everyone is going to face different struggles with meal prepping, but the most common three are:
Food waste/money waste
Not eating what you've prepped
Prepping the right amount
Let's dive in:
Related: Meal prepping for two
Meal planning for one is key
The very first thing you are going to do is make a meal plan. Without a plan, you are going to end up spending more money, making too much or too little food, and possibly feeling defeated.
1. Look at your calendar
See what your week looks like. Do you have plans with friends? Maybe your office provides food once a week. There could be a holiday or celebration in the books. All of these things are going to determine how much food you actually need to make for the week! Do not plan out every single meal.
Realistically you may order takeout once, go to a spontaneous happy hour with friends, or have a dinner date. I recommend only planning meals for Monday-Friday when we're busier with work or school. It's better to leave weekends open!
Focus on your "struggle meals." These are the meals you often forget to eat or end up snacking through instead of eating a balanced, healthy meal (when you want to).
The goal here is to count the exact number of meals you need for the next week. Without this information, you won't know how many servings you'll need or how much food to buy. Less is more. If you have 10 meals open, prep 6 or 7. It's better to have a little less so you don't end up wasting food.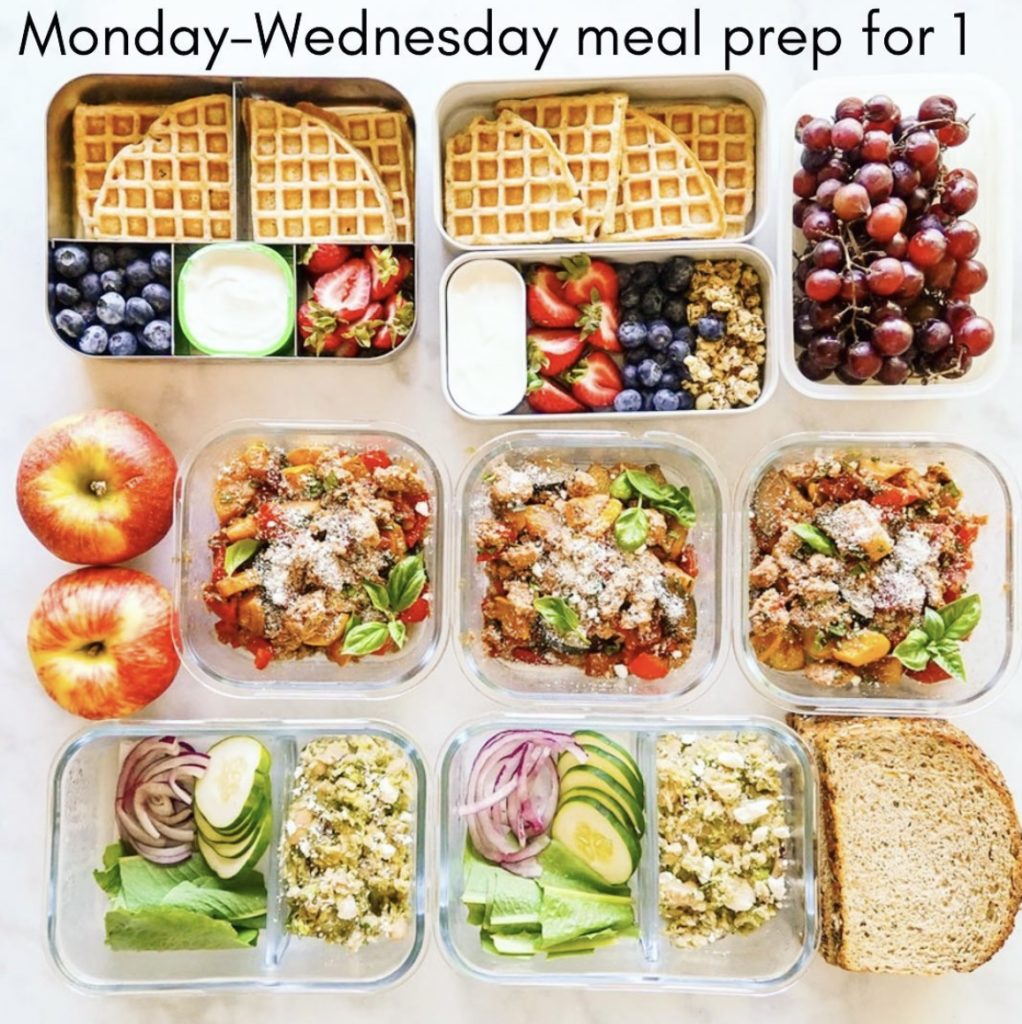 2. Choose your meal prep recipes
Especially when you're cooking for one, you don't want to buy ingredients you already have or overlook something you need to use up. Shop your pantry to see what you already have, then google your random pantry ingredients if you're having a hard time coming up with meal ideas.
If all you have is edamame, quinoa, and radishes, you can figure it out. Pretty much every meal comes from a different combination of protein + veggie + carb. It doesn't need to "make sense!"
Here are meal prep for one ideas to get you started:
Once you have your meal prep recipes, it's time to plug them into your planner, make a grocery list, and go shopping! You can use our free meal planning template for beginners here, or do it with pen and paper!
This is pretty straightforward – just write in the meals you plan to eat on the day/time you want to eat them! You can make your grocery list in your notes on your phones, in Google sheets, on a piece of paper, or if you use the WWL Meal Prep Program, we can generate it for you!
To make your grocery list, look at the ingredients of the recipes you chose for the week and write them down. Then head to the store and stick to your plan! I usually allow myself one impulse buy when I'm there, but other than that, stick to what you need.

3. Assess your time and energy to prep this weekend
Your energy now affects what you eat later with meal prep. How much time do have to prep on Sunday, or whatever day you choose to prep? Be realistic with yourself so that you don't get overwhelmed the day of and feel like you've bitten off more than you can chew. You're going to be eating these meals all week. You don't know what you'll be in the mood for – but what are the meals you'll always enjoy?
Tough love: you're an adult. Sometimes you're going to eat things you're not in the mood for. The reward has to be better than the meal sometimes and that's ok! I'm not going to lie and pretend I LOVE every meal. It just has to be good enough. I love that it's healthy, I love that I don't have to work for it or think about it.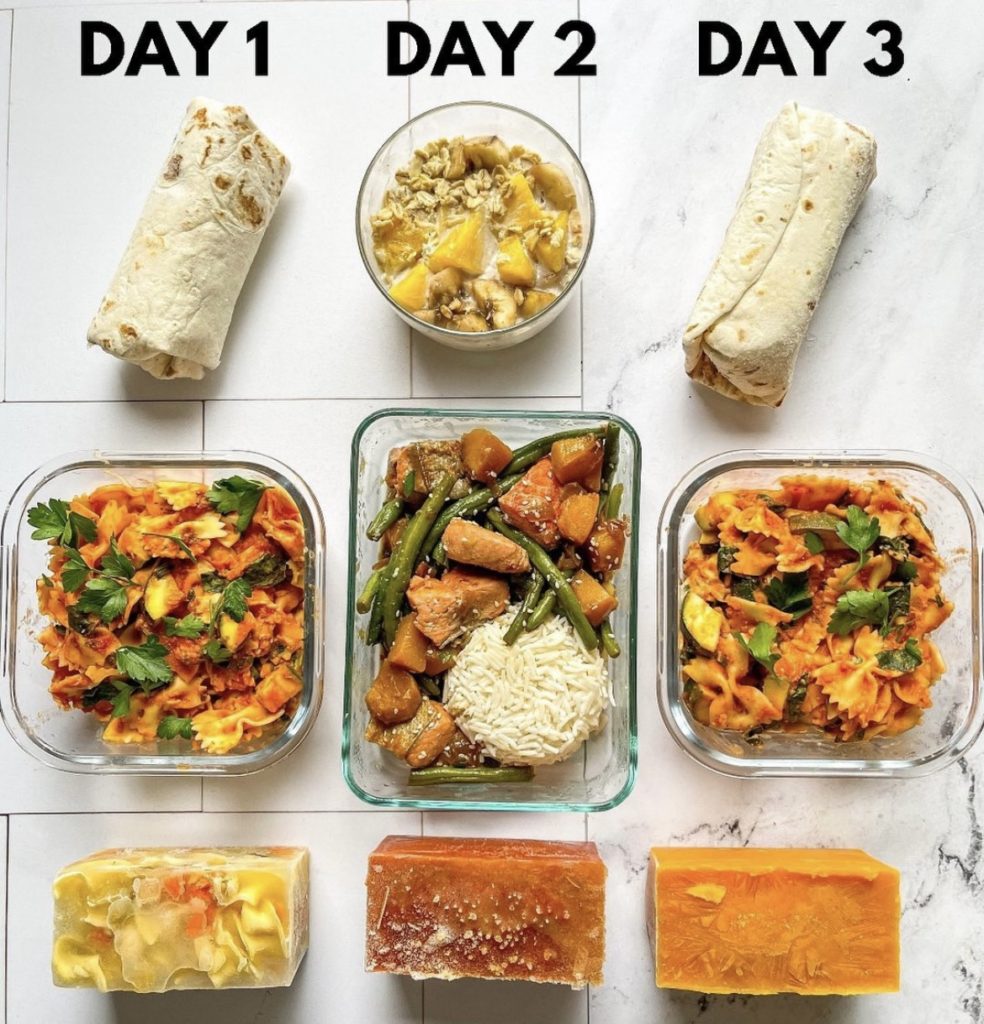 Portion sizes when meal prepping for one
This may be the hardest challenge when you start meal prepping for one person. Usually, people will start out making wayyy more food than they actually need and feel guilty when they have to throw some out. We've all been there, don't be too hard on yourself! It takes some time to figure out how much food you really need in the week (this is why the meal planning step is so important!). Below are some tips to help you figure out the right portions for you!
Find recipes that make 4 servings. Make half

Simply cut the ingredients you need in half and make two portions. Eating the same thing 4x in one week is repetitive for most, I can usually do 3. So be realistic and only make 2-3 servings if you can.
Use Workweek Lunch recipes

All of the recipes in the Workweek Lunch Meal Prep Program are designed specifically for meal prep and make 3-4 servings each. We've tested every single one of these recipes so we know they keep well in the fridge, and most are freezer-friendly as well. We have over 700 recipes that come in omnivore, vegetarian, vegan, dairy-free, and gluten-free options.
Choose freezer-friendly recipes

If you're still worried about making too much food, choosing recipes that are freezer-friendly is a safe bet. That way you can pop anything you don't finish into the freezer! I normally will put a serving or two (depending on how much I make) into the freezer right away so I don't accidentally let it go bad! Storing meals in SouperCubes is super easy and helps you stay organized. The catch with making a lot of FF recipes is that you need to actually plan to eat freezer meals. Make sure to add those to your planner.
There's going to be some trial and error. So even if you plan everything out perfectly, there may be weeks that you make too much or too little. And that's ok. The more you meal prep, the better you're going to understand your habits and what you really need!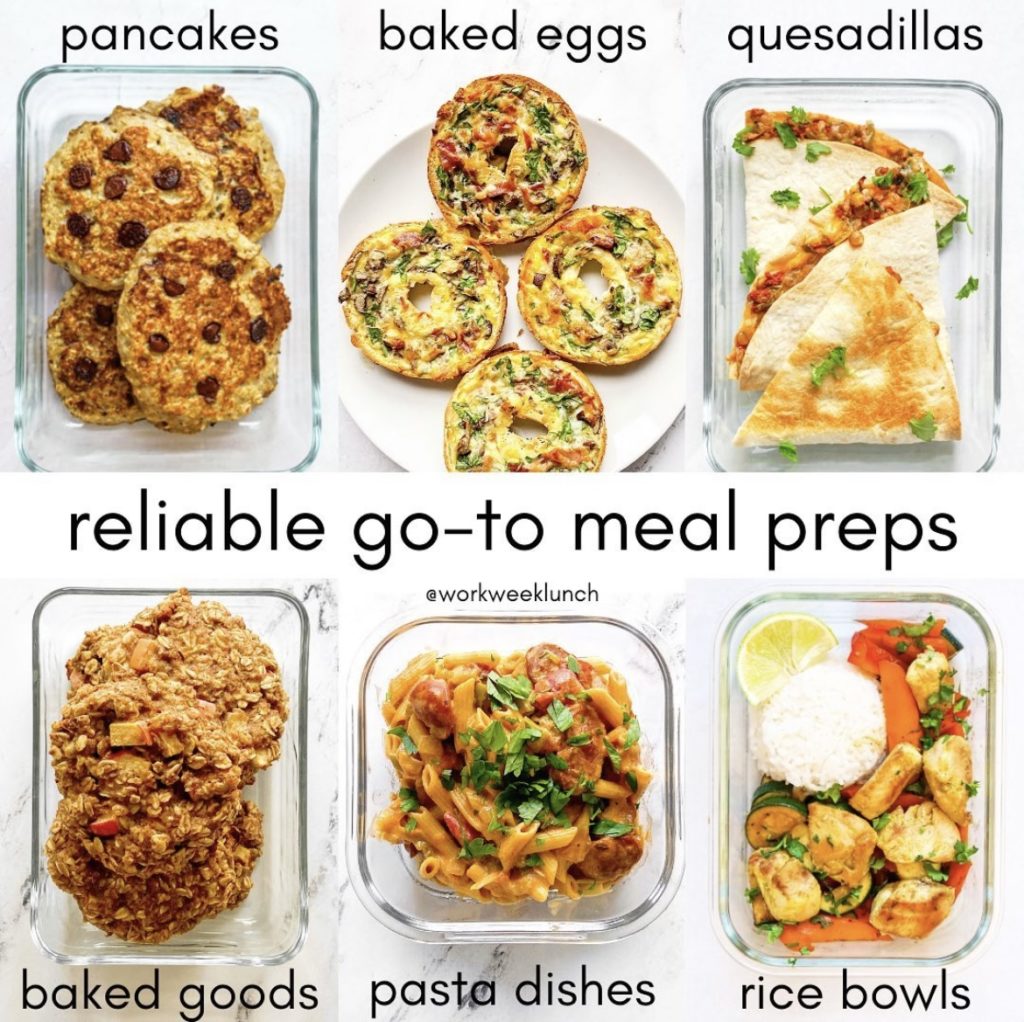 Quick tips for grocery shopping for one
Go with a list and stick to it
Choose medium-sized veggies
Choose one herb (you probably won't be able to use up more than that)
Don't be scared of buying greens, like spinach. You can use up spinach in virtually any meal!
And don't forget that veggies always cook down. I'm astounded every time I cook a container of mushrooms, a whole eggplant, or cauliflower by how much it shrinks.
Tackling your meal prep cooking session
So it's time to actually get into the kitchen and start prepping. Where do you even begin? How many meals are you making? How long is it going to take?
I would say ease into it. Even if you've been cooking and prepping for awhile, but you've been out of the routine, just do one. Start with one. Build that reward system slowly. When I started I just did one. I did one burrito bowl for the week. But you'd be shocked at how much time that one prepped burrito bowl gave me back in my day!
At most, I would say make 3 recipes per session. Sometimes I aim to do 3 recipes and only do 2, but then I have the energy to do the remaining meal another night. If you can, try to choose one recipe that uses the stove and one that uses the oven so you can use them simultaneously. And if you have an air fryer, use that too! If you're making two or three meals, expect to be carving out a few hours of your day. Of course, this fluctuates depending on which recipes you choose!
My favorite thing to do while prepping is listen to podcasts and audiobooks, and catch up on tv. Make it fun! If you enjoy your time meal prepping, you're more likely to stick to it and make it a habit.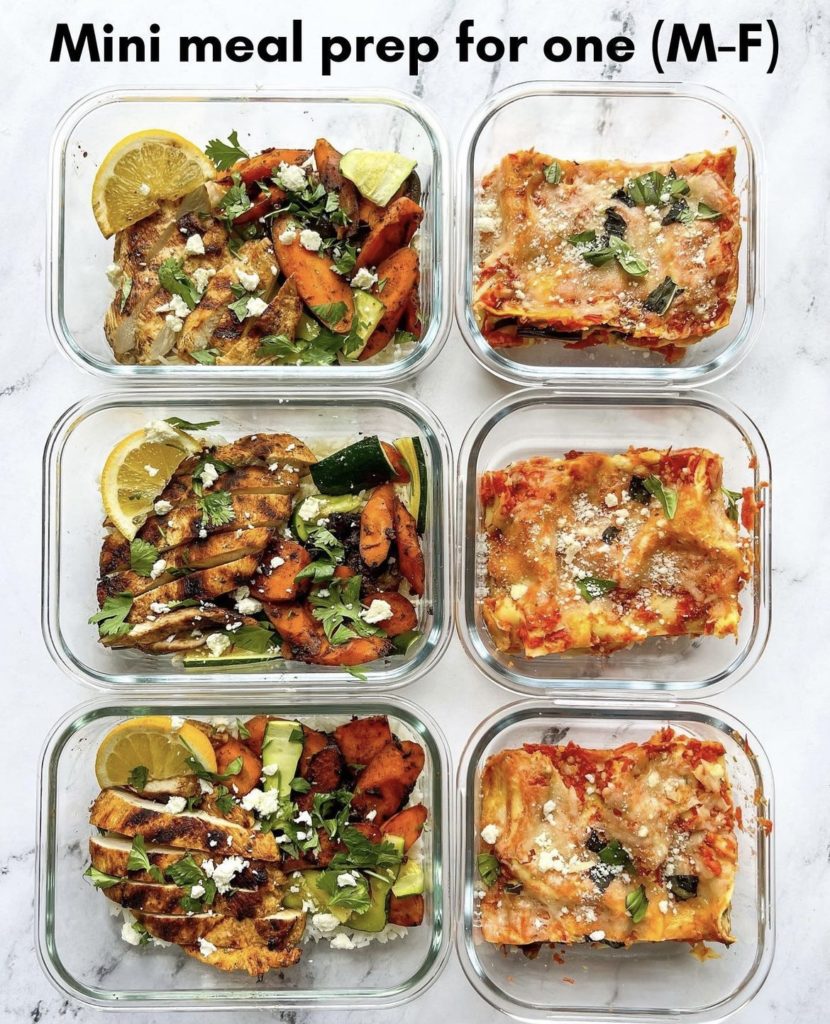 Buffet meal prep for one vs assembled meals
A buffet meal prep means that you keep the ingredients separate and build plates with them as you go.
An assembled meal means everything is already packed in a meal prep container, like the ones pictured above. There are pros and cons to both of these, and it is up to you to figure out which one fits your lifestyle better!
Pros for buffet meal prep:
Better for variety, can easily mix and match
Less thought, don't have to have everything planned out
Cons for buffet meal prep:
More likely to have food waste/ have too much leftover
Pros for assembled meal prep:
More thought out, therefore less likely to have food waste
Fewer dishes to do during the week
Less work when you're ready to eat, just pop a meal out of the fridge and enjoy
Cons for assembled meal prep:
Less variety and flexibility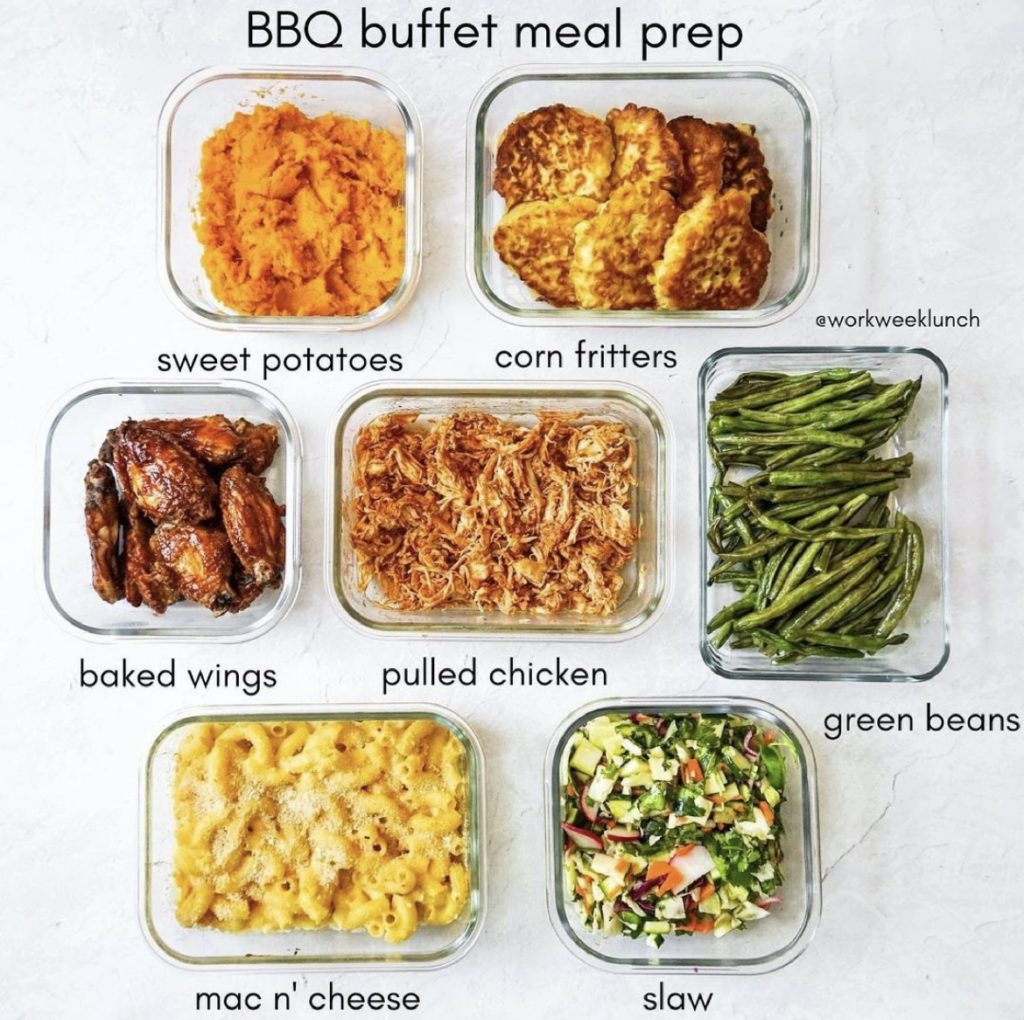 Don't prep every meal
As I mentioned before, you can't prep every meal. It's just not realistic! Although I meal prep a lot, I also love getting takeout (especially after my big cooking sesh), trying meals from Trader Joes, eating my staple meals, and cooking on the fly. Sometimes its nice to have some odds and ends to work with and whip up something I didn't necessarily plan for.
Recipes I like to meal prep for one:
I hope this helps you nail meal prep for one! If you want to make meal prep even easier, join the WWL Program and we will send you new meal plans and recipes each week! We have over 700 recipes specifically designed to be meal prepped and do all the planning and list-making for you!