This vegan butternut squash soup is a must-have for Fall and the colder months! It is easy to make and freezer-friendly so you can enjoy it all season long.
Get more recipes like this in the Workweek Lunch Meal Prep Program with access to our meal planning tools, grocery list generator, and more. Start a free trial today!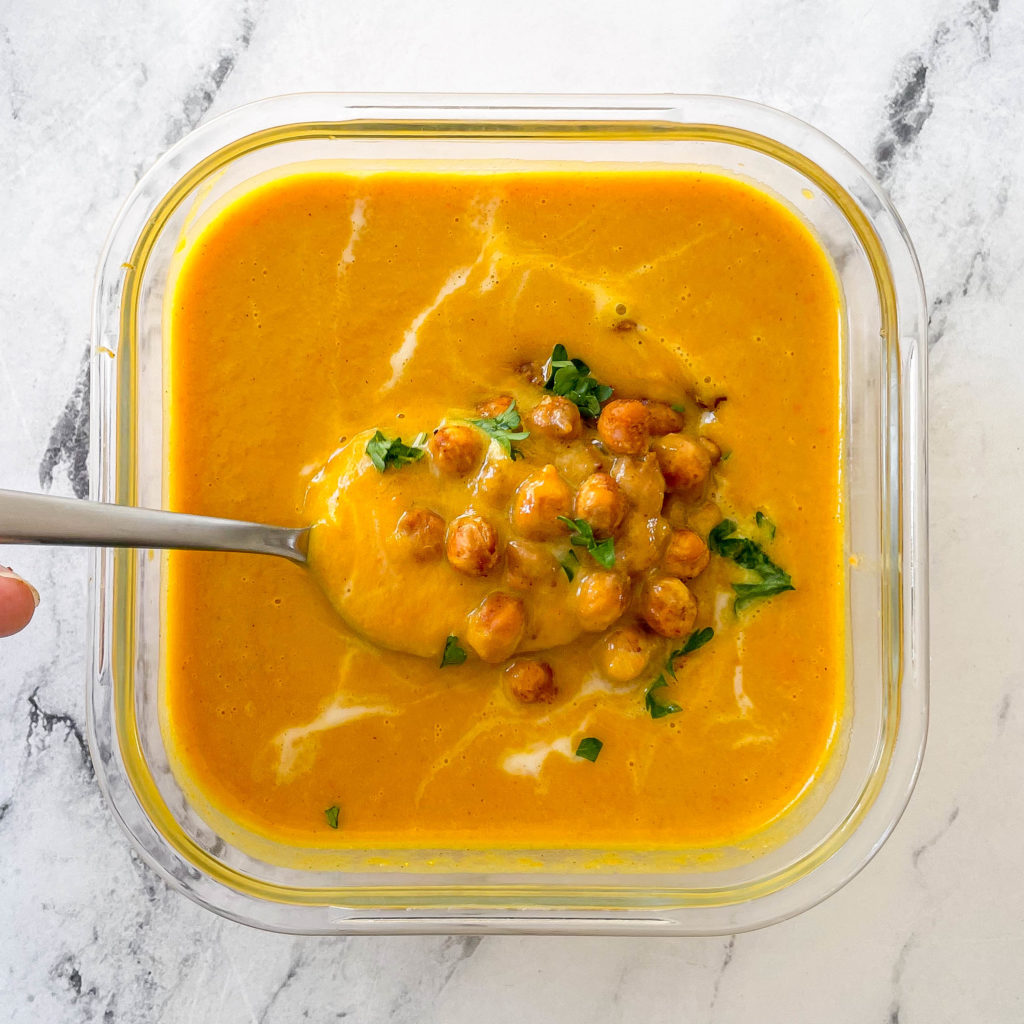 Whenever I can, I like to make recipes that leave no ingredient behind. Meaning, I don't want you to have extra squash, greens, or chickpeas that you don't know what to do with.
So yes, this recipe requires you to use an entire butternut squash. It makes six servings which is double the amount of servings than most of our recipes.
Can you freeze this vegan butternut squash soup?
Absolutely! Once I reheated the soup, it tasted just as good as it did the day I whipped it up.
In fact, it may have tasted better after the flavors had time to develop.
Speaking of flavor, this soup is packed with it.
I dumped SO MUCH cinnamon into my original batch but toned it down a bit for the recipe. These days, I just dump cinnamon in everything.
Originally, I wanted to add silken tofu instead of non-dairy milk to the soup to get more protein in… but I found that the addition of chickpeas was perfect.
I love using SouperCubes (as seen below) to easily store frozen soup!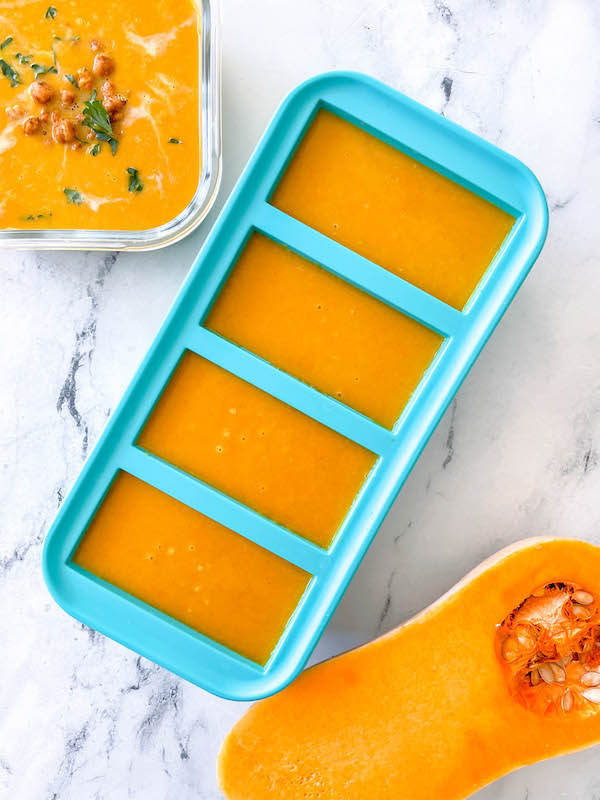 Some ideas to experiment within this butternut squash soup:
If you don't feel like adding chickpeas on top, I would try blending in silken tofu for a creamy teture and more protein
If you have pita bread, I would chop it roughly and roast it in the oven to make some spiced pita chips to go with this soup
You can also replace the butternut squash with pumpkin or another type of winter squash if you're feeling brave
If you want, you can also roast the butternut squash for about 20-30 minutes (whole, not cubed) before peeling, chopping and throwing it in the pot
Instead of chickpeas, I think cannellini or another white bean would go well with this
Also, feel free to leave the chickpeas out altogether. This soup still rocks without them
You can also make vegan butternut squash soup with coconut milk!
Related: Sick Day Food: 14 Nourishing Recipes For When You're Sick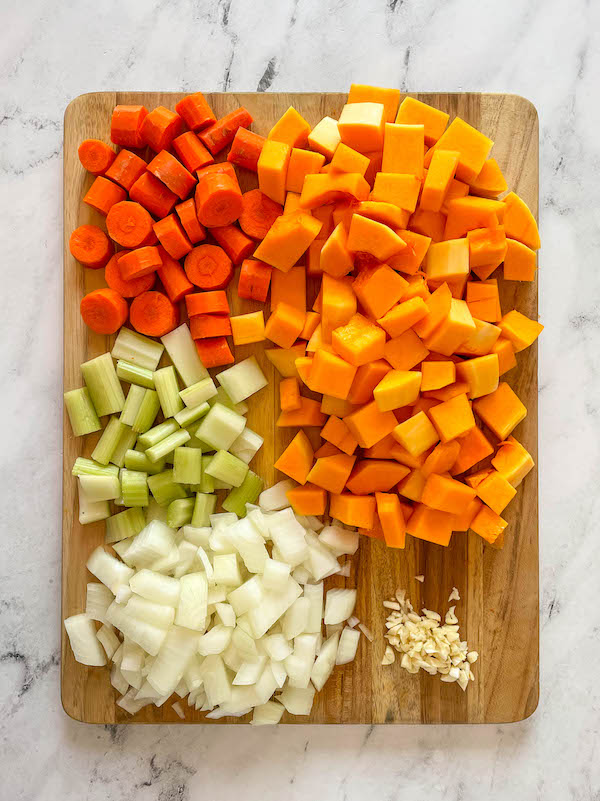 How to store this soup:
This dish will last in the fridge for up to four days and in the freezer for around three months. If you make this, I recommend storing half of it in the freezer in individual portions so you have the ability to thaw only what you need. Store and eat the other half for your weekly meal prep!
Related: Weekly Meal Prep: 12 One-Pot Dinners Under 30 Minutes
Can you make butternut squash soup in a slow cooker?
Yes, you can! This butternut squash soup recipe has slow cooker instructions if you want to do that instead of using a standard pot. It will take about 6-8 hours on low and 3-4 hours on high.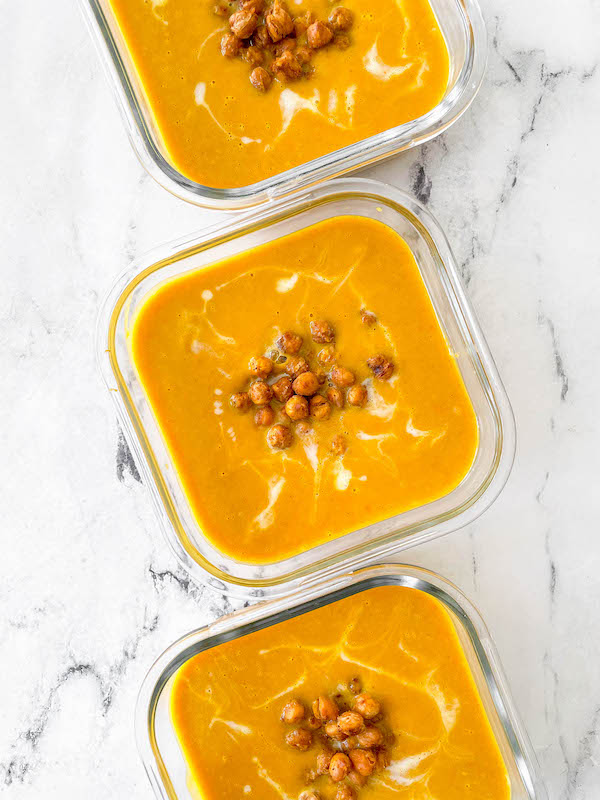 And don't forget to try out our other delicious free recipes!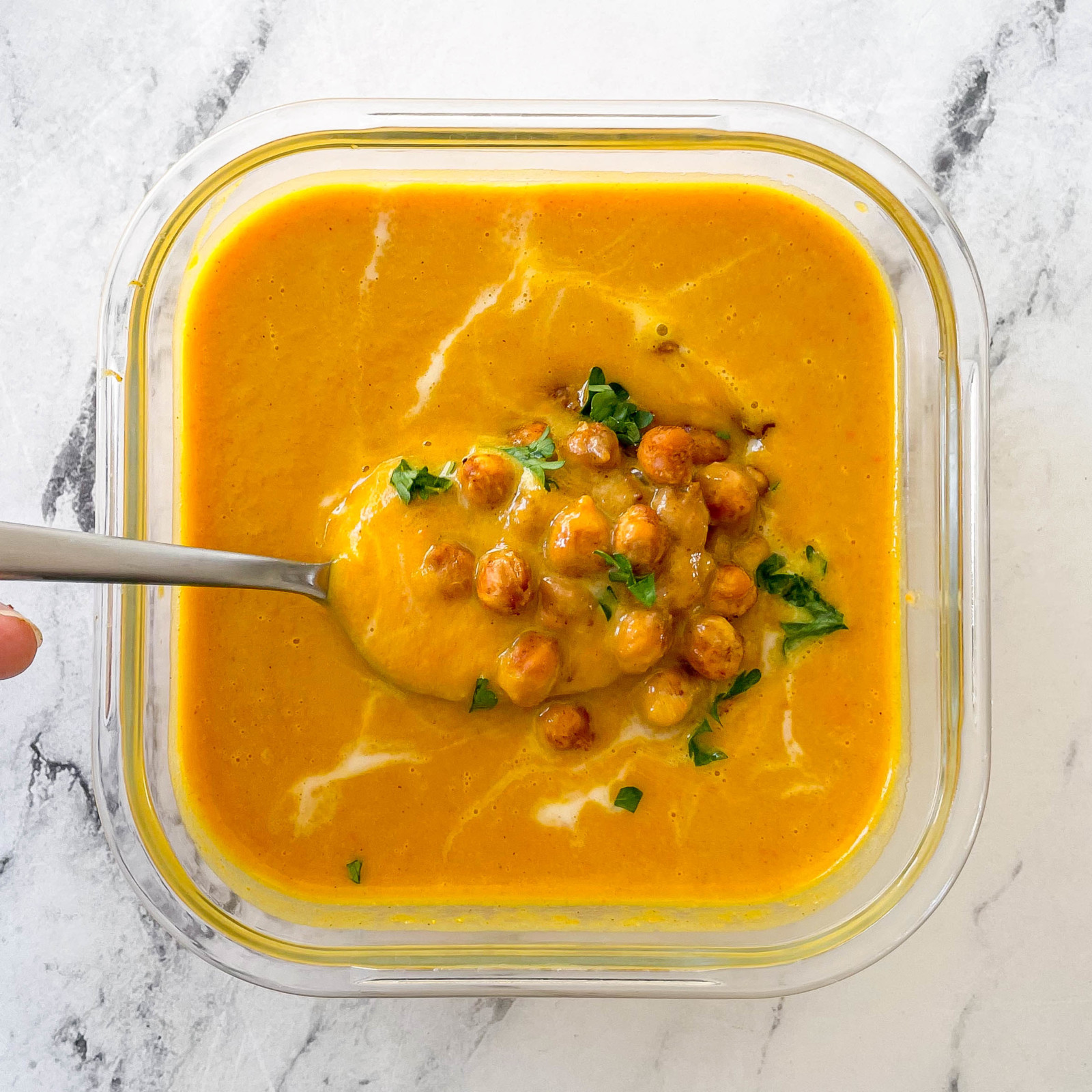 Delicious Butternut Squash Soup With Roasted Chickpeas
Ingredients
2

TBSP

coconut oil

or olive oil

1

yellow onion

medium in size, chopped

3

cloves

garlic

minced

3

carrot

peeled and chopped

3

celery sticks

chopped

1

butternut squash

small or medium in size, peeled and chopped

3

cups

broth

or water

1

cup

water

3

tsp

cumin

+ 2 more for chickpeas

salt and pepper to taste

be generous!

2

tsp

turmeric

2

tsp

cinnamon

1/2

tsp

cayenne

optional

1

can of chickpeas

rinsed and drained

2

cups

non dairy milk

add more if needed
Instructions
Preheat the oven to 400 F. In a large pot, heat oil over a medium flame. Add the onion and let cook for about 5 minutes, until the onions are translucent.

Add the garlic, carrots, celery,butternut squash, veggie stock, water and spices to the pot. Turn up the heat and stir thoroughly.

Once the mixture starts boiling, turn the heat down to a simmer and cover the pot. Let it cook for about 30 mins, until the squash is tender.

While the soup cooks, toss the chickpeas in a bowl with salt, pepper and cumin and a dash of oil. Pour them onto a baking sheet and bake for 15-20 minutes.

After 30 mins is up, add the soup to a blender with some dairy-free milk (I used about 1/2 cup per batch in the blender) and blend until smooth. Repeat until all the soup is blended. You can also use an emulsifier if you have one!

Portion out the meals you need in containers and top with chickpeas – as many as you want. Freeze the rest!
DID YOU MAKE THIS RECIPE?
Please leave a comment below on the blog or share a photo with us and tag @workweeklunch! Can't wait to see what you made!