Sogginess is the death of all the best meal prep. I think we can probably agree on that, right?
When I started bringing lunches to work and graduated from the average sandwich situation, all my food seemed soggy, no matter what I did when I cooked it, but especially after I reheated it. Regardless of whether it was salad, a stir-fry, or something like this awesome salmon sheet pan meal, they all seemed to suffer a similar fate of too much moisture.
It was the worst.
But it's also avoidable!
Today I'm sharing all my tips to avoid soggy meal preps so you can enjoy them even more!
1. Some vegetables carry a lot of water and will be a little soggy, no matter what.
The common culprits are usually tomatoes, zucchini, cucumber, and lettuce. Hello! These are basic salad ingredients, right–and then some! You can now imagine why my Greek salads with chopped tomatoes, cucumbers, and lettuce were so sad. It's kind of hard to avoid soggy salad when all those ingredients are giving off moisture.
The fix: Don't worry. We're never going to tell you to not eat those veggies in your salad if that's what you want. But you can expand your definition of salad and make them in meals with grains. But in general, the key to avoiding soggy food is to use them in meals with the types of ingredients that can soak up extra moisture. Think about things like quinoa, rice, pasta, and potatoes; all of which act like little sponges in your food.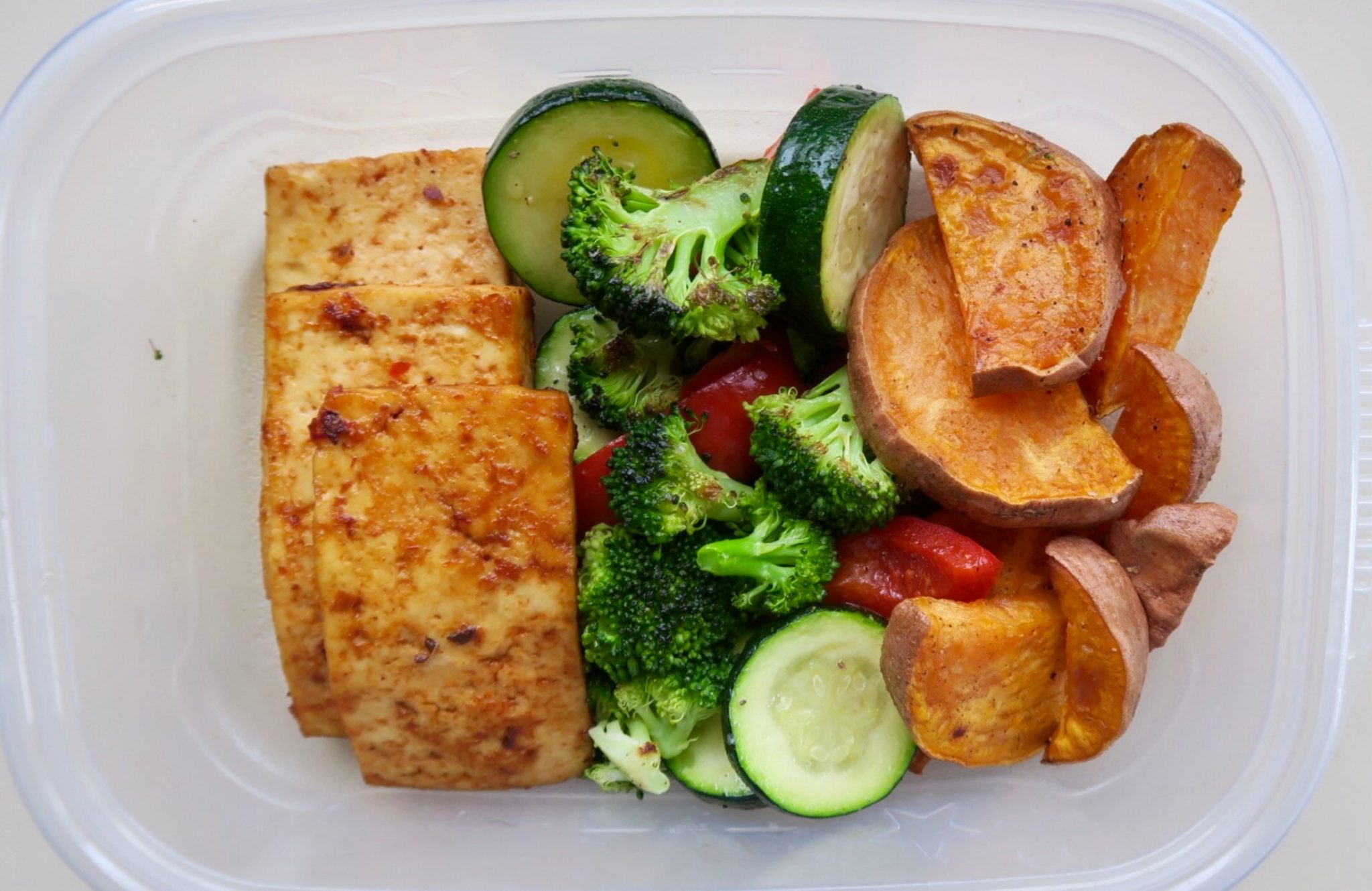 2.  Slightly undercook your vegetables to avoid sogginess
This makes some sense: overcooked vegetables often create a lot of extra moisture and sogginess in meal preps. It doesn't take much to overcook your veggies first go around when you are prepping. So imagine what happens when you reheat meals with lots of veggies? Soggy, soggy, soggy, right? This is especially true if you're using a microwave, which, in the process of reheating, tends to kind of steam things.
The fix: Undercook vegetables just by a few minutes for dishes that have cooked veggies. Don't worry if they don't seem fully "done." And if you're reheating meal preps, your veggies will get a few extra seconds of cooking time in the microwave/on the stove/in the oven.
3. Go easy on the oil.
Too much oil, whether on a salad or when tossed with ingredients for a sheet pan meal, can lead to sogginess, too.
The fix: Use less when making sheet pan meals than you think is needed. Normally, just a tablespoon will do! And when packing a salad, put that dressing on the side.
4. Cool your meals as close as possible to room temp before refrigerating.
What happens if you seal your containers after you cook a meal? Condensation develops inside the container! That extra moisture is probably one of the most common causes of soggy meal preps. We definitely want to avoid this.
The fix: Let meals cool down for half an hour (and up to hour on the counter), uncovered, before sealing and storing in the fridge. Yes, even meat meals. Unless your kitchen is boiling hot as "room temp," I promise your meals (even ones with meat) will not spoil. (In other words, most definitions of room temperature are safe, unless your kitchen is seriously hot and not air-conditioned). Even up to two hours is considered safe (but don't leave meals out longer than that). An hour is a good rule of thumb to avoid soggy meal preps.
There's another reason why this may be important, but it may be less obvious. If you put hot meals in your cold fridge, your fridge has to work harder to keep the temp inside down, which isn't the most efficient way to operate your refrigerator.
5. Wraps and tortillas are easy to keep dry if you…
Let your wrap filling cool down to room temp before wrapping it up in a tortilla. This helps avoid condensation collecting inside the wrap, thereby bringing on sogginess.
If you're reheating your wrap, pop it in the toaster oven or oven so any extra moisture evaporates, but tent it with foil so the tortilla doesn't get too dried out (it's a delicate dance).
If you don't have a toaster oven and don't feel like using the oven, you can wrap your wrap in a dry paper towel and microwave it (I promise it's safe). The paper towel will soak up extra moisture! Pretty slick, right?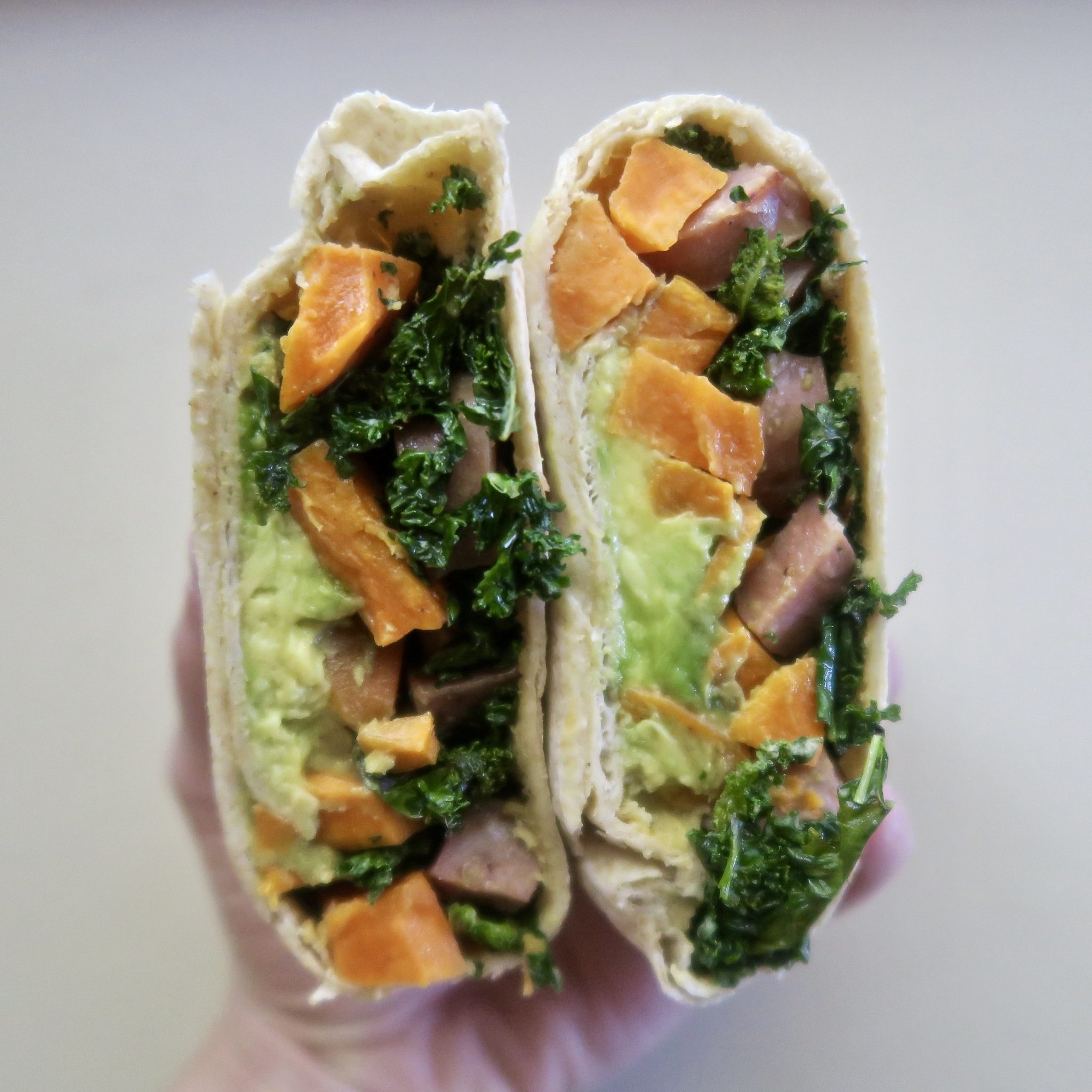 6. Avoid soggy salads by assembling them the right way.
The soggy Greek salads I made myself years ago were such a bummer that I didn't prep salads again for a long time. Avoiding soggy salads is all in the assembly.
The fix: Try prepping salads in a mason jar. Put the wet ingredients on the bottom and the dryer ingredients on the top to keep them separated. Then, dump the ingredients in a bowl or plate when you're ready to eat and the texture is perfect. If you don't have mason jars, prep the salad in a container, but keep each individual ingredient together. This helps avoid sogginess too!
I also like to use cherry tomatoes (they're not cut, so it's a little easier to avoid extra moisture), for example, and sometimes play with the types of veggies I include to see how soggy they do or don't get. But this image below is a reasonable template!
Consider, too, that more delicate lettuces are going to get soggy faster than something like spinach, iceberg, romaine, or kale. Baby arugula, butter lettuce, and spring mix are on the thinner, softer, and wetter sides. They're not optimal for meal preps.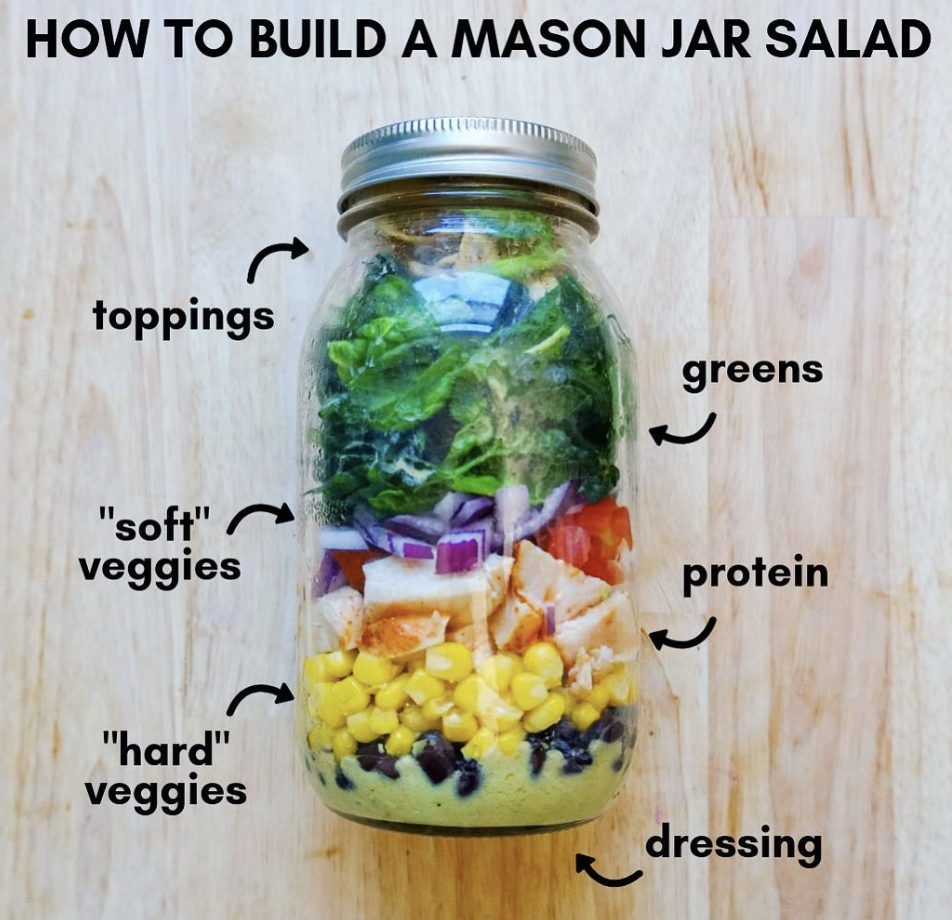 7. Accept that some ingredients/foods will always be soggy in meal preps.
So, there are certain recipes I never, ever create for meal prepping, especially if I know I am taking them to the office. It's just too tricky to pull off unless your office is equipped with an air fryer or a toaster oven. Pizza is out. So is reheating breaded chicken (just doesn't work so well).
Let's go back to veggies for a minute, in the context of sandwiches. There's a reason why sandwiches don't typically keep well when prepped ahead of time, or if you've got a leftover sandwich in the fridge that you just couldn't finish. It's those veggies. One way around this? Make your turkey and cheese (or whatever you like) sandwich and pack the lettuce, spinach, or tomatoes on the side. Or, better yet, use sun-dried tomatoes, because those are already DRY! Right? And then assemble right before eating.
In the Workweek Lunch Meal Prep Program, all meals are tested to taste good after 1-4 days. At this point, I've been prepping for so long, I know what will get soggy and what won't! If you want to get access to my sog-proof meal prep recipes, join the WWL Program today.