This vegan shepherd's pie was requested so many times by members of the WWL Meal Prep Program and readers! I'm so glad we get the chance to share it because it's one of the most satisfying meal preps I've made that isn't necessarily thought of as a take-to-work type of meal. AND you can totally take this to a friend's place for a potluck this holiday season or use this recipe when hosting others. It's absolutely guest-worthy!
Get more recipes like this in the Workweek Lunch Meal Prep Program with access to our meal planning tools, grocery list generator, and more. Start a free trial today!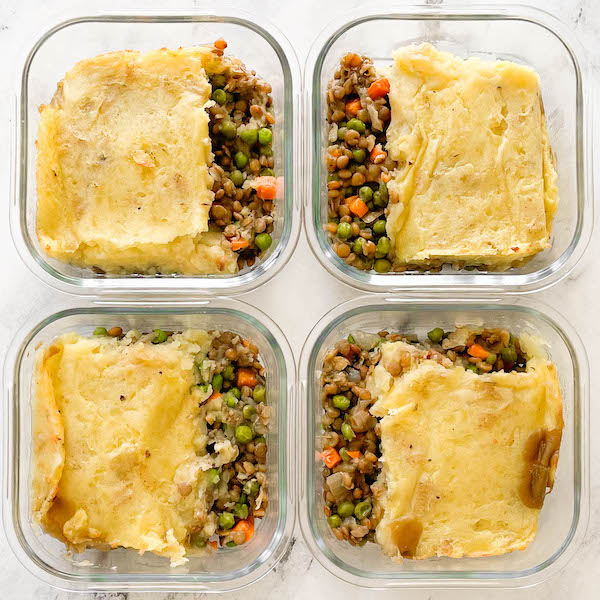 What you need to know about this vegan shepherd's pie:
1. You don't need to use Yukon gold potatoes! This can easily be made with sweet potatoes or mashed cauliflower and it will still taste so good and be super satisfying. If using sweet potatoes, you can use the same method as the recipe below. If using cauliflower, head over this recipe for a mashed cauliflower method.
2. You can make this omnivore with ground meat! Normally, shepherd's pie is made with ground lamb or beef. I encourage you to choose whatever type works best for you or mix two together (lamb + beef is a common combination).
3. You can get fancier with the veggies! I used a very basic frozen veggie mix (peas, carrots, corn, chopped green beans) for my version below. I encourage you to add chopped celery or mushrooms to the mix too. Mushrooms would be awesome in this (and it would add even more protein).
4. You can also get fancier with the flavors! Again, this recipe is very basic. So if you want to take it up a notch, here's what to do:
Try adding 1-2 teaspoons tomato paste when cooking the lentils
Try adding 1 teaspoon of Worchestire sauce if you have it when cooking the lentils
Use fresh thyme if you can find it in the store (this recipe calls for ground)
Add fresh rosemary if you can find it/have it already – add it at the same time as the thyme
Also! Some people like to top their potatoes with some cheese when baking the dish or reheating it… that's something to try as well!
Related: Weekly Meal Prep: 12 One-Pot Dinners Under 30 Minutes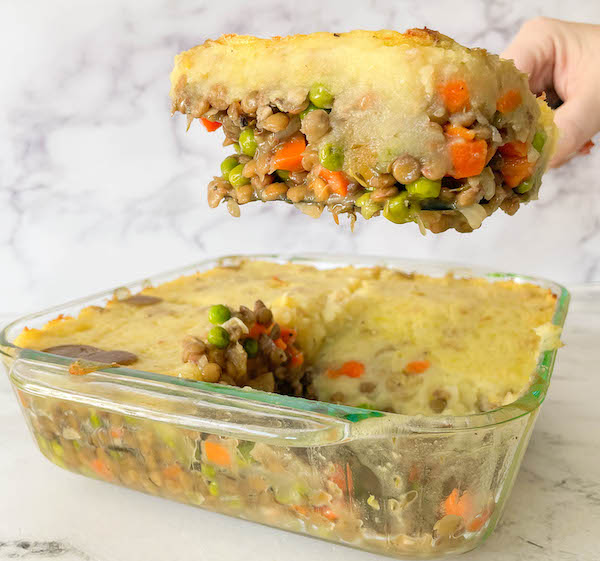 How to double or add more volume to this recipe:
This recipe can be doubled by simply doubling all the ingredients in the recipe below. The cooking time will increase a bit to accommodate cooking more potatoes and more lentils. The oven cooking time should stay about the same! To add more volume, start with veggies as always. Consider adding more frozen veg mix, then maybe throwing in mushrooms. More lentils will also do the trick, followed by adding another potato or two.
Related: Meal Planning For Beginners (Meal Plan Template Inside!)
How to make vegan shepherd's pie with Beyond Beef:
If you aren't feeling lentils and want more of a traditional meaty flavor to your shepherd's pie, you can use beyond beef! This recipe looks great!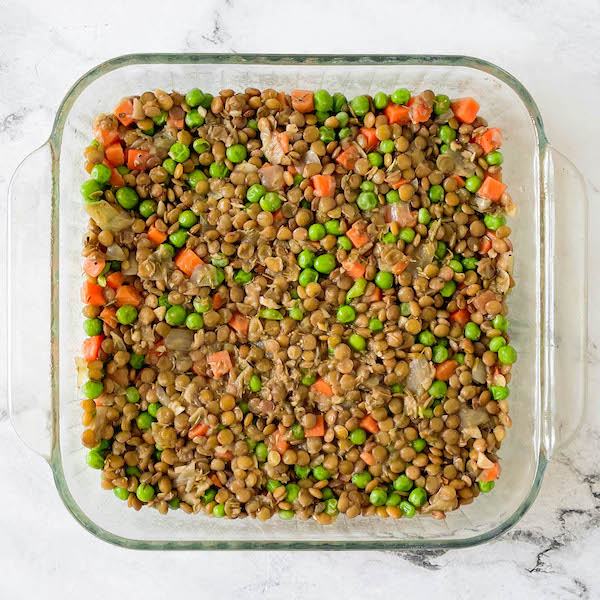 How long does lentil shepherd's pie last in the fridge?
This meal can last in the fridge for up to 5 days. It reheats really well in the microwave or in the oven. I do not recommend freezing this because mashed potatoes aren't freezer-friendly, but the lentil mix would be ok to freeze. Happy prepping!
Related: No-Cook Meals: Three Vegan Recipes You Can Make Without A Kitchen
Don't forget to try out our other delicious comfort food meals!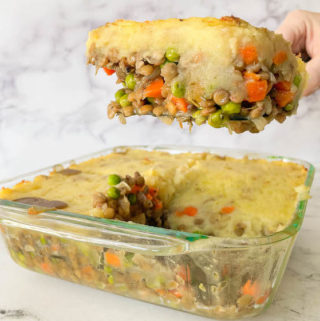 One-Hour Vegan Shepherd's Pie With Lentils
Ingredients
cooking spray

1

pound

yukon gold potatoes

or sweet potatoes (about 3 medium yukon potatoes, 2 small/medium sweet potatoes)

2

TBSP

vegan butter

I love Earth Balance

salt and pepper to taste

1

TBSP

olive oil

1

onion

chopped

2

cloves

garlic

minced

1

cup

lentils

green or brown

2 1/2

cups

broth

or water

3

tsp

ground thyme

3

cups

mixed frozen veggies

(I used a mix of carrots peas, corn, green beans)

1

TBSP

cornstarch

optional
Instructions
Preheat your oven to 400 F. Grease a baking dish (I used a 9×9 one) with cooking spray.

Make the mashed potatoes: Add potatoes to a large pot and fill it with water just enough to cover the potatoes. Bring to a boil and add salt, and let the potatoes cook for 20 minutes, until they slide off a knife easily. (stick a knife in them to try it out when you think they're done). Drain the pot when they're soft enough, but leave the potatoes in there on a very low heat to evaporate more water for about 5-10 minutes. Then transfer to a bowl, mash the potatoes with butter and salt using a fork or masher to your desired consistency. (I also removed the skin when mashing – this is up to you) Cover your potatoes loosely and set aside.

While the potatoes cook: Add oil to a large pan over medium heat. After a minute, add the garlic and onions. Sautee for 5-7 minutes, stirring frequently, until they're fragrant and slightly darker in color. Add the lentils, broth, thyme, salt and pepper. Stir and bring to a boil, then turn the heat down and cook uncovered for 30 minutes, or until the lentils are tender. Add and stir in the frozen mixed veggies after the lentils have cooked for 20 minutes. Taste and adjust spices as it all cooks!

When it's done cooking, the mixture should be thick with only a little bit of liquid still in the pan. If there's too much, remove the pan from the heat and add the cornstarch. Whisk well until it's at your desired consistency. Pour the lentil veggie mixture in the greased baking dish and use a spoon or spatula to flatten the mixture out a bit.

Carefully add the mashed potatoes on top. I used a regular spoon and added the potatoes by the spoonful because they're not easy to spread if you pour it on all at once! Once you have a layer of potatoes on top of the lentil mixture, you can use a spoon or fork to spread it more evenly.

Place in the oven and cook for 15 minutes. Add a baking sheet under the dish just in case to catch any overflow. When it's done cooking, let it sit for 10-20 mins before slicing it!
DID YOU MAKE THIS RECIPE?
Please leave a comment below on the blog or share a photo with us and tag @workweeklunch! Can't wait to see what you made!