If you've ever had shawarma, you've probably seen the rotating vertical cooking device they use to slowly cook the meat. Don't have one of those? I don't either. But that doesn't mean you can't make amazing shawarma at home.
This lunch bowl recipe is a take on the popular shawarma pita meal. Normally, a pita is stuffed with slow-cooked meat (traditionally lamb, chicken or beef), lettuce, pickled veggies, tahini, spicy sauces and sometimes, fries!
Ready to try it?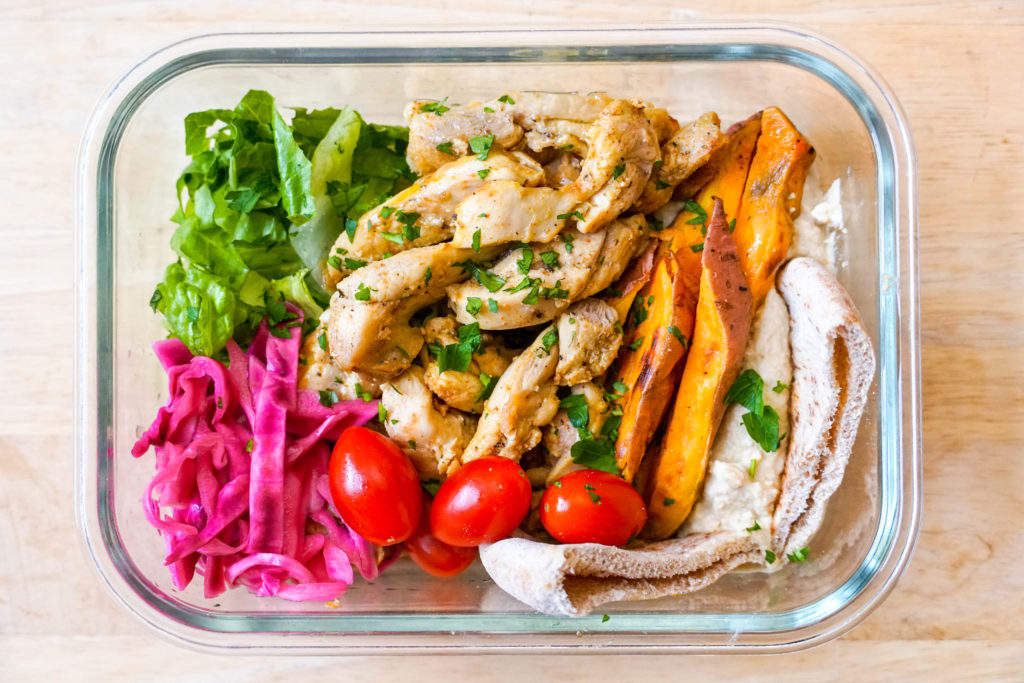 The main elements in this meal are grilled marinated chicken thigh pieces, pickled red cabbage, lettuce, tomato, hummus, pita and baked fries. It's a lot of elements and as usual, you can customize all of them.
The only thing I wouldn't play with too much is the marinade for the meat.
Swap the protein
Chicken thighs are so juicy and delicious in this recipe. But if you want to use chicken breast, go for it! Beef strips would also work in place of chicken if you're looking for variety. If you have a grill, ideally you'd grill the meat. But you can do it on the stove in a regular pan or grill pan (here's the one I have).
Marinating tips: you can marinate for 20 minutes (it won't be as flavorful but still good) or for up to 24 hours. If you have the time/forethought, I think one hour of marinating is good enough.
Notes about the hummus
I made my own hummus for this bowl, but you don't have to. Here's a quick recipe. Add all of this to a food processor and process until smooth:
1/2 cup tahini
15 oz can of chickpeas, rinsed and drained
1/2 tsp salt (plus more to taste)
2/3 cup water (plus more to thin if needed)
Yup. I didn't know until I went to Israel that traditional hummus is just made with those four ingredients. No lemon, garlic, cumin etc. Honestly? It tastes SO GOOD. I hope you try it. But if you're not feeling it, use storebought hummus.
And if you can't eat hummus, I recommend straight up tahini (sesame seed paste) on the side.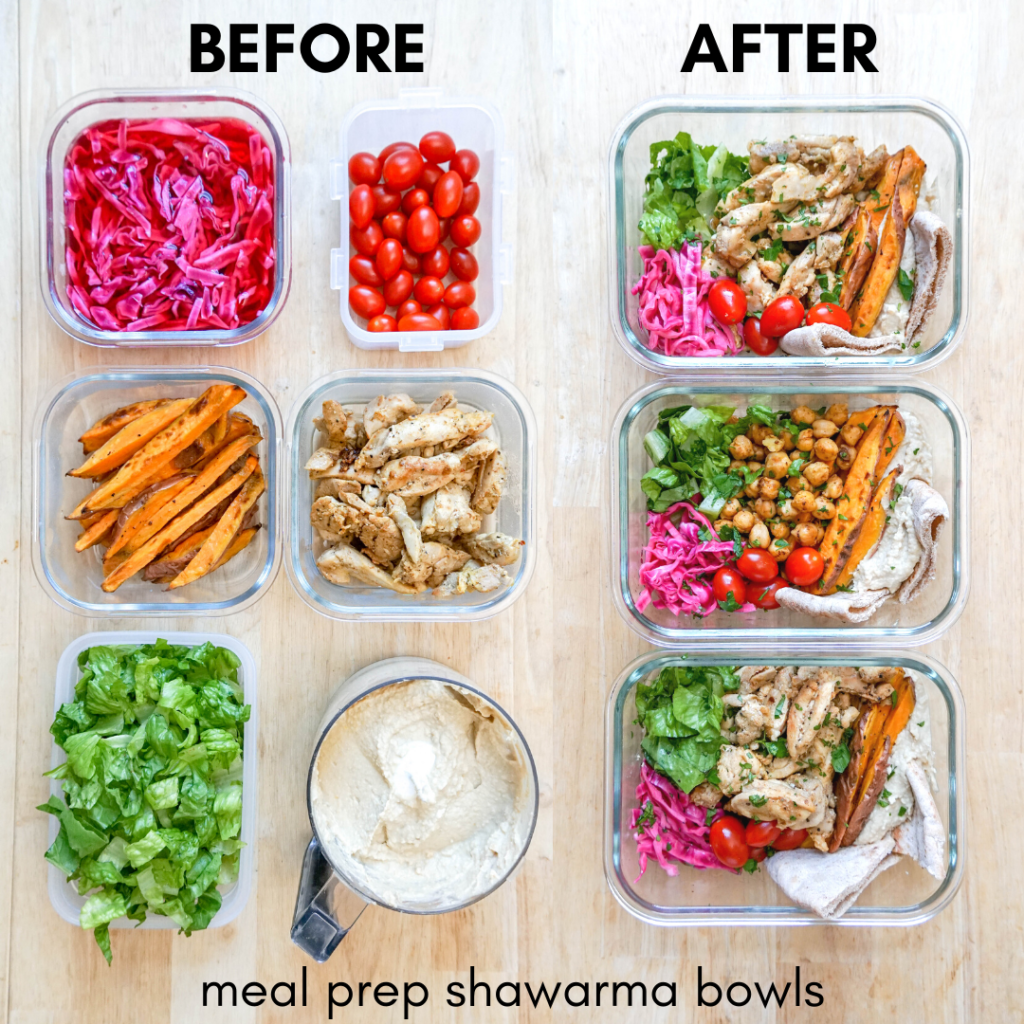 Fresh elements (lettuce, tomato, pickled cabbage)
Note: I added the lettuce, tomato and cabbage to the bowl for the ~aesthetic~. Really, it's best to keep the ingredients you'll want to reheat (chicken, hummus and potato) in the bowl and the fresh elements (lettuce, tomato, pickled cabbage) on the side to add on top.
All of these elements are optional. You can swap lettuce for other greens, like arugula or baby kale if you want. Spinach probably wouldn't be tasty.
You can leave out tomatoes too if you're not into them and swap them for red bell pepper (raw or roasted).
Cabbage is a pretty common shawarma ingredient. I choose red cabbage because of the color, but green cabbage works too.
Red onions would work as well, but they are especially pungent! That's why I went with cabbage instead.
Baked fries
You don't have to use sweet potato! The only reason I use so much of it is my partner absolutely loves sweet potato. You can use any kind that you like.
Note that you can skip the potatoes if you want as it's one more thing to cook. I love the texture of potatoes in this bowl, but it's up to you!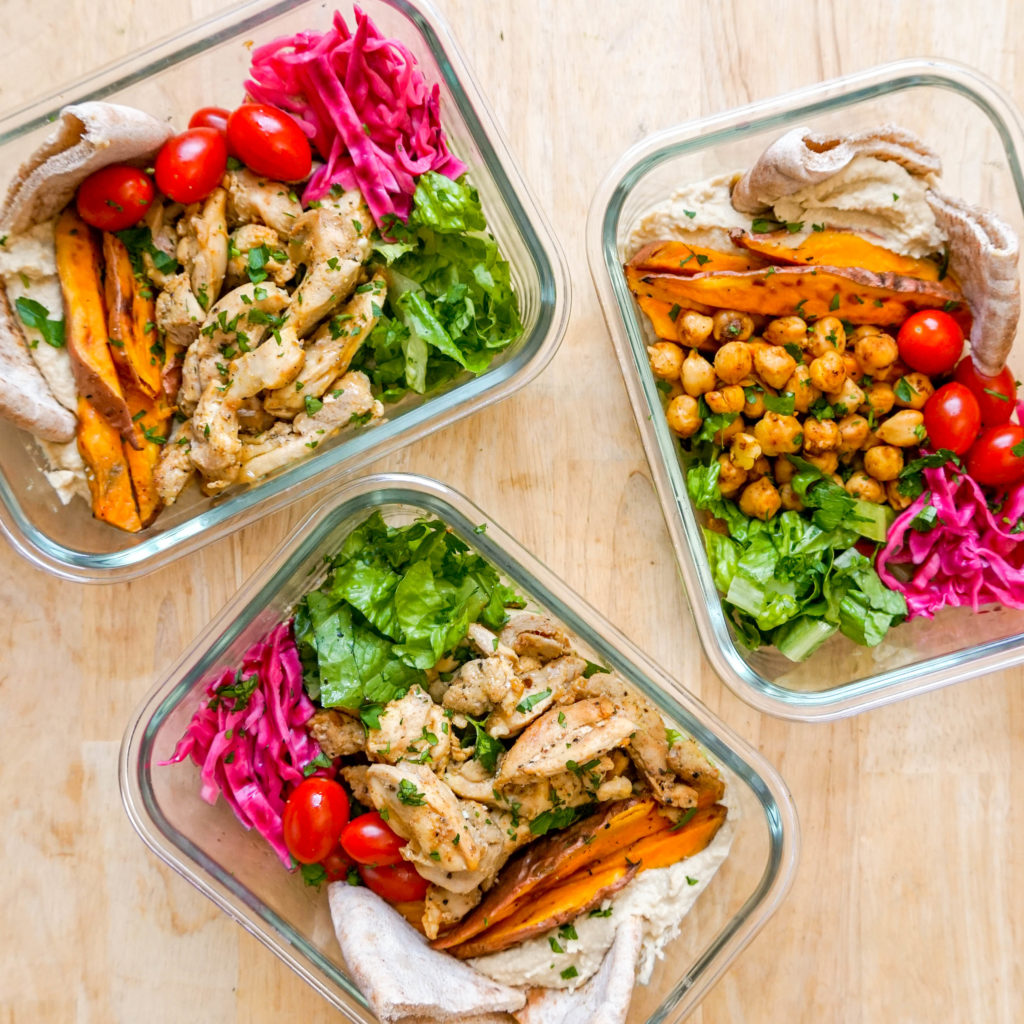 Storage & reheating notes
This shawarma bowl can last in the fridge for up to four days. It's not freezer-friendly.
I recommend reheating the chicken, hummus, pita and potatoes in the microwave all together. If you don't have a microwave, reheat the chicken and potatoes on the stove or in the oven. Place the fresh elements (tomatoes, lettuce, cabbage) on top of the bowl after the other ingredients have been reheated.
Happy prepping!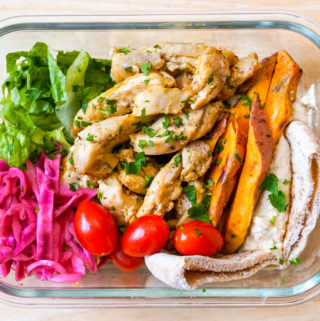 Chicken Shawarma Bowls With Hummus & Veggies
Ingredients
For the chicken
16

oz

chicken thighs

sub breast or steak, chopped into small strips

1

lemon

juiced

1/4

cup

olive oil

2

clove

garlic

mashed and minced

1

tsp

cumin

1

tsp

paprika

1/2

tsp

turmeric

1/2

tsp

cinnamon

1

pinch

red pepper flakes

salt and pepper to taste

1

TBSP

vegetable oil

sub coconut oil or avocado oil
For the pickled cabbage
1/4

head

small red cabbage

chopped into strips (about 1-1/2 or 2 cups)

1/3

cup

apple cider vinegar

1/3

cup

water

2-1/2

tsp

granulated sugar

1

tsp

salt

1

clove

garlic

minced and mashed
Everything else
2

cups

romaine lettuce

chopped

1

cup

cherry tomatoes

whole or halved

1/2

cup

parsley

chopped, for garnish (optional)

3/4

cup

hummus

storebought or homemade
For baked "fries"
1

large

russet potato

chopped into wedges, peeling is optional, sub sweet potato

1

TBSP

olive oil

salt and pepper to taste
Instructions
Marinate the chicken: add the olive oil, lemon juice, garlic, cumin, paprika, turmeric, cinnamon, red pepper flakes, salt and pepper to a large bowl. Taste the marinade and adjust flavors if desired. Add the chopped chicken pieces to the bowl and toss gently to coat. You can marinate in the fridge overnight (cover the bowl) or leave the chicken on the counter for 20 minutes to marinate. Chicken cooks best when it's not super cold!

Preheat your oven to 425 F. in a bowl, toss the potato wedges with oil, salt and pepper. Arrange on a baking sheet and bake on the middle rack for 30-40 minutes, flipping once halfway.

Quick pickle the cabbage: To a glass jar or glass container/bowl, add the chopped cabbage, apple cider vinegar, water, sugar, salt and garlic. Shake/stir it up, cover and let the cabbage sit in the fridge for an hour or overnight.

If you're making hummus (see notes) make it at this point!

Cook the chicken: heat up a cast-iron skillet, grill pan or regular skillet over a medium flame for 5 minutes. Add the vegetable oil (or high smoke point oil such as coconut or avocado oil) and heat it up for 2-3 minutes. Using a fork or tongs, transfer the chicken thigh pieces to the pan, avoiding pouring too much liquid in the pan. You may need to cook in batches to give the chicken some space! Cook on each side for 6-8 minutes, until you start to see some golden color on the pieces. If using chicken breast, cook for 4-6 minutes on each side.

Assemble! Add 1/4 cup of hummus to each container, followed by the baked fries and chicken. Sprinkle parsley on top if using. You can add the lettuce, tomato and pickled red cabbage at this point too, but if you want to keep those on the side for fresh toppings (as opposed to reheating them in the container with the chicken), pack them together in a separate smaller container.
DID YOU MAKE THIS RECIPE?
Please leave a comment below on the blog or share a photo with us and tag @workweeklunch! Can't wait to see what you made!