This post is sponsored by Zatarain's®.
Putting nutritious meals together doesn't have to be this huge project where you have to run to 18 different stores to pick up specialty ingredients.
Instead, you can focus on a few fresh ingredients and pantry items that are like your secret weapon in the kitchen for putting easy, healthy meals together. The perfect example of this? Zatarain's new Garden District Kitchen rice mixes.
These new rice mixes from Zatarain's only need ten minutes to cook on the stove, and while you get that going, you can put together the other ingredients in about the same amount of time. Does it get better and easier than that?
In this Caribbean Stir Fry With Roasted Garlic Adobo Rice & Beans recipe, that's the exact method we're using to get this quick dinner or meal prep ready to go ASAP.
Zatarain's rice mixes pack in a ton of nutrients AND flavor — with half the work involved.
This roasted garlic adobo rice blend tastes so good it felt like I was cheating, since it was already packed with flavor and I didn't have to add any from my own spice cabinet, as I usually would.
The cooking method is the same as regular rice: add the blend to a pot of boiling water with a little butter or oil. Reduce the heat, cover and cook for ten minutes until the water has been absorbed.
Boom! Flavorful rice ready to go. And you don't even have to be a master rice maker to get it right.
You can check out all of Zatarain's delicious new Garden District Kitchen rice mixes here, including Spanish Style, Salsa Verde and Parmesan Garlic.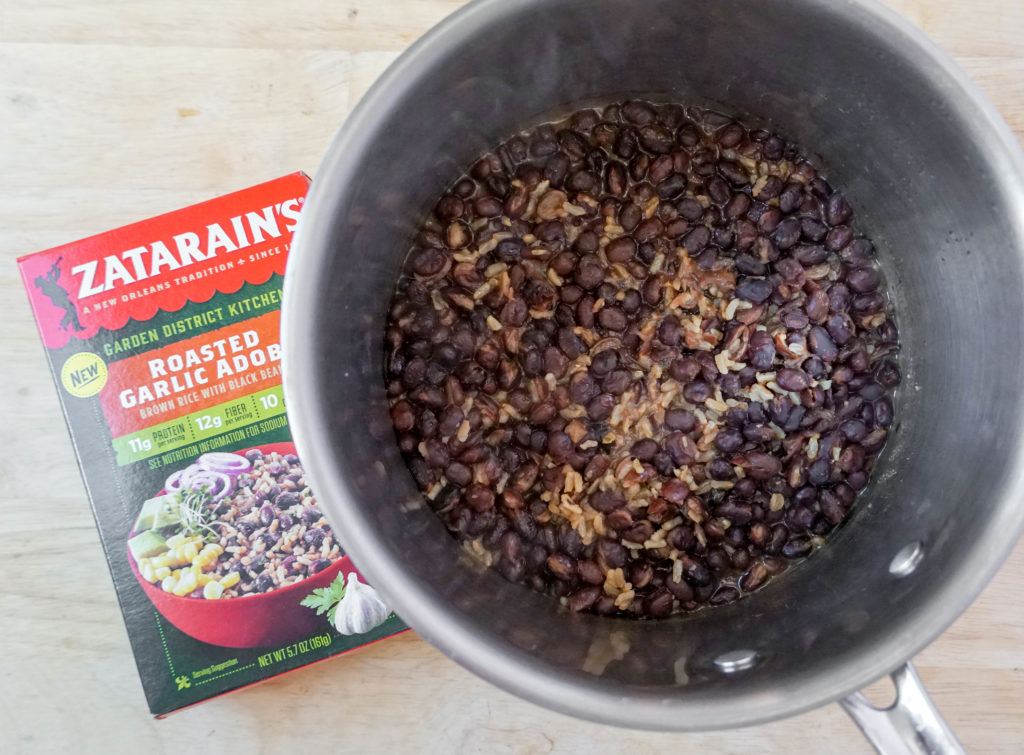 How to customize the proteins and veggies in this recipe:
You can easily replace the tofu with chicken or shrimp in this recipe if you prefer meat to tofu! The marinade works perfectly for other proteins.
Not into bell peppers or peas? I recommend trying this with mushrooms, corn, red cabbage, red onion, spinach or your favorite dark leafy greens, cherry tomatoes and zucchini.
Chopped green beans and cauliflower can also work! Whatever you choose, think about the colors you're including on your plate.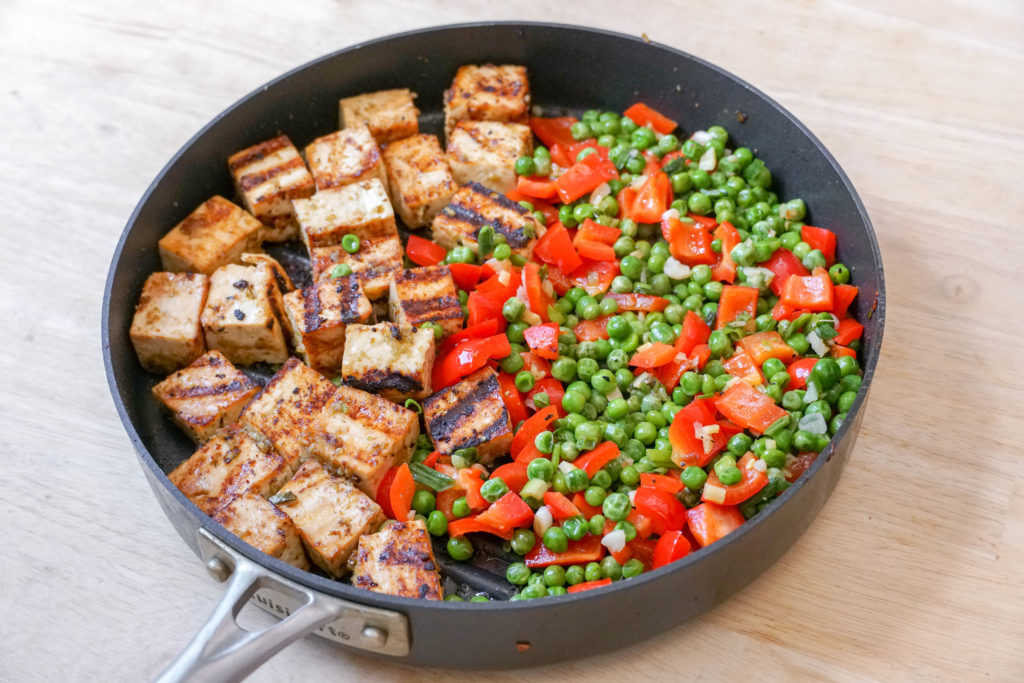 There are a few tweaks you can make to the jerk marinade as well.
Do you love hot flavors? Use a habanero pepper instead of a jalapeno for a mighty kick in your tofu. You can also use cayenne to make it spicier. As always, if you're gluten-free you can substitute soy sauce for tamari or liquid aminos. Substitute olive oil for any oil of your choice. Instead of a white onion, you can use a sweet onion or shallot. Don't have ginger? You can use one teaspoon of ginger powder instead.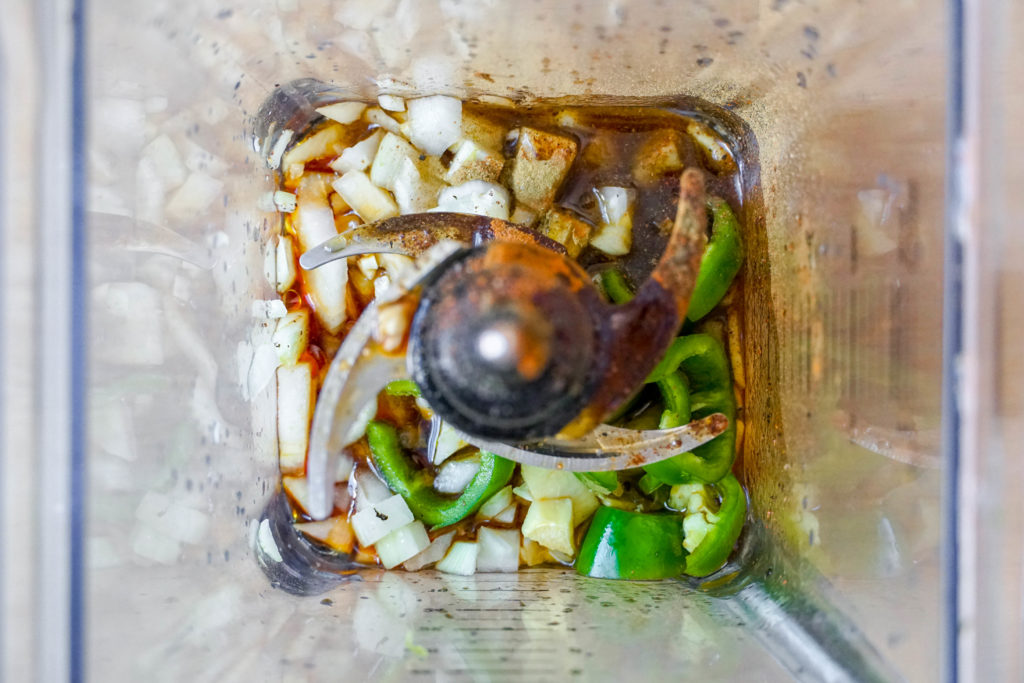 Storage & reheating notes:
This Caribbean Stir Fry With Roasted Garlic Adobo Rice & Beans recipe can last in the fridge for up to four days. It's not freezer-friendly. I recommend reheating it in the microwave or on the stove.
Happy prepping!
If you liked this recipe, SAVE it for next time on your Easy Meal Prep Recipes board or your Vegan Meal Prep Recipes board!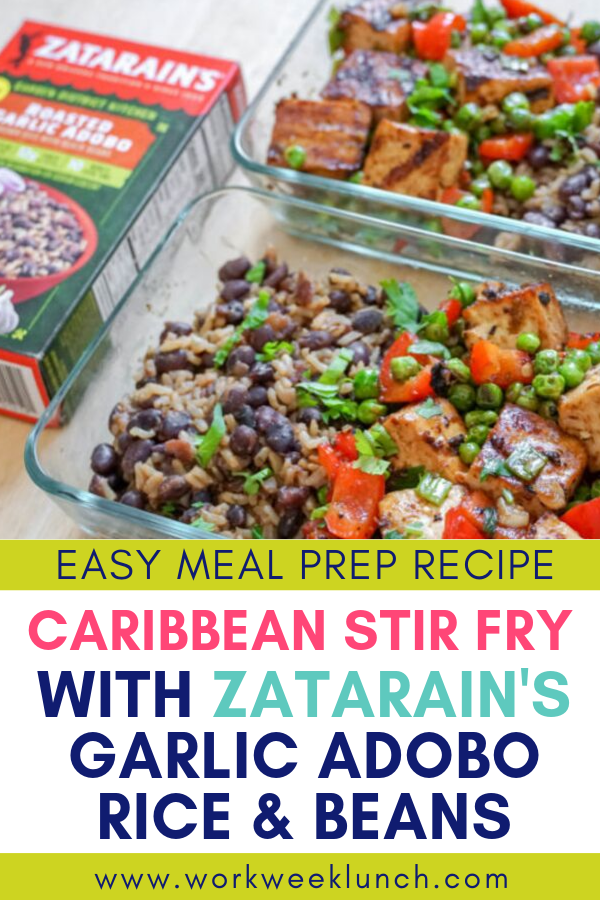 Caribbean Stir Fry With Roasted Garlic Adobo Rice & Beans
Ingredients
14

oz

package of firm tofu

pressed, then cut into cubes
Jerk Marinade
1

jalapeno

deseeded and chopped roughly

1/2

white onion

chopped roughly

1

clove

garlic

chopped roughly

1

inch

ginger

chopped roughly

2

TBSP

soy sauce

2

TBSP

olive oil

2

limes

for juices

2

TBSP

brown sugar

sub honey, maple syrup or agave

1

tsp

ground thyme

1

tsp

allspice

1/2

tsp

cinnamon

1/4

tsp

nutmeg

salt and pepper to taste
Rice & Veggies
1

box

Zatarain's roasted garlic adobo brown rice with black beans

1

TBSP

butter

2

TBSP

olive oil

divided

1

clove

garlic

minced

1

½ red bell pepper

chopped

1

cup

frozen peas

1/2

cup

cilantro

for garnish
Instructions
To a blender or food processor, add all the marinade ingredients. Blend until smooth, then taste and adjust any flavors as necessary. You might want it to be spicier, sweeter, saltier or you might want more lime flavor.

Add the drained and chopped tofu to a large bowl or baking dish and cover it with the marinade. Let it marinate for 20 minutes to an hour.

Meanwhile, cook the Zatarain's roasted garlic adobo brown rice with black beans according to the package.

While the rice and beans cook, add half of the olive oil to a nonstick skillet over medium heat, followed by the minced garlic. Saute for 2-3 minutes until the garlic is fragrant, then adde the chopped bell peppers and peas. Add salt and pepper to taste. Cook on medium/high heat for about 10 minutes, until the bell pepper is soft and the peas are warmed through. Remove the mixture from the pan and set aside.

Add the remaining olive oil to the same nonstick skillet and let it heat up for a mintue or two. Using tongs or a fork, carefully transfer the tofu cubes to the skillet without getting too much extra marinade in the pan. Cook for 10-15 minutes over medium/high heat, flipping the pieces occasionally. You're going for brown crispy edges.

Add the veggies back to the skillet and spoon 3-4 spoonfuls of extra marinade over the mixture. Turn the heat up and toss everything in the sauce for 2-3 minutes. Then turn off the heat.

Assemble: divide the rice between three meal prep containers, followed by the tofu an veggie mixture. Top with cilantro if desired.
DID YOU MAKE THIS RECIPE?
Please leave a comment below on the blog or share a photo with us and tag @workweeklunch! Can't wait to see what you made!