The classic burrito bowl is the first meal prep that I mastered all the way back in 2014. It is a meal that most people start out with when they begin their meal prepping journey, and for good reason! It is extremely customizable, easy to make, and absolutely delicious. Since 2014 I have made a few changes to my go-to burrito bowl that has made it even tastier, and that is the recipe you'll find below! As always, you can make any changes, omissions, and additions that you want. Let's get into it!
Get more recipes like this in the Workweek Lunch Meal Prep Program with access to our meal planning tools, grocery list generator, and more. Start a free trial today!
Want to make this meal? This recipe is stoppable via Jupiter! Click here to fill your cart with groceries and have them delivered to you asap.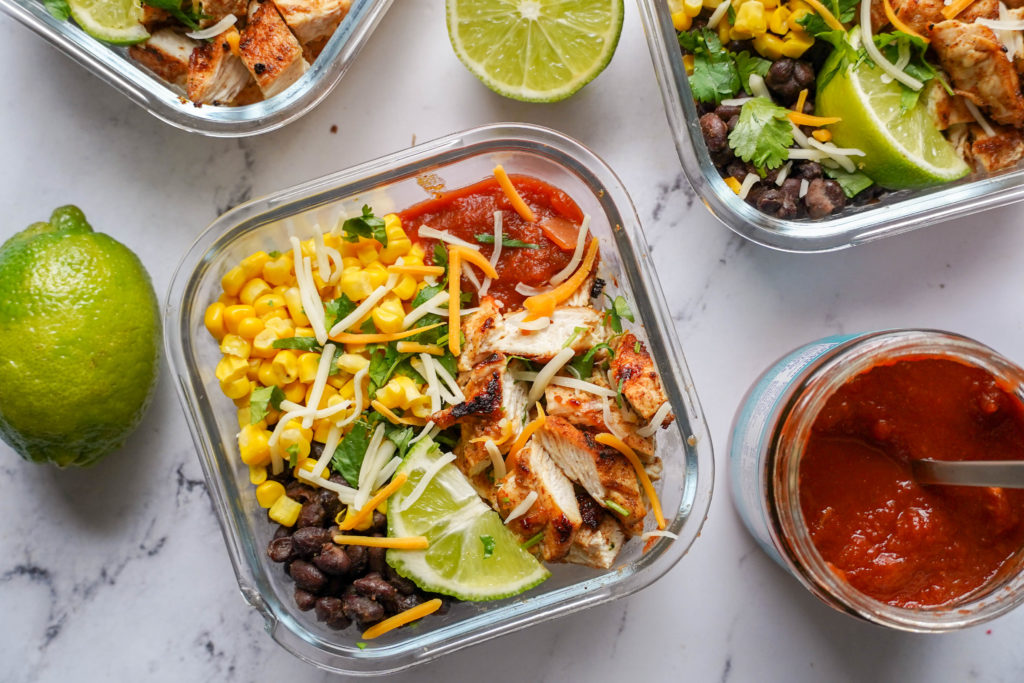 How you can customize this burrito bowl:
If you don't want to use chicken, there are so many other options! You could use steak, ground meat, shrimp, chorizo/soyrizo, tofu, or more veggies!
Not into black beans? Use any bean of your choice or skip them. Pinto beans would. be amazing in this!
We used white rice for our salsa rice, but brown would also work. You could also use quinoa or farro. Keep the rice plain instead of adding extras in if you want as well!
Add different veggies! I used corn, but you can use zucchini, summer squash, jalapeno, red onion, poblanos, spinach/kale, broccoli/cauliflower, sweet potato, mushrooms, and red cabbage.
How to make homemade taco seasoning:
In this recipe, it's more convenient to just use pre-made taco seasoning! But if you want to make your own version, here's what you need to make 2 TBSP taco seasoning (the amount needed in this recipe).
2 tsp chili powder
2 tsp ground cumin
1/2 tsp onion or garlic powder
1/2 tsp dried oregano
1/2 tsp paprika
1/2 tsp salt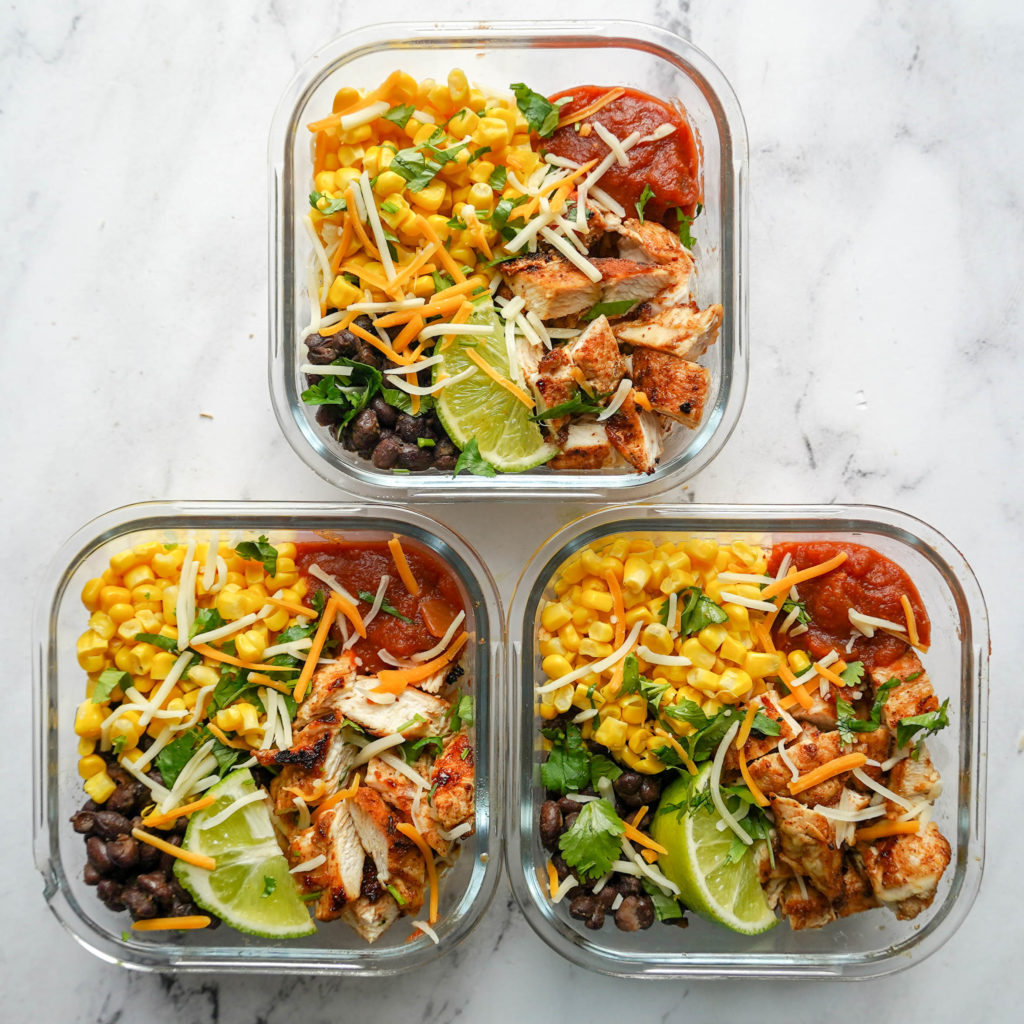 Related: Discover New Meal Prep Ideas: Our Basic Formula For Delicious Recipes
Let's talk about burrito bowl toppings:
There are SO many delicious toppings that you can add to your burrito bowls, here are a few of my favorites:
cilantro
sour cream
salsa/hot sauce
queso
crushed trotilla chips
avocado/ guacamole
any kind of cheese
fresh lime juice
About the salsa rice:
In this recipe, we aren't just using plain rice, but adding some delicious components such as salsa, garlic, and cilantro. This brings the dish to a whole different level!
In this version, we are using 1 cup water and 1/3 cup salsa, but you could absolutely go ahead and use all salsa. Try out different types of salsa and see which is your favorite! The amount of garlic you add is also up to you, but I used 2-3 cloves.
If you're worried about cooking chicken on the stove, watch the video below for some tips! If you're using a meat thermometer, it should read 165F (74C) when done.
Related: 15 One-Pan Chicken Dinner Recipes You Can Meal Prep in 30 Minutes
How to store and reheat these burrito bowls:
This burrito bowl lasts in the fridge for up to four days. It's not freezer-friendly. You can reheat it in the microwave or on the stove.
Another fun idea for this meal is making it into tacos or a burrito!
Happy prepping!
Related: Meal Prep Containers 101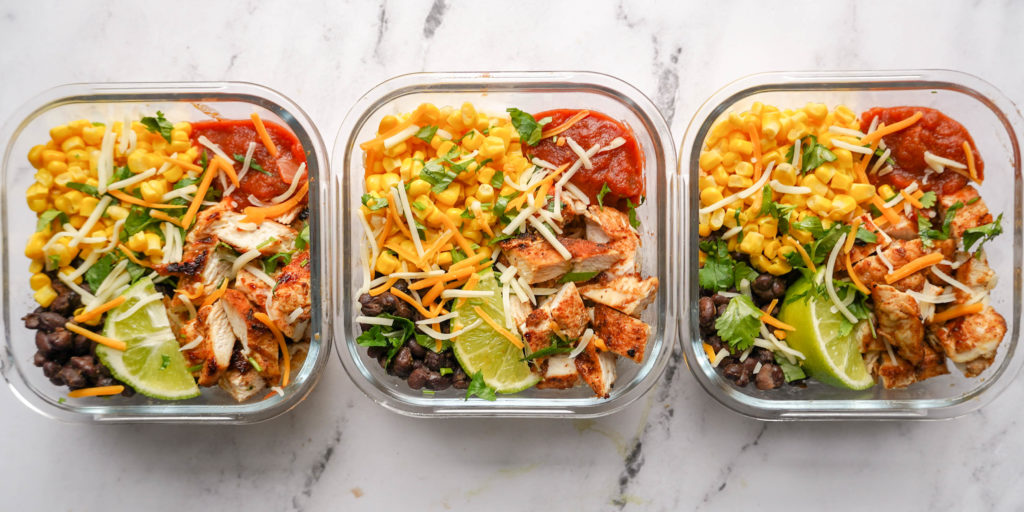 Other recipes you'll love: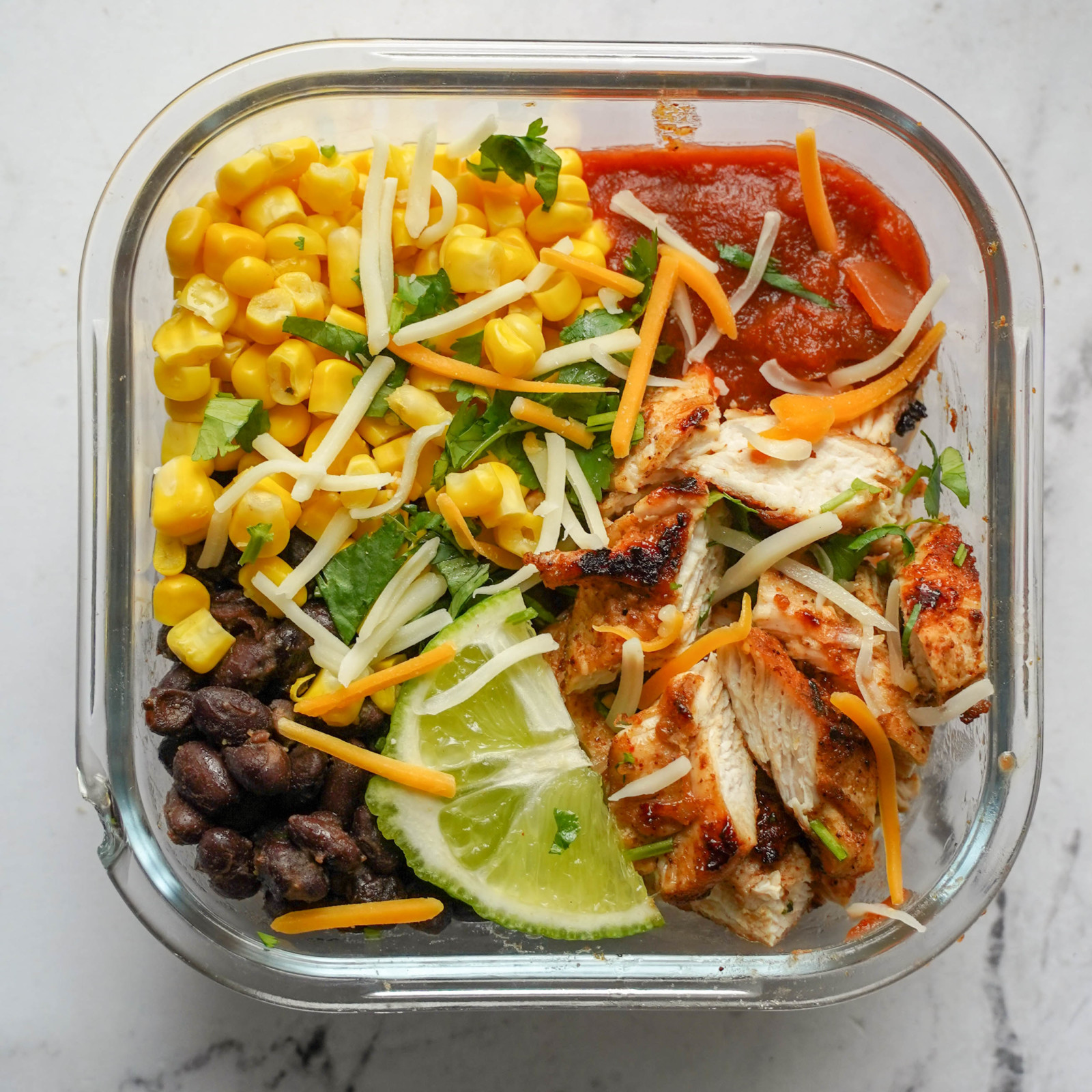 The Easiest Chicken Burrito Bowl
Ingredients
For the chicken
2

TBSP

taco seasoning

notes on how to make homemade below

3

TBSP

olive oil

divided 2TBSP for marinade, 1 for cooking

salt and pepper

to taste

2

tsp

cumin

16

oz

chicken breast

sliced into thin, flat pieces
For the rice
2/3

cup

white rice

1

TBSP

olive oil

1

cup

water

1/3

cup

salsa

2

clove

garlic

minced, add as much as you want

1/4

cup

cilantro

chopped, optional

1

pinch

salt

1

tsp

taco seasoning

optional
For everything else
15

oz

canned black beans

rinsed and drained

15

oz

canned corn

fresh or frozen

1/3

cup

salsa

optional

3/4

cup

shredded cheese

optional

1

lime

split into wedges

3/4

cup

cilantro
Instructions
Marinate the chicken. Add the taco seasoning, olive oil, salt, pepper, and cumin to a bowl and mix. Add the chicken and toss with a fork to coat. Set aside.

Cook the rice: Add the rice, olive oil, water, salsa, salt, taco seasning, garlic and cilantro a pot and bring it to a boil. Cover the pot and reduce to a simmer and cook for 10 minutes. Turn off the heat and steam for another 10 minutes. No peeking or stirring!

Heat up a skillet or grill pan over medium heat. Add the remaining olive oil and let it warm up, then add the chicken breast to the pan. Over medium heat, let the chicken cook for 4-5 minutes, then flip it and cook for an additional 4-5 minutes, until it's firm to the touch and has color on the outside. If using a meat thermometer, the internal temp should read 165 F (79 C). Remove the chicken from the pan and let it rest for 10-15 mins. Once it has cooled, chop the cicken into bite-sized peices.

Optional: To the pan you used for the chicken, add the black beans with a pinch of salt and stir to warm them up.

Assemble! Divide salsa rice and sliced chicken between three meal prep containers. Add the black beans, corn, salsa (2 TBSP each or more), lime wedges, cilantro, and cheese. Let it cool completely before storing in the fridge.
Video
Easiest Burrito Bowl Recipe | Quick Lunch Meal Prep
DID YOU MAKE THIS RECIPE?
Please leave a comment below on the blog or share a photo with us and tag @workweeklunch! Can't wait to see what you made!