Tikka masala is not one of those dishes you have to eat ONLY at Indian restaurants! You can make this chicken tikka masala recipe which tastes AMAZING (and lets you control the amount of spice as well as other ingredients)!
Indian-inspired dishes make for excellent meal preps. They often taste better the next day, are easy to make vegan or vegetarian, and are packed with flavor.
Even if you've never ordered tikka masala at a restaurant, I encourage you to try this. And if you want to try an authentic chicken tikka masala recipe, give this one a shot!
Get hundreds of recipes like this in the Workweek Lunch Meal Prep Program with access to our meal planning tools, grocery list generator, and more. Start a free trial today!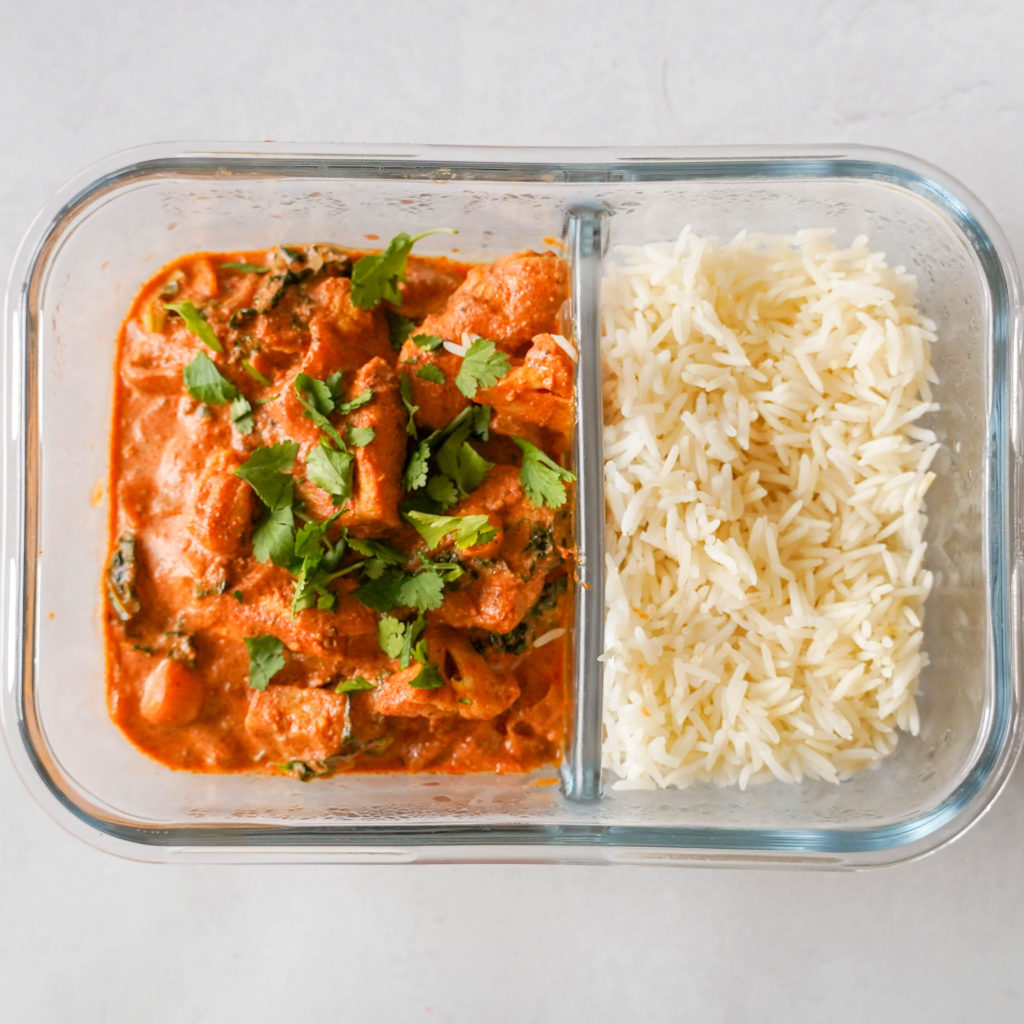 What is tikka masala?
Tikka masala consists of chopped marinated and grilled/roasted chicken in a tangy tomato sauce that's often mixed with a cream element (here we're using coconut milk).
Tikka masala is very similar to butter chicken, but is more tomato-y, less buttery, and uses different spices. Also, the chicken is traditionally roasted in a tandoor oven in tikka masala, vs the chicken cooking in the sauce in butter chicken.
Related: Freezer Meal Prep: Stock Your Freezer With 8 Easy Prep Recipes
How to change up this chicken tikka masala recipe:
Use whole milk yogurt (not Greek yogurt) or whole milk instead of coconut milk. Marinate the chicken in yogurt and add more yogurt to make the sauce creamier after it's done simmering (you don't want to do this on a high heat). This swap works if you're allergic to coconut/dislike coconut milk or if you can eat dairy and prefer to use a dairy product in this dish!
Swap out the carrots for another veggie. I chose carrots for this because they add texture while blending in with the color of the sauce. Traditional tikka masala does not include carrots — this is a WWL spin on it to add more veggies! Cauliflower, chopped greens, zucchini and red/yellow/orange bell pepper would also make great veggie options for this meal.
Make it spicier/less spicy. The recipe, as written, is pretty middle-of-the-road when it comes to spice. You can add more spice by adding more cayenne (1/4-1/2 teaspoon) and make it less spicy by omitting the cumin. Cumin, by the way, isn't exactly spicy but it can be for those who are very sensitive to spice.
Switch up the carb element. This recipe calls for rice as the carb, but you can use any grain you'd like! You can even skip rice altogether and go for pita or naan. (or both, like I did!)
Switch up the protein. We're using chicken here because it's easy, but this would work with beef or lamb too. Use the same marinating process for beef or lamb, but cooking times might change. Want to go plant-based? Throwing in baked tofu or chickpeas would be excellent.
Related: 8 International Recipes to Try at Home
Can you make chicken tikka masala in an instant pot?
Yes, you can!
Add the chicken chunks, 1 cup of coconut milk and 1 tsp garam masala to a plastic bag or bowl and mix well. Marinate for 20 minutes (or up to 24 hours).
Melt the butter in the Instant Pot on SAUTE, then add the onion, garlic, ginger, carrots, and spices. Cook and stir until fragrant.
Add the chicken chunks, cooking until browned. Add in the tomato sauce. Cover and cook on HIGH pressure for 8 minutes. Make sure to vent immediately.
Uncover and add the remaining coconut milk. Turn the Instant Pot to SAUTE, and let simmer until it thickens. Turn the Instant Pot off. Let it cool for a few minutes before adding cilantro and lime. Enjoy!
Cook the rice on the stove or in a rice cooker or enjoy with naan or pita!
Related: Copycat Restaurant Recipes To Make When You Want to Order In
How to double or add more volume to this recipe:
To double this recipe, simply double the ingredients. Note you'll add more cooking time to the rice and you may have to cook the chicken/sauce in batches depending on how big your food processor and/or pan is!
To add more volume, start with adding a little more protein and veggies. I promise this meal is filling as is (and the recipe makes a lot of food!) but adding some cauliflower or greens to the sauce would be super tasty and filling too.
Storing this chicken tikka masala recipe:
This chicken tikka masala lasts for up to 4 days in the fridge. It's freezer-friendly (without the rice) for up to 3 months.
This meal reheats well in the microwave or on the stove. I highly recommend eating it with some warm naan or pita!
Happy prepping 🙂
Don't forget to try out our other delicious free recipes!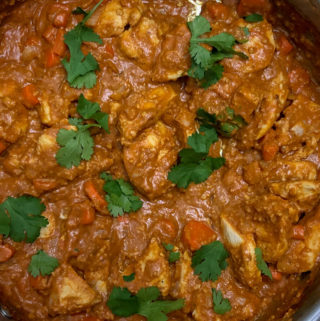 Easy Chicken Tikka Masala for Meal Prep
Ingredients
for the chicken & marinade
1

tsp

garam masala

15

oz

canned coconut milk

1 cup for the marinade, reserve the rest

16

oz

chicken breast

chopped into chunks
for everything else
3/4

cup

rice

See notes above for other carb options

1

TBSP

olive oil

or butter

1/2

onion

chopped

3

carrot

chopped

1

clove

garlic

minced

1

inch

ginger

minced

1

tsp

garam masala

1

tsp

cumin

1/2

tsp

nutmeg

salt and pepper to taste

15

oz

tomato sauce

canned

1

cup

cilantro

for serving, optional

1

lime

cut into wedges
Instructions
Add the chicken chunks, 1 cup of coconut milk and 1 tsp garam masala to a plastic bag or bowl and mix well. Marinate for 20 minutes (or up to 24 hours).

Cook the rice/grain according to the package and set aside.

Add 1 TBSP oil or butter to a skillet over medium heat. Add the chicken and cook for 5-7 minutes on each side, until it's fully cooked through.

Add the chopped onion, carrots, garlic and ginger to the pan with a splash of water to get some of the residue from the chicken off the bottom of the pan. Add the garam masala, cumin and nutmeg to the pan with salt and pepper to taste. Stir frequently for 5-7 minutes, until the onions are translucent and fragrant.

Add the whole can of tomato sauce to the pan, stir and bring the sauce to a low boil. Then simmer and cook uncovered for about 10-15 minutes. If your sauce thickens too much, add 1-2 TBSP water to thin it out.

After 10 minutes turn off the heat, pour in the remaining coconut milk/whole milk/yogurt and stir. Taste the sauce and adjust spices as necessary. I added more salt and garam masala at this point.

Assemble: Divide the cooked rice between your 3 meal prep containers. Then divide the tikka masala between the three containers. Top with cilantro and lime wedges if desired.
DID YOU MAKE THIS RECIPE?
Please leave a comment below on the blog or share a photo with us and tag @workweeklunch! Can't wait to see what you made!