Dear Workweek Preppers,
I want to say I am so sorry for taking so long to come out with an empanada recipe. Because these are AMAZING. So fun to make, easy to customize AND they store/reheat very well. Plus, they're freezer-friendly. What more could you want?
Below are some tips to make these empanadas happen.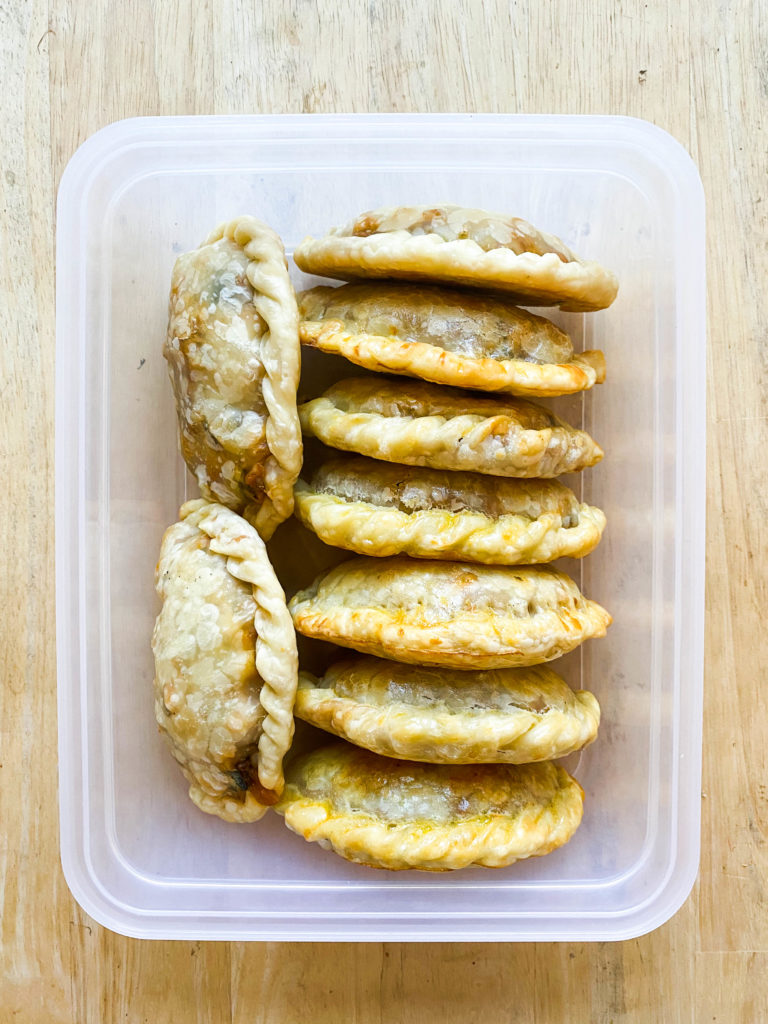 Recipe Overview
Empanadas aren't Mexican, they were brought to Argentina from Spain and were created so workers can take food on the go and traditionally filled with meat. But in honor of our Mexico-inspired meal plan, we used ingredients commonly found in Mexican foods like poblano peppers, corn and refried beans, as the filling.
If you're making empanadas from scratch (like the recipe below), you'll need four, butter, an egg, milk/water and for the filling you'll need poblano peppers, refried beans, corn and cilantro. Of course, pretty much everything in this recipe is customizable.
About empanada dough
Empanada dough is really similar to pastry dough. I'm notoriously bad with pastry dough, so I was pleasantly surprised with how my first batch came out. They were so flaky and delicious!
Note that you can buy pre-made empanada dough in the freezer section of your grocery store if they carry it. You can also use a pre-made puff pastry dough, commonly found in the freezer section!
I made these with homemade dough and pre-made. The homemade dough tasted better, but the pre-made version was fine! I'd opt for pre-made if you don't have the time or energy to fuss with making the dough. But if you're looking for a fun weekend cooking project, definitely try making the dough!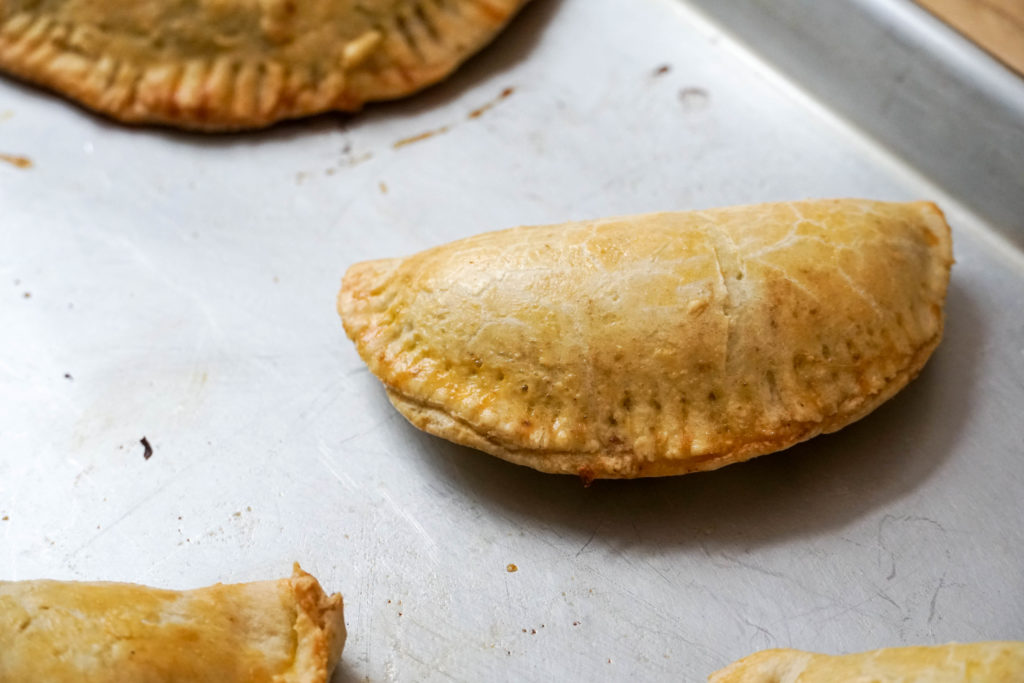 Notes for making these dairy and egg-free
This recipe calls for butter and eggs in the dough. If you're dairy and/or egg-free, you can still make it work!
If you eat eggs, but don't want to use butter, you will have the best luck using (very cold) vegan butter, such as Earth Balance, instead!
Notes for making these gluten-free
After doing some research online, it seems like you can replace all-purpose flour with GF-all purpose as long as your blend already has xanthan gum in it.
Customizing the filling
You can go any direction you'd like with the filling! Simply throw some veggies in a pan with the spice blend in the recipe below, cook it for 10-15 minutes (or longer depending on the veggie) and you're good to go. Always taste before you commit.
To save us time, I'll list some veggies that can't go in the filling: cucumber and salad greens. That's it.
Seriously, that's why I'm obsessed with these. You can do so much with this as a template recipe!
If you're not into refried beans (we love them!) feel free to omit them. If you're plant-based, make sure you buy vegan refried beans (Goya makes it – it wasn't hard to find at all) as sometimes they do include animal fat.
If your family member or partner eats meat/cheese, but you don't (or vice versa):  You can easily add shredded chicken, ground meat, pulled pork, cooked beef, etc to empanadas for the meat-eater in your household and leave the others without it. Same goes for cheese! Omit the cheese for anyone in your household who doesn't eat it, but that doesn't mean everyone else can't have cheese.
How To Assemble Empanadas For Baking
What to serve empanadas with
In the original test of this recipe, I made a side quinoa salad, but it was WAY too much. The empanadas, packed with veggies and protein from the beans, didn't need anything else other than some salsa or avocado on the side.
Feel free to add a sauce of your choice (ideas below) or a side quinoa salad if you want!
Storage & reheating notes
These empanadas can last for up to 4 days in the fridge or up to 6 months in the freezer. I recommend reheating them in the microwave or in the oven.
Happy prepping!
Refried Bean & Poblano Empanadas
Ingredients
For the dough - if making from scratch
3

cup

all-purpose flour

sub gluten-free all purpose flour

1/2

tsp

salt

1-1/2

stick

butter

chopped into small cubes - it's easier to do this when it's very cold

1

egg

whisked

1/4

cup

water

or milk, plus more as needed
For the filling
1

TBSP

olive oil

1/2

onion

chopped

1

poblano pepper

seeded and chopped, sub green bell pepper

1/2

cup

corn

fresh, frozen or canned

1

cup

salsa

any kind you like

salt and pepper to taste

1

tsp

cumin

1/2

tsp

chipotle powder

sub chili powder, careful if you don't like heat

15

oz

can of refried beans

you will have leftover refried beans - see notes

1/2

cup

shredded cheese

optional, vegans leave out
Instructions
To make the dough: Mix the flour and salt in a big bowl. Add in the cut up butter and use your hands to combine. You want to squish the butter cubes into the flour. It takes about 5 minutes and is a bit of a workout! Once the butter is mostly incorporated, add the whisked egg and water (it should be cold). You can use your hands or a spatula to incorporate the wet and dry ingredients until a dough forms.

Split the dough into two disks and wrap with saran wrap/place it in a zip loc and refrigerate it while you do other stuff. You can refrigerate the dough for up to 2 days.

Make the filling: Add the oil to a skillet over medium heat, followed by the onions. Cook the onions down for about 5 minutes. If the pan looks dry, add a splash of water. Add the poblanos, corn, salsa, salt, pepper, cumin and chipotle powder. Mix well and cook for about 10-15 minutes. Taste and adjust flavors as necessary.

When you're ready to bake, take out the empanada dough from the fridge. Lightly flour a clean surface (like your counter or a large cutting board) and roll out the dough with a rolling pin. The dough should be thin, but still thick enough to handle without tearing it. Use a small bowl to cut circles in the dough - simply place the bowl on a section of dough, press and gently shift it side to side. Place the circles on a plate. Then form the remaining dough back into a ball, roll it out and repeat the process until you're out of dough!

Preheat your oven to 375 F.

Spray a baking sheet with cooking spray. Place one of the circles on the sheet and place 1 TBSP of refried beans in the center. Top with 1 TBSP of the filling, followed by a sprinkle of cheese if using. If your circles are on the bigger side, you can add more filling. Fold the dough in half, over the filling, and press the edges together. Use a fork to crimp the edges. Repeat this process until you've prepared each empanada.

Whisk an egg in a small bowl and brush it over each empanada. If you don't eat eggs, you can do this with olive oil or melted coconut oil.

Bake for 20-25 minutes, until they're golden brown. Let them cool before placing them in containers.
DID YOU MAKE THIS RECIPE?
Please leave a comment below on the blog or share a photo with us and tag @workweeklunch! Can't wait to see what you made!