Sometimes I come up with a dish that tastes like a gourmet restaurant meal, but it's actually a super simple meal-prep-friendly recipe. That's exactly what happened here with this pan-seared salmon! I can't wait for you to try this.
Get more recipes like this in the Workweek Lunch Meal Prep Program with access to our meal planning tools, grocery list generator, and more. Start a free trial today!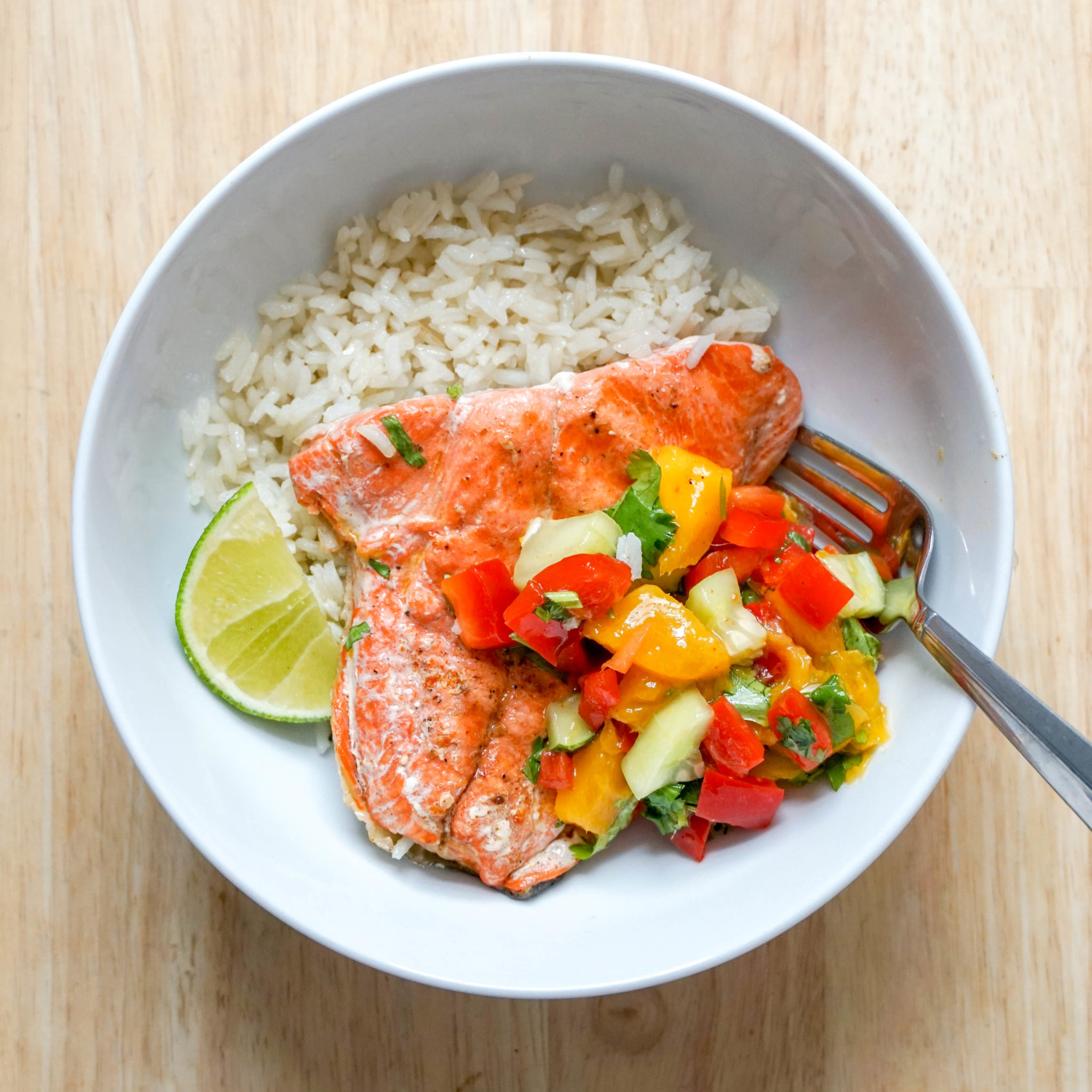 This awesome recipe involves simple pan-seared salmon, flavorful mango salsa and semi-sweet coconut rice. It comes together really fast and there's a lot you can change to accommodate your dietary preference and needs.
Trade salmon for your favorite fish or animal protein:
I love salmon and find it the easiest to make, but if you want to use a different kind of fish, go for it.
Shrimp would also be amazing in this recipe, as would chicken and steak. Pork tenderloin could work too!
If you're vegan, you can use tofu or tempeh!
The salsa is the star of the dish here, and the protein is just the vehicle for it if that makes sense.
Your questions about cooking salmon: answered
Is it better to bake or pan-sear salmon?
Either work! I find baking salmon is easier and better for beginners since it's more hands-free. Plus it's easier to cook a thick piece in the oven vs the stove where you run the risk of burning the outside and undercooking the inside. I learned to cook salmon first by baking it!
Pan-searing salmon can be tricky and results vary widely based on the type of pan you use and the thickness of your salmon fillets.
If you're a beginner cook or new to cooking salmon, I recommend using a non-stick pan. The sear and crust might not be top-chef level, but you'll still get good color and some nice crispy edges on your salmon. A grill pan or cast-iron skillet (like we use in this recipe) is also a great way to get used to cooking salmon on the stove.
I do not recommend stainless steel pans for your first go at cooking salmon. Cooking fish on stainless steel is hard to master!
What side of the salmon do you sear first?
Always cook the skin-side down first. If your salmon doesn't have skin, cook the flat side first (that's where the skin was).
And if you're baking it in the oven, place the salmon flat-side/skin-side down always.
How can you tell when salmon is done cooking?
When salmon is done cooking, it will be somewhat firm to the touch and pieces will start to "flake' off. It's really easy to overcook fish, so I recommend checking it often! It really depends on the thickness of the fish fillet too.
If you're worried about undercooking fish and meat in general, I highly recommend using a meat thermometer!
The cooked internal temperature of salmon should be around 145 F (68 C).
Here's the meat thermometer I recommend!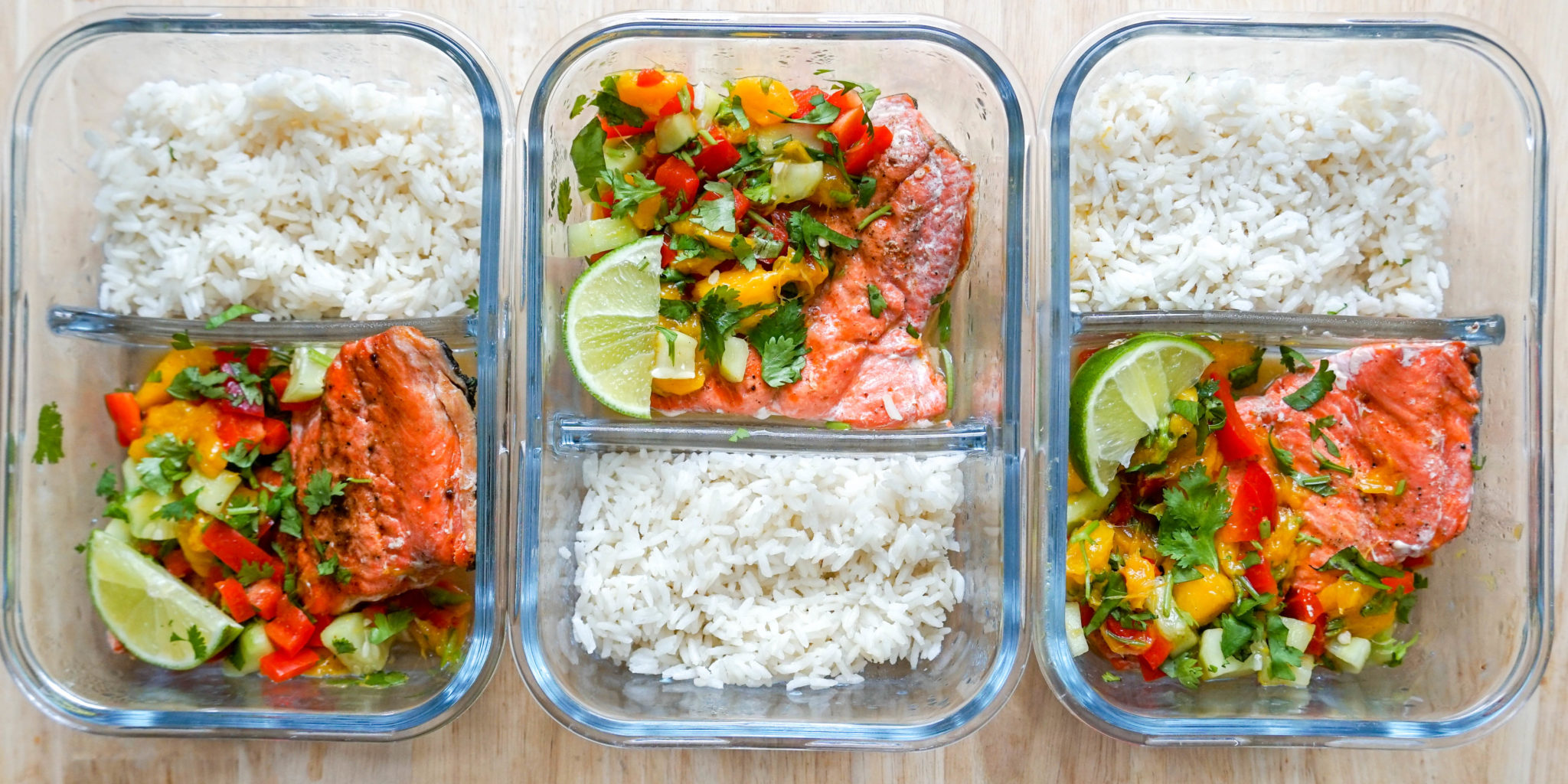 Switching Up The Salsa
The original recipe calls for mango, cucumber, red bell pepper, lime and cilantro. Chipotle powder or cayenne is what makes it spicy. If you don't like heat, omit that spice and it will still be delicious.
You can use the following ingredients to switch up your salsa: peach or pineapple (instead of mango), jalapeno, avocado (instead of cucumber), and red onion. Don't skip the lime juice!
What To Know About Coconut Rice
Here, we're using about half a can of coconut milk to flavor the rice. It's amazing, and if you can eat coconut, I hope you try it!
If you're allergic to coconut, you can replace it with another unsweetened nut-based or soy milk for some added subtle notes of sweetness (almond milk, cashew milk etc).
The rice won't be super sweet either way, but it will balance the spicy salsa and taste delicious if you cook it with some coconut (or another nut) milk.
Can you cook coconut rice in a rice cooker?
Yes! You can totally make coconut rice in a rice cooker or Instant Pot. Simply use your normal rice cooking method and replace some of the liquid with canned coconut milk.
Here's a detailed coconut rice recipe for the rice cooker. And here's one for the Instant Pot.
How to properly reheat pan-seared salmon
Ok. I know this is very controversial. But you can totally reheat salmon successfully in the oven, on the stove and yes, in the microwave without dealing with any unpleasant smells.
When reheating salmon in the microwave, it's best to reduce the power if you can a bit which helps not completely overheat the salmon (which is what usually causes the smell).
If you'd prefer to use the stove, you can put the salmon in a pan with a little oil over medium low heat. I recommend covering the pan to make sure the salmon is more evenly reheated. It usually takes a few minutes (longer compared to the microwave).
And if you want to reheat salmon in the oven, place it in a small baking dish with a little oil to avoid the salmon sticking to the dish. You can reheat the salmon at 275 F (135 C) until it's heated through, about 15 minutes.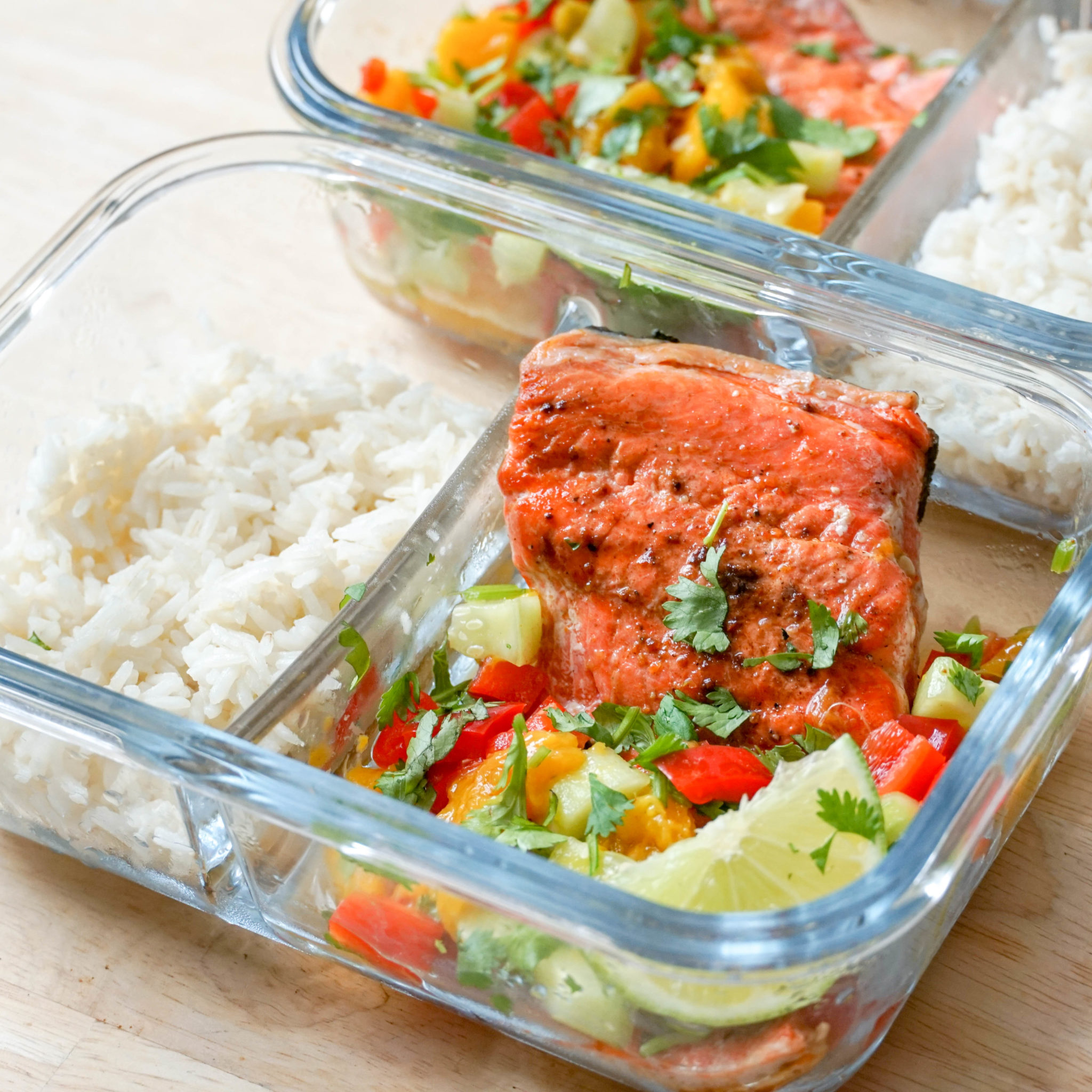 Storage & reheating notes:
This pan-seared salmon lasts in the fridge for up to 4 days. I recommend storing the salsa on the side so you can easily reheat the rice and salmon, then top it with the salsa. Reheat the salmon and rice in the microwave or on the stove. I promise it won't smell as long as you've cooked it properly (not overcooked)! This meal is not freezer-friendly.
Happy prepping!
Here are some other delicious salmon recipes to check out!
And don't forget to try some of our other free meal prep recipes!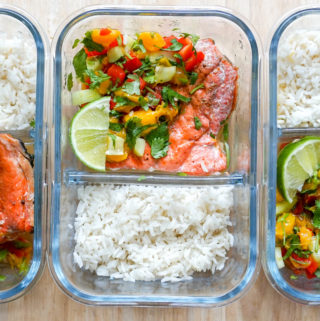 Pan-Seared Salmon with Spicy Mango Salsa and Coconut Rice
Ingredients
3/4

cup

rice

3/4

cup

canned coconut milk

3/4

cup

water

1

TBSP

olive oil

16

oz

salmon

cut into 3 pieces

salt and pepper to taste

1

mango

chopped into cubes

1

red bell pepper

chopped

1

cucumber

peeled and chopped, sub avocado

1

cup

cilantro

chopped

1/4

tsp

chipotle powder

sub cayenne

2

lime

1 cut into wedges, 1 cut in half
Instructions
Add the rice, coconut milk and water to a pot with a little salt. Bring to a boil, then reduce to a simmer and cover until you see little "holes" in the rice (about 12-15 minutes). Then turn off the heat, but leave the rice covered so it can steam for 15 minutes. The less you fuss with rice, the better!

Grill the salmon: Pat your salmon dry and season both sides with salt and pepper. Heat a skillet for 3-4 minutes over a medium flame. Add olive oil (or avocado oil if you have it) and let that heat up for a minute or two. Add the salmon to the pan skin side down. If your salmon doesn't have skin, lay it flat-side down. Cook the salmon over medium heat for 6-7 minutes over medium heat depending on how thick your salmon is. For a longer piece, cook up to 10 mins on the skin/flat side. The key is cooking it longer on the skin side, then half the time (3-4 mins) on the other side.

Make the salsa: Add the mango, red bell pepper, cucumber and cilantro to a bowl. Add salt, chipotle powder or cayenne and juice from one lime. Toss, then taste and adjust spices as needed.

Assemble! Divide the rice and salmon between three meal prep containers. Keep the salsa on the side since it shouldn't be reheated (but the rice and salmon can/should be reheated). Garnish with extra lime wedges.
DID YOU MAKE THIS RECIPE?
Please leave a comment below on the blog or share a photo with us and tag @workweeklunch! Can't wait to see what you made!